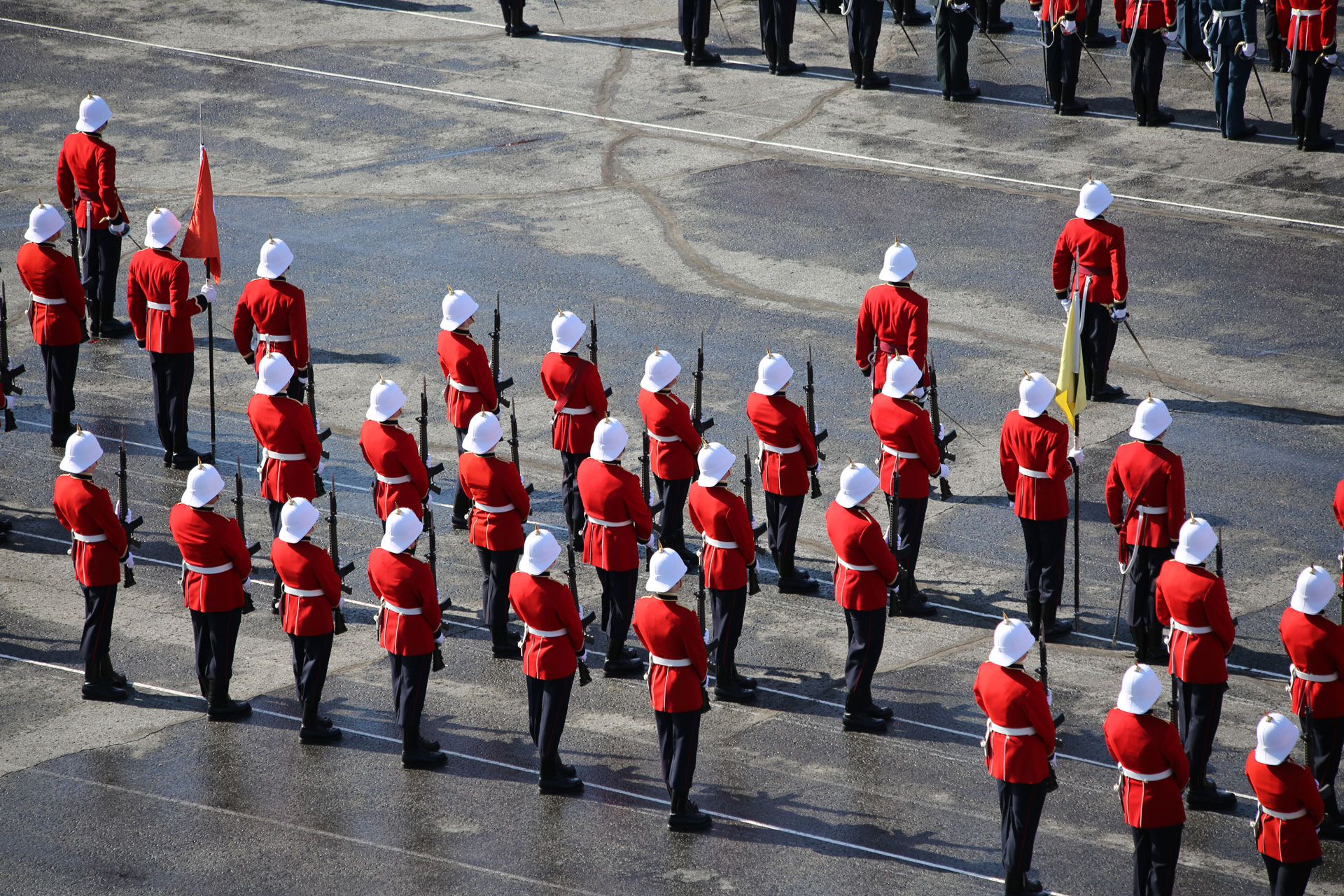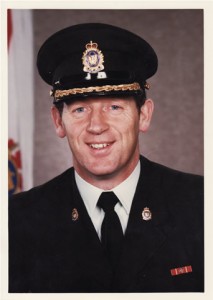 "I feel that double standards are unfair and it insults women to lower the standard. Some athletic personnel do not want to push women as hard as we push men, but I find that unfair to both the men and women."
Maj (Ret) Roy Hillier served as a physical education and training officer (Captain) at RMC in Kingston from 1981-83. He participated in broomball, flag football, gymnastics, competitive weightlifting, hockey, judo and soccer while in the CF. He competed at 38 CF Regional and National Sports Championships, five civilian provincial and national events and two international events. He coached teams, helped foster the expansion of the CF Sports Program and served on the CISM Soccer Technical committee. He was awarded the "Order of Knight" by the CISM Board of Directors in 1997. Roy Hillier was inducted into CF hall of fame in 2008 in the multi-sport category as a builder and athlete.
e-veritas: At which Military College did you serve?
Roy Hillier: I served as a physical education and training officer (Captain) at RMC in Kingston from 1981-83.
e-veritas: How did you come to be a PERO?
Roy Hillier:I joined the Air Force as a NCM and became an aircraft technician. When I was in basic training, I met physical training instructors for the first time and decided that that was what I wanted to do. Since I could not join the PERI trade directly, I transferred to the trade after 3-4 years. As a UTPNCM, I was paid to study physical education at the University of New Brunswick; I graduated with a BPE at the top of my class. Other than RMC, highlights included two tours in Germany in 1965-8 and 1990-3 and Commandant of the Canadian Forces School of Physical Education from 1987 to 1990. In 1980s, I changed elements from the Air Force to the Army.
e-veritas: What was your primary duty?
Roy Hillier: I served as a physical education and recreation officer. While at RMC, I started and completed a Masters of physical education at the University of Ottawa.
e-veritas: Were you involved in any research at RMC?
Roy Hillier: Yes. I completed an independent study for my master's degree in physical education. I compared competitive anxiety between varsity and non varsity athletes at RMC. RMC was an ideal location to perform the research since all cadets were required to compete in one or the other. I was not surprised to find that the cadets involved in varsity sports reported higher competitive anxiety. In athletics, the key is to perform at peak optimal anxiety. If the competitive anxiety is too high, athletes risk making errors. If the competitive anxiety is too low, the athlete risks not preparing adequately. Individuals respond different when faced with competitive anxiety. Athletes may listen to music, talk incessantly or not want to talk. Some athletes will feel sick while others feel very calm prior to competition.
e-veritas: Did you also coach or be involved with a varsity team? Explain.
Roy Hillier: I was the assistant coach of the varsity mens' soccer team at RMC. I travelled with the team, which competed in the Ontario University Athletic Association.
e-veritas: Did the athletic staff make any changes to the program when lady cadets began to study at RMC?
Roy Hillier: No. But naturally the program evolved as is natural when the demographics change. I feel that changing the athletic program would have been demeaning and insulting to the cadets. Most of the lady cadets were fit when they arrived at RMC and extremely fit when they graduated. I recall that the remedial program which helped cadets prepare to meet the CF fitness standard had a few more people than before the lady cadets joined the College. The men who were in the remedial program were generally trying to improve their overall fitness levels and/or working back up to full strength after an injury. In contrast, the women were generally fit but needed to improve their upper body strength. Since upper body strength was not emphasized for women at the high school level back then, the lady cadets were at a disadvantage at the College. Although the girls and women had been taught women's push ups in high school, the athletic staff expected them to perform normal push ups at RMC. I feel that double standards are unfair and it insults women to lower the standard. Some athletic personnel do not want to push women as hard as we push men, but I find that unfair to both the men and women. Even if you cannot perform a single push up, a wide variety of training exercises can be used to develop upper body strength e.g. the flat bench press, push up, lat pull down, bicep curl, triceps pull down, triceps extension, overhead press and one arm dumbbell row.

e-veritas: What do you consider the high-light of serving at the Military College?
Roy Hillier: I enjoyed the Royal Military College atmosphere, location and ambiance and especially enjoyed the athletic staff. I enjoyed walking outside on sunny mornings amongst the historic building. I found RMC to be a bright cheerful place to be. I recall that the young faces of the cadets were full of life. Unlike civilian universities, there were no dull moments. There was always something going on. The students would be marching or engaged in some activity.
e-veritas: What sports have you played through the military or outside of the military?
Roy Hillier: Like most PERI/PERO, I have competed in a little bit of everything. My main sports are soccer, judo, broomball and hockey. When the CISM program started in 1989, I was initially the Head Coach for the Canadian Forces Men's Soccer Team and selected the team. I also served as a member of the technical committee of CISM for soccer from 1992 until 2005.
e-veritas: Please you tell us more about coaching soccer. Do you have any tips?
Roy Hillier: The keys to soccer first touch, passing and receiving and fitness including speed, strength and power. We need to continually increase our fitness level to develop as a player.
As a coach, I recommend the numbers game which combines a first touch, passing and fitness drill. For this drill, 4-5 players are in 15X 15 yard grid. The athletes pass the ball in sequence 1-4 or 1-5 then run around 1 cone and come back to the square. The next time, the player runs around 2 cones, then 3 cones, 4 cones, 3 cones, 2 cones, and one cone. The main goal of the drill to train players to maintain control of the ball while improving their physical fitness level. As a coach, ensure that the players put the proper pace, accuracy, and timing of each pass and control the ball into space with their first touch. Players need to be aware of their surroundings and continue to communicate with their teammates.
e-veritas: Are you still involved with sport and fitness?
Roy Hillier: I retired from the Canadian Forces as a Major. After the PERI/PERO trades were disbanded, I worked at the Canadian Forces Canadian Forces Personnel Support Agency (CFPSA) as international sports manager in Ottawa from 1997 – 2008. I loved every minute of my work in physical education, even the boring work such stuff like writing memos and briefing notes. I retired in July 2008 when I eventually got tired of getting up and going to work. Since retiring, I have stayed active the Club as Head Coach of the Ottawa Internationals Soccer Club and as an Ontario soccer association course instructor. I continue to facilitate the Ontario Coaching Association program and the National coaching certification programs. My wife Lorraine and I live in Ottawa. royhil2001@yahoo.ca
e-veritas: Did you organize CF Conseil international du sport militaire (CISM) events at RMC?
Roy Hillier: Yes. Several CISM competitions have been organized at RMC including Teakwondo, women's soccer twice and Women in CISM. In June 11-20, 2004, for example, CFPSA organized and CFB Kingston hosted the CISM Volleyball Championship at RMC. Since 18 teams from up to 12 countries attended, we prepared seating for up to 1000 spectators. While the facilities at RMC are top-notch, the volleyball floor did not meet international standards. To that end, an artificial floor was brought in and laid in the gym to accommodate the more than 200 athletes who competed. Every year, nearly 200 CF athletes compete in CISM championships worldwide. Reserve Force members are invited to try-out and can visit www.cfpsa.com for more on CISM.
e-veritas: I came across an interesting photo of you kissing a pike with the tag line "I loves me Labrador B'y."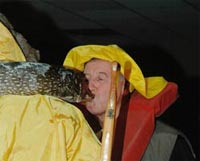 Roy Hillier: I found myself kissing a fish during a Screeching In Ceremony when the Northern Entertainment Show Tour stopped at 5 Wing Goose Bay enroute to CFS Alert. Although I downed the obligatory shot of Newfie Screech, some choose Root Beer instead. The Northern Entertainment Show Tour lifts the mood, and makes the soldiers forget about the realities of their mission, if only for a few hours.
http://www.cfpsa.com/en/corporate/services/media/apropos/volume5/issue2/showtour_e.asp
e-veritas: Do you have any particular memory or short story you would like to share with our readers?
Roy Hillier: I recall attending West Point weekend, when RMC hosted and at West Point. Although I had heard about the intense rivalry between RMC and West Point, I found the experience terrific. The RMC hockey team played West Point. I was billeted with another officer in his home. I recall the champagne breakfast in the officers' club and meeting the West Point staff.
e-veritas: What do you do to stay fit?
Roy Hillier: I train 4 times a week in a local gym, mostly I use machines. Like many physical education personnel I have some injury problems to my back and knees, stemming from my competing days. I love to compete and work out.
e-veritas: Are there any exercises that you no longer recommend?
Roy Hillier: Yes. I don't recommend full squats since extending past 90 degrees is bad for the knees. When athletic personnel recommended duck walks and full squats, we didn't know there was a risk of long term damage. Today there is no excuse.
Roy Hillier was interviewed by E3161 Victoria Edwards (RMC 2003)