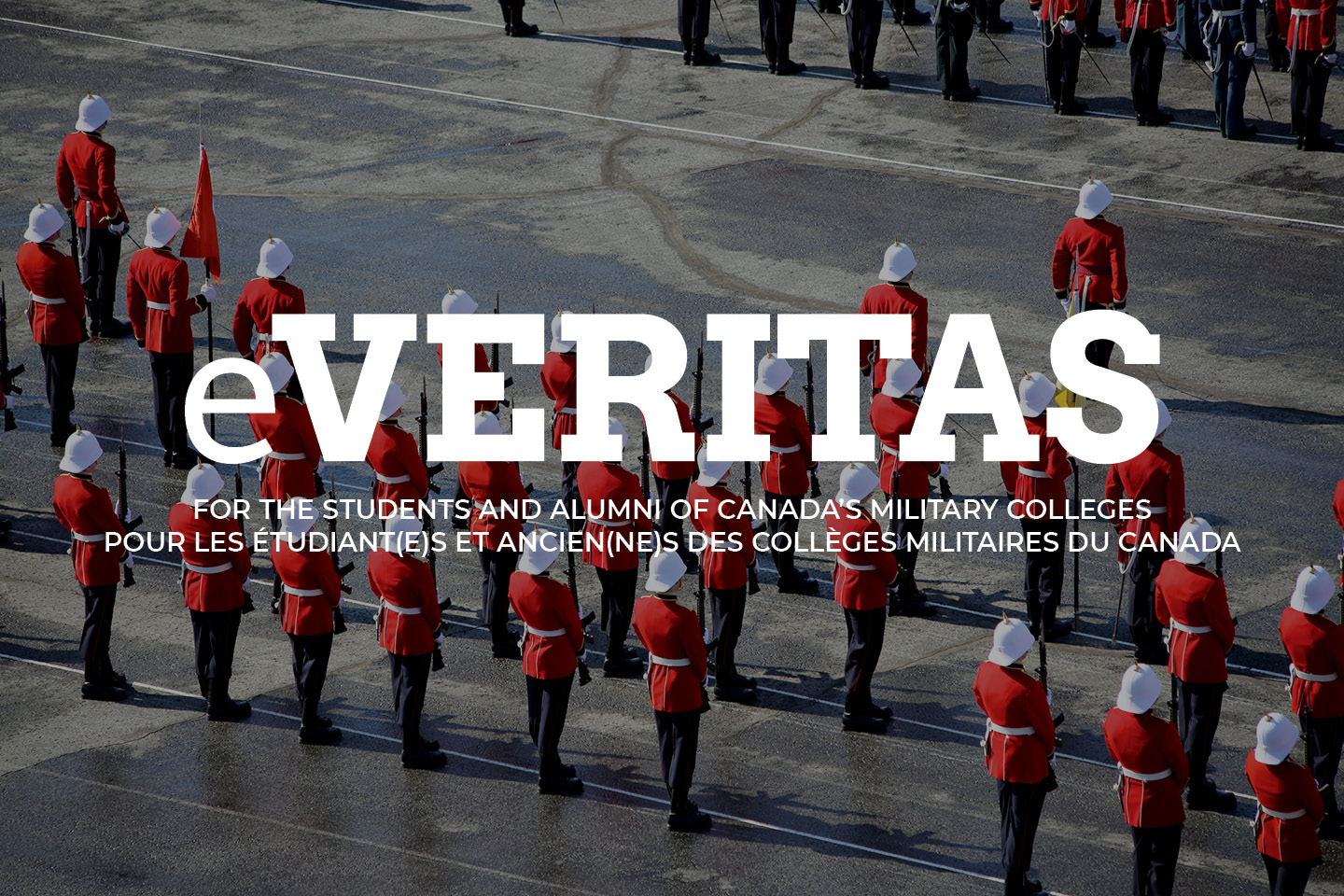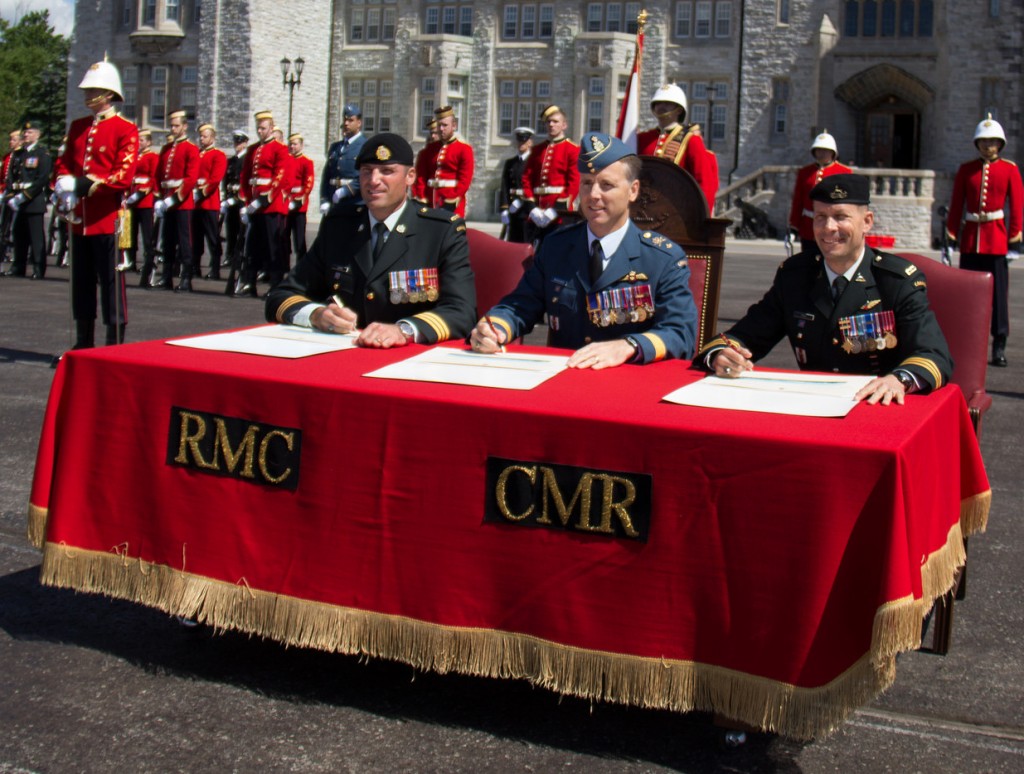 DCdt Baton Has Been Passed
By: WJO
The 1,000 or so Royal Military College of Canada gentlemen and lady cadets will have a new leader when they return for the 2014/15 school year later in the summer.
Last Friday, 4 July,  Lieutenant-Colonel Patrick Lemyre  relinquished command as the Director of Cadets to  Lieutenant-Colonel Mark Popov. The reviewing officer was the RMC Commandant, Brigadier-General Al Meinzinger.
The ceremony was an impressive one during ideal July weather on the peninsula.
Both the outgoing and incoming DCdts addressed the parade and crowd with positive messages, that one would expect at this type of military event. LCol Lemyre filled the position for the past two years with impressive results. LCol Popov arrives with an equally impressive pedigree. See bio below.
The reviewing officer, RMC Commandant, Brigadier-General Al Meinzinger was his usual eloquent self and we are fortunate to be able to post the major points from his speech.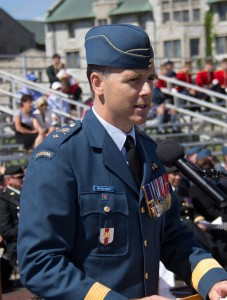 … Good morning and welcome to the Royal Military College of Canada. It is a tremendous pleasure for me to be with you today.
Bonjour et bienvenue au Collège militaire royal du Canada. Je suis ravi de me trouver avec vous aujourd'hui.
First let me start by thanking all of you to my left and to my right for having joined with us this morning for this extremely important Change of Command ceremony.
It is sincerely appreciated and tremendously satisfying to witness such a wonderful turnout as we are surrounded by the incredible splendor of the RMCC grounds with the beautiful backdrop of Fort Frederick, our incredible College historic infra-structure and the City of Kingston across the water.
As all of those who have enjoyed the privilege of command would know, today is one filled with mixed emotions for one family and raw excitement for another.
Most long-time RMCC observers would suggest that time has passed at breakneck speed and it is hard to believe that we are once again gathered together on the parade square of the College for the very important hand-off of the DCdts baton.
Comme vous le savez tous, le CMRC est une institution nationale extrêmement importante. Notre mission, qui consiste à former des officiers dotés d'un sens éthique et des facultés mentales, physiques et linguistiques nécessaires pour qu'ils puissent diriger avec distinction au sein de la profession des armes des Forces armées canadiennes, revêt une importance capitale.
La réussite de cette mission repose sur les efforts combinés de toute l'équipe du Collège.
The Director of Cadets, of course, plays an essential role in ensuring success in our mission by catalyzing and synchronizing efforts across the RMCC program. As mentioned, responsible to the Commandant, DCdts exercises day-to-day command and control of Training Wing personnel and the Cadets of the cadet Wing.
Training Wing is therefore responsible to DCdts for the day to day oversight and development of our cadets.
In delivering upon this mission, it is evident that our cadets need strong leaders as role-models, they require structure and guidance and they need compassionate mentors that will show our cadets the path to eventual success within the profession of arms.
The Coal-face warriors of Training Flight are instrumental to the success of our College mission and must be enabled by an effective and dedicated Director of Cadets.
It is important to note that this past year, we were successful in obtaining institutional recognition for the post of DCdts such that the appointment is now recognized by CMP as a Command Appointment. Given both the breadth and criticality of DCdts' responsibilities this was an initiative that gained easy support within higher headquarters.
Quand je repense à tout ce que nous avons accompli, il m'apparaît comme une évidence que le Collège a eu beaucoup de chance d'avoir le Lcol Lemyre à sa barre pendant ces deux dernières années. Son incroyable dévouement, son grand professionnalisme et son profond engagement envers le bien-être et l'instruction de nos élèves-officiers et de son personnel ont été d'un secours exceptionnel.
Over the past year, LCol Lemyre has put in motion a myriad of key initiatives that will further strengthen the program for years to come, best exemplified by the advancement of CADWINs, the Cadet Course Training Plan and the leadership-level progression model.
These key efforts have and will serve to create a cadet wing environment that demands accountable and ethical leadership.
La volonté de servir du Lcol Lemyre et sa détermination à établir un environnement équilibré pour les élèves-officiers du CMRC ont fait de lui un agent clé de la réussite du Collège.
He has endeavoured to create the conditions to motivate our cadets to strive for success and to take pride in becoming junior officers.
For those of us that have come to know LCol Lemyre, we would all agree that his greatest contribution to the College as DCdts has been in the manner in which he has conducted himself as one of the key College leaders.
Humble, balanced, collegial and unwavering in his desire to make a difference, he has lead with compassion, heart and most importantly by sterling example. He is not too bad a hockey player either….
Simply put, LCol Lemyre has given his heart and soul to Training Wing and our cadets and, in doing so, will be forever remembered as a perfect example of what the Canadian Armed Forces needs within the profession.
Pat, you easily surmounted the challenges of the past two years with poise and determination. You are an outstanding leader who has lead from the front. You ought to be justifiably proud of all of Training Wing's accomplishments over the last two years. I am exceptionally proud of you. Je suis extrêmement fier de vous.
Sonia, Naomi, merci d'avoir été d'aussi merveilleux éléments de la trame du Collège au cours des deux dernières années. Joy, Shayna, Nolan and I will miss your visits but of course we wish you well in the next phase of your lives.
As mentioned previously, with the DCdt position now recognized as a key appointment, I was blessed to be provided a number of top-notch candidates to consider for command.
The decision to select LCol Mark Popov as DCdt was an easy one. A leader with impeccable credentials, he is the right individual to move us forward over the next couple of years.
Arriving to the College from 1 Cdn Div HQ, LCol Popov brings tremendous operational credibility, drive and enthusiasm.
Quand j'ai eu le plaisir de rencontrer Mark il y a à peine quelques mois de cela, j'ai tout de suite su qu'il était doté de toutes les qualités de leader nécessaires à la réussite dans ses nouvelles fonctions.
I cannot tell you how many senior leaders that I have encountered over the last couple of months that have spoken so highly and praised LCol Popov as a leader.
While there is a short bit of time to inhale and exhale, in but a few weeks, LCol Popov will be welcoming back 2nd, 3rd and 4th year cadets while overseeing the critical indoctrination period for our newest Officer-cadet recruits.
Very rapidly, he will be engaged in the synchronizing of the various College components so as to ensure that all contribute positively to the training, education, mentoring and professional development of our cadets so they are postured for success in the program.
While it will get busy very quickly Mark, ensure that you follow your proven instincts and enjoy this amazing command opportunity. To Christine and the girls, you are now key members of the College team and we welcome you to this great family.
In closing ladies and gentlemen, let me thank all family and friends here this morning for your love and support.
Good luck to the Lemyre family and welcome to the Popov clan.
Truth, Duty, Valour
More photos from the CoC parade here
***
Bio…
Lieutenant-Colonel M.N. Popov CD, BA, MBA, MDS, plsc, pcsc, rrmc
Incoming Director of Cadets / Nouveau Directeur des élèves-officiers
Royal Military College of Canada / Collège militaire royal du Canada
19944 Lieutenant-Colonel Mark Popov was commissioned into The Royal Canadian Dragoons in 1995 and has served as a Leopard tank, tracked reconnaissance and Coyote reconnaissance scout troop leader, the second in command of a reconnaissance squadron, the Regimental Adjutant and a reconnaissance squadron commander. He deployed to Bosnia as a Cougar Armoured Car Squadron Liaison Officer in 1998 and served as a United Nations Military Observer from 2001 to 2002, both on the Syrian Golan Heights and as the deputy commander of a multinational observer team in South Lebanon's Chebaa Farms. In 2005, he deployed to Kabul Province, Afghanistan as the Second-in-Command of an Armoured Reconnaissance Squadron, where he was awarded a Chief of the Defence Staff Commendation for his performance.
He earned a Master's Degree in Business Administration from Vermont's Norwich University between 2006 and 2008, graduating as his class' valedictorian, concurrent with a posting to Canada's National Defence Headquarters where he served as the Executive Assistant to the Chief of Military Personnel. He was appointed to command B Squadron, The Royal Canadian Dragoons, an Armoured Reconnaissance Squadron equipped with the Coyote combat reconnaissance vehicle, in June 2008. In fall 2009 he deployed in command of the B Squadron Combat Team to southern Kandahar Province, Afghanistan, where the Squadron acted as the eyes and ears of Canada's Task Force 3-09 Battle Group until May 2010. After completing the Joint Command and Staff Programme at the Canadian Forces College in Toronto in 2011, he served as the G3 of 2 Canadian Mechanized Brigade Group in Petawawa until promotion to his present rank in 2013 and posting to the 1st Canadian Division HQ as J7.
He holds an Honours BA in Strategic Studies from Royal Roads Military College, an MBA from Norwich University and a Master's in Defence Studies from The Royal Military College of Canada. His work has been published by the Australian Army Journal, the Canadian Army Journal, the US Army's Armor and Cavalry journal and RMC's Veritas. He is married to Christine Sulek-Popov and together they have three daughters – 9 year old Klara, 8 year old Anastasia and 4 year old Erika.
Le lieutenant-colonel Mark Popov entre au Royal Canadian Dragoons en 1995. Il y est chef de troupe de chars Leopard, de véhicules chenillés de reconnaissance et de véhicules de reconnaissance Coyote, commandant adjoint d'un escadron de reconnaissance, capitaine adjudant régimentaire et commandant d'escadron de reconnaissance. En 1998, il participe aux opérations en Bosnie à titre d'officier de liaison d'un escadron de véhicules blindés Cougar. En 2001 et 2002, il fait office d'observateur militaire de l'ONU sur le plateau du Golan syrien, et de commandant adjoint d'une équipe multinationale d'observateurs militaires de l'ONU aux fermes de Chebaa, dans le Liban Sud. En 2005, il est envoyé dans la province de Kaboul, en Afghanistan, à titre de commandant adjoint d'un escadron blindé de reconnaissance, mandat pour lequel il reçoit la Mention élogieuse du chef d'état-major de la Défense.
De 2006 à 2008, il fait une maîtrise en administration des affaires à la Norwich University du Vermont, et lors de sa cérémonie de remise des diplômes, c'est lui qui prononce le discours d'adieu de sa promotion. Pendant sa maîtrise, il occupe le poste de chef de cabinet du chef du personnel militaire au Quartier général de la Défense nationale du Canada. En juin 2008, il est nommé commandant de l'Escadron B, The Royal Canadian Dragoons, un escadron blindé de reconnaissance équipé du véhicule de reconnaissance de combat Coyote. À l'automne 2009, il est envoyé dans la province de Kandahar, dans le Sud de l'Afghanistan, à la tête de l'équipe de combat de l'Escadron B, qui fait office d'informateur pour le Groupement tactique de la Force opérationnelle 3-09 du Canada jusqu'en mai 2010. Après avoir terminé le Programme de commandement et d'état-major interarmées du Collège des Forces canadiennes, à Toronto, en 2011, le Lieutenant-colonel Mark Popov devient G3 du 2e Groupe-brigade mécanisé du Canada à Petawawa, poste qu'il occupe jusqu'à ce qu'il soit promu à son grade actuel en 2013 et muté au Quartier général de la 1re Division du Canada comme J7.
Le lieutenant colonel Mark Popov est titulaire d'un baccalauréat spécialisé en études stratégiques de l'Université Royal Roads, d'une maîtrise en administration des affaires de la Norwich University et d'une maîtrise en études de la défense du Collège militaire royal du Canada. Son oeuvre a été publiée par l'Australian Army Journal, le Journal de l'Armée du Canada, l'Armor and Cavalry Journal de l'US Army et la revue Veritas du CMR. Le lieutenant-colonel Mark Popov et son épouse, Mme Christine Sulek-Popov, ont trois filles – Klara, âgée de 9 ans, Anastasia, âgée de 8 ans, et Erika, âgée de 4 ans.