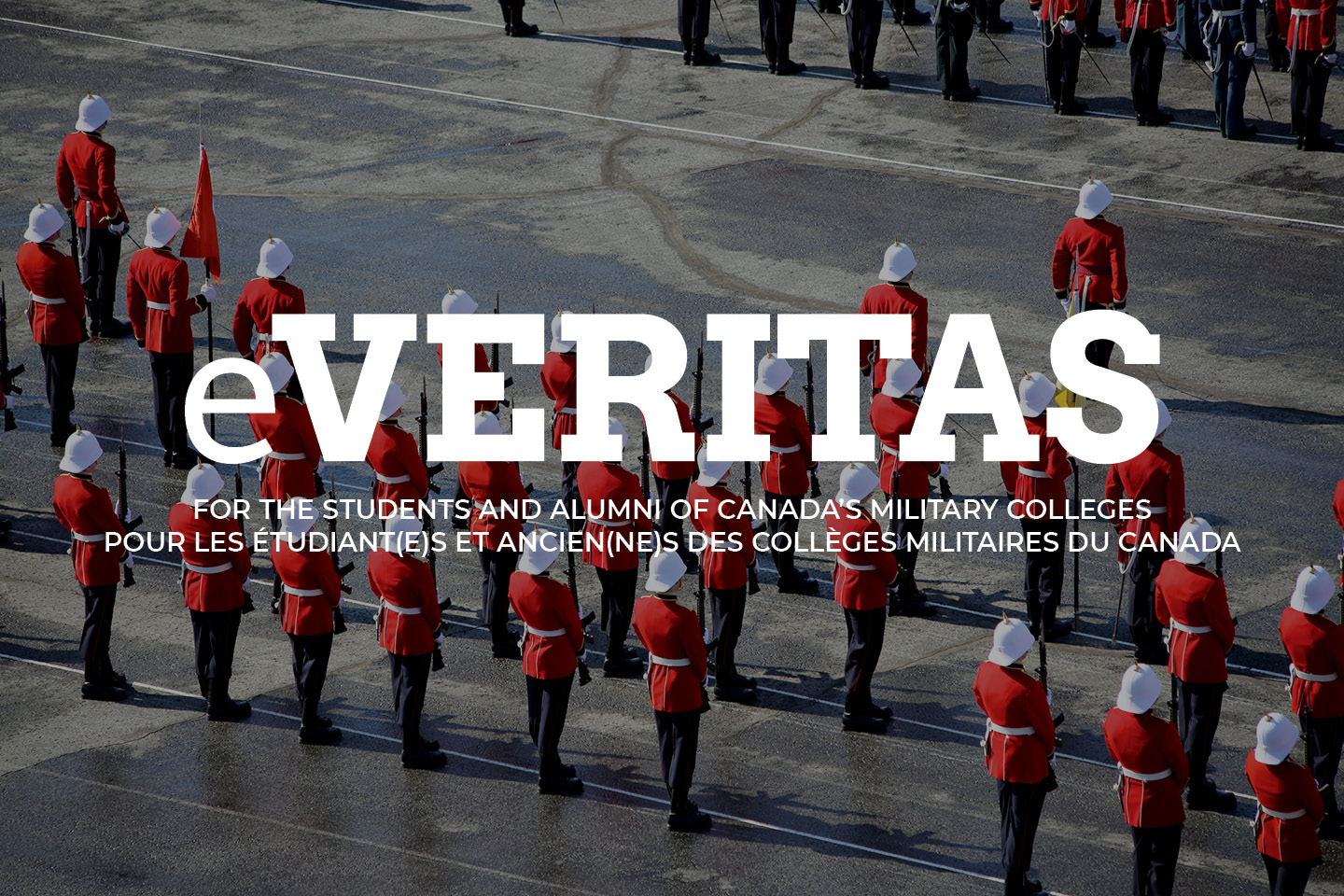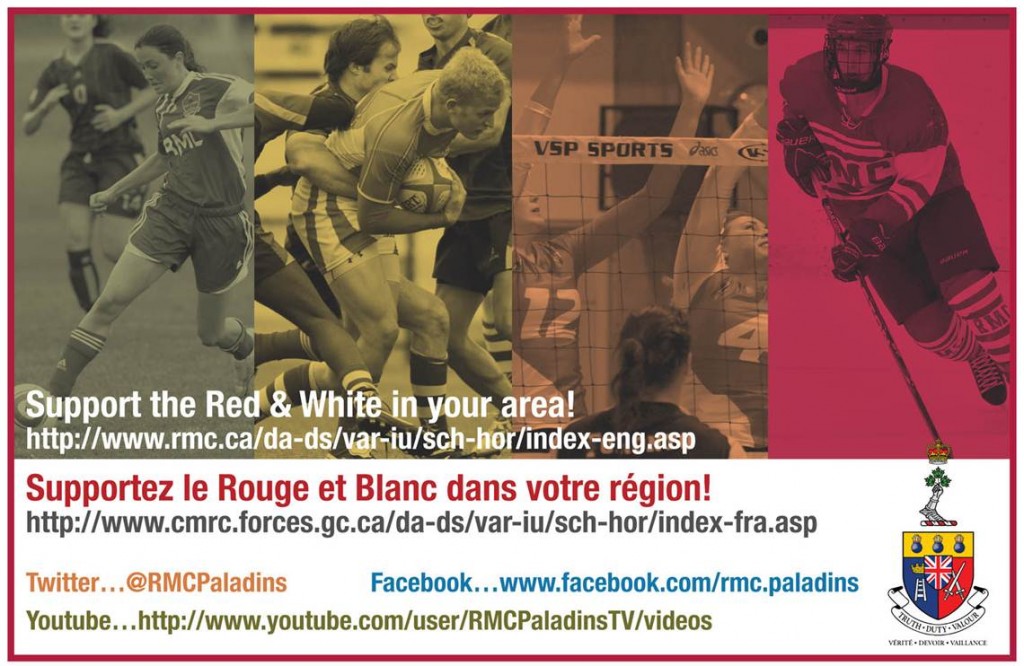 xxxx
__________________________
Recent Results:

Rugby

Oct 5th – RMC 5 – Queen's 67 Game Summary

Soccer (M)

Oct 6th – Ryerson 4 – RMC 0  Game Summary


Oct 7th – U of T 1 – RMC 0      Game Summary


Soccer (W)

Oct 6th – Ryerson 0 – RMC 1  Game Summary


Oct 7th – U of T 3 – RMC 1      Game Summary


Hockey

Oct 6th – Nipissing 6 – RMC 1 GAME SUMMARY

Upcoming Games:

Rugby

Oct 12th – RMC vs Guelph @ Guelph, 8:00pm


Soccer (M)

Oct 13th – RMC vs Laurentian @ Laurentian, 2:15pm

Oct 14th – RMC vs Nipissing @ Nipissing, 2:15pm

Soccer (W)

Oct 13th – RMC vs Laurentian @ Laurentian, 12:00pm

Oct 14th – RMC vs Nipissing @ Nipissing, 12:00pm

Hockey

Oct 12th – Toronto vs RMC @ Constantine Arena, 7:00pm

Oct 13th – Ryerson vs RMC @ Constantine Arena, 7:00pm
______________________________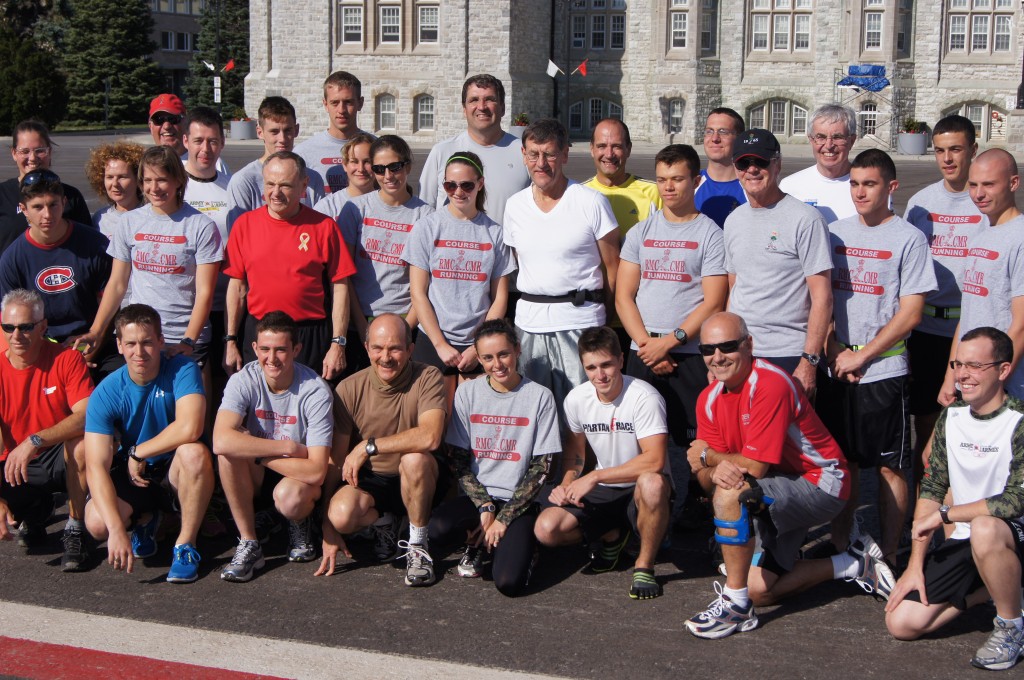 Reunion Weekend 2nd Annual Fun Run
Article by 25695 OCdt (IV) Colin Shannon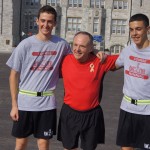 On Saturday of this past Reunion Weekend, 32 runners took part in the Second Annual Ex-Cadet Fun Run on the original Wing Harrier Course. Among the runners were three members of the Old Brigade – Ernie Dueck of the Class of '62, and Bill Aikman and Cam Reid of the Class of '67 – as well as several ex-Cadets and the majority of the RMC Running Club. The course took the runners up to and around the backside of Fort Henry finishing back at the Parade Square.
Les premiers coureurs ont complété le parcours en moins de 23 minutes. Les anciens ont prouvé qu'ils étaient toujours en excellente condition physique et ont partagé plusieurs anecdotes par rapport à leur passage dans l'équipe de course du collège et de leur expérience dans les Forces canadiennes en général.
The runners then proceeded to the Cadet Mess for refreshments and to socialize. Thanks in part to the excellent weather, all participants had an enjoyable run and the Cadets made good use of the opportunity to network with ex-Cadets and members of the Old Brigade. Commendation goes out to Bill Aikman for doing an exceptional job organizing the event. Many participants are already looking forward to the third edition of the fun run next year.
Above: Ex-Cadets at finish
RUN AROUND FORT HENRY – Perspective from the Ex Cadet Organizer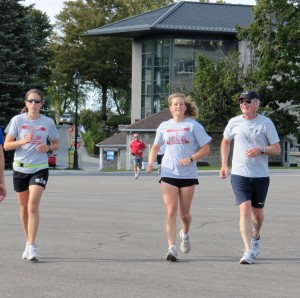 One of the best events of the 2012 Red/White sports on Ex-Cadet Weekend was the run around Fort Henry by an enthusiastic group of ex-Cadets and present-day Cadets.
On a sunny Saturday afternoon, more than 30 persons gathered on the parade square for the approximately 4.5 km run. The group included four members of the Old Brigade, a hearty batch of younger ex-Cadets (the class of '82 had the largest group with four runners), and RMC's two harriers teams, men and women.
The Cadet with the lowest number was 5552 Ernie Dueck of the Class of '62, and the Cadet with the highest number was 26726 Pier-Alexandre Lacasse of the Class of 2016.
Times were not recorded, but the ex-Cadets did themselves proud while the present-day Cadets kindly ran alongside us.
We all then repaired to the Cadet mess in Yeo Hall for a drink and good cheer. Everyone agreed that it had been a great fun run, and that we must do it again next year.
We look forward to having you with us.
6891 Bill Aikman, Organizer
______________________________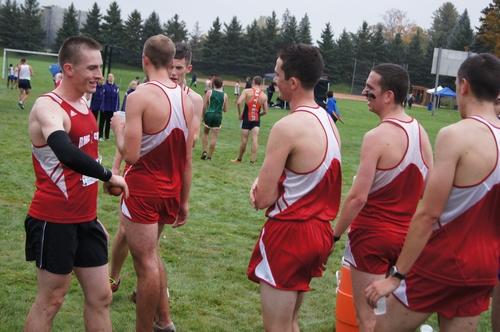 RMCC Runners Compete in NY State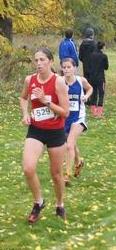 On the early morning of October the 6th, the RMCC running team travelled across the border to compete at the Hamilton College invitational cross country meet in Clinton, NY. The 5 mile (8 km) course consisted of 2 laps in a mixture of golf greens and corn field trails. The men's team represented RMCC well in the collegiate race, placing 7th out of the 14 schools despite the muddy course. RMCC had impressive individual results, with (II) Anthony Dionne leading the way and (III) Jordan Vadala following closely behind in (29:00.0) and (29:08.8), respectively.
La course des filles commença à 1100 sous une pluie intermittente et un parcours très mouillé. Le parcours de 5 km fut toutefois très peu boueux comparativement à l'année dernière. Véronique Trépanier, la capitaine de l'équipe féminine a connu une très bonne course terminant en 74ème position en 21:32. Elle fut suivie par l'élève officier Constance Aurélie Ratelle, qui en était à sa première course universitaire de cross-country. Cette dernière effectua une course plus que respectable pour une première expérience, avec un temps de 23:33 .Constance fut suivi par Alida Stockermans. Les filles ne furent pas classées par équipe à cause du nombre insuffisant de participantes. Il faut au minimum cinq participantes pour avoir un classement d'équipe. L'équipe de course a donc réalisé une excellente performance d'ensemble et est prête pour la prochaine compétition à l'université Guelph la fin de semaine prochaine!
Résultats complets:
WOMEN:
Place Name Time – 74. Veronique Trepanier 21:34.5; 106. Constance-Aurelie Ratelle 23:33.7;
117. Alida Stockermans 25:01.9.
MEN:
Place Name Time Place for Team Scoring – 52. Anthony Dionne 29.00.0 36;  56. Jordan Vadala 29.08.8 38; 58. Trevor Reid 29:16.8 40; 74. Colin Shannon 29:51.6 49; 77. Pier-Alexandre Lacasse 30:01.4 51.
TEAM SCORE: 214 pts. 89. Olivier Lafreniere-Abel 30:50.4; 91. Gabriel Thibault 31:07.9; 95. Adrian Thow 31:25.4; 98. Benjamin Simon 31:36.6; 114. Matthew Walsh 33:11.0.