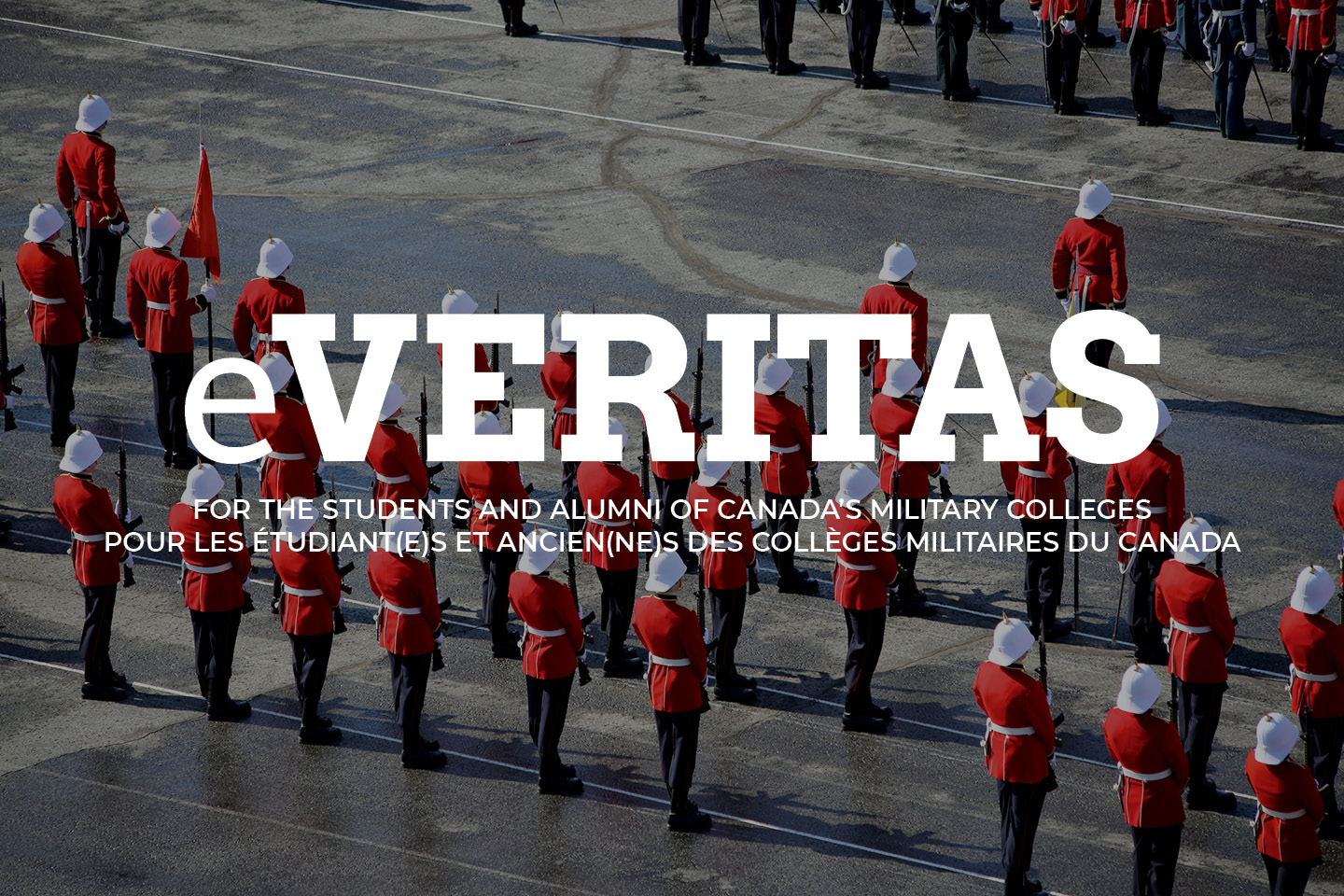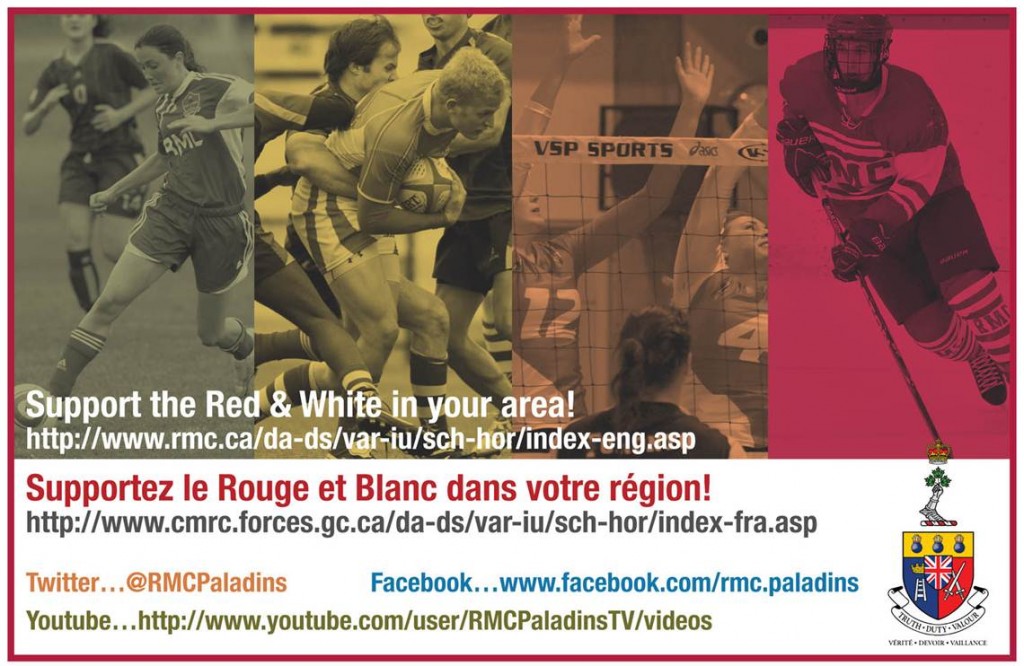 xxxx
__________________________
Recent Results:

Hockey

Jan 18th – RMC 2 – Ryerson 8 Game Summary

Volleyball (M)

Jan 19th – RMC 0 – Windsor 3 Game Summary

Jan 20th – RMC 0 – Western 3 Game Summary

Volleyball (W)

Jan 19th – RMC 1 – Windsor 3 Game Summary

Jan 20th – RMC 1 – Western 3 Game Summary

Upcoming Games:

Hockey

Jan 23rd – RMC vs Queens @ Queens, 7:30pm

Volleyball (M)

Jan 25th – Queens vs RMC @ RMC, 6:00

Volleyball (W)

Jan 25th – Queens vs RMC @ RMC, 8:00

Jan 26th – RMC vs Ottawa @ Ottawa, 2:00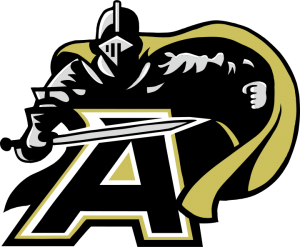 ___________________________
___________________________

RMC Women's Volleyball in BC
The RMC Women's Volleyball team traveled to Victoria and Vancouver BC this past winter break to train and experience some west coast volleyball.
The team stayed at CFB Esquimalt – rations, quarters and transport were wonderful. The team also trained and hosted four teams at the Naden Athletic Centre on the 30th of December. Visiting teams were SAIT College, Camosun College, and the Titans Volleyball Club. The fan support was great; a few ex-Cadets, former staff from RMC and some Base personnel all cheered on the Paladins as they were 1-1 on the first day of competition.
Results:
30 December the Naden Athletic Centre
Practice at 1000-1130hrs
Match 1 at 1400hrs vs Camosun College (16-25, 25-19, 20-25)
Match 2 at 1800hrs vs SAIT College (29-27, 25-19, 15-10)
The team played at Camosun College PISE on the 31st of December, playing three matches and able to have recruit exposure with the Titans Volleyball Club.
Results:
Match 1 at 0900hrs vs SAIT College (16-25, 28-26, 25-15)
Match 2 at 1100hrs vs Titans Club (21-25, 25-23, 15-10)
Match 3 at 1300hrs vs Camosun College (25-14, 25-16, 15-6)
On New Year's Day, the team enjoyed a tourist day where they visited Royal Roads University and Parliament Buildings downtown Victoria.
January 2nd the team loaded onto the BC Ferry system and travelled to North Vancouver to play Capilano University, RMC WVB dropped the match 3-0 (21-25, 21-25, 24-26). Afterwards the team was billeted with members of the Capilano team overnight; it was a very unique opportunity for both teams.
The next morning, RMC WVB practiced at the Richmond Olympic Oval and then went to Lunch at the Chang's home in Delta. The team then took the Ferry back to Victoria to play Camosun College at PISE one last time. It was another victory for the Lady Paladins bringing their total to 5 wins and 2 losses.
OCdt Mallory Litjens, proved to be an important player for the teams success with a total of 61 kills, 12 blocks and 28 aces for the week. Norah Collins and OCdt 26038 Chelsey Litjens also had outstanding performances.
"This trip was an amazing experience for our team; it allowed us to have a lot of game time, improving our team's cohesion and game plan which we believe will help us immensely for the second half of our season." 26047 Mallory Litjens
 ___________________________

Men's 4×200 Relay Team Finishes Strong at Ottawa Meet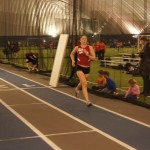 Samedi le 12 janvier dernier, l'équipe compétitive de course du Collège militaire a participé à une compétition ouverte à Ottawa. 13 élofs ont couru contre des athlètes de tous les niveaux, dans les catégories de 60m, 300m, 600m, 4x400m relais et 4x200m relais en sprint et de 1000m, 1500m et 3000m en distance.
Some of our Cadets got impressive results. In the 4x200m relay, 25516 Maxime Miron-Morin, 25584 Felix-Olivier Cordeau, 26240 Riley Perrior and 26009 Jay Waters finished second overall with a time of 1 :33.52.
The team will be running in a few other competitions over the semester, in Ottawa, Toronto, Montreal and the United States.
 __________________________

RMC Swim Team Kicks off 2013 Season
Since the introduction of swimming as a competitive sport at RMC, the competitive swim team has been training hard with their goals set on qualifying for higher level swim meets in the New Year. This last weekend, the team traveled to Belleville for their first of two swim meets leading up to the Regional Championships help in Ottawa at the beginning of February. The swim meet, held as heats and finals on Saturday and timed finals on Sunday, offered some tough competition and some very close races for many of the swimmers. All of the swimmers swam excellent races in the morning heats on Saturday, and 5 were able to qualify for finals and the opportunity to race for a medal. On Saturday night, the RMC swim team managed to bring back a total of 7 medals, and several best times. Medals were brought back by: 26585 Nicholas Swanson, 26715 Jean-Francois Levesque, 26718 Olivier Sirois and 25933 Sandy Edmison. This was the first step towards the teams pursuit of higher level racing, and showed that the hard work put in not only to wake up at 05:00 three mornings a week to go to swim practice, but also the effort put in perfecting stroke technique and building endurance is starting to pay off. The swim team will be competing again in Ottawa on January 19th and 20th at Ottawa U as they prepare for the Regional Championships held the first weekend in February.
__________________________
Expéditions 2013 : Sélection des équipes
Pour le Club d'expédition du CMRC, c'est cette semaine qu'avait lieu le processus d'évaluation et de sélection des membres des équipes d'expédition qui iront en Inde et en Arctique ce semestre. Ainsi, les élèves-officiers qui ont participé aux sélections ont exécuté une série de défis de groupe qui permettaient d'évaluer leur habileté à communiquer et à interagir avec les autres participants après avoir fait des exercices physiques tels que de la course et des push ups.
Pour ceux et celles qui désiraient participer à l'expédition dans l'Arctique, il y avait une seconde partie à l'évaluation qui consistait en un ruck march afin de tester leur capacité physique et mentale alors qu'ils transportaient une charge d'environ 60 lb, ce qu'ils devront faire lors de l'expédition.
Le Club d'expédition a eu recours à l'aide précieuse de LCol (retraité) Steve Nash qui a de l'expérience dans le domaine des sélections par son passé comme ancien commandant adjoint du JTF2. M. Nash a dirigé le processus d'évaluation, les défis de groupe et le ruck march afin d'avoir des sélections justes et équitables pour tous les cadets. Toutefois, l'évaluation des performances de chacun et chacune n'aurait pas été possible sans l'aide des évaluateurs. Le Club d'expédition du CMRC tient donc à remercier Capt Nick Deshpande, MCpl Ryan Blaschuk, Craig Palmer, Ryan Thompson, Kara Mazerolle et Caitlin Salisbury pour leur aide indispensable lors de l'évaluation des Élofs cette semaine.