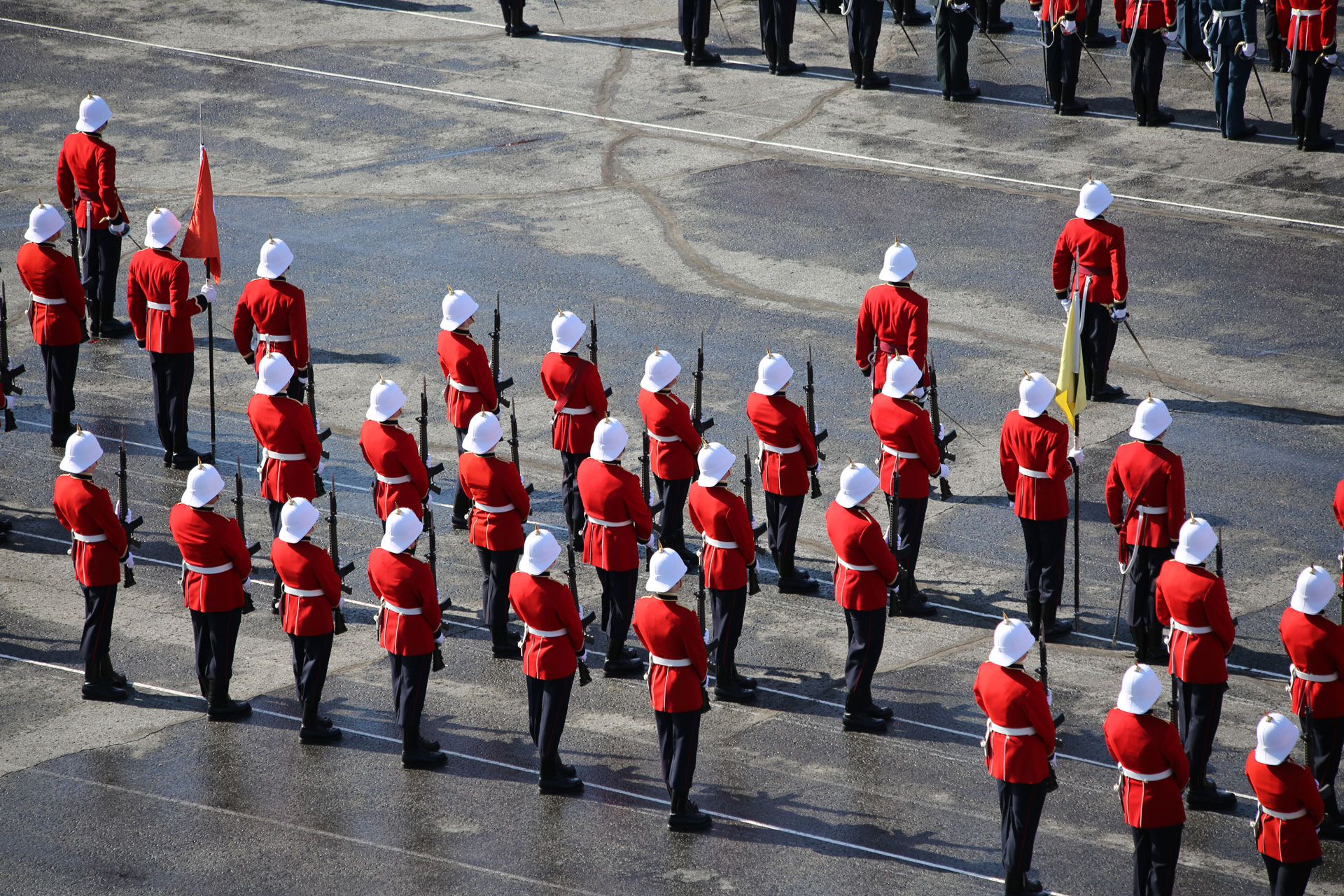 Sqn Comd can relate to his new recruits
A/SLt 24498 Noelani Shore (RMC 2009)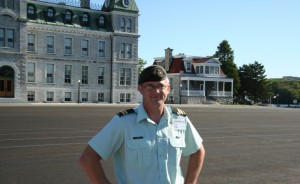 The 249 new Canadian Forces Recruits have been at RMC for the past week, and in the immortal words of Dorothy, "[they're] not in Kansas anymore."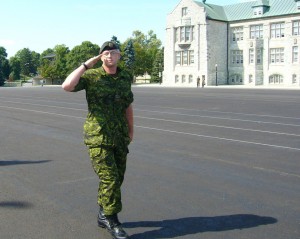 Captain Nathan Price, 1 Squadron Commander, is in charge of the incoming cadets during the two-week recruit camp as their Recruit Camp Commander. It is his job to ensure the cadets receive adequate training and preparation before they start the First Year Orientation Period (FYOP) and their first year of school at a military institution. He will mentor them during the two-week recruit camp in basic military principals and practices, and clear them in to RMC.
Capt Price was posted to RMC with his wife Sandra in 2008. Both were Squadron Commanders for their first year at the college.  Sandra was off on maternity leave for the past year – Isla Elizabeth Price, born 8 July 2009. On her return Sandra has been assigned the EA position for the commandant.
"Two years as a Sqn Comd at RMC made this job much easier for me than someone newly posted in, who is still learning the intricacies of life as staff at RMC," Capt Price explained.
Capt Price is in a good position to mentor these young cadets, as he was once in their parade boots. He graduated from RMC in 2003 with a General Science Degree, so he knows what the students need to be prepared for during the next four years.
"It feels great to be back here as an instructor. It's probably my last chance in my career to work directly with troops, which I find to be one of the most rewarding positions the CF has to offer," he said.
Capt Price was drawn to RMC for the chance to see the world, complete a degree, and start an interesting career. The cadets to graduate in 2014 can look forward to the same advantages.
"Some cadets have chosen to be here for the wrong reasons, but we are not weeding anyone out. We simply carry on with training them to be future leaders, and the ones that don't want a career in the military will self select to leave," he said. "This won't happen with many cadets, as most chose to be here for the right reasons and are eager to learn the skill sets for their future careers. There was a significant selection process to be accepted."
There are many people working hard to keep the program running smoothly.
"Challenges come up daily," said Capt Price, who was posted to 1 Combat Engineer Regiment in Edmonton, Alta., after graduation. "A lot of people put a lot of planning into this course and I have competent staff that helps me with issues when they come up. It is a culture shock for these cadets, but my staff has been briefed and they tailor the training to what the new recruits can handle, while at the same time ensuring that we uphold the standards we were given."
Using his previous military experience, Capt Price will prepare these cadets for the reality of their careers.
"Life at the Unit is like gaining a new family. For me, it was the first time where the responsibility of my job really sank in," he said. "There was a lot of work to be done, but there were also lots of opportunities for great times. I got to deploy to Afghanistan in 2006 as a field troop commander, and it was a very good experience. Some of the proudest moments in my career were taking troops overseas, building training and ranges for troops to succeed."
The recruit camp is a temporary solution that lightens the load on St. Jean, while maintaining a large entrance of new recruits.
"The two quick weeks of training and in clearance at RMC will give recruits the basics to start their academic year. All recruits, whether they are attending civilian universities or RMC, will need to complete their basic training next summer," he said.
Despite the challenges that lay ahead for the new cadets, they are about to begin a life-altering journey during these four years at RMC, and they will certainly form friendships and share experiences that will last them a lifetime.