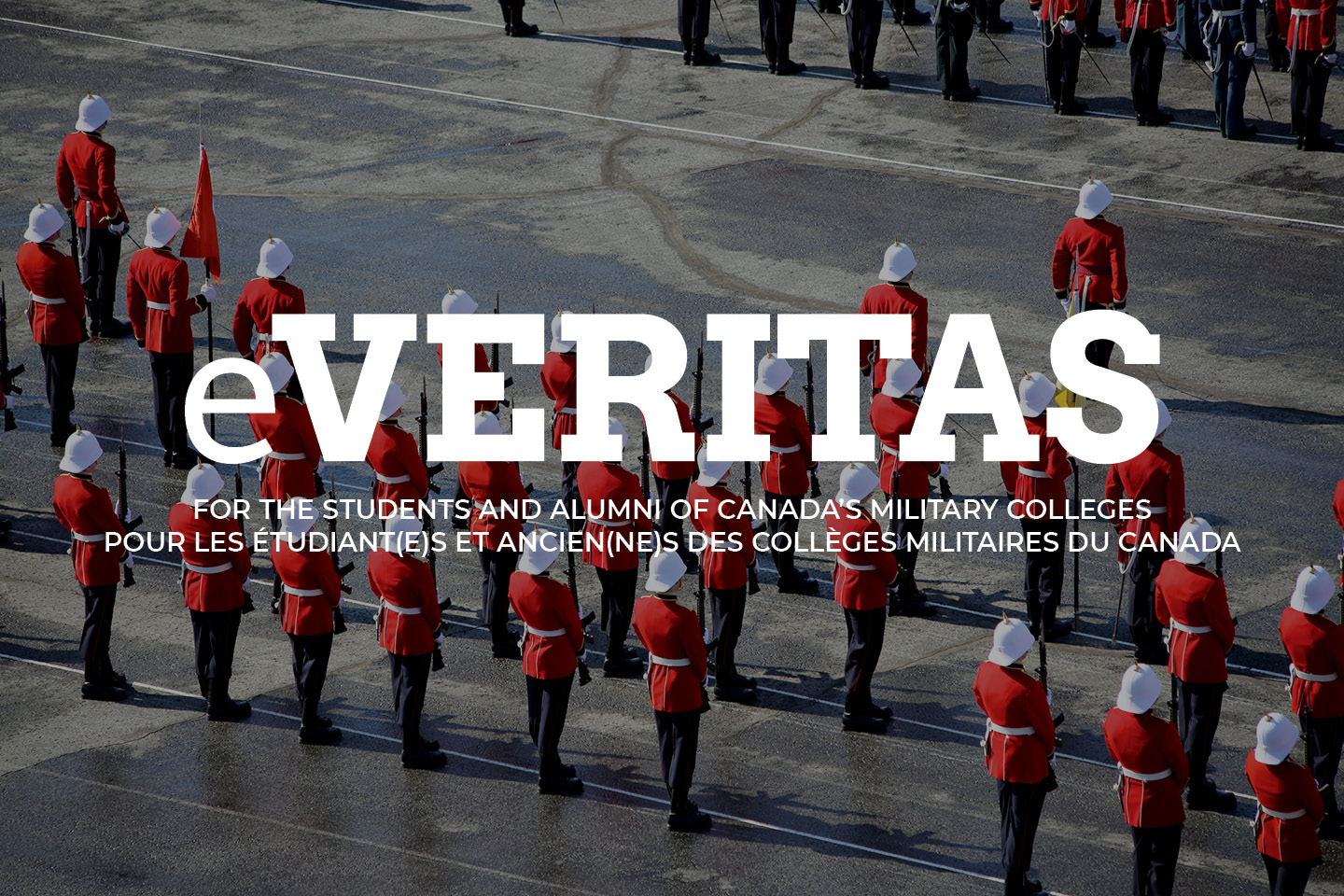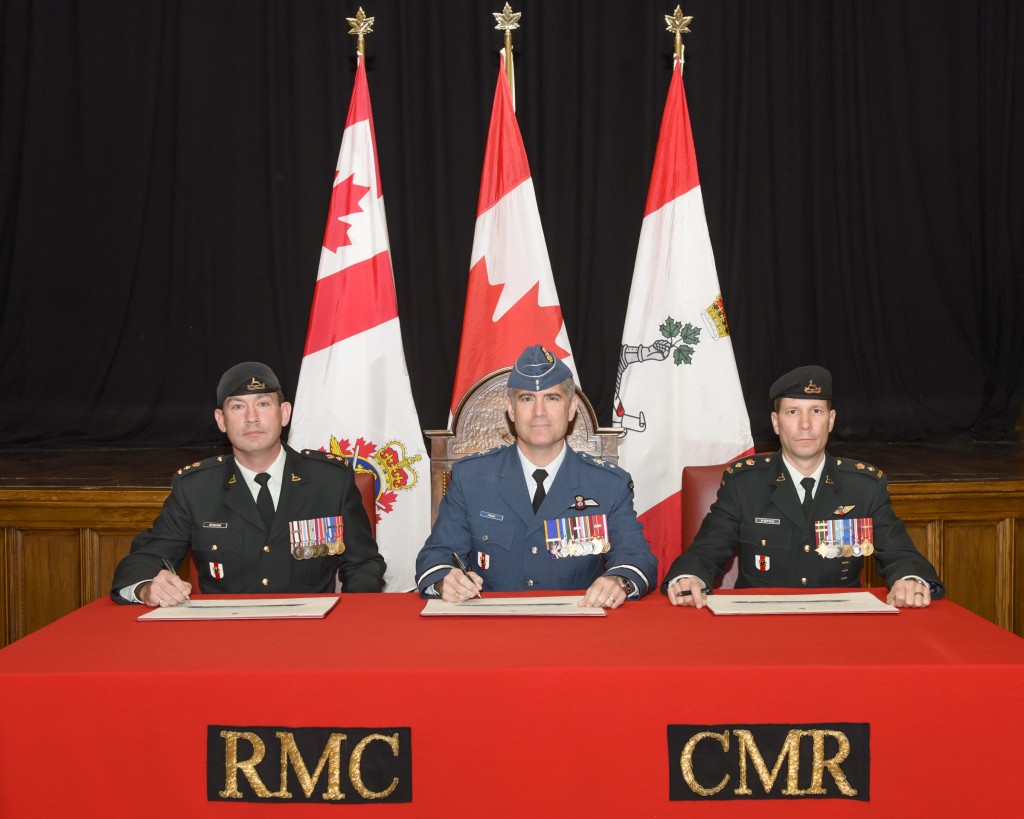 Photo by: 21946 Adam Dargavel
The Change of Command ceremony for the Director of Cadets between 19994 LCol Mark Popov (photo right) and 19401 LCol Chris Renahan (photo left) took place Wed, 28 October in Currie Hall.
The commandant, 16855 Brigadier-General Sean Friday was the presiding officer.
A large crowd was in attendance including – military & civilian staffs; officer cadets; and some family & friends.
***
Director of Cadets CoC Ceremony

52,208 reasons to shop Canex & SISIP

Workshop on Conflict Simulation and Gaming in the Classroom /

Simulation des conflits et la mise en œuvre des jeux dans la salle de classe



Lots going on in the Cadet Wing too!
First Years (C&D Division) – Experience a Mess Dinner for the first time…

RMC Debate Team – We're back!

Aniqa Khan: Her take on the week that was:
C and D Div Mess Dinner
200 DTG and Halloween
70th Annual EMEA AGM
RMCC band, pipes, drums, and highland dance group experience more than music at USNA
 MORE..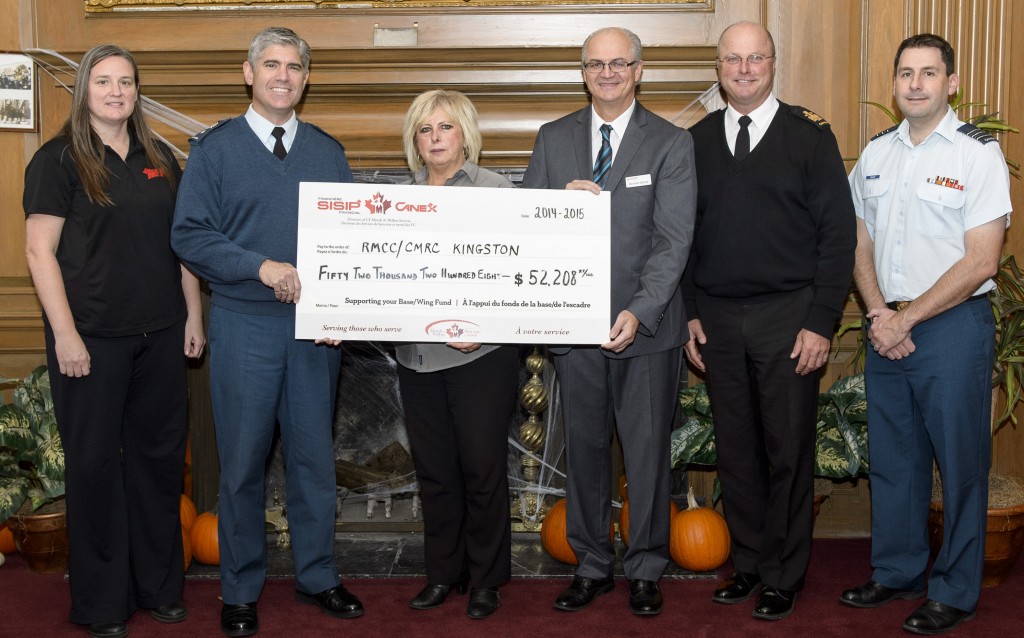 Photo by: Steven McQuaid
 52, 208 reasons to shop Canex & SISIP
The commandant in any given week is involved with a number of presentations.  All, of course, are important. We can't think of too many occasions when someone drops by the college and presents him with a cheque worth over $50,000.  This is exactly what happened last Thursday at the Senior Staff Mess.
Danielle Latulippe, CANEX Manage (centre left)r, accompanied by Bernard Savoie, SISIP Manager (centre right) presents a cheque to Brigadier-General Sean Friday, Royal Military College of Canada(RMCC) Commandant to support the College's Unit Fund. Also in the photo are Kelly Lupton – (left), Deputy Manager, Chief Petty Officer(CWO) Keith Davidson, College CWO and Lieutenant-Colonel Crosby, Director of Support Services. Oct 29 2015 at Senior  Staff Mess, RMCC, Kingston.
***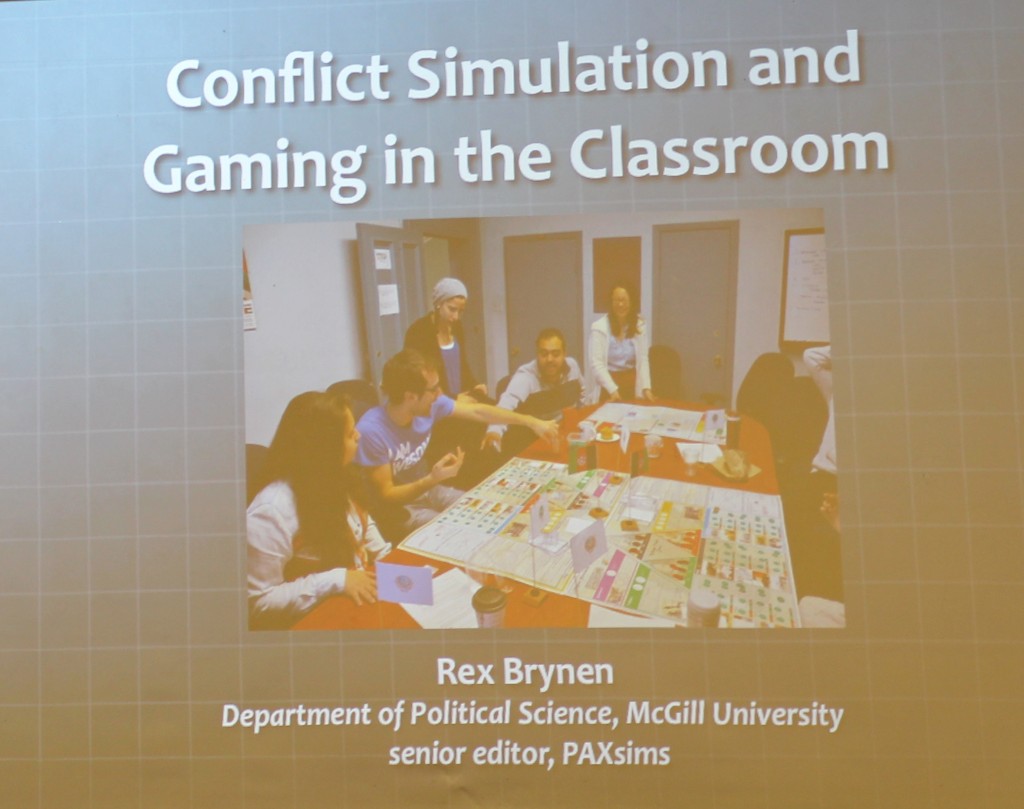 Workshop on Conflict Simulation and Gaming in the Classroom
On 19th October 2015 The Faculty of Arts, the Department of Political Science and the Center for Security, Armed Forces and Society organized a workshop on Conflict Simulation and Gaming in the Classroom moderated by Dr Rex Brynen from McGill University, Department of Political Science.
The event was sponsored by RMCC Foundation as part of the series on scholarly publishing, research, and teaching. Seminars on Conflict simulation and gaming in the classroom followed by a hands-on introduction to some commercial war game products was followed by two well-attended crisis simulations: AFTERSHOCK: A Humanitarian Crisis Game and a matrix simulation entitled ISIS CRISIS.
xxx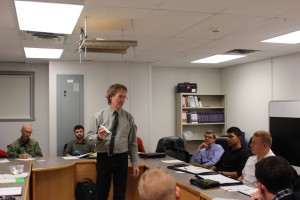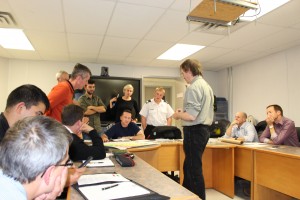 xxxx
 Simulation des conflits et la mise en œuvre des jeux dans la salle de classe
Le 19 octobre 2015, la Faculté des Arts, le Département de science politique et le Centre pour la sécurité, les forces armées et la société ont organisé un atelier au sujet de Simulation des conflits et la mise en œuvre des jeux dans la salle de classe sous la direction du professeur Rex Brynen, du Département de science politique, de l'Université McGill. Cet évènement fait partie de l'Initiative sur les Publications scientifiques, la recherche et l'enseignement soutenue par la Fondation de RMCC.
Le séminaire inaugural sur Conflict simulation and gaming in the classroom suivi par une séance sur l'introduction à quelques produits de jeux de guerre commerciaux, a été suivi par deux séances bien accueilles sur le CONTRECOUP : un jeu de crise humanitaire et finalement sur une matrice de simulation sur CRISE ISIS.
***
RMC Debate Team – We're back!
Article by: 27249 OCdt (II) Michael  Cambare – 6 Squadron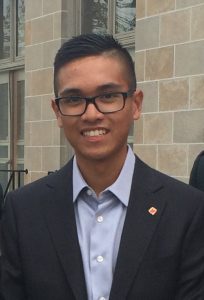 The RMC debate team earned another reason to celebrate during this Halloween weekend after recording numerous wins while participating in the October 30 – 31 Chancellor's Cup at Queen's University.
The Chancellor's Cup is a major university level debate competition that attracts hundreds of students from universities across Ontario and Quebec every year. This was the first civilian competition that the RMC debate team has participated in after three years of being absent on the Canadian university debating circuit.
The RMC contingent comprised of three two-man teams who went on to debate students from other universities over a wide range of topics in the British parliamentary style form of debate. The topics ranged from Japan's revocation of its constitution's article 9, to whether or not women should be allowed to play in male professional sports leagues.
While the RMC team failed to proceed onto the finals, it remains an important first step in re-establishing RMC's name as a credible and viable debate team. Furthermore, significant improvements have been made in the team's abilities even after just one debate.
The experience of debating an unfamiliar adversary under more demanding and foreign circumstances is a learning experience that does not parallel in-class teaching and practice, and is an integral aspect of any team's training regime.
The ultimate goal of the RMC debate team is to prepare for the RMC-West Point debate tournament that occurs next January – just two months away. In addition to this, the RMC team is looking to fulfilling long term targets that will see the club return to its former glory, and to be competitive in national and international competitions.
***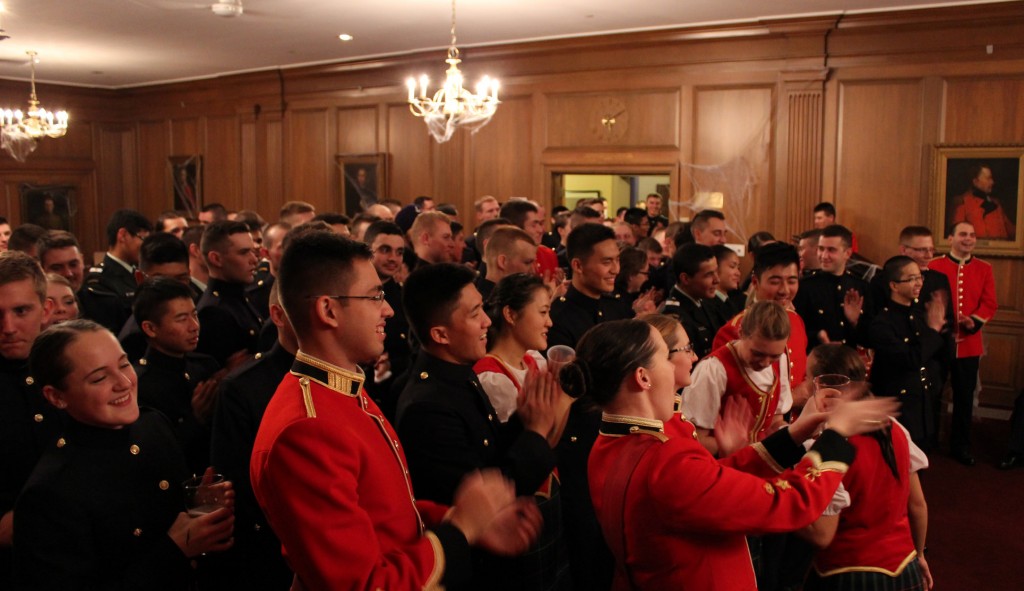 First Years (C&D Division) – Experience a Mess Dinner for the first time…
More C&D Div Mess Dinner photos by Colin de Grandpré – Here
Article coordinated by: Denice Zoretich
This week, both Charlie and Delta Divisions had the pleasure of welcoming their first years to an important military tradition – the mess dinner. The first year mess dinner is a chance for the new members of the Royal Military College to celebrate along with their FYOP staff and senior leaders. The guest of honour was the new Director of Cadets, Lieutenant-Colonel C.C. Renahan, CD.
The mess dinner is one military milestone the new members will take part of. It was also a great event for them to relax, enjoy themselves, and reflect on their experience so far.
***
"Though I have spent only a short amount of time at RMC and in the military itself, it has left a lasting impressions on me. The first thing I've noticed about the military is that it is a place where teamwork and comradery trump all. There is a sense of belonging felt by all with a common goal to serve the great country of Canada. RMC builds a modern officer by providing an environment where officer cadets can learn, and grow in all four RMC pillars. Regardless of what happens in the future I will always take away the lessons I've learned from both RMC and the CAF".
– NCdt Patrick James, 27716
***
"In short, I am thankful that I decided to join the Canadian Armed Forces. While the lifestyle has its ups and downs, for the most part I believe that my experiences in the military have made me more confident, capable, and focused. Having been a transfer student from another university, RMC has seemed quite different to what I had been used to, but not necessarily in a bad way. My favourite aspect of RMC and the military in general has been the sense of comradeship, and trust. In closing, the benefits of joining the military, in my opinion, far outweigh the negative aspects."
– OCdt Christopher Mack, 27735
***
"Each and every day, there are many things I learn about the military, here at RMC. I cannot help but realize how privileged I am to be presented with the opportunity to attend certain events that are exclusive to those enrolled in the military life. Being able to see and interact with those that I aspire to be one day gives me motivation and assures me that I have chosen the right path for my life.
My life at RMC as a first year has been nothing but spectacular.
"As a former civilian university student, I know first-hand that there are many differences between the two lifestyles. Although the opportunity to attend and be a part of the RMC community did not come without some sacrifice, I am reminded every day that it was worth it. I love the food, facilities, professors, staffs, and especially my new friends whom I shared and continue to share the hardships, laughs, and unforgettable memories. Here at RMC, not a day goes by without a sense of fulfilling a purpose and being productive. Everyday poses a challenge that requires a lot from my colleagues and I believe that ultimately develops us to be a better person than we were yesterday."
– OCdt Joshua Lee, 27767
***
27730 OCdt (I) Aniqa Khan – 11 Squadron: Her take on the week that was…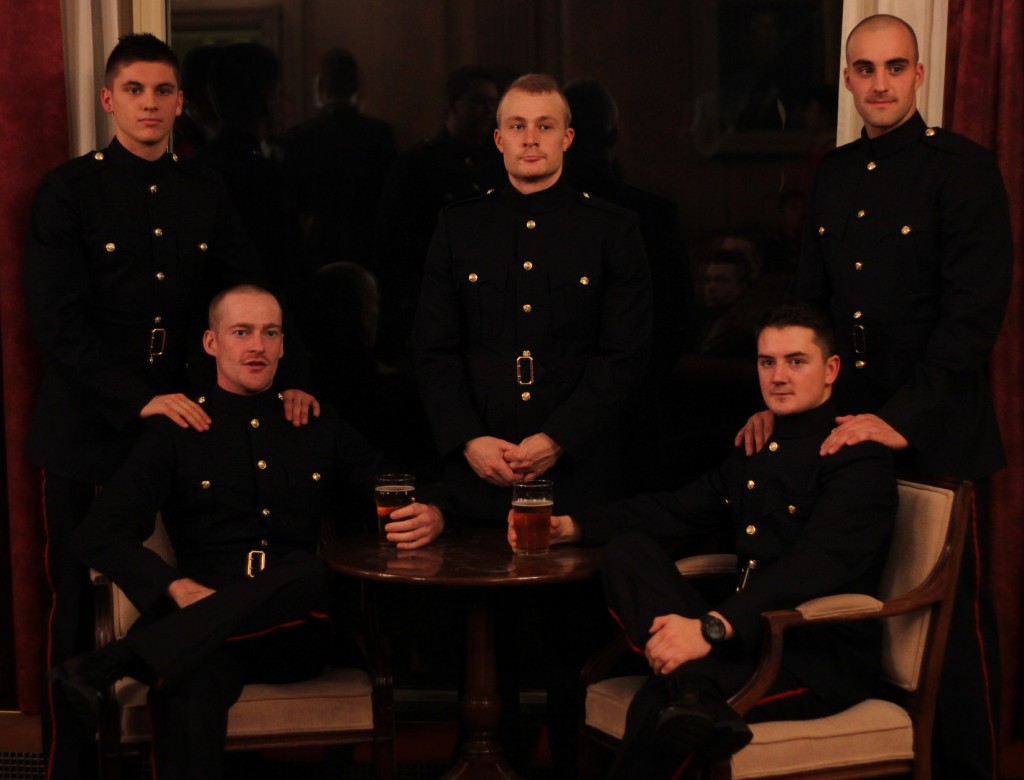 C and D Div Mess Dinner
Wednesday, October 28th marked a very special evening for cadets in C and D Div. First year cadets attended their first mess dinner at RMCC in the Senior Staff Mess. Cadets came dressed in their fours and shiny oxfords for a very memorable evening; for many, this was the first mess dinner they had attended.
This event gave cadets a feel of the general layout and etiquette of a mess dinner, as well as a chance to mingle with some senior barmen and FYOP staff. The mess dinner was also a chance for the cadets to meet and interact with some of their senior officers in a more relaxed atmosphere and.
Overall, it was a wonderful bonding experience for first year cadets of both Divisions, as well as a wonderful opportunity to interact with fourth year students, squadron commanders, warrant officers, and other important officers, in addition to learning about mess dinner traditions.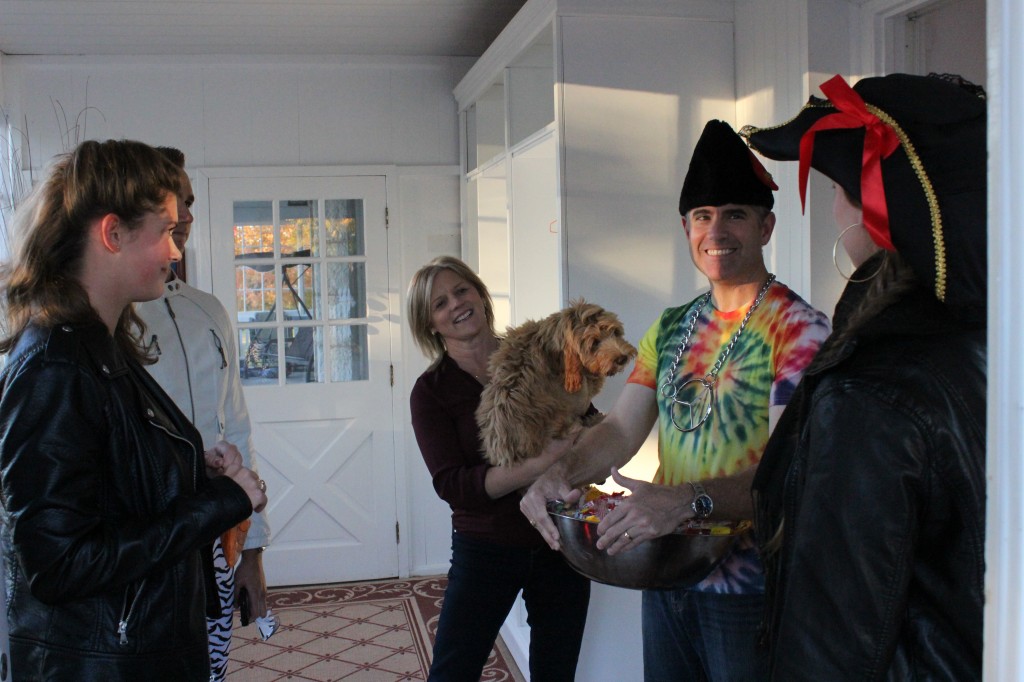 Trick or treat at the commandant's residence
200 DTG and Halloween
200 Days to Grad celebration is a very old, yet exciting tradition at RMC. This Friday was the day that marked 200 days to the fourth years' graduation.
During the weeks leading up to this day, the fourth year cadets put out questions that the first years had to answer to earn the fourth year cadet's fours and position for the day.
On Friday morning, the acting fourth year cadets woke up the acting first year cadets to loud music just like during FOP. While some flights attempted to make their acting first years do a morning PT session, others did morning room and dress inspections.
After that, the acting fourth years, all dressed up in their decorated fours got their flights to get dressed up in their new first year fours and gators to attend a morning parade. With a lot of running around trying to get the acting first years to march, all flights were eventually brought to the parade square for a "parade," after which everyone headed to breakfast in their new uniforms for the day.
The students then attended classes dressed in 4s, anticipating the end of the school day to dress up in their Halloween costumes and go trick-or-treating to the first years' rooms. With lots of candy for the fourth year trick-or-treaters, the first years waited for the fourth years to leave to "decorate" their rooms in all sorts of interesting ways.
Upon their return, the fourth years opened their doors to an interesting surprise, marking the end of the 200DTG celebrations.
***
70th Annual EMEA AGM
The Electrical and Mechanical Engineering Association held their 70th Annual General meeting recently. A few of RMC's first and second year students were fortunate enough to attend this event at the Senior NCM Mess on base this Friday to spend the evening with some remarkable people who have served for several decades in the trade.
All the cadets received a very warm welcome from the members of the association as they began conversing with us about their various experiences during their time in service. The cadets had a wonderful time talking to some of the ex-cadets about RMC traditions over the years, especially 200 DTG.
Inspiring stories and heroic tales were shared over dinner, after which we were addressed by Col R Dundon about some updates in the association and interesting future events. We were very pleasantly surprised to have the RMC Pipes and Drums and Highlands Dance Team deliver a fantastic performance to end off the evening in very high spirits.
As some of us enjoyed watching our friends perform, some ex-cadets watched with smiles painted across their faces, reminiscing about their time at the college. It was a wonderful to meet with and talk to some of the members about their valuable experiences and a lot was learned.
***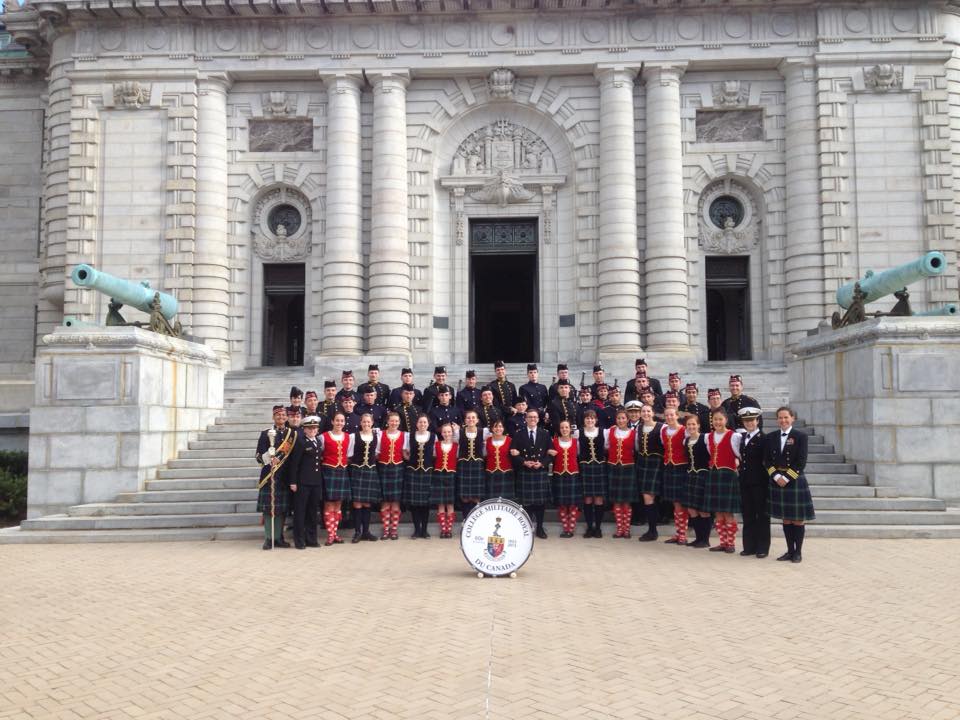 RMCC band, pipes, drums, and highland dance group experience more than music at USNA
Article by: 27476 OCdt (II) Danielle Fielding
For many years, the band from one college would visit the other and perform in the host's community.
The Royal Military College of Canada (RMCC) band, pipes, drums, and highland dance group, had the unique opportunity to visit the United-States Naval Academy (USNA) the Fall 2015 semester, and perform at a boat show in downtown Annapolis.
Not only was this a fantastic experience for RMCC cadets to broaden their knowledge in their area of musical study, but to also meet new people from USNA and solidify the relationship with the college and city. From the moment we arrived to the moment we left we were treated as more than just guests, it almost felt like the two colleges shared something special. The two bands worked together to create a great show in just one day.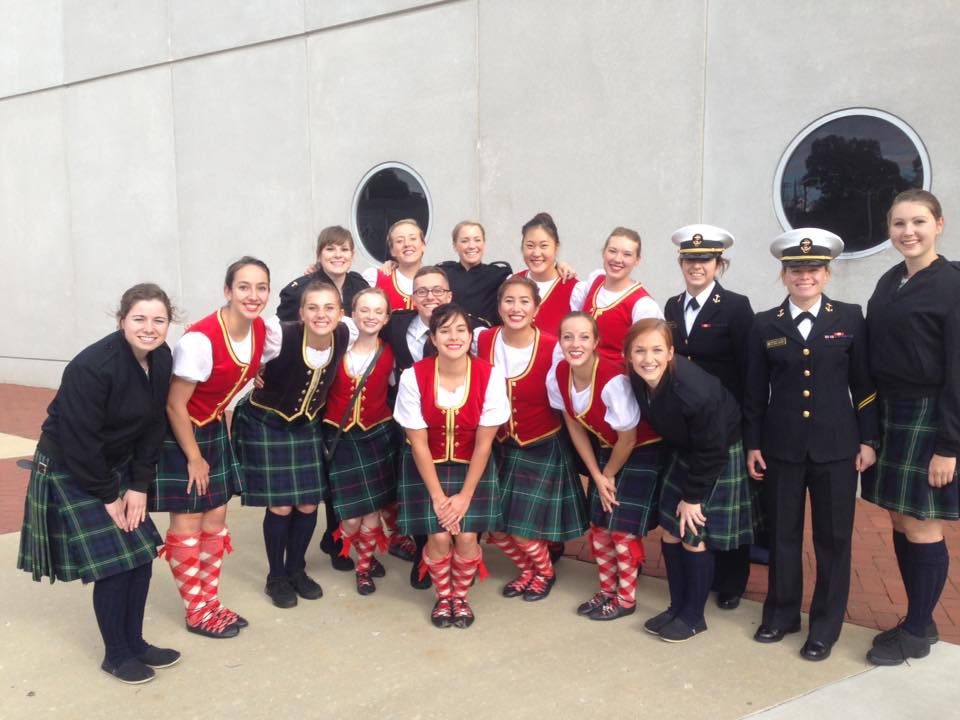 Both bands learned new pieces to accommodate the other in a way that would inspire many other groups. In addition, the band members from USNA toured all the students from the college, showing them everything USNA had to offer, from their extensive college shop, their beautiful cathedral and their free smoothie stand run by students. Their college shop had everything from USNA apparel to shoes, to a full stocked pharmacy and grocery store.
The RMCC cadets also got to visit the cathedral on USNA campus. Everyone on the team was in agreement that it was stunning. I also had the unique opportunity to try one of the free smoothies, a stand ran by USNA students.
Furthermore, after the performance was done we were invited to a hall for a night of ceilidh dancing. This is an old style of dance that anyone can learn. It was a ton of fun for everyone and further brought the two groups closer.
Finally, the RMCC cadets were shown more of the downtown Annapolis. Since we already completed the number 1 thing to do in Annapolis, visit the academy, according to trip advisor, we then visited the area's rich and diverse history as well as scenic parks and other natural landmarks.
I can't wait for them to come here so we may show the students from USNA the vast history Kingston has to offer, including everything RMCC has done for the Canadian history.
I am also excited for RMCC and USNA to continue this amazing tradition over the next years to come.
Trips like this one can only happen with the generous support of donors to the RMC Foundation.