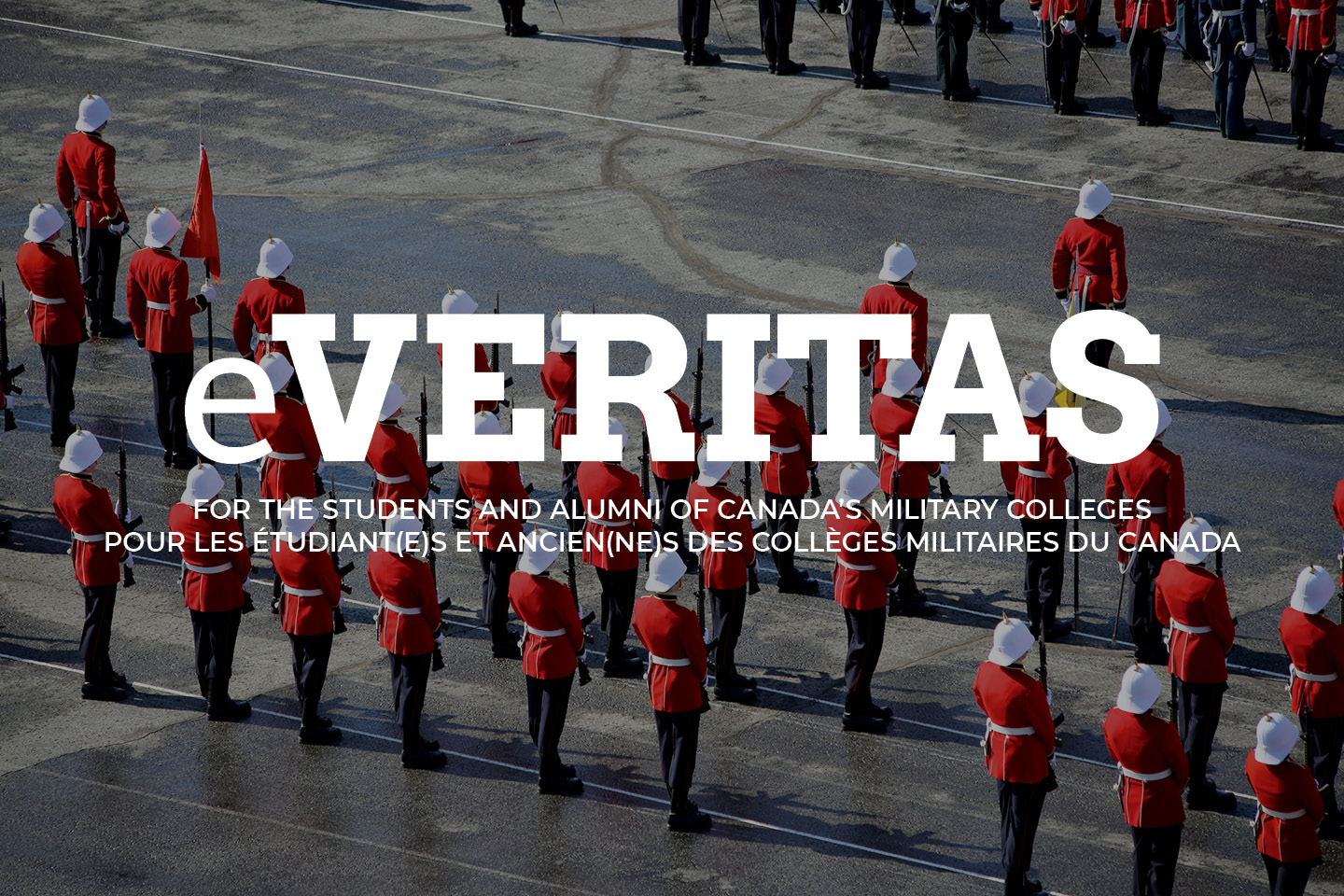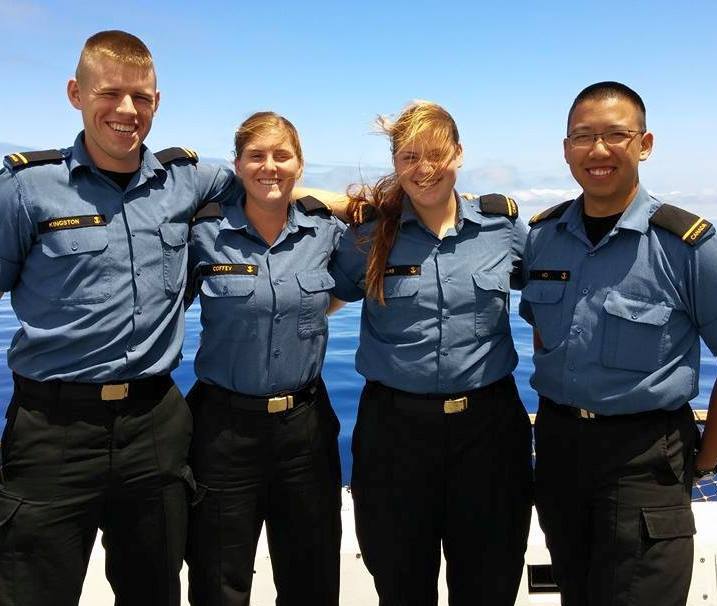 The real deal for four RMCC Naval Cadets
By: NCdt (III)Wilson Ho – 26584
Over this summer, from July 17th to August 15th, I had the unique opportunity to partake in Operation Regulus with the United States Navy. The Regulus program is the Royal Canadian Navy's (RCN) response to getting young women and men of the RCN to sea during a period of reduced sailing opportunities. The four of us, NCdt Brittany Evans, NCdt Blaire Coffey, NCdt Fenner Kingston and I, finished our respective MARS II courses at Naval Officer Training Centre (NOTC) Venture and were given the opportunity to fly down to San Diego to work aboard USS New Orleans, LPD 18. USS New Orleans is a San Antonio class amphibious transport dock and can hold up to 800 fully equipped Marines, and is crewed by approximately 300 sailors and officers.
MORE…

We arrived, with all our kit bags at San Diego International Airport on July 17th. As the USS New Orleans had already sailed from Naval Base San Diego, we stayed aboard USS Harper's Ferry for the night before being Rigid Hull Boat (RHB'ed) aboard the USS New Orleans. The next morning, along with 16 other midshipmen from universities across the United States, we boarded the USS New Orleans. Saying that the New Orleans is a medium sized ship would be an understatement. The USS New Orleans has two massive radar arrays, four turbocharged diesel engines that produces 41,600 shaft horsepower, a flight deck large enough to land two MV-22 tilt rotor Osprey aircraft or up to four CH-46 Sea Knight helicopters, and also a well deck large enough to load two USMC Landing Craft Air Cushions (LCAC) or one USMC Landing Craft Utility (LCU) along with 14 amphibious assault or expeditionary fighting vehicles. After a brief tour of the ship, all the midshipmen (and us, the four Canadian "midshipmen") were told to muster in the Wardroom to meet up with our supervisors, or more affectionately known as "running mates."
I was fortunate enough to work with two running mates during my time onboard USS New Orleans. My first running mate was Ensign Tony An. He, along with his department, is in charge of all the damage control facilities onboard the ship, along with a boatload of other responsibilities. On a day to day basis I would do rounds with ENS An and also meet him on the bridge, where he would stand watch for six hours before going back to his department. After a week working and shadowing ENS An, I decided to switch running mates. In the United States Navy, midshipmen (or Naval Cadets in the RCN) do summer cruises with different ships in the Navy as part of their training to become Ensigns, or Acting Sub-Lieutenants. A midshipman's second class cruise consists of shadowing an enlisted sailor and their first class cruise consists of shadowing an officer; the purpose being to allow midshipmen to gain an appreciation of the work that the enlisted and officers do before they head off into the Fleet. I too, wanted to look at the ship from an enlisted standpoint and so I shadowed an enlisted sailor for three weeks. The enlisted sailor that I chose was Information Technician 3 (IT3) Jordan Wooley. IT3 Wooley worked in radio, but he was temporarily attached (TA) to the wardroom as a food services assistant (FSA). As part of their training, all enlisted sailors would be TA'ed to the Wardroom, the Chiefs Mess or the main galley. The reason I chose to work with him was because of his genuine interest in mentoring me, and also because I like cooking. The four of us also worked alongside the enlisted and officers onboard USS New Orleans as they went through a material inspection done by the Board of Inspection and Survey (INSURV). Suffice to say, the entire ship's crew pulled it off with high results all around.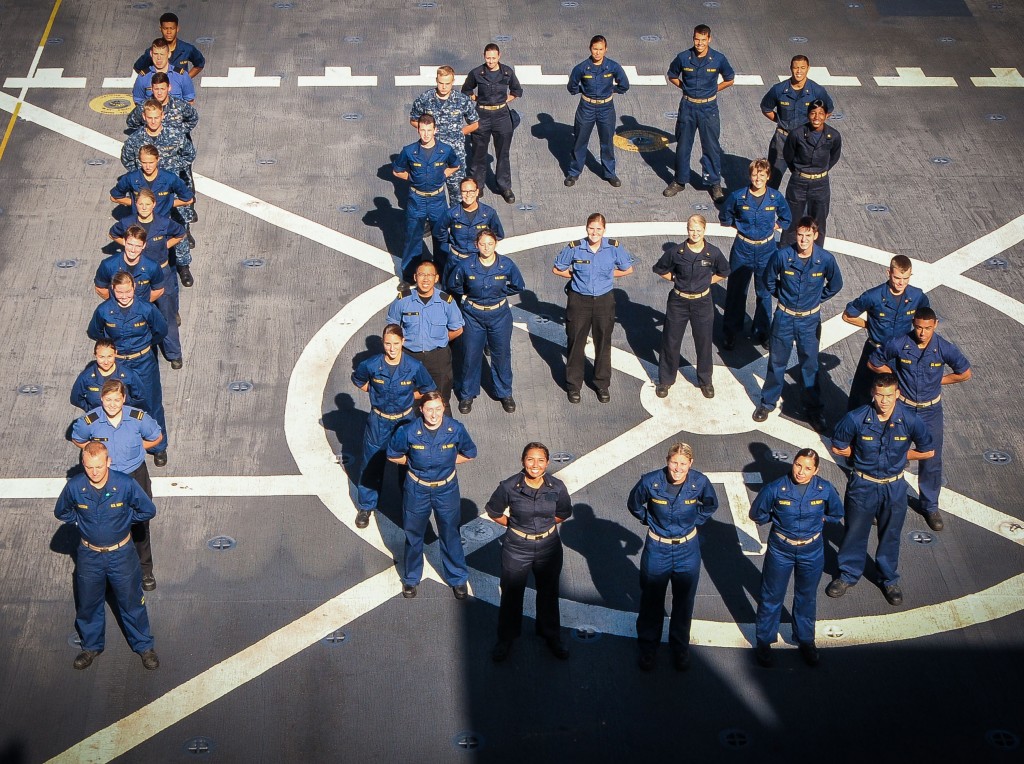 During the brief month onboard USS New Orleans, I was fortunate enough to see four flight operations, a UnRep or replenishment at sea (RAS), two US submarines, a plethora of sea mammals like dolphins and whales, drove one of the RHBs while we were anchored off San Diego, and also be able to cook for LCdr Kingston and his family when he had us over for dinner. LCdr Kingston and his family was incredibly hospitable to us from the first day that we met him. He personally drove us from San Diego International Airport to the USS Harper's Ferry when we learnt that the USS New Orleans had departed from San Diego before we arrived.
I'd like to thank the entire crew of the USS New Orleans (LPD 18), especially Commanding Officer Capt. Douglas Verissimo and Executive Officer Roberto Dumlao, LCdr Kingston and his family, and all the logistical staff behind the Regulus program. Without them, NCdt Brittany Evans, NCdt Blaire Coffey, NCdt Fenner Kingston, and I would have never been able to see what we saw and do what we did. Now, time for a break from summer adventures and dive straight into school at the Royal Military College of Canada!