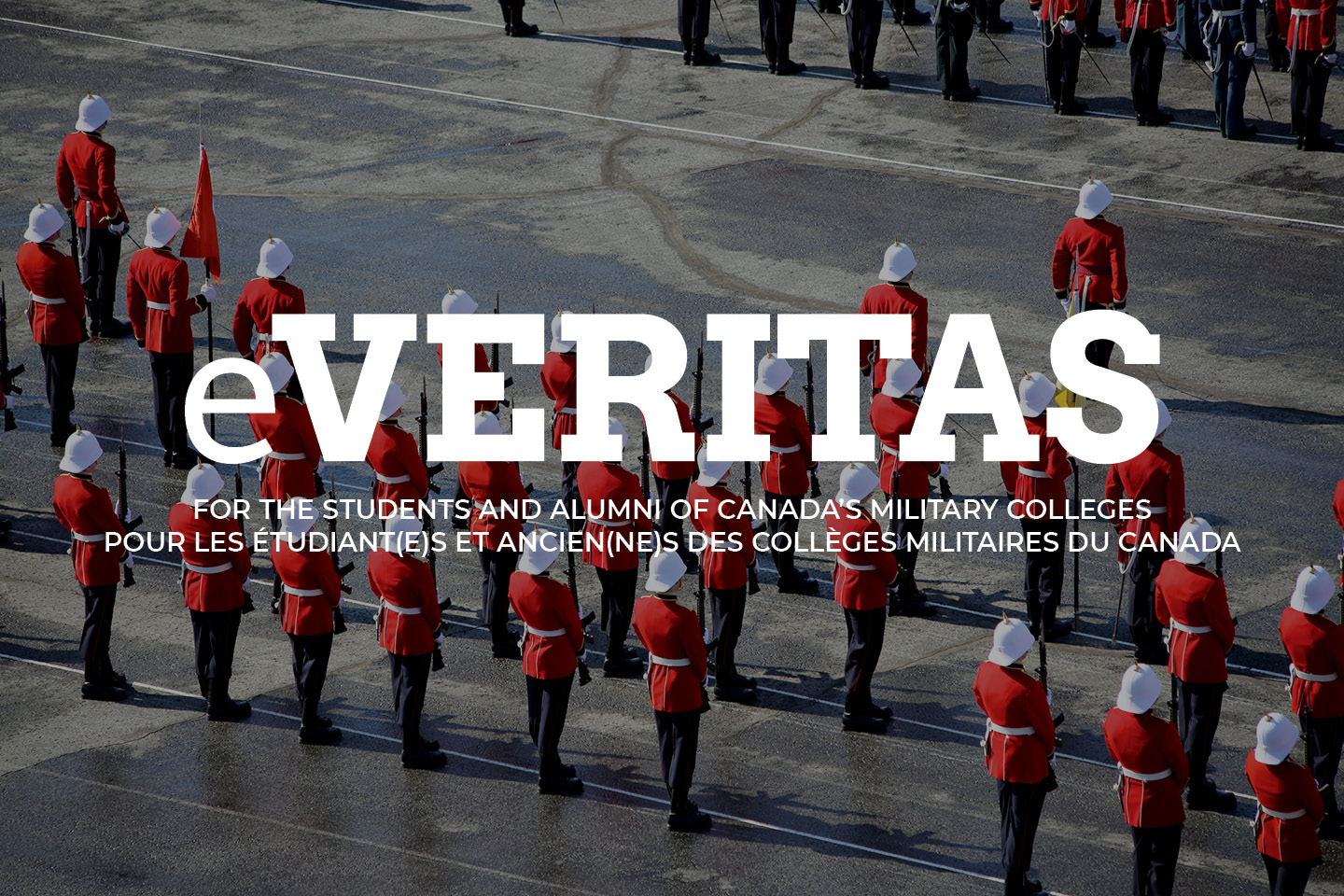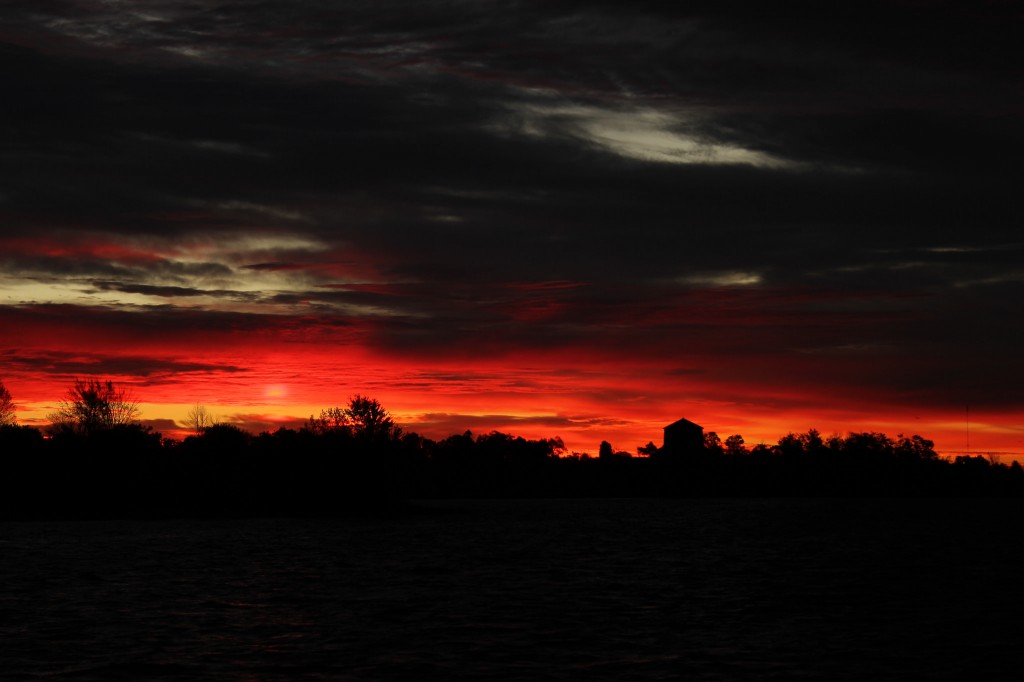 The Week That Was…
The beautiful calm sky over the peninsula this time of year can be deceiving.
The realities of the academics have set in throughout all four years. Mid-terms for many was a 'wake up call' with the real exams just a little more than a month away.
From now until exams there are numerous other activities and high profile events on the horizon including the Cmdt's Inspection, Drill Competition, Fall Convocation and Christmas Concert.
27730 (I) Aniqa Khan – 11 Squadron had this perspective on the week:
"This week marks the week of the PPT for all officer cadets at RMC. Although many cases have gone through the testing several times, some of our first year cadets faced it for the very first time at the start of this week. With an intense PT schedule during FYOP, proper technique for the PPT components was a huge focus. With this experience, we hope that all first year cadets excel in their performance on the PPT."

More photos from the week by: Melanie Hughes and Colin de-Grandpre – HERE
Making a Mess

e-Veritas welcomes its newest team member

Therapy dogs visit college

700 red & white tulip bulbs planted
MORE…
Making a Mess
By OCdt (III) Ian Douglas Ferrier, 27144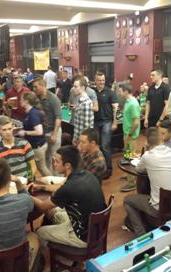 On Wednesday, October 14th, the RMCC Cadet Mess held its Fall General Assembly. This organization, headed by OCdt (IV) and OCdt (II), has hosted a variety of events this year and has many more to come. The events that have already been hosted include pizza nights, hot dog nights, chicken fingers nights, all coupled with watching the Blue Jays. Additionally, special events such as Octoberfest and Ladies Night have been held.
Octoberfest included "traditional" hats, bratwurst, sauerkraut, and free LITREhosen when you buy a Steamwhistle beer. MacKinnon Brewery, a local brew, brought in free samples of their beer for Cadets to try before as they were refilling the MacKinnon tap again. Ladies night was a formal affair that included makeovers, cocktails, food, and a variety of vendors selling health and lifestyle products. Coming soon is men's night that will include scotch tasting, sports, and vendors such as men's skincare, underwear, and suits. A special presentation is currently being organized so that Cadets can learn to make the most of their wardrobe. With both men's and ladies night, all genders are welcome.
Mr. Andy Sakell is the mess manager, OCdt (IV) Eric Leclerc is the President of the Mess Committee (PMC), and OCdt (II) Theresa Neill is the Vice PMC. Keeping morale high, this talented team is greatly appreciated for their hard work by the Cadet Wing.
***
e-Veritas Welcomes its Newest Team Member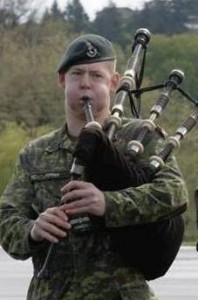 OCdt Ian Douglas Ferrier, age 20, began his career at RMCSJ as a member of Tracy Squadron and the CMRSJ Running Team. Upon arrival one year later at RMCC, he began a Bachelor of Arts in Business Administration (Honours) as a member of 4 Squadron. OCdt Ferrier has since been a member of the RMCC Stage Band, RMCC Choir, RMCC Pipes Corps, and occasional member of the RMCC Brass and Reed. While OCdt Ferrier is no longer with the Pipe Corps, he is a member of the RMCC International Affairs Association and is working to establish an RMCC Golf Club.
In his spare time OCdt Ferrier volunteers at RMCC Tailors, practices guitar, and spends time at the gym. In order to gain experience with Rugby, he completed two online courses with World Rugby and played as a Winger and a Flanker with the Kingston Panthers RFC during summer training 2015. He will be commissioned as an Army Logistics Officer in May of 2017 and intends to complete an MBA programme as soon as possible.
From a military family, OCdt Ferrier was first exposed to the army lifestyle as an Army Cadet in his hometown of St. Albert, Alberta. He can be found on Linkedin and has been a regular e-Veritas reader for the last four years. He is a recipient of the Duke of Edinburgh Award, Gold Level, in part for his work as a rider and volunteer at Horse Sense Stables and Petting Zoo.
Welcome to the e-Veritas team, Ian!
Photo Courtesy of United States Airforce Academy Drum and Bugle Corps Photography.
***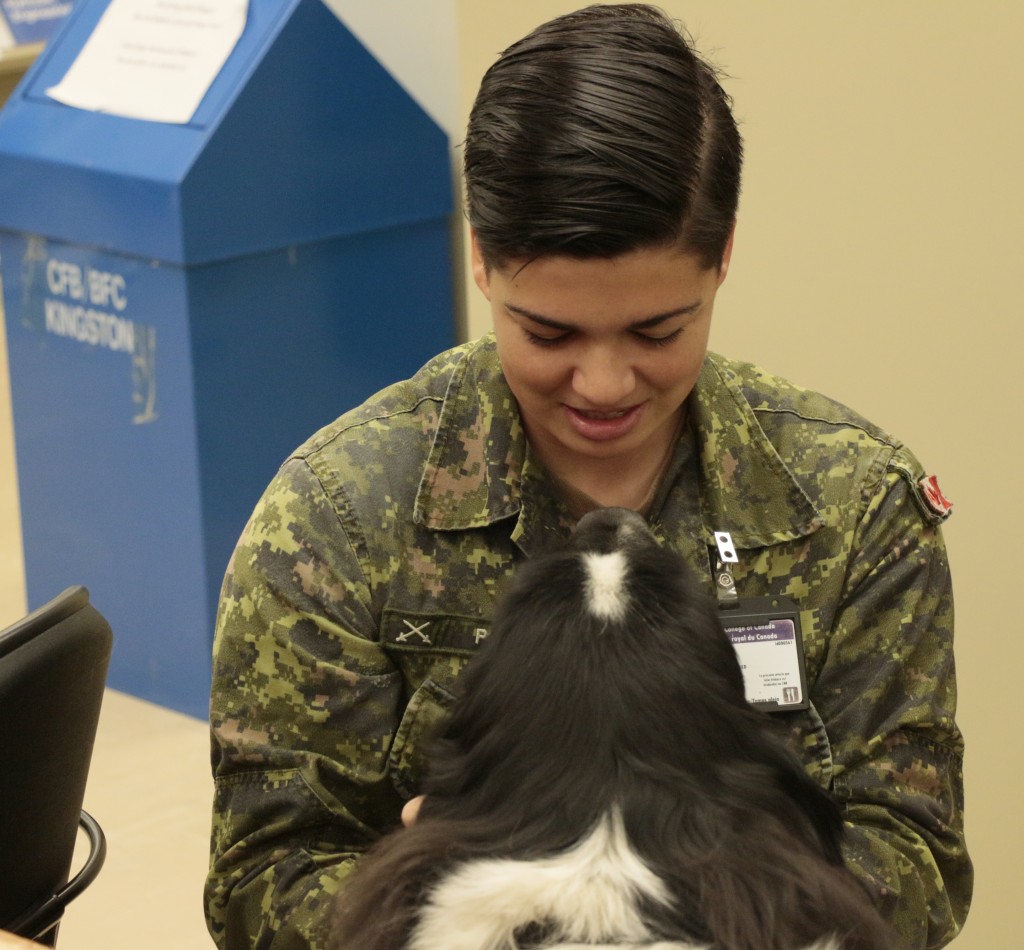 Therapy dogs visit college
By 26584 NCdt Wilson Ho
Last week, with the support of the Peer Assistance Group (PAG), the College was lucky enough to be visited by therapy dogs from Saint John's Ambulance. The dogs and their handlers visited the college library on the 21st of October and provided the Cadets, a chance to unwind and play with some very happy dogs. Over the past year, the Dog Program has been an excellent source of relaxation for many Cadets and we are grateful to the Saint John's Ambulance Therapy Dog Program for continuing to add the College to their visiting list.
The popularity of these visits was very evident, as over 60 cadets came to visit the dogs. It was extremely satisfying to see smiles all around during the midterm season! As such, PAG looks forward to being able to continue having visits from the therapy dogs of St. John's Ambulance Therapy Dog Program.
The Peer Assistance Group would like to thank Lynn Bennett and Marion Letts and their dogs, Red and Andy, for volunteering their time to come visit the college.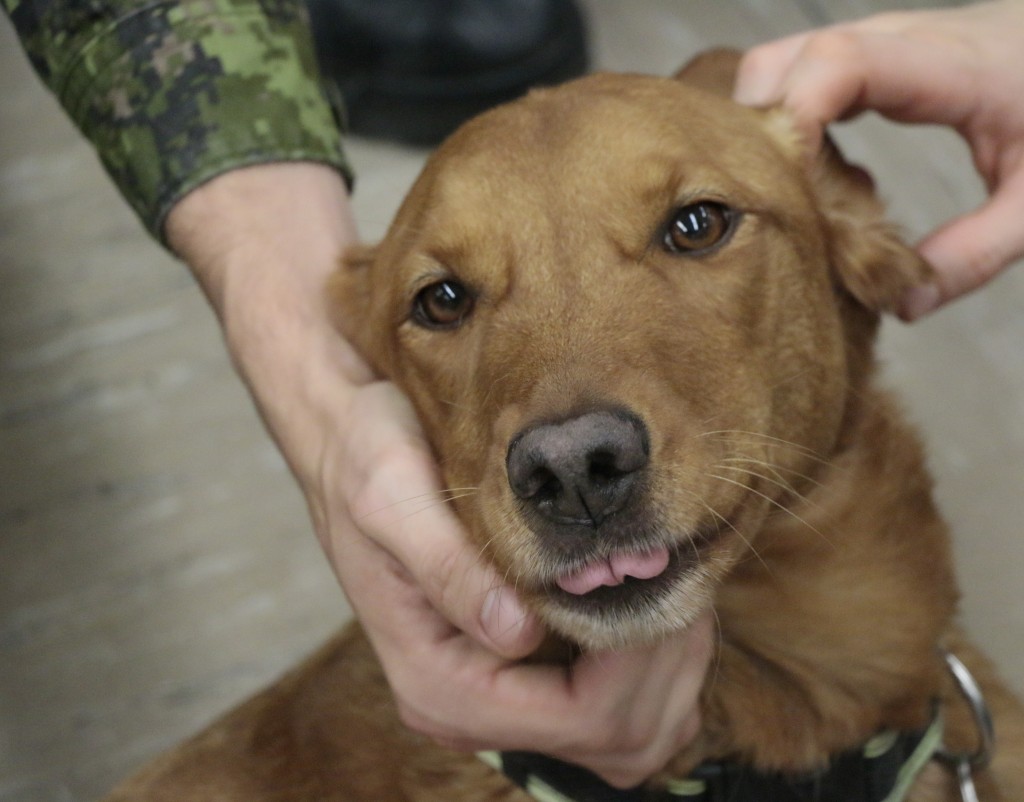 La semaine dernière, grâce au support du Groupe d'assistance aux pairs (GAP), le Collège a eu la chance d'avoir la visite des chiens de thérapie de l'Ambulance Saint-Jean. Les chiens et leurs maîtres ont visité la bibliothèque du collège le 21 octobre et ont donné la chance aux cadets de se détendre et de jouer avec des chiens très heureux. Au cours de la dernière année, le Programme des chiens a été une excellente source de détente pour de nombreux cadets et nous sommes reconnaissants envers le programme de zoothérapie canine de l'Ambulance Saint-Jean de continuer à ajouter le Collège à leur liste de visites.
La popularité de ces visites était très évidente, avec plus de 60 cadets venus passer du temps avec les chiens. Il était extrêmement satisfaisant de voir beaucoup de sourires, surtout pendant la période des examens de mi-session! Ainsi, le GAP se réjouit de pouvoir continuer à recevoir la visite des chiens de thérapie du programme de zoothérapie canine de l'Ambulance Saint-Jean.
Le Groupe d'assistance aux pairs tient à remercier Lynn Bennett et Marion Letts et leurs chiens, Red et Andy, pour donner de leur temps bénévolement afin de visiter le collège.
More photos from the therapy dogs visit – here
***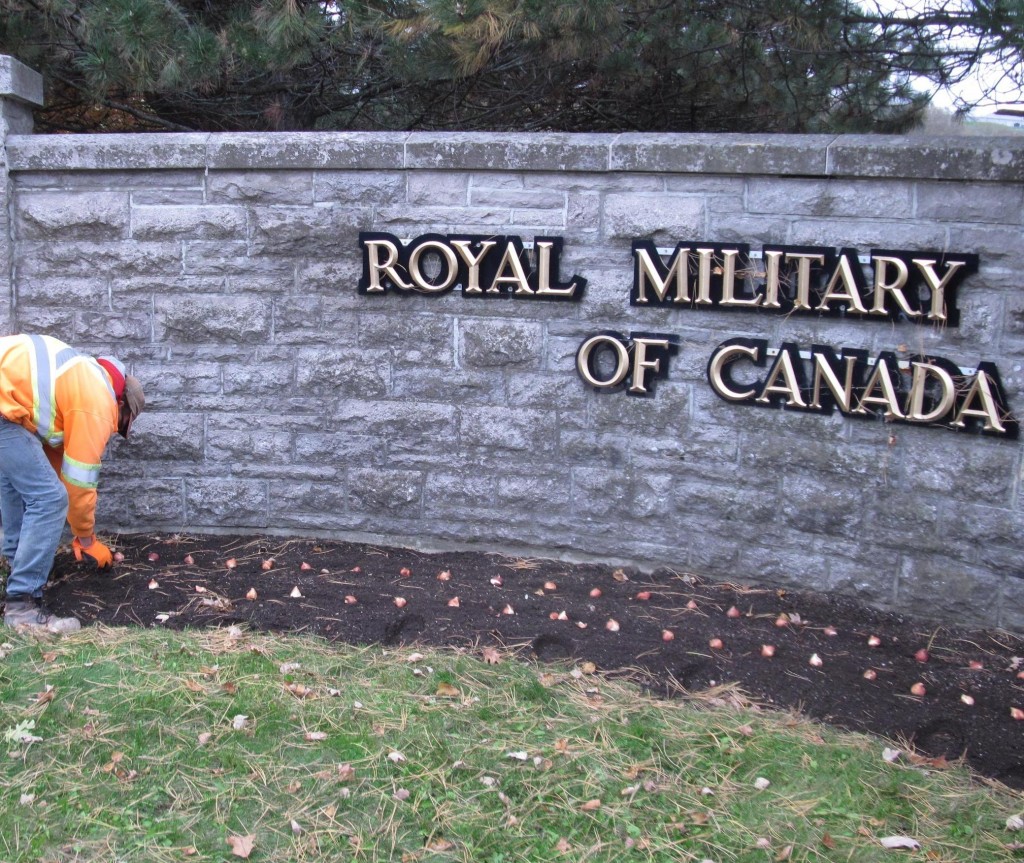 Planting of the RMC Dutch-Canadian Friendship Tulip Garden. In addition to the front gate, bulbs were planted at the Memorial Arch, and the Wall of Honour. In total 700 red & white tulip bulbs were planted. Both RMCC and RMC Saint-Jean were the recipients of 700 tulip bulbs on the suggestion of E3161 Victoria Edwards. 700 bulbs each were sent to 140 communities nationwide all connected to a symbolic garden of 7,000 bulbs in Canada's Capital.