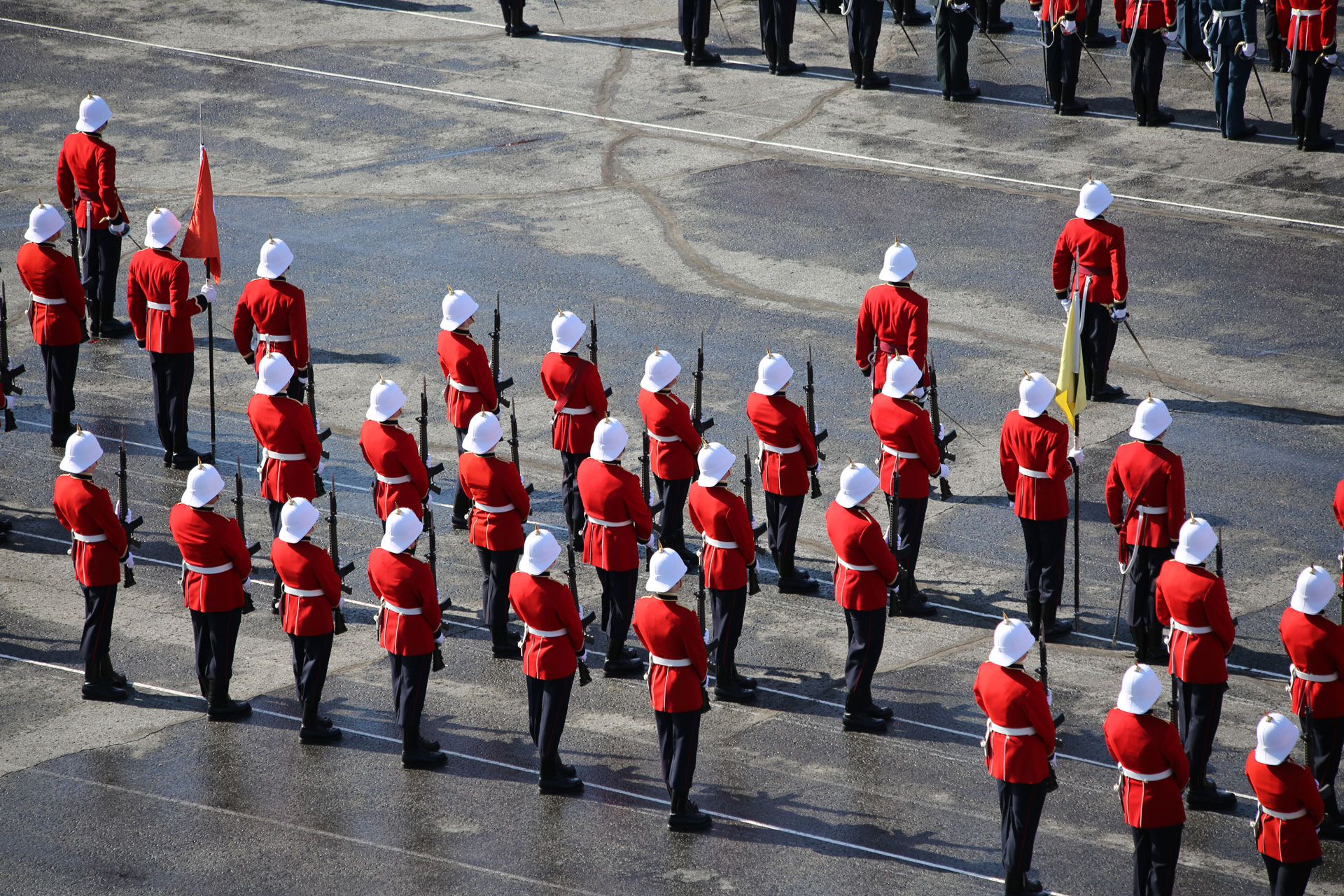 II Currie 25302 and II Cousins 25797 are laughing and enjoying themselves on the beautiful Saturday. "We've gotten a lot of donations actually," claims Currie, "everyone is being extremely generous." 
II Years Go All Out for Food Drive
Article & photos by: 25323 (III) OCdt Kate Haddon
The second year class project is finally underway. Running from 08h00 Saturday March 19 until 17h00 Sunday March 20, the Class of 2013 were fund-raising at five locations: Food Basics on Barrack St., Metro on Barrie St., Loblaws Princess St., Loblaws Midland Ave., and Metro on Gardiners Rd.
Unfortunately, the OPI for the event, II Allison 25670, was unable to take part due to Women's Varsity Soccer in British Columbia. However, II Clark 25586, the 2 I/C said that "the event is meant to serve many purposes: To help those less fortunate in our community, to connect to civilians and foster a positive image of RMC and the CF, and to provide second year cadets with leadership opportunities."
At the end of the event, all the proceeds of the project will be donated to Partners in Mission, a local food bank that serves the less fortunate in Kingston. Partners in Mission has almost six thousand unique individuals that use the food bank every year; almost half are children under the age of 18.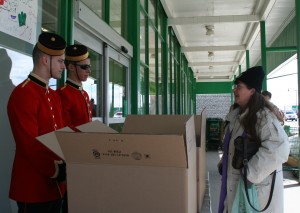 At Food Basics, II Gibson 25755 smiles as a customer inquires about the event and how to donate.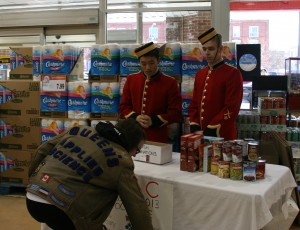 At the Metro on Barrie St., II Miron- Morin 25516 and II Lee 25769 accept a donation from a Queen's third year civil engineer.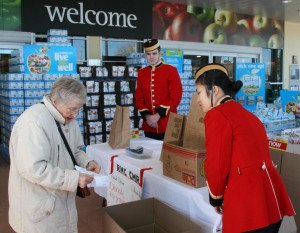 II Choi 25795 and II Lyall 25900 accept a very generous donation from civilian and ex-W.R.E.N (RCN) Primula Bull. She served during WWII and she said: "I like to my little bit (for the community)."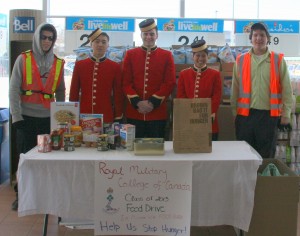 Even the "buggy boys" at Lowblaws Midland are showing their support towards a great cause. Employees, or as they call themselves "buggy boys," Brandon Johnson and Kyle Allen were more than happy to take a break from collecting carts and chat to II Kettenacjer 25751, II Kerr 25895, and II Hahm 25803.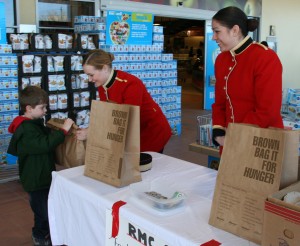 Five year old Benjamin Winterborn made a generous donation at Loblaws on Princess St. while II Shingoose 25903 laughs when II Simard 25813 tries to help him lift his heavy load of groceries.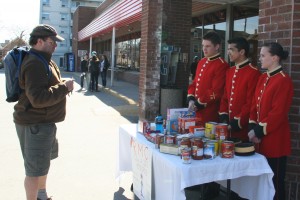 A man tells the second years that he thinks the RMC program is "great." II Simpel 25758, II Serrao 25756, and II Salinken 26178 say thank-you while he thanks them "for all you will do for Canada."
The project was still ongoing when we put this article together to meet e-Veritas deadlines. OCdt Clark is optimistic that when the projects wraps up that the amount of $$$ raised and food collected will rank right up there with past similar food-drives conducted by II years from the royal Military College of Canada.
We plan to follow-up and have the final numbers this time next week.
____________________________________
CONCERT IN SCARLETS SMASHING SUCCESS
Music by such varied composers as Holst, Vivaldi, Andrew Lloyd Webber, Carlos Santana and Lalo Schifrin high-lighted the very impressive performance Saturday (19 March) when cadets from Royal Military College held their annual Concert in Scarlets downtown Kingston.
The concert featured the RMC brass band, pipes and drums, highland dancers and choir, who performed modern, traditional, military and highland music. The college's stage band also performed a few high quality jazz numbers.
The popular event was well attended by both members of the RMC community and the general population of Kingston.
All proceeds will go to the United Way. (WE hope to insert some photos as the week unfolds – sorry for the inconvenience)
____________________________________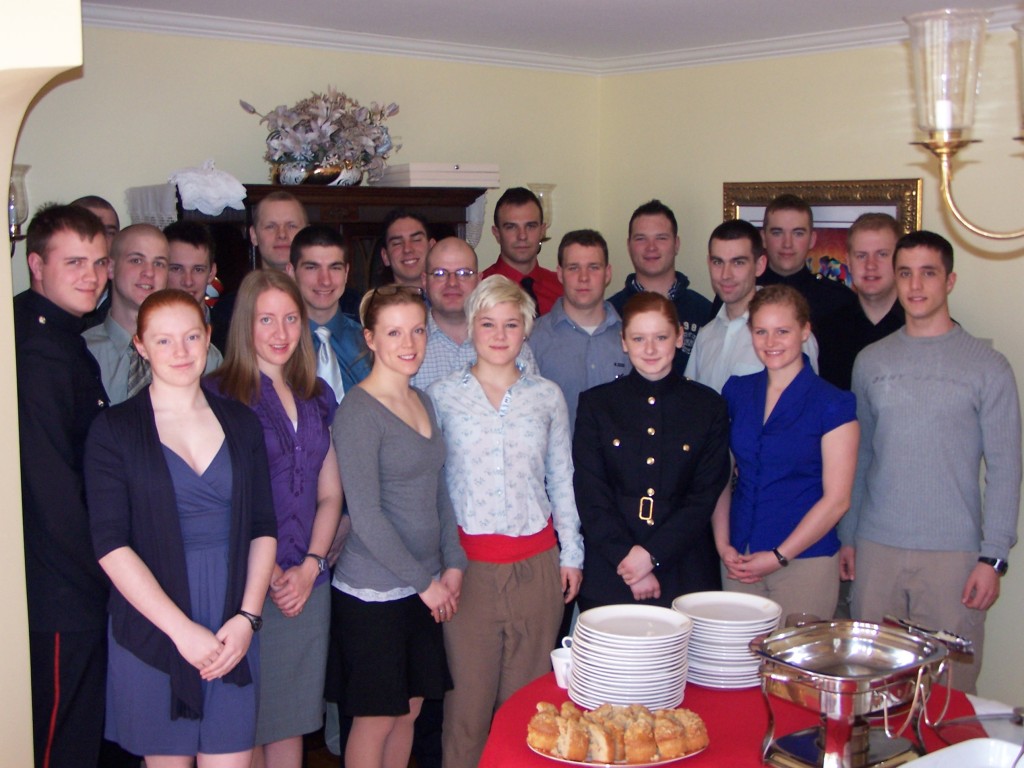 Cadets Enjoy Spring Brunch at the "B&B"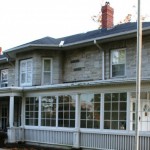 Today's brunch was officially named First Day of Spring Brunch, and the weather didn't disappoint. Walking over to the commandant's residence, I enjoyed the warmth of the sun, something we can all appreciate after 5 long months of winter. (click on photo for better view)
Once I arrived at the house, the hospitality received reflected the weather. I was quickly made to feel at home, and told to feel free to explore while sipping on some great coffee.
After visiting the house, I made my way into the kitchen where a group of officer-cadets listened to the commandant talk about how important it was for us to enjoy out time at RMC, because the years were going to start flying by faster and faster as our careers went on. Wise words, and easy to believe as we are already approaching that time of year dreaded by all students: final exams.
Brunch was then served, which was enjoyed over a vigorous debate amongst the officer-cadets on whether or not the meat was back-bacon or thinly sliced ham; we're still not sure. Either way, it was a delicious meal appreciated by all.
Many of the guests were repeat visitors, and the new guests, I included, all agreed that this was definitely worth doing again and promised to come back at the next opportunity. Even though some of the officer-cadets mentioned having to cut short their lazy Sunday mornings in bed, the pros of interacting with the commandant in a much more relaxed setting outweighed the extra 45 minutes of sleep some could have gotten had they not shown up this morning.
I strongly recommend attending one of the next brunches to those who haven't yet had the pleasure of doing so, and plan on becoming a regular visitor in the near future.
25529 OCdt (II) Josh Bouthot 1 Sqn
20 March 2011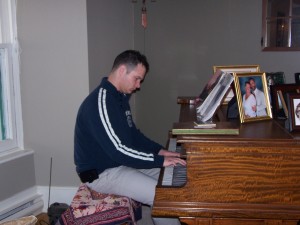 I had a very enjoyable morning at the Commandants Brunch. It was lovely to eat a home-cooked meal instead of the usual weekend breakfast, which for me is lunch. Exploring the historic building was the best part; the main floors are modern and furnished but when you see the basement you are reminded of how much history the house has. I also enjoyed perusing the Commandant's book shelf. The juxtaposition between Sun Tzu's Art of War and the Harry Potter series was great. It was a relaxing and fulfilling morning with excellent food, conversation and exploration. Thank you to the hosts, Brenda and Commodore William Truelove and their family.
26173  OCdt (I) Emily Morgan 1 Sqn
Commandant's Brunch
By 25881 (II) OCdt Anthony Matlock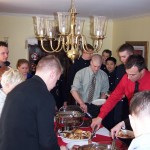 This Sunday morning Commodore William Truelove once again opened the doors to the Commandant's House and welcomed thirty-odd cadets for brunch. This opportunity to enjoy a homemade breakfast cooked by the college's "first family" and be "nosey" throughout the residence — a part of the college rarely seen by cadets — was greatly enjoyed by all those who attended.
According to 25888 (II) Joey Martin, a regular attendee of these gatherings: "The brunch was fantastic as usual. Commodore Truelove and his family were great cooks and gracious hosts."
As for first time guests such as 26014 (I) Gabriel Leitao: "It was a great honour to be welcomed by the Commandant and his family at the brunch today. The Commandant has a lovely house, and I was particularly amused to enter his office and see all seven Harry Potter books on his bookshelf. The food was so excellent it made me feel at home. I had a great time with friends, and I will surely attend more brunches to come."
Not only was the delicious home-cooked breakfast a welcomed change of menu from the Cadet Dining Hall, but the friendly atmosphere created by the Commandant and his family cements these brunches as an excellent monthly tradition at the college.
Today's experience was best summed up by 25749 (II) Turner Hibben: " The commandant's brunch is a wonderful way to spend any Sunday morning, with great food and great people. It is nice to know that our commandant takes the time to get to know the cadets at our college outside of school."
Commandant's Brunch
From the warm welcoming to the actual conversations with the commandant, I thoroughly enjoyed the brunch. This was my first time attending this event and I am glad I did. It began with us coming in and making conversation with everyone else there and then saying hello to those who lived there. The majority of the activity happened in the living room and the kitchen, since the family was preparing the brunch. It was very intriguing hearing the stories they had to offer about their previous postings and how they dealt with a lot of it.
The food was delicious, and the group picture was a nice token. As we left, we signed the guest book and was thanked to have visited them. Over-all, it was beneficial since I had nothing better to do on a Sunday morning, and the food and stories were great.
25168 OCdt (III) Kye Emond