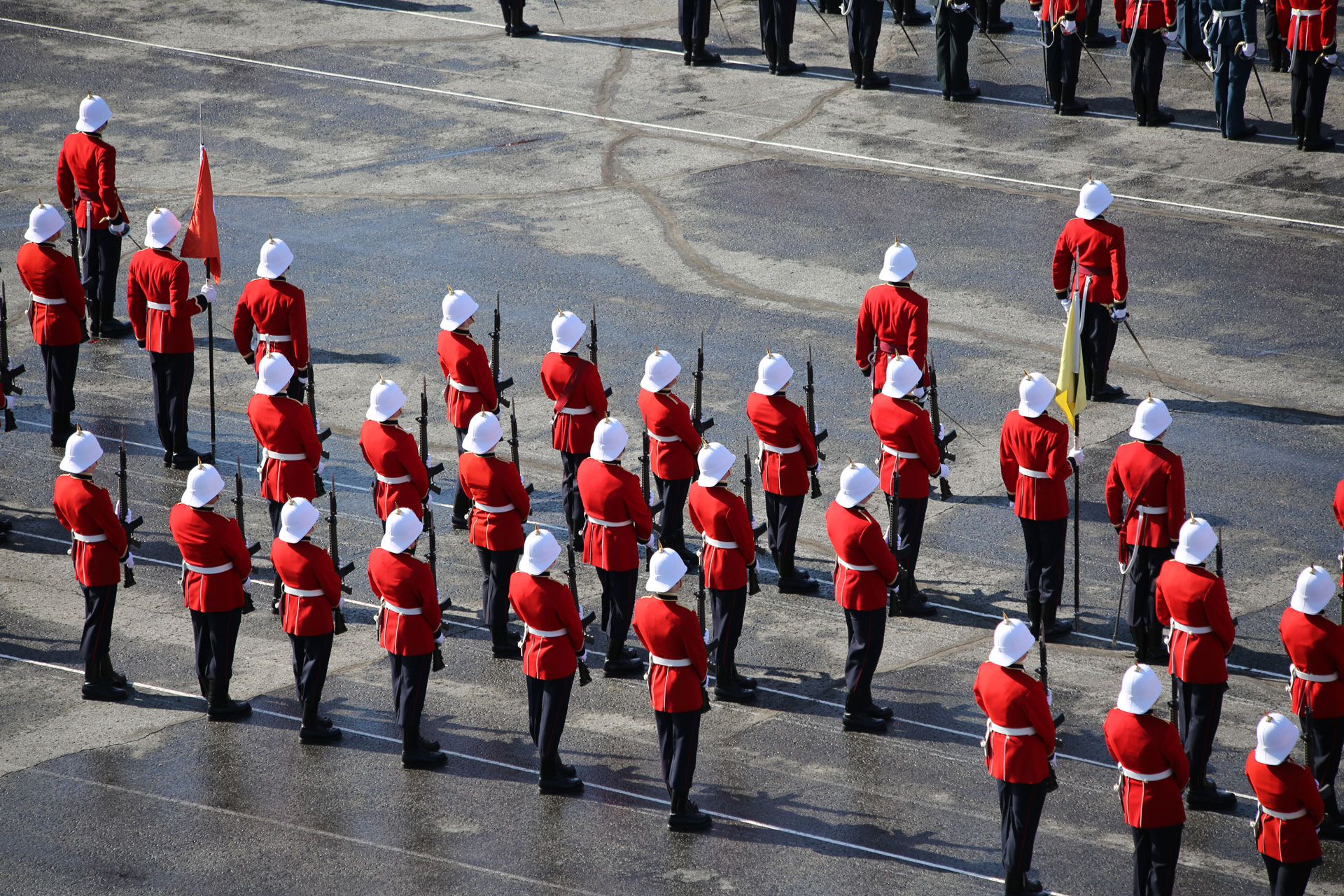 Peaking Performance Through the Natural Biological Chemistry of Our Bodies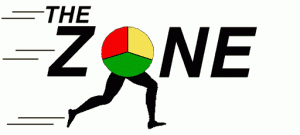 By: OCdt 25323 Kate Haddon
Photos By: Brad Lowe, CFB Kingston Photo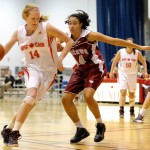 On Wednesday, April 6th I had the opportunity to sit in on 25380 OCdt Liam Wright and 25187 OCdt Abby Edmison's presentation for their biochemistry course (CCE 460). The topic of their presentation is the diet called "The Zone." They chose this diet because it was the "one diet that [they] knew of that helped you lose weight while significantly improving your health and physical performance."
The diet is simple, designed by Barrie Sears who theorized that we could treat food as if it were a drug, it optimizes the body's metabolic function. This is achieved by taking advantage of the biochemistry behind the food we eat and the correlation between the food we eat and our hormone balance.
The diet centers on a "40:30:30" ratio of calories obtained daily from carbohydrates, proteins, and fats.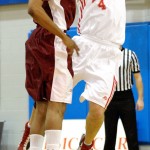 They chose the zone diet because it is was the one diet that that helped you lose weight while significantly improving your health and physical performance.
As varsity athletes, both men and women's basketball teams, finding a diet that "gives [her] energy throughout [her] entire day, from when [she] wake[s] up until bed is extremely important" as a science student and while living an active lifestyle.
Liam Wright, RMC's six-foot-three Guard, says that "the Zone is a great idea not only for Varsity athletes but for anyone at the college." Since life is pretty hectic for RMC students, especially during weeks such as this one where students are staying up late finishing papers, labs, etc., following the Zone diet allows "your body the energy it needs to help you through classes during the day as well as after school practices, workouts and homework."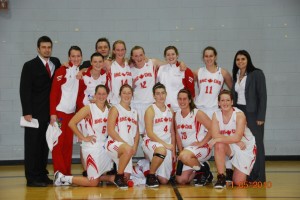 In order to stay healthy and fit you must supply your body with what it needs in order to create an immune system that can keep up with the fast paced life style at the college. Also, according to Abby, it also gives you "some rock hard muscle to k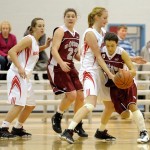 eep you looking good."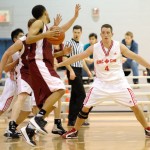 "All diets have a huge effect on the biochemistry of your body," Abby tells me, "I thought it would be cool to learn more on just how they affect you," and how to optimize what you eat as fuel.
Following diets at RMC is obviously difficult because you can't plan your own meals, but the Zone diet is flexible and an easier diet to follow for students wanting to stay healthy, get fit and energize throughout their day.

Note: I would like to thank their professor, Ingrid Jansons and her class – biochemistry course (CCE 460) for inviting me to sit in on their presentations.
Kate Haddon
___________________________________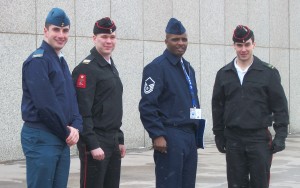 Catching Up With the News:
Cadets Visit USAFA During Reading Week
National Character and Leadership
By: 25337 III OCdt Christopher Manning
For the four RMCC cadets (24959 OCdt Matthew Gallaway, 25406 NCdt Jordan Hope, 24975 OCdt Joseph Long and 25337 OCdt Christopher Manning) who attended the National Character and Leadership Symposium (NCLS) at USAFA in Colorado Springs, the Reading Week break turned out to be a very enlightening and inspirational experience.
After departing the college at 0400 on Wednesday, February 23rd, the cadets, accompanied by Major Myslicki of the Psychology department, arrived at USAFA in the evening via a series of flights and a few hours spent on the road. Nestled in the mountains of Colorado, the beautiful grounds of the Air Force Academy were as pleasant and inviting as the cadet hosts that greeted us.
In the following two days, the contingent from RMCC was privileged to listen to a variety of speakers, who stressed the importance of tolerance, perseverance, and moral courage in developing leadership. The truly inspiring speakers, of which there are too many to name them all, included Medal of Honor recipient Staff Sgt Salvatore Giunta and Sudanese boy soldier turned American Olympic Hero, Lopez Lomong. The speakers' amazing stories demonstrated a sense of tenacity and selflessness that aligned with the collective pride and dedication to nation that our American neighbours to the south celebrate.
The desire to impart knowledge was not only seen from the speakers, but also from other distinguished guests in addition to the USAFA staff and cadets, all of whom were never hesitant to share their stories and experiences.
On top of the tremendous opportunity to attend the Symposium, our Canadian contingent, were able to enjoy some of the other great sights that Colorado Springs had to offer; the group was able to tour the Cave of the Winds, NORAD Northern Command, and various other military installments in the area.
Thanks to the hospitality and kindness shown by our Air Force hosts, the experiences at NCLS, like the beautiful landscape of Colorado Springs, will not soon be forgotten.
Pour les quatre élèves-officiers du CMRC (24959 Élof Matthew Gallaway, 25406 Aspm Jordan Hope, 24975 Élof Joseph Long and 25337 Élof Christopher Manning) qui ont participé au Symposium national sur le caractère et le leadership à USAFA à Colorado Springs, la semaine de lecture s'est avérée être une expérience très enrichissante et inspirante.
Après avoir quitté le collège à 0400 le mercredi 23 février, les élèves-officiers, accompagnés de la major Myslicki du département de psychologie militaire et leadership, sont arrivés à USAFA dans la soirée après une série de vols et quelques heures passées sur la route. Niché dans les montagnes du Colorado, le magnifique terrain de l'Académie de la force aérienne a été aussi agréable et accueillant que nos hôtes.
Dans les deux jours, le contingent du CMRC a eu le privilège d'entendre une variété de conférenciers, qui ont tous souligné l'importance de la tolérance, la persévérance et le courage moral dans le développement du leadership. Les conférenciers étaient des véritables sources d'inspiration. Trop nombreux pour tous les nommer, on se rappellera de certains, dont le bénéficiaire de la Médaille d'honneur Sergent Salvatore Giunta et l'enfant soldat soudanais devenu héro olympique américain, Lopez Lomong. Leurs histoires ont fait preuve d'un sens incroyable de ténacité et d'abnégation qui soulignaient la fierté collective et le dévouement envers la nation que nos voisins américains au sud de célèbrent.
Le désir de transmettre des connaissances a été perçu non seulement des conférenciers, mais aussi des autres invités de marque, du personnel et les cadets USAFA, qui n'ont jamais hésité à partager leurs histoires et expériences.
En plus de la formidable opportunité de participer au Symposium, notre délégation canadienne, a pu profiter de certains autres sites que Colorado Springs avait à offrir. Le groupe a pu visiter la Cave of the Winds, NORAD Northern Command Headquarters, et divers autres tranches militaires dans la région.
Grâce à l'hospitalité et la gentillesse témoignés par nos hôtes de la Force aérienne, les expériences à la conférence, comme le beau paysage de Colorado Springs, ne sera pas de sitôt oubliée.
___________________________________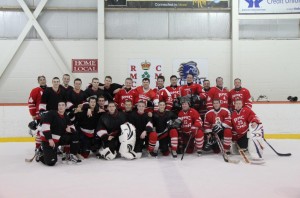 Young vs Old…ish
By 24647 Paul Lystiuk
Queen's vs RMC, RMC Cadets vs Civi U Cadets and even anglos vs francos. This college has a long line of rivalries that resurface time after time to battle in determining supremacy. However, there is one in particular that is no doubt the longest standing rivalry in the history of the school: Staff vs Cadets. There are very few occasions where these two parties have the opportunity to compete, the only one that comes to mind being every inspection where no matter how shiny the boot is, it still pains the staff to give that approving head nod. Fortunately, last year an event was created to finally settle the score the only way that makes sense… a Staff vs Cadet hockey game.
This game brings the best intramural hockey players out to compete against a team of the best the MilWing has to offer. The Cadet team consisted mostly of the top tier 4th year cadets with a few 2nd and 3rd years to fill up the team; whereas the Staff team consisted of their best featuring the DSM MWO Skinner, 2 SC Lt(N) Buxton, and the Varsity Coaches Adam Shell and Chad Blundy.
The tone seemed to be set early with the Cadets scoring only 18 seconds into the game. The lead was kept for the majority of the game and the Cadets were forced to keep the pressure on to maintain the lead. Late in the third period, the Staff made a comeback coming within one goal, however there was far too much on the line for the Cadets to sit back, and they ended up scoring one more to make the final score 9-7.
Last year this event was held during the Commandant's Weekend where the arena was filled with mandatory attendees. Unfortunately, this year the ambience was a little different with the total attendance peaking at 5 when the delivery man arrived to bring the rink rat his pizza. Despite the lack of fan support, the game remained intense throughout. IV Jack Lawson was quoted in a post-game interview saying "There's only so much we can do out there, they're so strong on their sticks, there's no way we can compete with their old man strength."
All in all, it's always a great opportunity to have these types of events with the staff in a relaxed atmosphere doing something that we all love. And in the end no one really cares who won. But if you're keeping score, the cadets did.