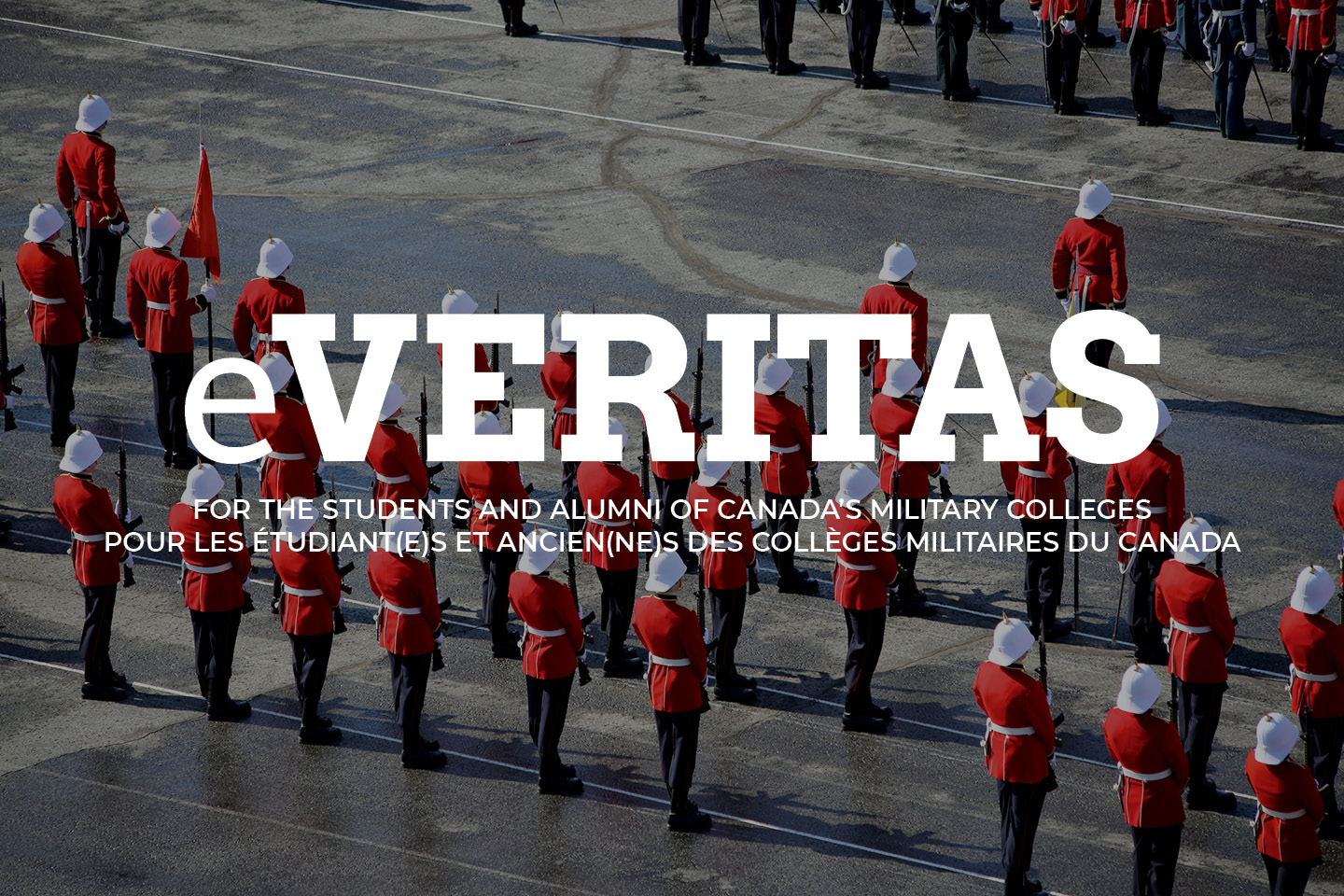 Reunion Weekend Through the Eyes of a II Year
By: 26659 OCdt (II) Danielle Andela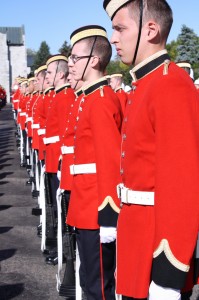 This is it, the moment everyone has been waiting for. Now is the moment that the first years Officer Cadets of the Royal Military College of Canada cease to be on First Year Orientation Period and become full-fletched members of the Wing!
Reunion Weekend as always is filled with sweat, tears and a lot of scarlets! For the Class of 2017 this year was no exception.
The first years began with the RMC Obstacle Course Friday afternoon. They formed up with their squadrons looking ready to fight for the Commandants Cup. They were all sporting face paint, mascots, and some healthy roars!
After the two hour grueling test of endurance and teamwork, they were then presented with their college coin (a coin bearing their student numbers and a depiction of the Memorial Arch) by members of the Old Brigade.
Most took advantage of the summer like weather to cool down in the lake.
The next day, the first years were up bright and early for breakfast with their families followed by the Badging Parade. During this parade the first years are presented their RMC Cap Brasses and then fall in with their squadrons and the Wing finishes the parade altogether.
Saturday night featured the "First Year Meet and Greet" where they had a chance to relax with their fellow classmates and associate more with members of their Squadrons.
The final event of the weekend was Sunday morning when the first years lining the route as members of the "Old Brigade"; other Ex Cadets mostly from returning years – '73, '78. '83, '88, '93, '98, '03, '08 and others – marched to the Memorial Arch; the long way from the Parade Square and following a solemn ceremony – returned through the arch back from where they stared.
Presentations took place prior to the official closing of the RMCC Reunion Weekend for another year. 12 months from now there will be other classes back celebrating with their "buds"; they too will be sharing stories from their days at military college.
Not so long ago, Ex Cadets would leave with the strong likely-hood that most of them would not see or talk with other for another five years. However, with the advent of social media this has all changed.
Reunion Weekend 2013 has been a fun one; but a busy one too and there was more than one tear shed in happiness when he parade square was emptying on Sunday afternoon.
 ________________________________
Leading From the Front!
By: WJO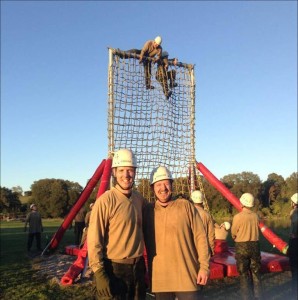 Traditionally, members of the IV Year Class do a safety related check-run of the obstacle course prior to it being approved. This is usually done the Monday of the same week when the I Years will earn their right of passage on the following Friday.
Over time some brave / fit members of the college staff participate to get a real feel for what it is really like. This year a complete team comprised of members from the Military Training Wing, Faculty and the Athletic Department took part.
Onlookers had the feeling that it was even competitive.
Likely for the first time in the history of the College, a Commandant and Principal ran the course together. Both being Ex Cadets and relatively fit for their ages, Commandant 16888 BGen Al Meinzinger (Class of '89) (Left) and 14458 Dr. Harry Kowal (Class of '84) the new Principal (Right) were front and center during the spirited and fun event.
The staff team had a pretty decent time and in a photo finish caught 6 Sqn – IV Years at the Wall.
As an aside, BGen Meinzinger, a former hockey Redmen (late '80s) took time out from his hectic schedule to lace up his skates and practised with the Paladins one day last week.
____________________________
Class of '55 Reunion at the Brew Pub
By: 26613 OCdt (II)Kyra Smith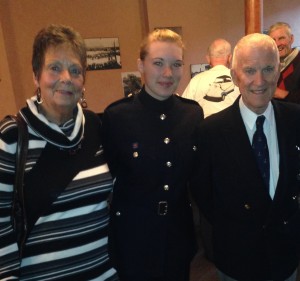 The end of September means time for the famous Reunion Weekend at RMC. With several classes back to meet with old friends, and relive some college memories, a magnitude of events were put into play making for a busy, yet exciting, weekend. I had the pleasure to join the class of '55 this past Thursday night, for a small gathering at the Brew Pub, to kick off their weekend of memories.
My grandfather Lorne Smith, a graduate of the class '55, brought me out to meet all of his old buddies from his days at RMC. I met many men and their respective wives throughout a night of drinks, food and catching up. Each and every ex-cadet had their own story and handful of memories they wished to share, all of them made for some good stories. I heard tales from their days at RMC, and stories from their lives in the military that followed.
Right when I arrived, I was showered with questions about RMC today compared to the RMC they remembered. With each one I answered, I received in return a "well back in my day…". It was very interesting to hear the differences in the school over the years. Even with many things different, some things were still the same. Every ex cadet radiated with pride while they spoke to me of their old squadrons at RMC, something that I still see today in current cadets.
One man in particular, Mr. Jeff Upton, inspired me with his tales of past experiences. Even though Mr. Upton has lost his vision, he continues to come out to reunite with all his old buddies, laughing and telling stories of the good old days.
As the night continued, we sat down for some dinner. I sat with my mother, grandmother and grandfather and we were accompanied by my grandfather's old roommate, and best friend, Mr. George Richardson. As the night grew late, I was amazed at the ex-cadets ability to recall stories from their past with such detail, as if it were only yesterday when they had happened. The room seemed to melt away, bringing back the young men they once were.
The evening ended early, as everyone had a big day the next day; the obstacle course for me and a boat cruise lunch for many of the class of '55. It was a warm welcome of an evening for the class of '55!
____________________________