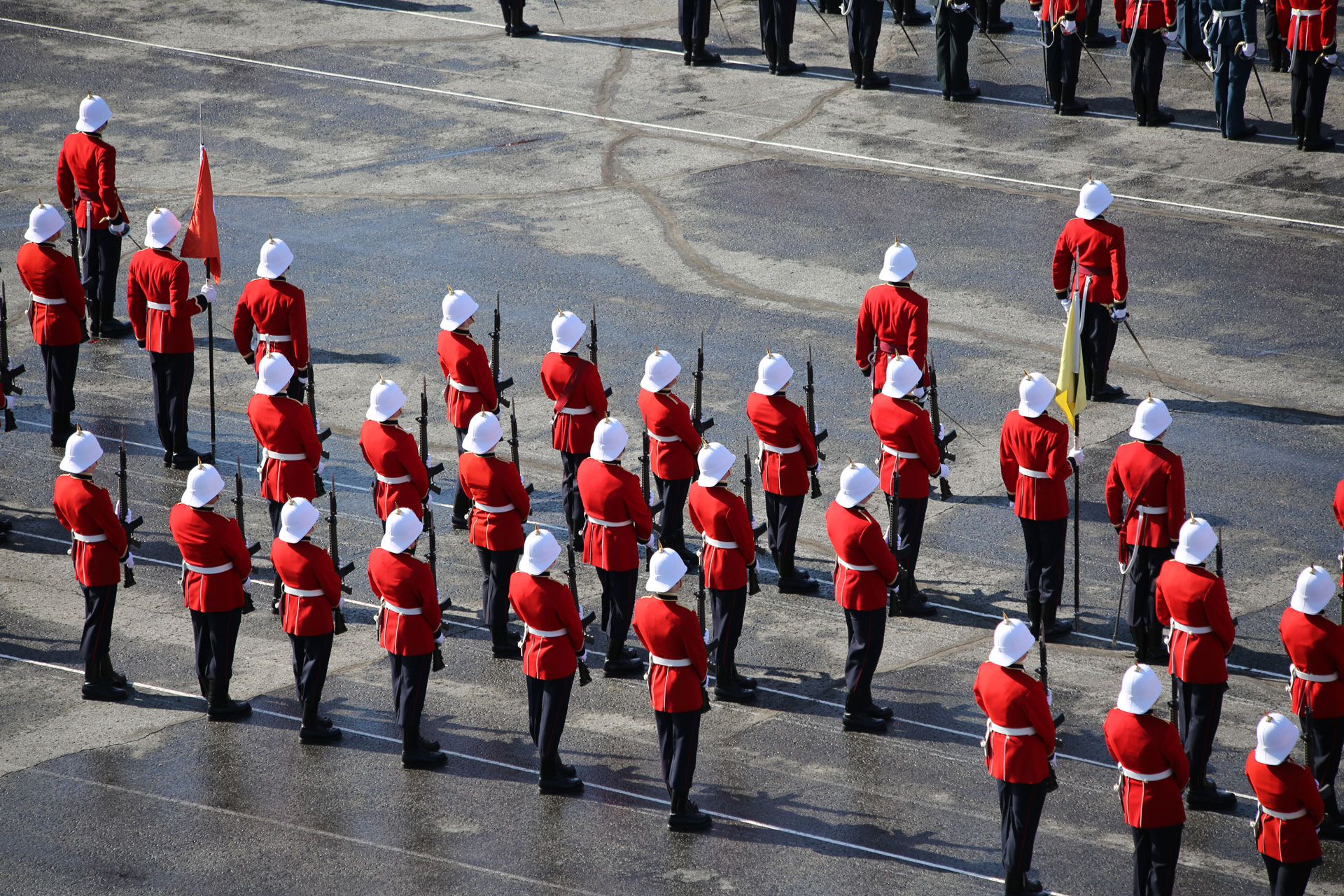 Trivia courtesy of E3161 Victoria Edwards (RMC '03)

Question #1: Who am I?

I was born in Charlottetown, PEI, on 23 September 1868, the son of the head of Prince of Wales College.
I was an honours graduate of the Royal Military College in June 1890, and in the next two years was employed on city engineering work in New York City and Norfolk, Virginia.
I was appointed clerk in Dept. Marine and Fisheries, Chief Engineer's Branch in 1892. I transferred to First Assistant to Mr. Stewart, Chief Hydrographer in 1893. A Hydrographic Survey is a process of gathering information about navigable waters for the purposes of safe navigation of vessels.
I worked in Georgian Bay, Lakes Erie and Huron, including the North Channel from 1894- 1900.
I was on the shore party near South Baymouth, Manitoulin Island in 1899.
I served as First Assistant to Mr. Stewart, Chief Hydrographer of the Georgian Bay survey in charge of Bayfield in 1901.
I was placed in charge of Lake Winnipeg survey 1902-04.
I was awarded Master Competency, Inland Waters certificate #4608, with the rank of Captain (Navy) in 1905; I was thereafter known as "Captain" or "Cap."
I was Officer in Charge of Bayfield (II), Lake Superior survey from 1905-08 and Bayfield (II) Lake Ontario survey from 1909-10.
I conducted surveys at Alberton and Souris, PEI 1910.
I was in charge of Hudson Bay survey, icebreaker Minto in 1911-12.
"In 1912, on the Minto, we left Port Burwell on the 6th of November, arid there was no ice in sight anywhere. We went through the straits at full speed, the distance through the straits is 500 miles. The distance to Port Burwell from Port Nelson is 1,000 miles. We made ten knots per hour, or a four days run at 240 miles per day."
I served as Officer in Charge of Acadia, Hudson Bay survey from 1913-14.
I served as Officer in Charge of Acadia, survey of Halifax
Approaches 1915-16. About two dozen uncharted rocks were discovered, and Notices to Mariners issued.
I conducted current surveys St. Lawrence River. We measured in detail the river between Three Rivers and Montreal and the mouths of the Assumption and Ottawa Rivers. I also wrote sailing directions for the Canadian shores of Lake Superior in 1917, based on a survey conducted twenty years before 1902-1909.
I was Officer in Charge of Halifax & Sydney surveys in 1918.
I surveyed Liscomb Island to Egg Island, N.S. (chart 4317) in 1919.
During the war years I was responsible for several special surveys in connection with submarine detection, and they were of strategic importance to the Canadian navy when the submarine menace off this coast (19l7-18) was at its height. This was more so following the Halifax explosion on 6 December 1917. The next year anti-submarine patrols were being flown by US aircraft from Halifax. Mainly in support of the war effort, the Acadia began the recharting of the Atlantic coast of Nova Scotia in 1915. I was the first hydrographic fficer to carry out joint oceanographic investigations in the Acadia in 1915.
I served as Officer in Charge of Acadia, surveys off Eastern shore, Nova Scotia from 1919-20
I was responsible for the hydrographic survey at Borden, PEI & Cape Tormentine, N.B. in 1920
I was Officer in charge of Acadia, surveys off Cape Breton, Lake Melville, oceanographic work in Hamilton Inlet/Lake Melville in 1921 and surveys off Eastern shore, Nova Scotia,oceanographic work at entrance to Bay of Fundy in 1922-23.
I was posted to Ottawa to write Sailing Directions for Lake Superior in 1924.
I succeeded Wm.J. Stewart as Chief Hydrographer of Canada in 1925. I reorganized the hydrographic survey in 1928 and renamed it the Canadian Hydrographic Service [CHS]. Under my direction, the first electronic navigation aids were introduced to the service (gyro compass, echo sounding machine) and aerial photography was adopted for charting.
Just before my retirement in 1937, a new survey ship was built and named after my former chief – Wm J. Stewart. With my separation the classification "chief hydrographer" was officially abolished.
I died in Ottawa on 23 September 1957, aged 89, and was survived by a widow and a son. At the time of my death the Ottawa Journal wrote, "he was a slightly built man of exceptional physical stamina who liked nothing better than to plunge ashore and penetrate the bush country on a survey mission, often camping on the spot with more zeal than equipment."
a) Frederick Anderson
b) 221 Charles Macpherson Dobell
c) 168 William Heneker
d) 236 Duncan Sayre MacInnes
Question #2: What's that about?
On the 50th anniversary, the class of August 1915 placed this memorial to honour their fallen comrades in the entrance to Currie Hall.
What does the stained glass window portray?
a) Amiens – developed from photographs taken at the Riding Establishment of the Royal Military
b) Canadian soldier at Ypres
c) RMC coat of arms and the College motto.
d) Passchendaele – developed from photographs taken at the Royal Military College.
e) Spider web!
Question #3: Honours.
According to 'Truth Duty Valour: Serving Canada since 1876' the battle honours of which Canadian Army infantry regiment are displayed at RMC Saint-Jean.
a) Les Fusiliers Mont-Royal
b) Les Fusiliers du St-Laurent
c) Le Régiment de la Chaudière
d) Royal 22e Régiment
f) Les Voltigeurs de Québec
g) Le Régiment de Maisonneuve
h) Le Régiment du Saguenay
Answer #1: a) Captain Frederick Anderson (RMC 1890), Chief Hydrographer of Canada
Sources:
William Glover.  Charting Northern Waters: Essays for the Centenary of the Canadian Hydrographic Service.  Canadian Hydrographic Service, Canadian Nautical Research Society: McGill-Queen's Press – MQUP, 2004
www.cnrs-scrn.org/northern_mariner/vol14/tnm_14_1_105-158.pdf
http://www.canfoh.org/People/A.htm
Answer #2: c) RMC coat of arms and the College motto.
Answer #3: d) Royal 22e Régiment