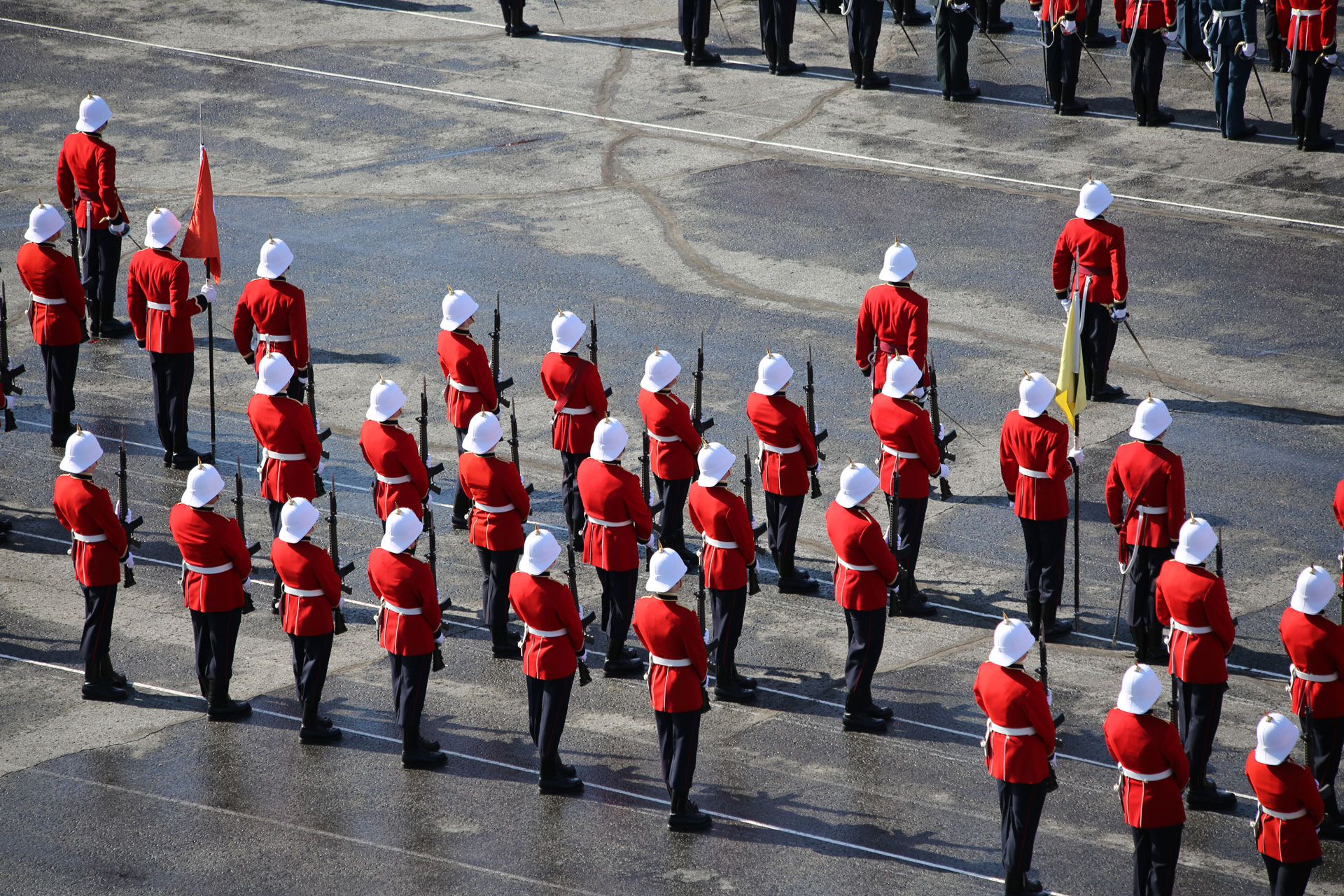 Three varsity teams have started OUA league play. Click on to the OUA section for scores for (W) & (M) soccer; and the (m) rugby team.
Check for upcoming games in your area!
________________________________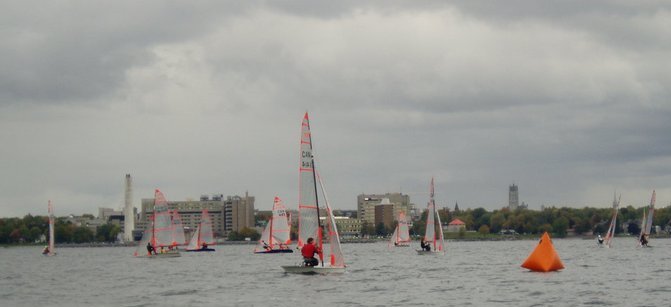 Cadet Making a Name for Herself on the Water
Not content to just sail 44 foot boats as a member of the RMC Sailing Team that competed at the USNA Annapolis on September 18th-19th, 25745 OCdt Alanna Foscarini teamed up with her old crew Alison Ludzki to compete in the 29er class, 4.4 M long, at Kingston's Fall CORK the following weekend (Sept 25-26th). This event was attended by 21 teams that included a crafty old guy and the current Canadian Youth champions. The racing condition were variable with winds 13 to 19 Knots and good sizes waves on Saturday to 3 to 6 Knot winds and some left over waves on Sunday. Teams were tested for strength and stamina Saturday and patience and planning Sunday. After 6 races Alanna and Alison placed 4th overall.
Photo by Colleen Gravelle
___________________________________________
RMC Rowing at Head of the Rideau

RMC Rowing at Head of the Rideau
By: OCdt Keith Stolzman 25239
On Sunday, September 26th, the RMC Rowing Club took part in its very first regatta since it started practicing at the beginning of the semester. This also marked a momentous occasion as it was the first time that RMC had participated as a rowing club since 2001.
We participated in two races during the Head of the Rideau, the first being an eight-man, rowed by Liam Wright, Chris Bouwman, Thegne Rathbone, Martin Coté, Matthew Sukstorf, myself, my brother Daniel Stolzman, Raphaël Yeung and coxed by Joe Afonso.
Even though it was raining, and the Rideau Canoe Club looked like a mud pit, it was a great day and spirits were high as other universities were eager to see RMC back on the water, rowing and competing with them, and just having a good time. On several occasions we were stopped by other coaches who couldn't wait to say how happy they were that RMC was back in the rowing game. I am especially proud of the club's members, who took every chance they had to show RMC's professionalism by lending a hand at loading and unloading other teams' boats and demonstrating good sportsmanship. As the club president I was happy that the day went off without any problems, but mostly I was happy to see everyone having fun.
More about the races: A "head race" refers to a race on a natural body of water where participants race individually against the clock to see who can get the fastest time. These are longer than sprint races, with distances being around 5km. I am not afraid to admit that I was a bit nervous, seeing as this was our first race, ever. However, this feeling of nervousness quickly vanished after we managed a 2nd place finish with our eight-man crew and a massive 1st place win with the pair.
It was a great finish to a great day and I am confident in saying that this was a big step in helping to secure rowing's place at RMC for future classes of OCdts. We made a serious impression among our fellow university rowing teams and I look forward to seeing the same drive, energy, and positive attitude at our next regatta in St. Catherine's on the 16th of October.
Results – RMC Entries
Division 3 – Open Men's Eight – 2nd Place
Division 4 – Open Men's Double – 1st place
___________________________________________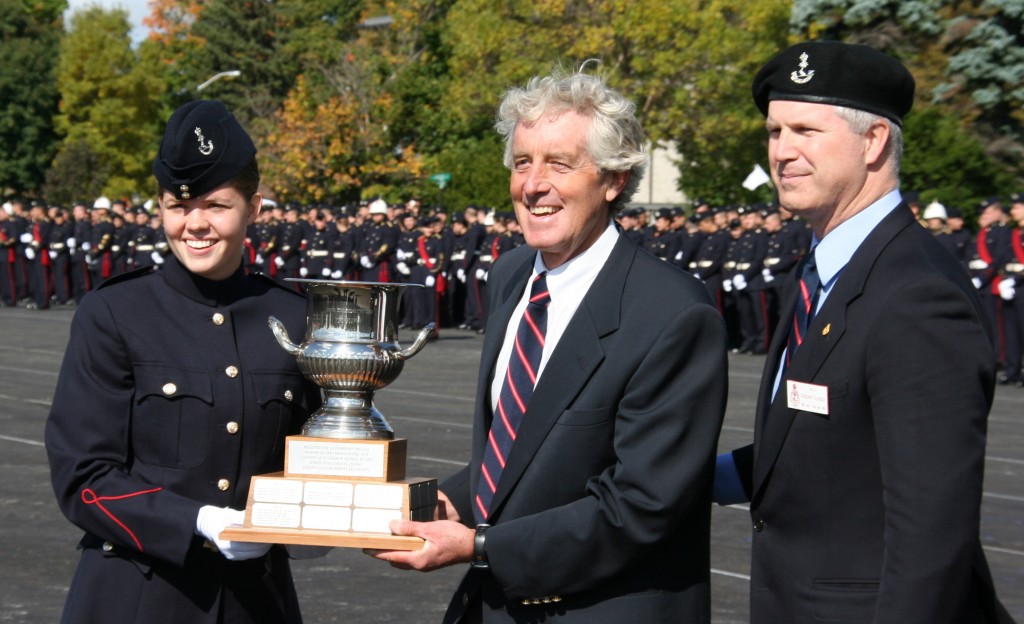 Reunion Weekend Red & White Sports Results:

Cadets won (M) & (W) volleyball; and (M) basketball.
Ex Cadets were victories in rugby; hockey and water polo.
25249 Rebecca Fielding, captain of the women's volleyball team accepted the trophy on behalf of the cadets.
RMC Club President, Gord Clarke added a few remarks prior to calling the Ex cadet representative to the podium. "To accept on behalf of the Ex cadets, I would like to call upon an ex-cadet who has just completed a 4,500 km solo, self supported, bicycle journey from RRMC to RMC to coincide with his class's 40th anniversary from graduation."
He went on to add. "With limited cycling experience and a brand new bike, 8522 John Hills left RRMC on August 6th with about 50 lbs of gear. John was the only classmate who responded to a challenge put to the class to cycle to Kingston in time for their 40th reunion."
Finally, and with a touch of humour he closed with: "I'm not sure what that says for the rest of the Class of '70, but it says a lot about John."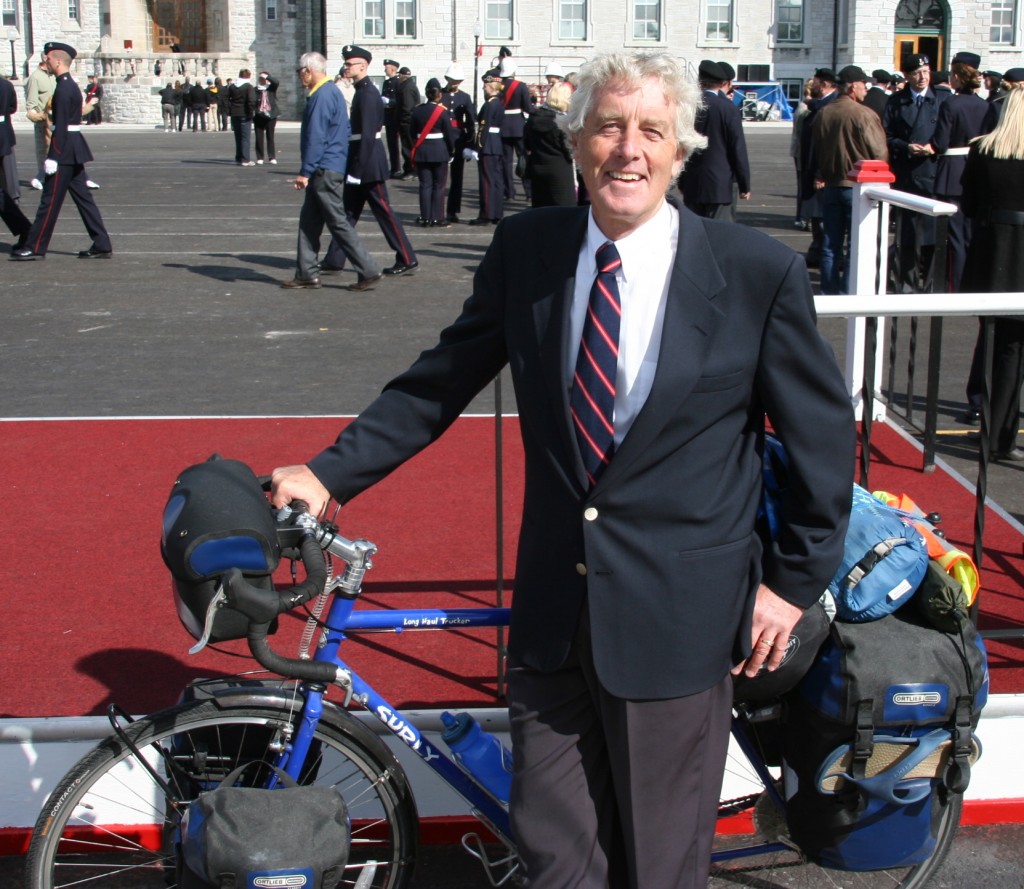 John Hills with the bike – all the way from RRMC to RMC