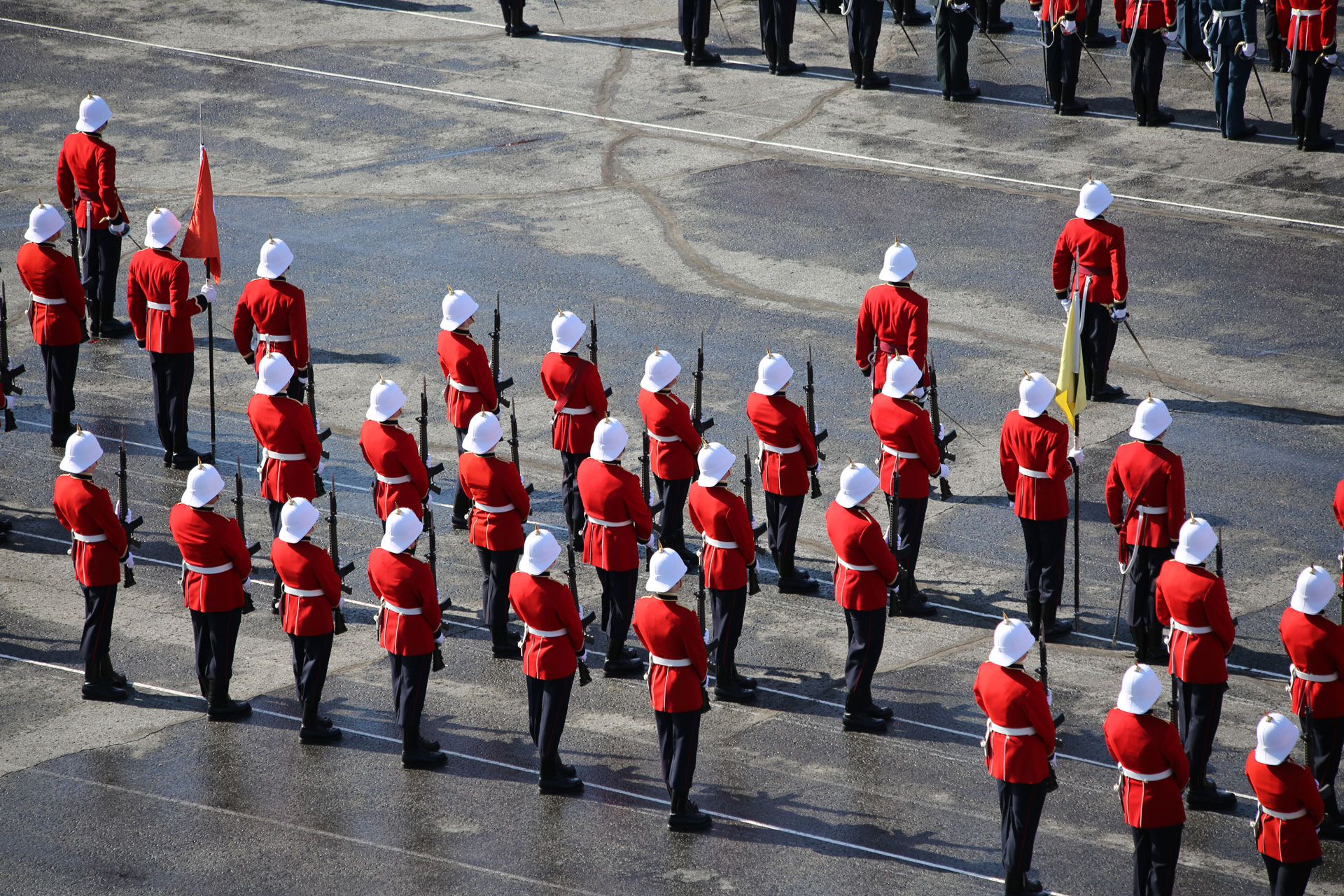 Young Mustangs receive some valuable floor time
Royal Military College didn't put up much of a battle
By MORRIS DALLA COSTA – London Free Press
Good teams learn to find some benefit from every situation. Western's women's volleyball team, on another planet when it came to Royal Military College, used the opportunity to sharpen skills and try a few different things. The Mustangs had no problems last night at Alumni Hall, beating the Paladins 25-9, 25-20, 25-14 in about 75 minutes. The win ran the Mustangs' record to 14-2 to lead the OUA Western Conference. The Paladins, 0-17, have only won four sets this season. The Mustangs used pretty much everyone, giving some young players needed experience while resting some regulars who were ill or injured. The most notable was Andrea Ruste, who was ill. "As a coach you want things to be perfect, regardless of the level of the other team, but it's hard," said Mustangs coach Dean Lowrie. "We talked about it before the game. We did a good job of staying focused and staying serious throughout the whole match." Getting his young players some floor time was vital. "We got all the young ones in; they all played two sets." In the final set, Lowrie put fifth-year Melissa Mann on the floor with a group of first- and second-years. "We put our veteran player in there so they could see the level of communication you need," Lowrie said. He said it's important for the younger players to have a chance to play in front of some fans. Read the rest of the article here.
RMC (W) volleyball wrap up their regular OUA season next weekend. The team currently sits with a zero wins and seventeen loss record. They have a good chance to earn their first league match win in five seasons of OUA competition in these final two matches. Friday (6PM) at RMC they host Ryerson University who have only won three matches all season. Saturday, U of T who currently sport an impressive 10 & 7 record  will provide the opposition – the first serve is scheduled for 1PM.
___________________________________________________________
RMC Hockey
The RMC hockey team picked-up three out of a possible four points and still loss ground to Queen's University this past weekend. U of T squeezed out a 2-1 in O.T. – which gave the Paladins one point in the standings. RMC bounced back with a convincing 6-3 over Ryerson on Saturday.  Queen's won both their games including an O.T. win over U of T.
The other bad news is that RMC will be playing out the string in their final three games. U of Ottawa gained a point in their O.T. loss at Concordia which gives them 23 for the season and a grip on the sixth and final play-off spot. RMC with 16 can only earn a maximum 22, if, they win their final three games. They can play spoilers by knocking off Queen's in their final face-to-face two match-ups. Queen's currently sit only three points behind U of O – both teams have four games remaining.
The annual Carr-Harris game is slated for the Kingston Memorial Centre this saturday, 7 Feb – 7:30PM.
___________________________________________________________
(M) Volleyball also wrap-up next weekend and will be looking for their first win in over a couple of seasons. They will be hosting Ryerson and U of T following the (w) matches.
(M) & (W) Basketball both have three weeks of play left and the schedule does not get any easier.
For full OUA coverage go here.
___________________________________________________________
Kingston FebFest is slated for this weekend. Players from Queen's, RMC and Petawawa will find out what hockey was like in 1886. On March 10, 1886 to be exact! The "puck" was a cut down rubber lacrosse ball and a frozen lake, seven Queen's students and seven Royal Military College cadets met on Lake Ontario for the first hockey game ever played in Kingston.
Ninety-three years after that day, in 1969, Kingston held the first annual commemorative hockey game on the same patch of ice where the students of old first passed around the puck. Until recent years most of the games were played "outdoors" across the street from City Hall. Some years because of severe weather conditions the game was moved indoors at Constantine Arena. In 2004, the game was moved permanently to the outdoor artificial rink at Market Square.
The annual "classic" was in jeopardy in 2003. Reports in many daily newspapers across the country ran the following: The Royal Military College (RMC) in Kingston is quitting an annual hockey game played in traditional uniforms because of fears that officer cadets might get hurt, even though the contest is played under no-contact rules. Athletic director Joane Thibault told Canwest News (February 21) that "There is a rule in the Canadian Forces that while our members are playing hockey they must wear protective gear–helmets and facemasks and shoulder pads."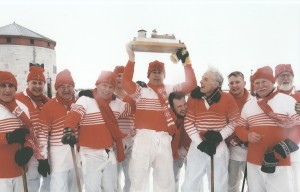 Historic Hockey – Pictured are the 2003 Historic Hockey Champions. This hearty bunch defeated teams from Queen's University and Petawawa to capture the trophy. (L-R) 5780 Bernie Laliberté; 9746 Jim Calvin; 7897 Gilles Langlois; 17880 Ray Mansell; u/k; S150 Peter Dawe; u/k; 4815 Mike Jackson; 21974 Marc Grandland; G543 Bill Graydon; and 4823 Archie Zagrodney.
Sorry we don't recognize the two "wingers" along side of Peter Dawe. Can anyone help us out?
Ex cadets were up in arms! A number of them contacted Peter Dawe, Executive Director to see what could be done. Peter and 10 others suited up and put on the blades. They not only played in the tournament – they won it!
RMC will be looking for their fifth straight win in the annual classic tournament this weekend.
If you happened to have played in one or more of theses games – why not leave a comment and share your memories?

___________________________________________________________
Original RULES OF ICE HOCKEY
(Ed. Note: the word "Bully" refers to a face-off and the word "game" generally refers to a "goal").
1. The game shall be commenced and renewed by a Bully in the centre of the ground. Goals shall be changed after each game.
2. When a player hits the ball, any one of the same side who at such moment of hitting is nearer to the opponents' goal line is out of play, and may not touch the ball himself, or in any way whatever prevent any other player from doing so, until the ball has been played. A player must always be on his own side of the ball.
3. The ball may be stopped, but not carried or knocked on by any part of the body. No player shall raise his stick above his shoulder. Charging from behind, tripping, collaring, kicking or shinning shall not be allowed.
4. When the ball is hit behind the goal line by the attacking side, it shall be brought out straight 15 yards, and started again by a Bully; but, if hit behind by any one of the side whose goal line it is, a player of the opposite side shall hit it out from within one yard of the nearest corner, no player of the attacking side at that time shall be within 20 yards of the goal line, and the defenders, with the exception of the goal-keeper, must be behind their goal line.
5. When the ball goes off at the side, a player of the opposite side to that which hit it out shall roll it out from the point on the boundary line at which it went off at right angles with the boundary line, and it shall not be in play until it has touched the ice, and the player rolling it in shall not play it until it has been played by another player, every player being then behind the ball.
6. On the infringement of any of the above rules, the ball shall be brought back and a Bully shall take place.
7. All disputes shall be settled by the Umpires, or in the event of their disagreement, by the Referee