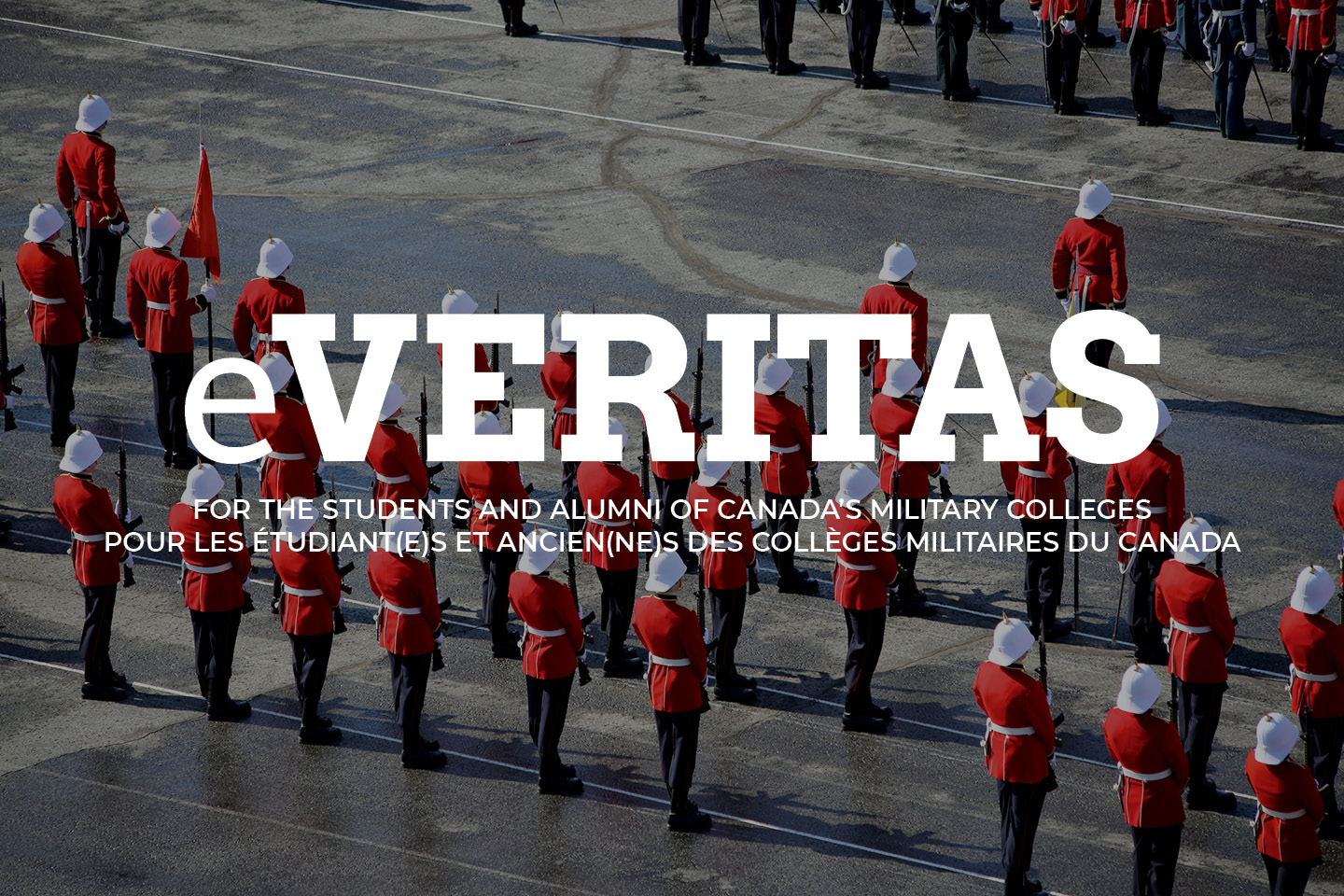 E3161 Victoria Edwards (RMC 2003) interviewed MWO Chis Embree, RMC band officer, who replaced MWO Martin Huppé on October 23rd, 2011.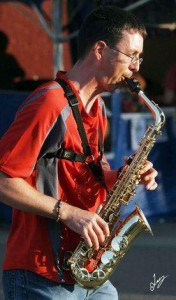 e-veritas: What instruments do you play?
MWO Chris Embree: Like MWO Martin Huppé, my primary instrument is the saxophone. I also play clarinet and flute. I also consider myself a closet percussionist. As a military musician at RMC, it is best to be versatile.
e-veritas: Outline the governance of the RMC bands.
MWO Chris Embree: As the RMC band officer, I work closely with WO Eugene Heather, who is the RMC pipe and drum major. We see our roles as coach and mentor. The RMC bands are cadet managed. As the future officership of the Canadian Forces, it is important for them to take on the leadership roles in the band. On Mondays, I meet with the Officer Cadets who are in charge of each group: Cadet Wing Band Officer 25061 OCdt (IV) David Blain; Deputy Cadet Wing Band Officer 25845 OCdt Kris (III) Kelusky; Cadet Wing Band Service and Support Officer 25621 OCdt (II) Stephanie Clark; Cadet Wing Drum Major 25856 OCdt (III) Cody Hansen; Cadet Wing Pipe Major 25767 OCdt (IV) Cassandra Harpe; Cadet Wing Choir Master 25892 OCdt (III) Meghan Thompson; Cadet Wing Highland Dance Leader 25288 OCdt (IV) Katie Bruce; Cadet Wing Brass and Reed Major 25591 NCdt (III) Britany Bourgeois. There is also the RMC Stage Band Club which is a band made up of cadets, officers and staff at the Royal Military College of Canada. The band is comprised of saxophones, trombones, trumpets, guitar, rhythm and bass. Their goal is to give musicians attending RMC a chance to improve their musical skills, as well as entertain the public.
e-veritas: How does the RMC Club help the RMC bands?
MWO Chris Embree: The support of the RMC Club allows the Stage Band to continue to provide entertainment for RMC functions, helps the band better represent the college and helps with the purchase of more difficult pieces of music. The funding is used for a variety of areas such as instrument repair, to purchase reeds/valve oil/cork grease; improved equipment; opportunities to go see other stage bands and new sheet music.
e-veritas: Outline your career path leading to serving as band officer at RMC?
MWO Chis Embree: My father served as a musician in the Canadian Forces. I started my musical career as an Air Cadet in Fredericton, New Brunswick. After moving to Calgary, Alberta I then joined the Kings Own Calgary Regiment Band (1988-90). I auditioned and was selected to join the Regular Forces as a musician out of high school. Upon completion of basic training in Cornwallis (1991), I attended the Canadian Forces School of Music in Borden (1991-92). I was posted as a musician with the Air Command Band in 17 Wing Winnipeg (1992-94). After the Forces Reduction Program cut the band branch, I became a reservist musician in Calgary with the Tecumseh Naval Reserve Band (1994-98). I then rejoined the Regular Force, performing, arranging concert band music and writing scores for ensembles with the Royal Canadian Artillery Band in Edmonton (1998-2008). I was promoted to the rank of PO1 and subsequently posted to The Naden Band of Maritime Forces Pacific in Victoria (2008-2010). Finally, I served as the Bandmaster in 14 Wing Greenwood (2010-11) after completing an intense 4 month university level Canadian Forces QL7 advanced training course: conducting, harmony, music history and aural training. My wife Jane and our son Hayden are still living in Greenwood. I am looking forward to them joining me here in Kingston this summer.
e-veritas: E-veritas is currently publishing excerpts of 3069 W.A. McColl's diary. He learned to play "When RMC Goes Down the Field" at RMC in January 1950. Do you know the piece?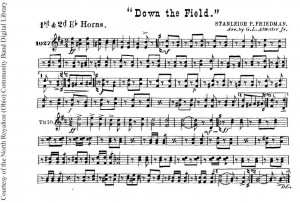 MWO Chris Embree: No, I don't know the piece. However, there are a number of albums and CDs of recordings of RMC bands in the band office in Yeo Hall. RMC`s rich musical history is interesting to me. As a musician, it can be rewarding to research, learn and possibly bring back pieces. As band officers, pipe and drum majors and band members come and go there is a risk of loss of band memory. If e-veritas readers remember the tune, please advise. [Jack Kopstein, who served as musical director of the RMC band from 1988-1990, suggests that RMC may have adapted `Down the Field` (march two step) which was published in 1905 by the Chas H. Loomis Company (New Haven, CT) and arranged by G.L. Atwater, Jr. The original `Goes Down the Field` was for Yale University and the trio is in a song style. This march is Public Domain, including score and parts. http://www.bandmusicpdf.org/media/bmpdffiles/DownField.pdf Jack has constructed a new and exciting site which is An every persons` guide to military music. www.worldbookofmilitarymusic.com.]
e-veritas: What are your plans for the RMC band?
MWO Chris Embree: I am looking forward to being a part of RMC`s heritage of musical tradition. I am interested in learning and celebrating the customs and traditions of the RMC band. I don't intend to make any harsh or rash changes to how the RMC bands function. As I mentioned, my intention is for the cadets to manage the bands. The cadet musicians will play their music at Community Showcase Concerts such as the Christmas Concert & Concert in Scarlets. What better way is there for RMC to give back to the community than through annual musical fundraisers for the United Way? RCNC280 Mr Don Currie (RRMC RMC 1946) still practices with the RMC band at 6:30 in a.m. in the basement of Yeo Hall. Since the basement gets warm in the spring and summer, I look forward to going outside more as we lead up to the Sunset Ceremony and the Graduation Parade. The Highland Dance troupe practices in the new gym. Although there haven't been any practical jokes played on me yet, I can take a joke.
e-veritas: What do you consider when arranging the program for a Community showcase?
MWO Chris Embree: The musical program will change depending on the event. Some of the key events are the Concert in Scarlets, Christmas Concert, Remembrance Day Parade at the Memorial Arch, and Graduation. I consider what music is in the library already, since I need time to order new music. I keep the program audience in perspective since the public prefers music that they recognize and can relate to emotionally. The degree of musical difficulty is important since it has to be challenging enough to be worthwhile to the musician to rehearse at 6:30 in the morning. Although I prefer music that broadens the musician's scope, it is imperative that the band is capable of playing the piece. I like to include a little bit of everything: "O Canada" (introduction); Igor Stravinsky's "Firebird Suite" (traditional orchestral piece); "Lord of the Rings" (movie score); "Gabriel's Oboe" (flute solo); Drum salute (with black lights); Pipes & Drums & Highland Dancers (standard repertoire); "Highland Cathedral" (joint piece), "Rose of Calvin Grove" (joint piece); and "Precision" (RMC march) to end the concert.