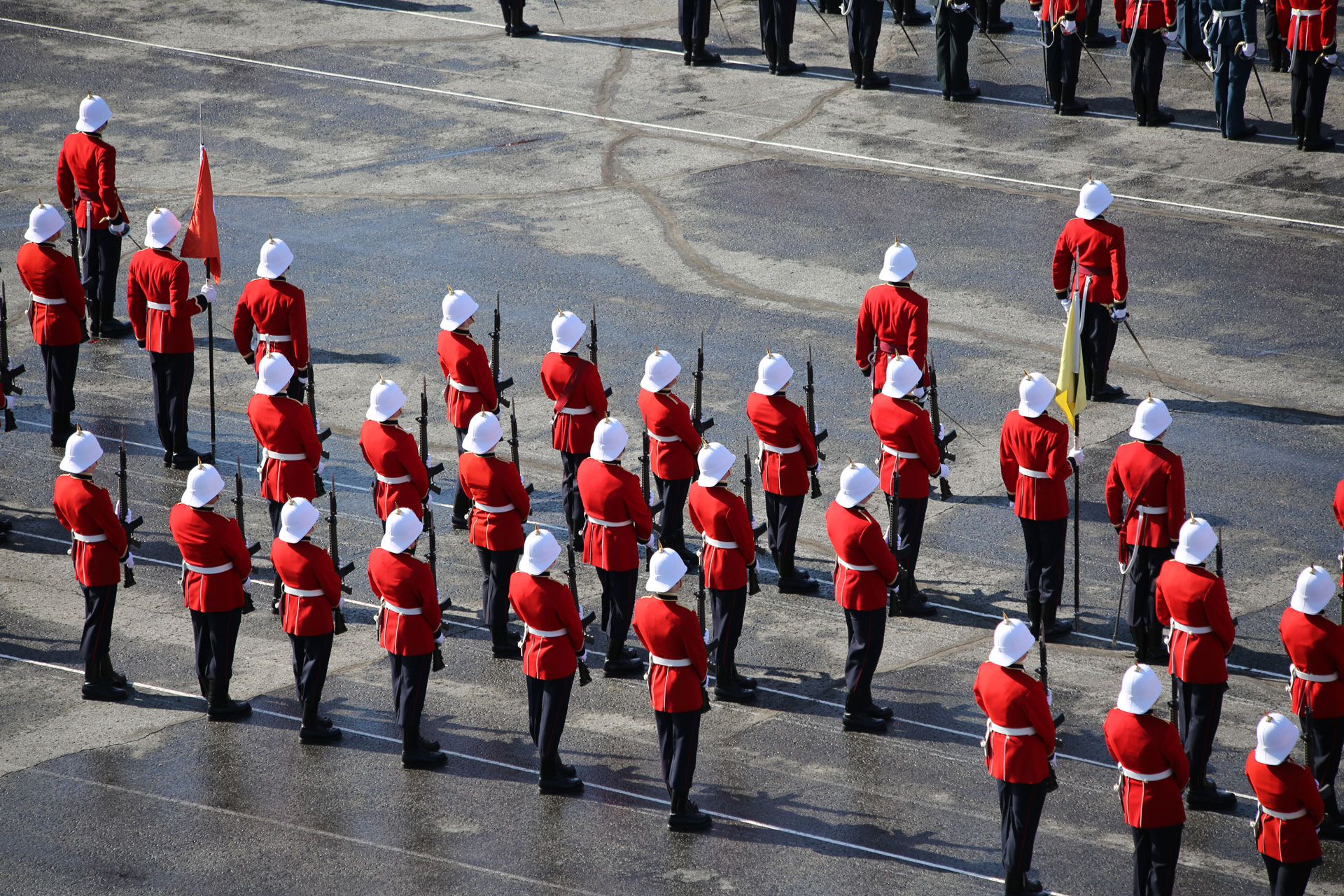 E3161 Victoria Edwards (RMC 2005) interviewed 8162 Kenneth R. Moulden (RRMC RMC 1969), who was the RMC Cadet Wing Commander (CWC) in 1968-9.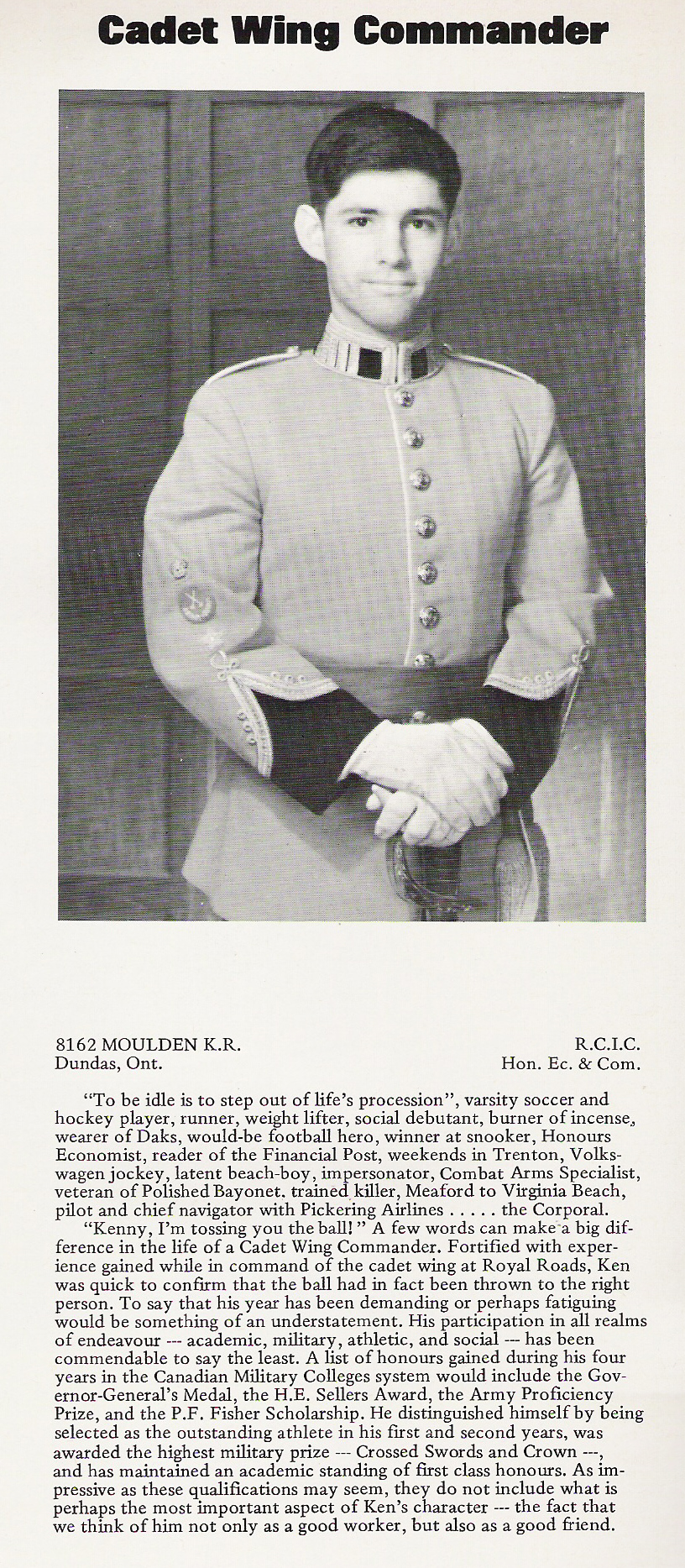 E-veritas: What are your memories of being CWC?
8162 Kenneth Moulden: I first heard of the appointment from H25917 Major Danny MacLeod, my hockey coach. My initial feelings were largely emotional and ranged from doubt about my abilities to handle the job, concern about being selected ahead of some very outstanding classmates, and then a feeling of pride. Forty-two years later, many good memories come to mind. This I attribute to the support of my classmates and the dedicated way in which the Cadet Officers handled their responsibilities.
My most notable memory was leading the cadet wing on graduation parade before the reviewing VIP, Governor General Roland Michener. The Governor General was very fit and as part of his plans for graduation day he informed the college that he wanted to go for an early morning jog with a few cadets. It was an honour to run with him and his level of fitness was very impressive.
I don't recall any serious problems during the year and remember spending much of my time handling academics (Economics & Commerce) and playing varsity soccer and hockey.
E-veritas: What are your memories of the Deputy Cadet Wing Commander?
8162 Kenneth Moulden: 7945 Blair Trousdel (CMR RMC 1969) was the DCWC and what a great job he did! An exceptional individual with natural leadership qualities displayed both at the college and throughout his military and civilian careers. Although in many ways a very busy and demanding year we kept things in perspective, and had fun — "How are we doing for time Blair?"
E-veritas: What are your memories of varsity soccer?
8162 Kenneth Moulden: Very good memories. Over the two year period (67-68 and 68-69) our varsity soccer team went undefeated, tying for top position in 67-68 with Loyola and winning the championship outright in 68-69 with a record of 9 wins and 1 tie. Bruce Porter was our very talented coach and due to his very tough practices I believe we were by far the fittest team in the league. Two of Canada's current serving Senators played on the team – H7543 Joe Day in (CMR RMC 1968) in 67-68 during his 4th year and H7860 Roméo D'Allaire (CMR RMC 1969) in 68-69.
E-veritas: What are your memories of varsity hockey?
8162 Kenneth Moulden: Hockey was a different story. The 67-68 year marked the first time during H25917 Major Danny Macleod's tenure that RMC missed the playoffs. The 68-69 season didn't get any better with a record of 4 wins & 11 losses. But this losing record did not diminish the remarkable experience we all enjoyed playing for the Major. We would have killed to have been able to be winners for Danny. Any cadet that had the pleasure of playing for Danny will remember his strenuous workouts. Our 68-69 team will recall some choice Danny remarks. A few examples, without mentioning to whom these remarks were directed: "Your shot couldn't break the skin on a rice pudding." "Million dollar legs and a 10 cent brain." During real hard skating drills when we were all near complete exhaustion, "As long as you are still standing on your skates and breathing you can give me more effort."
E-veritas: Comment on the key issues at RMC in 1968-69?
8162 Kenneth Moulden: We were living in a period of considerable change. Society was witnessing some very significant trends during the late 60's. The hippy generation (do your own thing) was in full swing and there was increasing drug experimentation. Life within the arches of RMC was in stark contrast to life outside. Were we affected by these influences? Somewhat, but for the most part any impact was minimal — a testament to a wing of quality cadets. The change in dress policy, into its second year, did create some problems. On several occasions Blair and I were informed that 4th year cadets were observed in Kingston dressed inappropriately. In response a meeting of the entire 4th year was convened to discuss and agree upon what constituted appropriate civilian clothing. An annoyance but not a key issue.
E-veritas: What was the process of becoming CWC?
8162 Kenneth Moulden: The process was never discussed or explained but must have involved the review of one's performance in all aspects of college life – grades, sports activities, and summer training.
E-veritas: What were your responsibilities?
8162 Kenneth Moulden: The CWC together with the Cadet Wing and Senior Cadet Officers had full responsibility for the running of the cadet win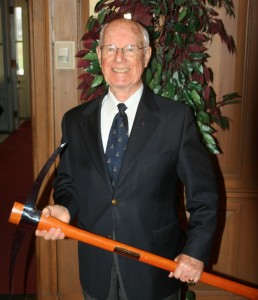 E-veritas: What are your memories of 2576 Commodore William Hayes CD, (RMC 1937) who was the Commandant of RMC in 1967-69?
8162 Kenneth Moulden: 2576 Commodore William Hayes was an accomplished naval officer and true gentleman. However the majority of contact was with the Director of Cadets (then LCol.) 2908 MGen (Ret`d) Alan Pickering (RMC 1953) and his assistant Captain Bob Conn. They provided clear direction, and were always accessible and very supportive. The Pick, as he was fondly nicknamed, had a very positive influence on the cadet wing. His dedication, enthusiasm and effort in his job highlighted his sincere interest in helping us make 68-69 a successful year. This was not just obvious to Blair and I but also to many of our classmates. As a result the entire 4th year wished to show appreciation. Someone came up with the idea of presenting him with an engraved silver plated pick. The idea was embraced and the presentation made just before grad. Years later, on the occasion of our 35th reunion (2004), Alan was invited to join our Friday evening social. He attended — pick in hand.
E-veritas: What kind of leadership did you favour?
8162 Kenneth Moulden: The kind of leadership I favour can be summed up as participative and delegative. The key traits in a leader that I respect include honesty, enthusiasm, dedication and intelligence. I was very fortunate to have an exceptionally strong group of classmates who loyally supported me with their dedication and hard work. I was comfortable giving a free rein to the Cadet Officers to carry out their duties. I tried to treat everyone with respect and attempted to keep everyone fully informed.
E-veritas: What were the lessons learned and experiences obtained that were put to use in later life?
8162 Kenneth Moulden: Make exercise a part of your daily activity, work hard, play hard and don't forget your friends. Whatever you do, give it your best.
E-veritas: Any mentors or friends that you have stayed in touch with?
8162 Kenneth Moulden: 8100 Wil Bush (RRMC RMC 1969), our class secretary, has done and continues to do an excellent job keeping the class of '69 connected and well informed. Sadly, in recent years, this has included notices of classmates who have passed on. But we continue to have a large nucleus of 69'ers who attend our reunions every 5 years.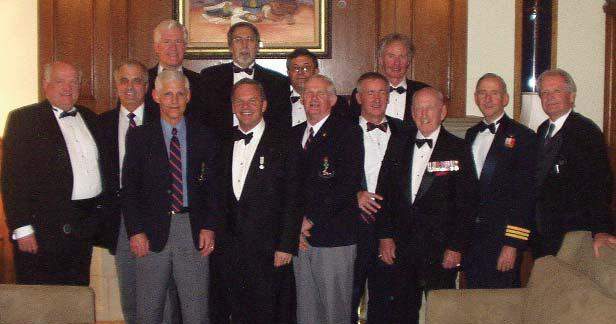 For the past 10 years a contingent of 69'ers have attended the Toronto Ex-Cadet Dinner Meeting (held late in April). On several of these occasions we had the honour of being joined by Danny MacLeod who continues to be an inspiration to all of us. 8034 Gerry Gainer (RMC 1969), current President of the Toronto Ex-Cadet Club, has been the catalyst for these gatherings and every year we take pride in having the largest class attendance. [2007 L to R Front: 8031 Tom Epp, 8184 Gary Stewart, 8162 Ken Moulden, 7924 Bob Bradshaw, 8050 Al Leonard, 8074 Doug Smith, H25917 Danny McLeod, 7530 Fletch Thomson, 8014 Brian Barrie, L to R Rear Row: 7855 Paul Hession, 8056 John McCormick, 8060 Harry Mohr, 8034 Gerry Gainer. Missing when photo was taken: 7761 Mike Johnson and 8033 Brian Fritsch.]
8184 Gary Stewart (RRMC RMC 1969) and I, on two occasions, attended presentations by our distinguished classmate H7860 Senator Roméo D'Allaire (CMR RMC 1969) on his horrific experience in Rwanda. We are very proud to be his classmate.
E-veritas: You attended the closing ceremonies for Royal Roads.
8162 Kenneth Moulden: 8184 Gary Stewart (RRMC RMC 1969) and I attended the closing ceremonies for Royal Roads in May of 1995. Having both attended Roads, it marked a rather bitter-sweet occasion for us. For old time's sake, 8131 Col (Ret`d) Tom Henry (RRMC 1969) and I ran the cross country route and this brought back some wonderful memories. Over that same weekend I had the pleasure of connecting with two of my early mentors: 3635 Jack Fournier (RRMC 1956) a squadron commander during my Royal Roads stay and Dr William Rodney, my first year history professor.
E-veritas: Do any Profs stand out in your memory?
8162 Kenneth Moulden: Our 3rd & 4th year Economics and Commerce class was a small group of about 14, and I am sure all would agree we were very fortunate to have outstanding Profs. I did maintain some contact with three of those professors for whom I had immense respect: Dr James Cairns, Professor Newcombe and Dr Joe Kushner.
E-veritas: What are you up to today?
8162 Kenneth Moulden: I have been semi-retired for the past 13 years, during which time I built an accounting and consulting practice. My wife Noella and I have enjoyed several cruises, with the Alaska cruise being our favourite. Prior to embarking on the Alaska cruise we spent a wonderful weekend with 8131 Tom & Laurie Henry at their lovely chalet in Whistler.
Thanks to our daughter we have three beautiful granddaughters (ranging in age from 1 month to 3 1/2 years).
We golf & curl together, and I am also active in swimming, rollerblading and slo-pitch.