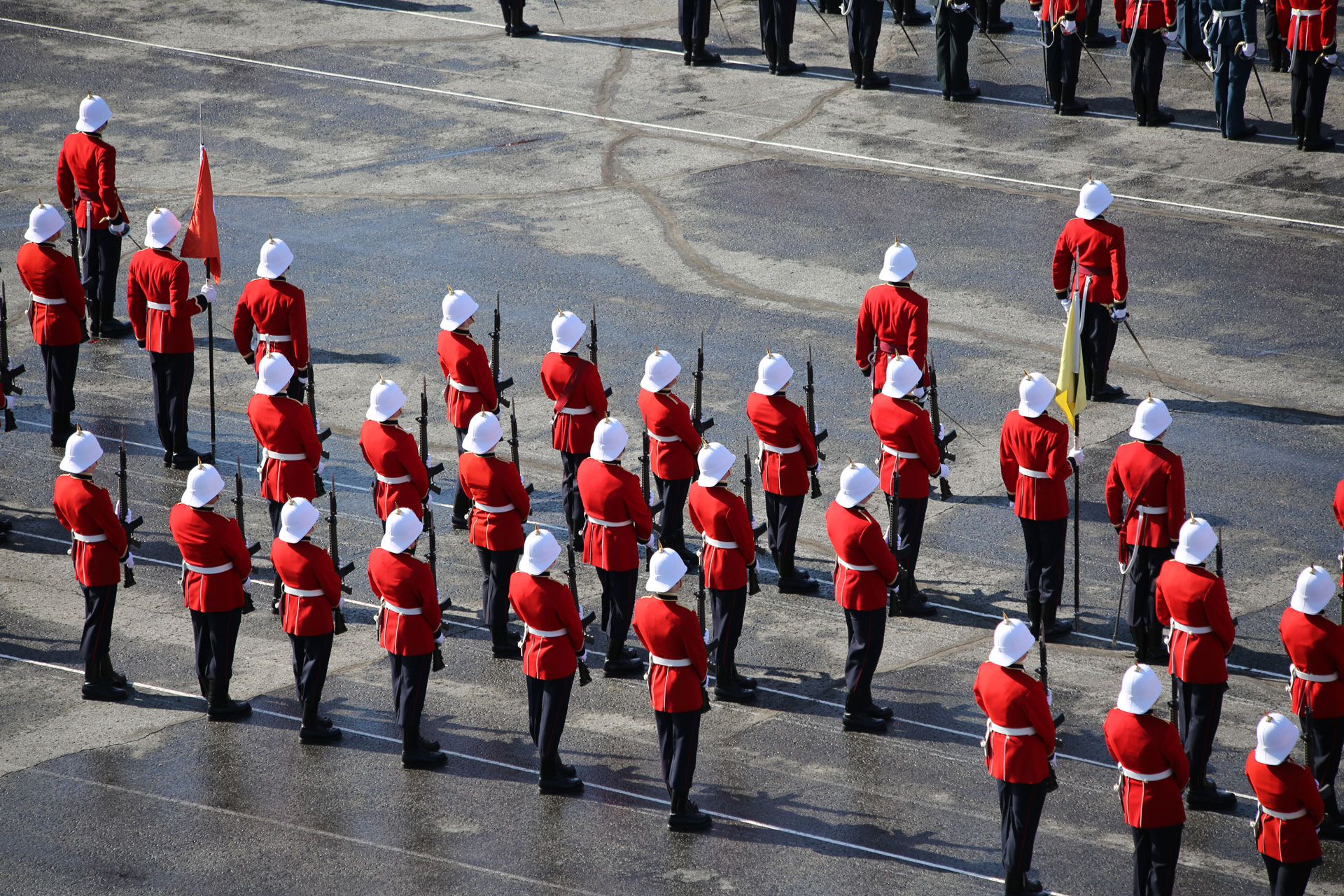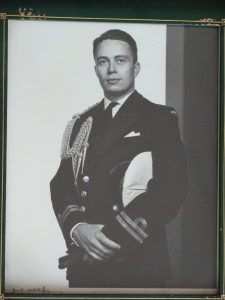 Yousuf Karsh, the famed photographer, had been the Government House photographer for many years. An appointment was made for me to go to his studio on Sparks Street for a photograph. I never did get used to meeting the famous, but he quickly put me at ease.
His studio seemed to be a semi-empty flat upstairs with a couple of backdrops hanging down. He had a big old-fashioned camera on a tripod and measured the distance with a piece of old string. He seemed to stumble around, nearly tripping over his equipment while taking flash pictures and asking for minor adjustments of me. I was finally sent on my way saying the results would be along in a few days, and they were. I was told to pick the best one. There were about a dozen shots. They were the best photographs I ever had taken, before or after, any one of them would have been totally satisfactory. He was amazingly skillful. I had Johanne, my fiancée, choose one for me.
I was the Naval ADC to Governor General Vincent Massey from Fall of '56 until May '58  – when I left to get married and go back to Naval duties.
A couple of asides. When I left I was offered any job in the Navy that I wanted, for which I was qualified. I made it easy for them. All I asked for was an East Coast destroyer as I had spent much of my time in frigates. I stood by HMCS St. Croix as Gunnery Officer. Dick Okros, a termmate at Royal Roads, had been advised that he would get that job and had hand picked a gunnery team to go with him. He was not happy to be pushed aside – but we have remained friends for 50 years! She commissioned in late '58 and I had hardly got my feet wet when I was appointed as XO of Outremont in Feb '59 – another frigate. It was another six years before I got back to a destroyer. The Governor General and I agreed when I left that he would be invited to my wedding, would send a gift, but would not attend. There would be enough going on without having a GG in attendence!
I must have learnt something at Government House in Ottawa. I was asked, at short notice, in '74 to take on the job as ADC to the Lieutenant Governor of NS for a brief spell. I am a slow learner. I stayed on as ADC for another 27 years. All that did for me was to give me 4 bars to the long service medal.
2888 Ian McKee (RRMC 1952)
————————————————————————————————
I thought you might be interested to know that I received a letter from Quebec last month in response to the article you published about my grandparents. Apparently there is now an 'Association des Chabot' and they are interested in publishing something about my grandfather in their newsletter. Thanks for the exposure! I'm looking forward to joining their association. It looks as though they have done a lot of great work and have created a database on-line about our ancestry.
Denise Hargrove
Health Promotion Director│Directrice de la promotion de la santé
Strengthening the Forces│Energiser les Forces
CFB Kingston │ BFC Kingston
————————————————————————————————
Absolutely marvellous picture of the Snowbirds over MacKenzie Building – congratulations. Any chance of that being printed, framed and sold as a fundraiser?
Keep up the good work
5495 Craig Kerr (RMC 1962)
————————————————————————————————
Getting better all the time Bill, Congratulations and my best to Rolande.
12046 Pierre Ducharme (CMR 1979)
————————————————————————————————
I read with great interest the article on RMC (W) Rugby in this week's newsletter.
My daughter, Jessica Lamshoeft, has been accepted ROTP as a Naval Cadet, but at this point only Civ U. She is going to McMaster right now. She played four years as a first string Varsity Rugby player at her high school, Holy Trinity in Oakville, ON (she plays the prop position). They just recently lost a "squeaker" in the Halton Region finals and they had a 13 win – 3 loss season. She had an excellent season. She is looking forward to playing on the Varsity Women's Rugby team at McMaster this Fall (she has already had training sessions with their strength and conditioning coach), however, she is still hopeful to get a late acceptance at RMC so that she can play for RMC's Women's team.
We'll keep our fingers crossed!
Sincerely,
15994 Maj (ret'd) Erich A. Lamshoeft, CD (Class of '87)
————————————————————————————————
Great edition – I was in Ottawa and watched part of the Rugby game and RMC was very visible. Also playing for the CF was Angus Topshee (94) and Chris Stewardson (97 I think).
The minister was a trooper – staying for the reception and speaking and meeting people despite having his arm only in a temporary sling.
Ironically, the two staff at the hospital with the MND late in the evening are both Class of 95 college grads – Major Jason Stark, the Ministers Military Advisor and Brian Macdonald, the Ministers Senior Policy Advisor.
The college was well turned out!
Best,
19894 Erin Michael O'Toole (RMC 1995)
————————————————————————————————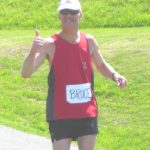 I was down to the Limestone City on Sat for their 6-hour race. The objective of a fixed time event is to cover as much distance as
possible during the duration. Some of you are interested in my running or, more specifically, in that race so I thought that I would pass along the results. The weather was pretty good although there was a fair breeze which picked up to be quite strong later in the race. There was some decent competition with about 50 runners in total.
The time ended with me being first overall with 69.274 km covered. There is a tradition at this race for a slightly different
award to be given out. It is done via secret ballot cast by all competitors for their choice of "most inspirational runner". I also was
given that award as well as first overall, so It wasn't too shabby a day.
Also of interest might be the race venue. The event took place on a closed loop on the end of the RMC peninsula, going around the point
& through Fort Frederick. As a class of 78 Grad, it was certainly nice to come back & do well.
11338 Bruce Barteaux (RMC 1978)