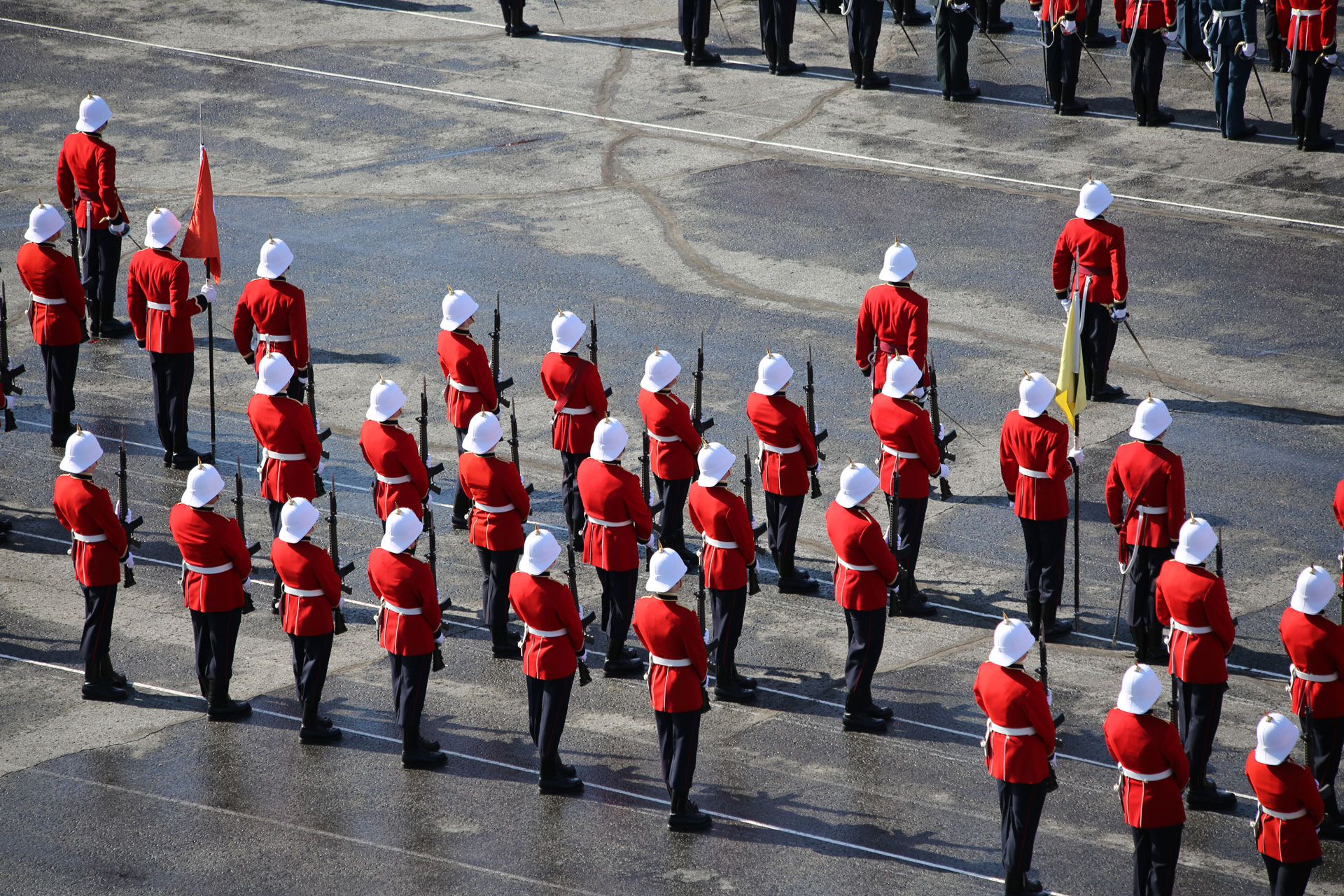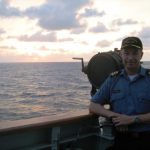 Many thanks Bill. We are now at sea conducting Exercise Trident Fury and it's nice to get connected with the "world."
Yours Aye,
Bill
17244 William (Bill) J. Quinn (CMR 1990)
Commander | Capitaine de frégate
Commanding Officer | Commandant
HMCS CALGARY | NCSM CALGARY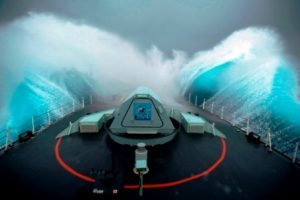 HMCS CALGARY somewhere at sea during a typhoon!
______________________________________________________________________________________
Despite working very long hours over here, I am managing to find time to read e-Veritas. Thanks for publishing it and keeping us deployed Ex Cadets current with the happenings at RMC and the Club.
Although I have only three more months [of the 13], I find that time is going by too quickly for what we need to accomplish.
Regards,
13846 Kevin Bryski (RMC 1983)
______________________________________________________________________________________
Before I go any further, I have a quick question. Would you happen to know how many Non-Commissioned Members have graduated from RMC? I ask this because I recently received my degree (Nov 08) and have been wondering ever since how many others like me have done so. While I realize that RMC is predominately a college to prepare men and women to become officers and leaders in the Canadian Forces, I have never seen any article, with the exception of the one on RSM Slaney, which mentions any RMC NCM graduates. Nor have I seen any retirement notices of NCMs who were graduates.
I also think that if your readers were aware of the number of NCM graduates and the number currently pursuing degrees, they might be able to encourage their NCM subordinates to pursue a post-secondary
education. I know that my greatest regret in life was 'goofing off' in high school, then waiting almost 20 years before realizing I was smart enough to get a degree. As the world changes and we challenge our
uniformed personnel in ways like never before, it is extremely important that leaders in all ranks broaden their academic horizons in order to deal with incidents which could have potential international implications.
On that note, I am retiring on the 2nd of June, 2009. I used to joke that I would most likely be picking up my degree and handing in my ID card on the same day. It was pretty close but my degree is one of the
highest points in my 33+ year career.Yours, Aye,
E 1349 Christopher Lee (RMC 2008)
Chief Petty Officer 2nd Class
______________________________________________________________________________________
Classe 2009,
J'aimerais vous féliciter du fond du coeur pour votre accomplissement, finalement, vous allez marcher à L'Arche et devenir des officiers des Forces Canadiennes. Je suis très fier de vous, et je me rappelle la journée de votre arrivé au Collège, en 2005. Je vous remercie pour votre appuie à mon égard lors de mes années au CMR en tant que DSM/Sergent Major de l'Escadre. Je suis extrémement fier d'avoir servit le Collège, et ce grâce à des gens comme vous.
Je suis très honoré de la sélection de gradué honoraire, ceci me touche du fond du coeur. Malheureusement, je gradue en même que vous de mon cours de 9 mois ici aux États-Unis.
Je vous demande qu'une chose, prenez soins des femmes et des hommes sous votre commandement. Vous allez commander les meilleurs soldats au monde ! Ceci est un privilège. SI vous avez besoin de conseils, n'hésitez pas à me contacter, je serais toujours là pour vous aider, vous conseiller.
Bonne chance pour votre futur, encore une fois félicitation, je suis extrèmement fier de la classe 2009 !
Adjudant-Chef Martin Colbert
Royal 22 ième Régiment
True Duty Valor ! Vérité Devoir Vaillance !
______________________________________________________________________________________
Adiós / Bud zdorov / Good-bye: 24488 Sebastien Delage:
Over the past eight months we at e-Veritas have been extremely fortunate to have had the services of Sebastien Delage to help us out with the daily grind. During these 32 weeks or so e-Veritas published an unprecedented 30 editions. We shut down for maintenance and R&R 20 – 31 December.
The tremendous positive feedback we have received from readers of all stripes (Cadets; military & civilian staff; ex cadets, families & friends) was due in large part and testimony to the many extra things Sebastien did on a regular basis to ensure each e-Veritas edition was a little extra special. He consistently demonstrated he understood how to get things done at a high level.
If leaving a position a better place is the measure of success, then he was successful. The entire staff at Panet House will miss his wit and warmth, his down to earth optimism, his sense of purpose, which never wavered over the entire period he was with us.
Captain Adam Bruce  his last Squadron Commander summed it up best.  "OCdt Delage was a pleasure to work with. He brought a welcome level of professionalism to everything he did in the squadron. His experience and leadership were valuable assets which helped develop many others in the squadron. I wish him the best of luck in his future endeavours."
Sebastien is leaving the Canadian Forces and has chosen another path in government. There is no doubt that from his experience at RMC that he will become a leader within Canada some time down the road.
Bonne journée.
Bill & Rolande Oliver