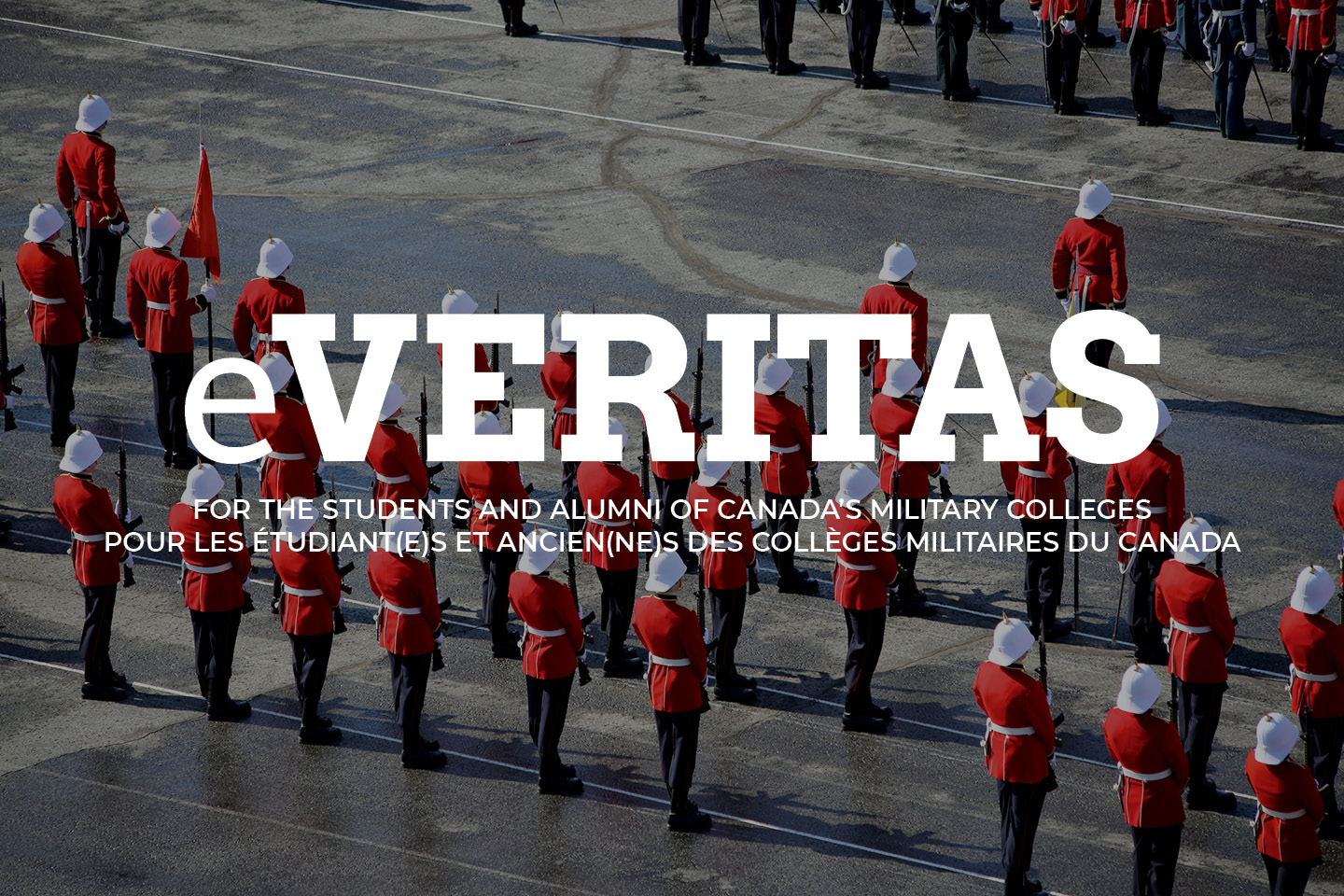 RMC lose on the ice – big winners in the bigger scheme of things
By: WJO
RMC renewed its long-standing rivalry with its military brethren from the United States Military Academy (Army Black Knights) Saturday, 4 Feb at Tate Rink located on the grounds of West Point.
The final score was 9-1 in favour of West Point. It could have been a lot more!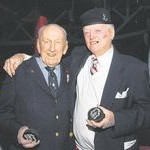 A ceremonial face-off took place before the game with a pair of coaches who played a major role in the rivalry. Long-time RMC coach, Major Danny McLeod – 90 years young and West Point Hall of fame coach, Jack Riley – 91 years young; both played pivotal roles in getting this game back on the tracks after a six year absence from the schedule.
Army came to play; RMC did too but the skating legs were not there for other than half the second period. For 50 minutes 0f the game, Army completely dominated. Shots in the first period alone were 25-3 in favour of the Black Knights.
The series that was once billed as the longest international rivalry in the world stood down in 2006 under a cloud of controversy which we will not get into with this article.
The RMC team arrived a day early driving through the night from Kingston immediately following their Carr – Harris game against Queen's. They toured the West Point facilities and in conversation with a number of the players they were indeed impressed and pleased with the opportunity to help get this classic series back.
Coach Brian Riley was a picture of class all weekend. He graciously welcomed the RMC coaches and team members. The RMC contingent had a chance to walk through the West Point hockey facilities – dressing room and the players social room which has a certain aura of historical significance – including plaques of former Army players who have been killed in wars and conflicts. A very sobering experience for the visitors walking through for the first time.
The game itself lacked 'an edge' that the majority of these games have had over the previous 50 or so meetings. This was probably a good thing.
RMC were called for 7 penalties; Army were assessed 5 – all 12 penalties were of a minor nature. Army scored four power play goals plus a short handed tally.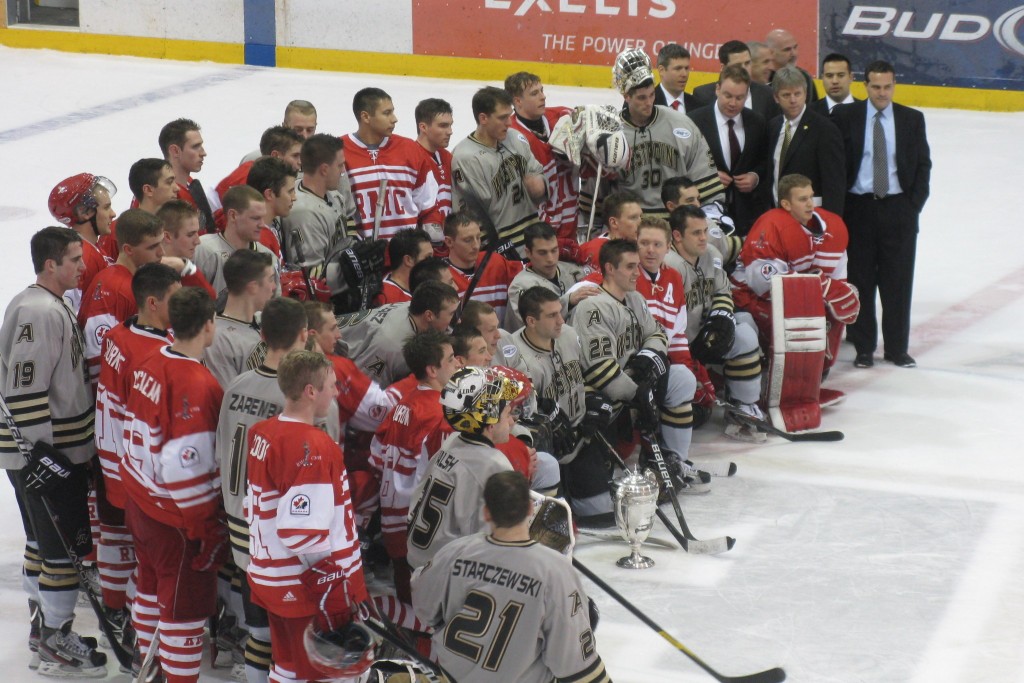 Photo: Gilles Langlois
At the final buzzer, both teams "scrummed" at centre ice in a very impressive gesture of friendship. A group photo of both teams mingling was taken with a lot of cordial type exchanges going on between the players and coaches of both teams. Very nice to witness.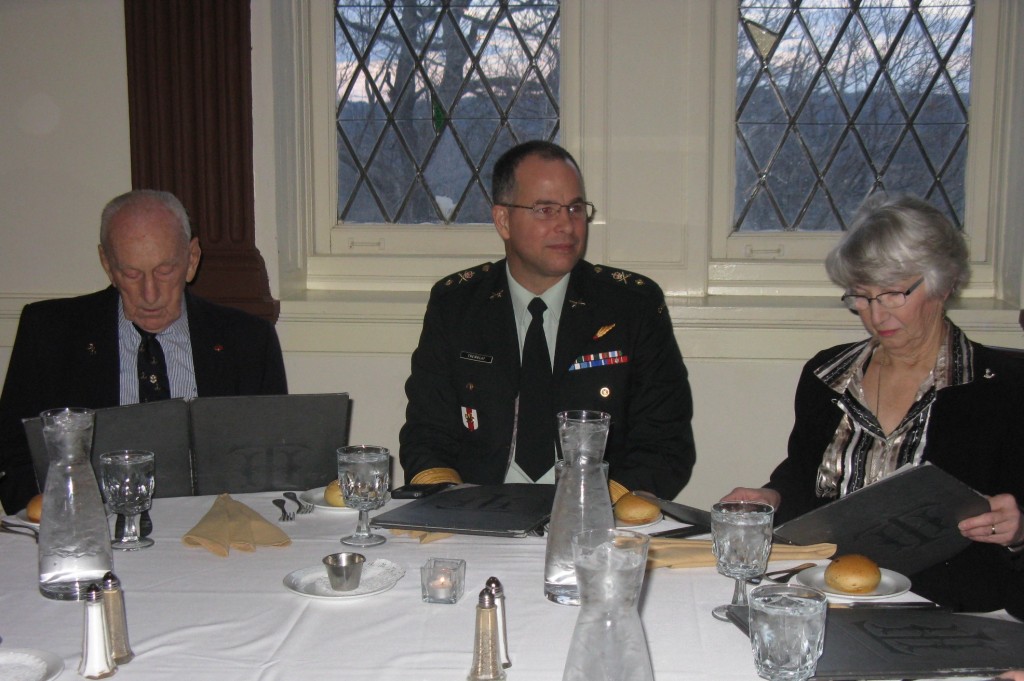 Photo: Gilles Langlois
BGen Eric Tremblay, RMC commandant was in attendance and joined a number of special guests at the Thayer Hotel prior to the game for a pre-game meal. BGen Tremblay was front and centre handing out congratulations to the winners during the Challenge Cup presentation following the game. A number of Ex cadets, college staff, family, and Paladins' fans also made the trek to West Point.
Two high profile figures – USA Hockey President Ron DeGregorio and the Chairman of Hockey Canada, Mike Bruni, were among the sold-out crowd .
All indications are that the series is in good shape and has a future again –  which is great. However, as a hockey purist, I hope a bit of the 'edge' returns.
Related articles on the game.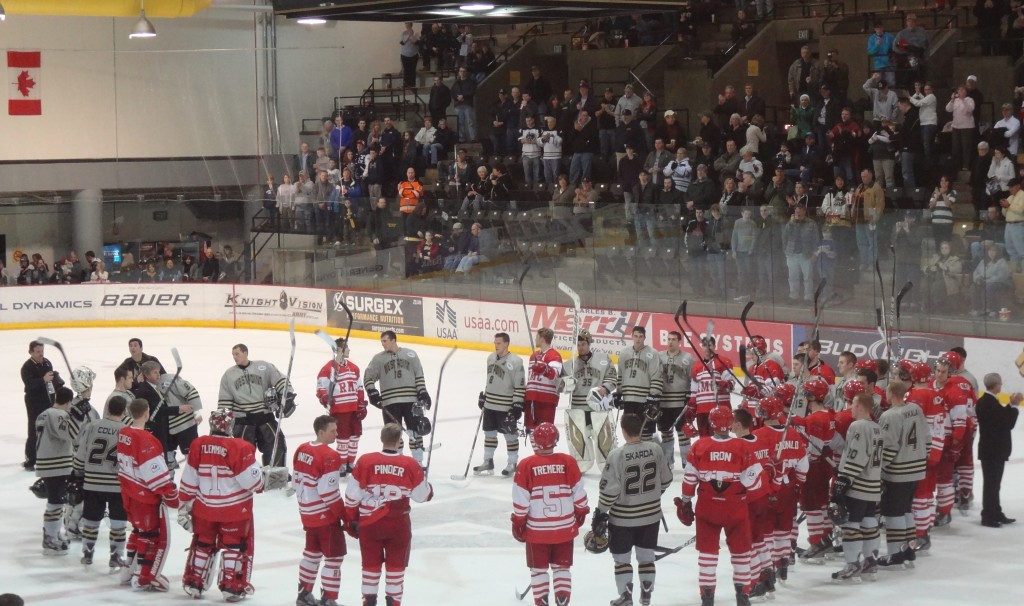 Paladins contre Westpoint: Le retour d'une rivalité historique
Par Chawki Bensalem (26050)
Le Samedi du 4 Février 2012, les Paladins accompagnés d'environ 70 Élofs se dirigeaient vers la United States Military academy ou USMA. Le but ? La 76e édition du match de Hockey Westpoint-CMR. La partie était d'autant plus importante puisqu'elle faisait son grand retour après 6 années de suspension.
On ne niera pas que la journée fut longue pour les participants qui se rendirent a Westpoint. Vers 0800, les ELOF embarquaient dans les bus pour un voyage de plus de 6 heures en direction de Westpoint. Quoique le paysage de l'état de New York offre de belles vues, le voyage est de par sa nature assez difficile et c'est dans un état de relative fatigue que nos représentants de sont présentés chez nos collègues américains. À leur arrivée, ils eurent environ une heure pour visiter l'académie ce qui donna a certain le temps de renouer avec leurs amis et connaissances et puis les Élofs se retrouvèrent en écarlates et en tenues prêts pour la partie.
Une ambiance survoltée attendait la délégation du collège qui fut accueillie par un stade plein et une foule de supporters des Black Knights. Force est de constater que la tradition est aussi importante pour les cadets de Westpoint. C'est donc dans une aréna remplie de supporters enthousiastes et dans une atmosphère d'appréhension et d'euphorie que la palette fut lâchée. On réserve une mention spéciale aux musiciens de la fanfare du CMR qui, avec leurs contreparties de Westpoint, fournirent un accompagnement musical fort bienvenue tout au long de la partie.
L'agressivité et l'esprit compétitif démontrées par les deux équipes dès le début de la partie prouva rapidement que les relations amicales entre nos deux institution n'enlèvent rien à notre traditionnelle rivalité. Malgré de bons efforts de la part des Paladins, les Black Knights se retrouvaient bientôt en tête avec un score de 3-0 pour la première période.
La deuxième période vit de grands changements dans le style de jeux. Les Paladins réussirent à se ressaisir et rapidement mettre les Black Knights sur la défensive. Cela permis à l'Élof Brendan Casper d'attribuer son premier point à son équipe par un tir parfaitement placé. Dès lors, le CMR fut capable de rendre le contrôle de la zone défensive adverse et de de créer de bonnes opportunités. Malheureusement, l'équipe de Westpoint se montra agressive et capables d'exploiter sesopportunités et marqua buts additionnels dans les deux périodes qui suivirent. Malgré une résistance acharnée et de la part des Paladins, les Black Knights l'emportèrent 9-1. Vers la fin de la partie, on voyait défiler le message suivant « Go Army, beat RMC !! », slogan traditionnellement utilisé pour l'illustre match de football entre Westpoint et Annapolis, l'académie navale. Cela sert à démontrer l'importance qu'avais ce match pour l'académie militaire de Westpoint.
Malgré la défaite du CMR, l'expérience fut très positive. L'accueil réservé par nos confrères de Westpoint fut excellent, l'accompagnement musical de la musique du CMR laissa tout une impression chez les supporters de Black Knights et la soirée fut une bonne opportunité de rencontrer de nombreux cadets de Westpoint et notamment un de nos membres honoraire qui passa un semestre en échange au CMR.
Avec la fin de cette 76e édition. On peut espérer que la tradition continuera dès-lors à se perpétuer et que les années à suivre nous permettront de ramener le trophée à Kingston.
Paladins Take on West Point in Storied Hockey Rivalry
Written by: 25752 Christopher Lane
This past Saturday, February 4th, members of the RMC Paladins hockey team headed south to renew one of the team's oldest rivalries. Accompanied by the RMC band and two busloads of enthusiastic hockey fans, the Paladins met the Army Black Knights at Tate Rink for the 76th installment of the West Point-RMC rivalry.
The day started for the seventy cadet supporters at 0800, equipped with iPods, box lunches and pillows for the long seven hour bus ride to West Point. Cadets had the opportunity to tour the campus for an hour before taking their seats in the stands. Thanks to the cadets who made the long trip to support the team, and special thanks to 25685 OCdt (III) Erik Evans, the OPI for the organization and transportation of the band and the supporters.
The rivalry game started with a ceremonial face-off commemorating the relationship between two storied coaches of both teams. Ex-coaches Jack Riley of West Point and Danny McLeod of RMC reflected the competitiveness and friendliness of their teams' rivalry; through multiple games of this rivalry series the visiting coach would be hosted by the home team's coach, and the two men are still good friends to this day. Jack Riley went on to be West Point's most famous coach, winning 542 games for the Black Knights from 1950-1986. Danny McLeod would eventually become the NHL Supervisor of Officers, and was the 2007 recipient of the Birchall Leadership Award.
The series between West Point and RMC has been renowned for its hard, physical play, and this year's edition was no exception. From the opening puck drop, players were forced to keep their heads up; those who didn't were soon on the wrong end of a solid check. West Point soared ahead to an early lead, applying continuous pressure on the Paladins throughout the first period. Going into the first intermission, RMC found themselves down 3-0.
It was a different Paladins team that hit the ice in the second period, holding the puck in the Black Knights' zone and giving the RMC fans something to cheer about. The Paladins got on the board early in the second, with a perfectly placed wrist shot by OCdt Braydon Casper from a sharp angle. The "Give me a Beer" cheer that followed drowned out the band playing Precision after the goal.
Unfortunately, that's as close as the Paladins came. West Point would respond and string together four back-to-back goals, going into the second intermission with a 7-1 lead. By the final buzzer, the score read 9-1 in West Point's favour.
Despite the loss, all cadets involved represented RMC well. The Paladins played hard to the buzzer, the band was applauded by the sell-out crowd, and those who made the trip solely to support the team were well presented and cheered loud enough throughout to make it sound like a home game to the players. Congrats to everyone involved for enthusiastically continuing this storied rivalry which dates back to 1923.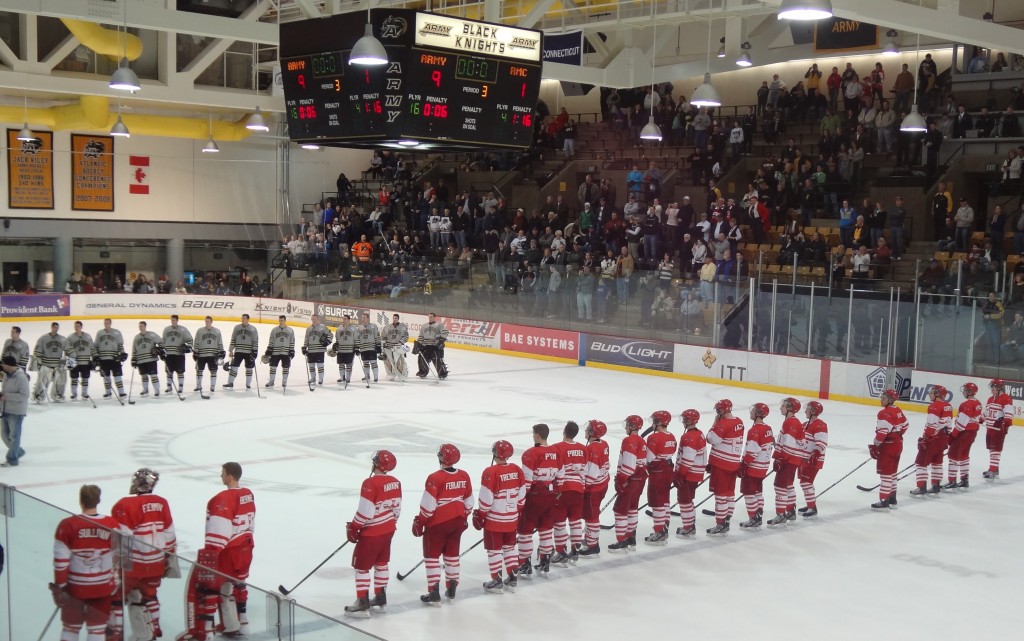 Scoreboard Says It All!
8 Day Diary of a Cadet / Hockey Player:  26219 OCdt (II) Colin Cook
Sunday 29 January 2012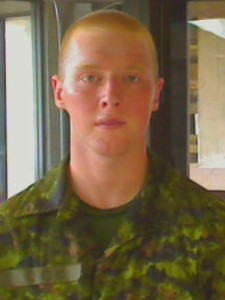 The team returned from our weekend road games at 0630 this morning after an overnight bus ride from North Bay. Last night we lost 3-2, in OT, to the skilled Nipissing Lakers. A missed hooking call took Justin Lacey out of the play and allowed the Lakers to transition and score on the ensuing rush, making the OT loss all the more difficult to stomach. We do, however, feel good about the way we played as a team and will spend the rest of today recovering and trying to stay on top of academic and military responsibilities leading into the busy week ahead.
Monday 30 January 2012
Today was the first day of practice leading to Carr-Harris and the West Point game. Most of the guys are still pretty exhausted from our long weekend on the road. There was a few times today when I saw my teammates between classes and everyone seemed fairly drained. When we got to the rink, however, this fatigue was forgotten as the excitement for the week's games began to build. Coach Shell kept practice pretty short and relatively low key, focusing mainly on what systems we will be using against Queen's and Army. We left the rink tonight with a focused intensity, excited and nervous for historic games ahead.
Tuesday 31 January 2012
We were supposed to practice at the K-Rock center at 0630 this morning to acclimatize ourselves to the venue for Carr-Harris. We met at Constantine around 0540 to pack our gear and make our way across the causeway. Unfortunately when we got there the K-Rock staff were late and the rink was locked. We waited forty-five minutes before heading to Morrison's for a quick team breakfast before class started. Unable to lose a day of preparation we skated tonight at our normal practice time. It's been a long few days, but the energy in the dressing room is palpable.
Wednesday 1 Feb 2012
Today we practiced at the K-Rock center early in the afternoon to get used to the ice surface and the facilities we will have tomorrow. We had a good practice; there was a lot of banter on the ice, lots of energy and enthusiasm. I'm really hoping that we get a good crowd tomorrow. After practice I went into town for an early dinner with a few friends to help relax and clear my mind from all the stress and excitement of the past few days. Early to bed tonight, tomorrow is Game Day!
Thursday 2 Feb 2012
Today was a blur. From the moment I woke this morning I was excited and nervous for tonight's game. I was barely able to focus in class. Seeing the special Car-Harris jersey in my stall was surreal. The turnout of fans from both Queen's and the College ended up better than anyone could have imagined. Although the outcome was not what we hoped the experience was one of the most memorable of my hockey career. After the game, we boarded the bus to New York with the words of the Carr-Harris brothers ringing in our ears "BEAT ARMY."
Friday 3 Feb 2012
We arrived at our hotel in Highland Falls, NY around 0600 this morning. Team breakfast was at 1100 followed by a practice at Tate Rink. We had to manufacture energy during practice, fueling our efforts solely on the excitement and tradition surrounding tomorrow's game. We were given a tour of the West Point campus after practice. Following the tour we had a team meal with alumni, College staff and family and friends. The history and tradition of tomorrow's game weighed heavy on all of us as we collapsed into bed tonight.
Saturday 4 Feb 2012
Game Day, and we couldn't have been more excited. Team breakfast was light hearted and fun, including a game of "Game Plan Jeopardy" to help every one stay relaxed. I will never forget this game against West Point. There were so many highlights from the heated match up: the bands, the number of RMC supporters that had traveled so far to "Give Me A Beer!" After we scored, the national anthems, wearing the Hockey Canada patch on our jerseys, the cheers of "USA" being countered by our fans' "CANADA". It was such an honor to have the opportunity to represent our country at this level. Tonight's game was one I will never forget.
Sunday 5 February 2012
The greatest part of this weekend was the manner in which the teams respected each other; we were fortunate enough to be invited by the West Point players to share a few drinks with them after the game. The evening was full of laughter and camaraderie and truly embodied the spirit of the RMC-West Point game that Maj. Danny Macleod and Jack Riley hold so close to their hearts. Despite the good will off the ice, the Paladins and I will return to West Point next year and resume the intense on ice rivalry by answering for this year's defeat.