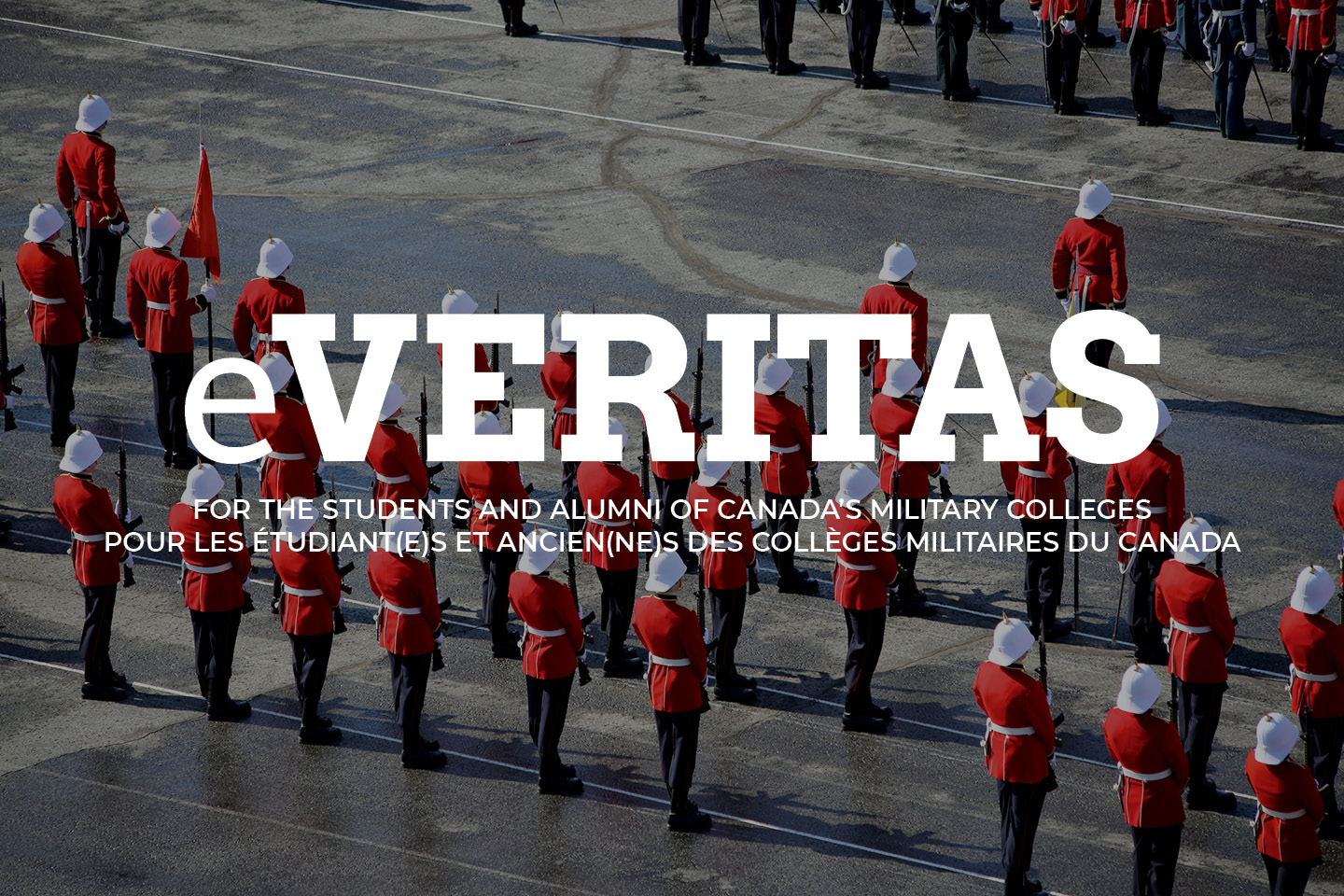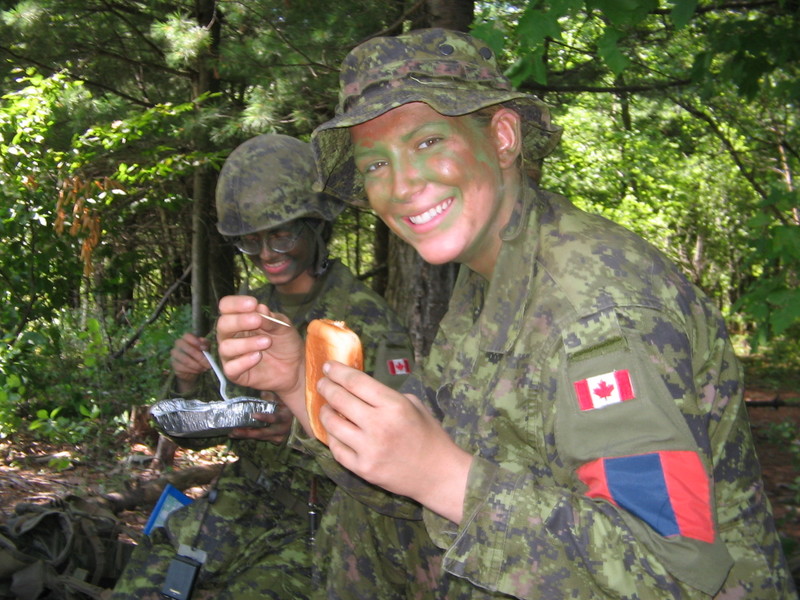 CWC Fall Term 2008
"With the addition of many new bar positions, the role of the Deputy is greatly increasing. RMC is meant to be a training institution, designed to develop leaders and prepare them for officership. If cadets in high positions do not delegate, observe, and challenge their subordinates, then leadership development will not take place. I am going to make sure that this happens."
24446 Officer-Cadet Jaclyn Power – Designated CWC Fall Term 2008
Ready to Lead…
By: WJO
24446 Officer-Cadet Jackie Power was looking for a challenge and something different when she decided to attend the Royal Military College (RMC) of Canada. A graduate of Eastdale Collegiate Vocational Institute in Oshawa, she will certainly have a challenge on her hands when she returns to Kingston in the Fall as the Cadet Wing Commander.
OCdt Power is a future armoured officer and originally from Toronto, Ontario who is pursuing an honors psychology degree. Over the past three years, at RMC, she has had the privilege of being a first year section commander as a II year cadet. She was one of only four II years in the cadet wing who were given a bar position. In her third year she was a FYOP section commander for Papa Flight and was also the 5 squadron DCSTO. She has had great experiences at the flight level, and at the squadron HQ level all of which should stand her in good stead to handle the challenge and responsibilities that go with having five bars on your uniform.
At RMC she is a member of the varsity fencing team, specializing in epee. She is currently the captain of the two time OUA gold medal winning women's epee team, and next year will hold the position of Women's Team Captain. This past February, she toured England with a selected group of fencers, stopping in Portsmouth, the Sandhurst Military Academy and London, and has contributed to two OUA Championship banners. She is working toward becoming a CISM team member and hopes to compete in the 2011 CISM World Games in Brazil.
Seven year RMC Head Fencing Coach, Patricia Howe had this to say about her. "During first year on the women's epee team OCdt Power trained hard to wrap her head around this crazy new sport of sword fighting. She was a consummate perfectionist who demanded nothing but the best from herself and others. She trained with determination, drive and dedication to the program and the epee team, and by second year her hardcore attitude gave her the opportunity to contribute strongly to her women's epee team's OUA gold medal, and a second consecutive OUA Banner for the women's fencing program. This past year III Powers worked hard not only on the piste, leading her team to RMC Invitational Gold, Carleton Invitational Gold and another OUA Team Gold, but she also captained the women's epee team, working to create a strong, focused, hard working group of athletes."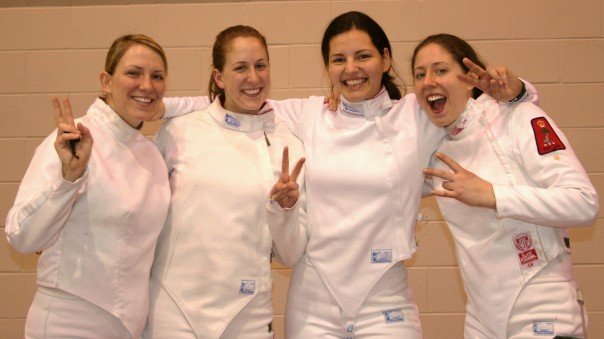 Ocdt Jacklyn Power, Ocdt Emma McDaniel, Ocdt Shauna McLeod(nee McKinnon) Ocdt Erin McEachern (now a 2LT at med school at U of T and former women's team captain for 2006-07.)
The highly respected and former OUA Coach of the Year went on to add. "The testament to the "power" of the team was the fact that all of the RMC women's epeeists were relatively new to the sport, having first taken up fencing while at RMC, and yet they were still able to beat veteran opponents with many more years of experience. It is all about how you play the game. Jackie Power loves to be pushed, loves to be challenged and fully embraces the strategy for success her team has evolved over the years. She knows her strengths, she knows her weaknesses and she is driven to lead by example."
"In 2008-09 Jaclyn Power will move up on the roster to become the overall Varsity Captain for RMC Women's Fencing. It is a position she has worked diligently towards, from early on, in her time in our varsity program," explained Coach Howes. "It is fitting then that she has also been selected as CWC for the next college year. An opportunity to lead the new leaders of tomorrow is a heavy responsibility but one which Ms Powers certainly has the preparation and ability to do. In 2005 she rose out of the crowd of nameless faces to become a champion fencer and now she will rise to fulfill her new wing position; no doubt with the same determination, drive and dedication she has come to be known for in RMC Fencing."
The former high school swimmer and rugby player is a committed member to RMC's mentorship program in which third year cadets are paired with first year cadets to mentor, guide, and influence.
The 24/7 mindset cadet also writes for RMC's newspaper, Precision, where she contributes to the editorial section.
Her Squadron Commander, Captain Kim Fawcett, strongly endorses the CWC selection. "OCdt Power has an incredible command presence. She is confident, competent, and fully capable of representing RMC as their Cadet Wing Commander."
The proud 5 Squadron Commander added, "Ms. Power is an excellent communicator and is well respected by staff and peers alike. This young lady is destined for great things in the CF. The future looks very bright for this shining young star."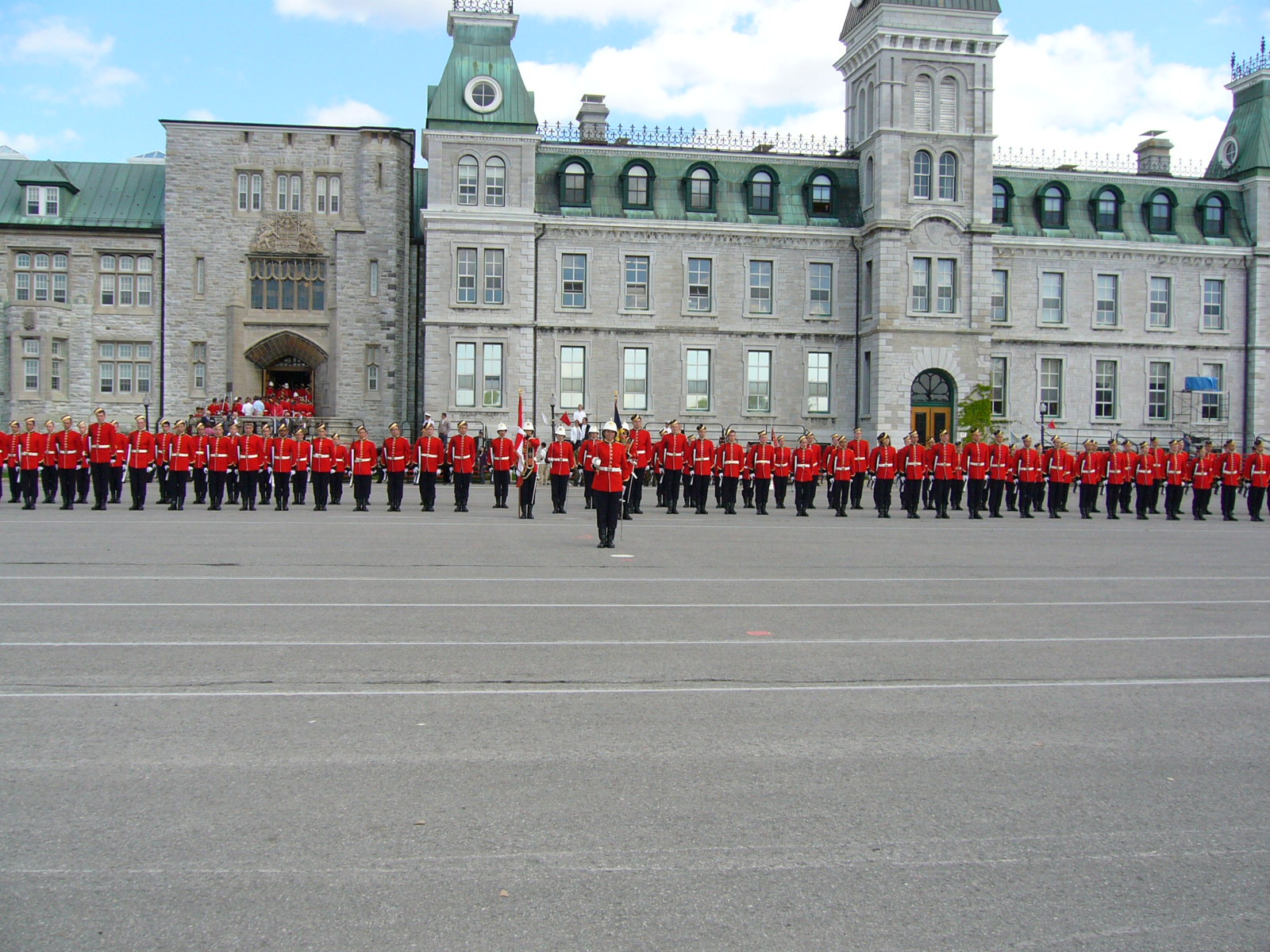 (Click, click, clik for better viewing)
Changing of the Guard! – Farewell to the Class of 2008. Pictured is the new CWC Jaclyn Power, "in position to command" just minutes after the IV Years left the Parade Square and on their way up the Currie Building Staircase.
Sources with thanks from: Capt Paule Poulin, RMC PAO /Capt Kim Fawcett / Patricia Howes.