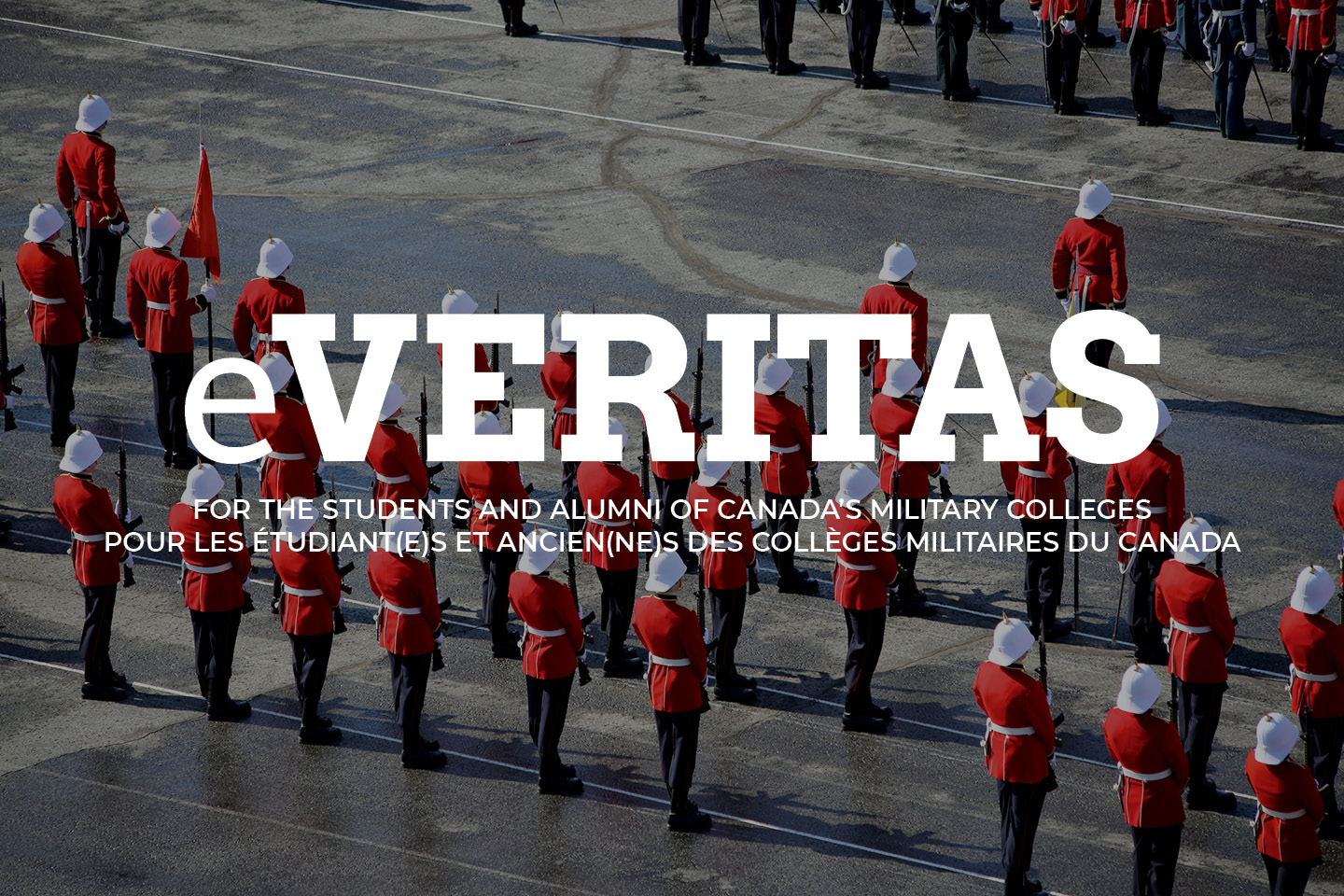 Boot Camp Starts This Week!
By: WJO
For the first time in recent history, RMC cadets instead of commencing their basic military officer qualification (BMOQ) at a place like Chilliwack, B.C. or Ste Jean, PQ will do it at RMC – much like the good ole days.
As we were going to press with this edition of e-Veritas just over 250 bushy eyed young men and women were making their way to RMC. Deadline for arrival is 2300 hrs, Wed 13 August – or tonight! Many were noticed wandering around the college more or less enjoying their last day of total freedom for the immediate future.(e-Veritas was live at 1000 hrs)
From Thursday 14 August until Sunday 31 August – just over two weeks – these individuals from every Region of Canada will be subject to the long and tested military ritual of "spit & polishing" boots; making beds – hospital style; learning basic drill movements, early morning PT and many more of the military common tasks.
Real Fun Begins 1 September – First Year Orientation Programme (FYOP)
Officer cadets will march through the RMC Arch Monday, Labour Monday and commence the rigors of combining first year university academics with what is entailed with FYOP for the real old times – Recruit Term!
FYOP will end on Friday 3 October with the Obstacle Course and RMC Badge Presentation on Saturday, 4 October.
_________________________________________________________
Varsity Sports Interviews: This is the third in a series of interviews carried out by a summer student (Officer Cadet) working with e-veritas.
23996 OCdt, IV Year – Alex Cushley (a.k.a. Cush) has eagerly accepted the challenge of "interviewing" all the varsity coaches at RMC.
Due to the busy summer schedule of many of the coaches, and their limited availability both these interviews were conducted via email correspondence.
In this edition "Cush" has corresponded with the second year Paladins head hockey coach – Adam Shell; and former OUA Coach of the year, RMC Men's & Women's Fencing Coach – Patrica Howes who will be starting her 7th year as head coach of both teams.
………………………
…Adam Shell ………………………Patricia Howes
CUSH: Because of the nature of RMC can you describe some highs and lows of your time spent here?
COACH: There are mostly highs;
– My first win as a head coach, it was against Queen's in exhibition;
– First regular season victory versus York in a shootout;
– Carr-Harris Cup;
– Training Camp at West Point; and
– Getting to know and develop with a great group of guys.
Lows
– Not qualifying for the playoffs.
CUSH: How many players do you have returning from last season?
COACH: 12 players (2 goalies, 4 defensemen & 6 forwards)
CUSH: How many new players have you recruited?
COACH: There will be 9 new players in the line-up.
CUSH: When recruiting what do you tell prospective athletes?
COACH: I always am honest with them, telling them all the positives that are gained from a four year degree at RMC and the career paths that can follow. I describe the hockey program and where I see them fitting in. I also make sure to let them know what is expected of them as cadets, students and players. I talk about my philosophy and what the hockey program provides for them
CUSH: What would your profile of a top player be?
COACH: Speed and hockey sense, those are the two criteria I look for first when scouting. In today's game if they cannot skate they cannot help you and they must be able to think the game at a high level and quickly
CUSH: Do you plan on recruiting any players from within the college?
COACH: No I do not, I am generally aware of all of those people capable of helping our team
CUSH: How many non-cadet players do you expect in the line up?
COACH: We are expected to have 7 non-cadets in our line up this season
CUSH: What are your views on using non-cadet players? Are there set guidelines?
COACH: Although the stated preference of the school is that teams contain full cadet rosters we have the option of recruiting non-cadets. In that case I do not have any issue with using these players, the only caveat being that I make sure that when I recruit a player for a non-cadet roster spot that they are first rate people and they are fully aware of RMC and what they are committing themselves too. I only want players in this position that will enhance the reputation of the program and the non-cadet status. As well in this past recruiting season it is provided an avenue for players to come to RMC who want to be cadets that either did not receive an offer this year or missed the application window.
There are guidelines for the number of non-cadets that our roster can possess, that number is 7.
CUSH: Are there any returning players you're particularly counting on this year in terms of leadership or ability?
COACH: Several;
-Paul Bradley – first team OUA all star to lead the team both off and on ice
Adam Briggs – to provide the goaltending needed to make the playoffs
Richard Lim/Mike Soros/Tyler Spice/Jeff Oke – to continue to get better and lead this team to the next level.
CUSH: Looking at last season, the team had a very respectable year. What are your expectations for the team's performance this year?
COACH: The expectation is playoffs and nothing short, we expect to compete for the division title.
CUSH: Future years?
COACH: Becoming an annual playoff team, win playoff rounds and win the division multiple times.
CUSH: Any thought on making the playoffs?
COACH: That is the only thought we are more than capable of winning the division and making the playoffs
CUSH: What do you do to keep your team motivated?
COACH: Constantly challenge them to be better than they have been. Make practice and coming to the arena fun. Constantly have them compete; practice and games.
Most of all my goal is to activate not motivate, they need to get themselves ready to be the best they can be.
CUSH: Yourself motivated?
COACH: I have only done this a year and have accomplished very little, I have much I wish to do so that is what keeps me going as well I want to make this a career for my lifetime so in order for that I have to continually perform at the highest level that I am capable.
CUSH: What does your exhibition schedule look like? Pre-season, xmas trip, etc.?
COACH: We have three preseason games, one versus Queen's in Gananoque, at home to Windsor and then we travel to Erie, Pa to play against Mercyhurst College. There are no Christmas trips planned
CUSH: What role if any do you feel you'll have in your players away from the rink?
COACH: Their job is to be the best students and cadets they can be, contributing to the schools culture and prosperity.
CUSH: Assuming the best interest of the college should come first, what should come second, team? Players? Coach? Why?
COACH: Team, we are about the team, if the team succeeds so does everybody individually, we are here to teach leadership and part of leadership is sacrifice and selflessness, so it is an easy answer we are about the name on the front not on the back.
_________________________________________________________
Interview with Patricia Howes:
"All RMC teams dream of winning. RMC Fencers Make Winning a Habit."
-Bill Oliver – Long Time Follower of RMC Sports-
Cush: Because of the nature of RMC can you describe some highs and lows of your time spent here?
Coach: The one constant factor at RMC is the amazing group of people here at the college. This of course includes the students who come here to learn, mature and grow as officers in training, as well as the incredible staff that work to run the college from all sides. The highs and lows along the way are just part of the process of working with people, so I don't like to think of my time here as a roller coaster of highs and lows but rather as a dynamic people process; getting to know my students (and staff), seeing them learn and challenge themselves, and encouraging them to set goals and achieve them. However there are some definite perks! The highs come when I get a genuine "thanks coach", watch them win a bout using a new skill or tactic, or the feeling of pride I have for every one of my fourth year students who passes through the arch. Coaching an officer cadet for four years is a great experience for any coach because you really have the opportunity to see their character unfold, develop a champion spirit and see them become confident young leaders. There are definite challenges along the way but that just makes the successes even sweeter.
Cush: How many fensers do you have returning from last season?
Coach: We only graduated three male and two female players from last season so I am pretty much expecting most of the fencers to return this season barring any major injuries during summer training. We have two athletes on the women's team returning as a PG students, which provides excellent maturity and perspective to the group. One of the strengths of RMC Fencing is the dedication the players have to the program, their team and their fencing discipline (foil, epee or sabre). That dedication and commitment translates into a strong, cohesive, experienced team by the time we hit the OUAs each February.
Cush: How many new fencers have you recruited?
Coach: I have two male players recruited for this fall for the men's team. One fencer is a top epee athlete from our RMC youth program, Cutting Edge Fencing, and the other is a Junior National Team fencer, with international experience, from Epic Fencing Club in Calgary Alberta. He is coming here from the same club as top grad-fencer Alex Prymack. Finally, we also have a fencing program at CMR St Jean, which produces experienced fencers who try-out for open spots on both teams. Many of the fencers on our current teams fenced in St Jean for a year gaining valuable training and competitive experience. It is an excellent feeder program for our varsity teams here at RMC.
Cush: When recruiting what do you tell prospective athletes?
Coach: I tell them about the whole RMC experience, what they will gain from a military life and career, and the camaraderie and sense of family that they won't find anywhere else. I have coached fencing in Ottawa, Greenwood, Winnipeg and Kingston —note the military pattern? My husband, and assistant coach, served 22 years in the CF and we both talk to prospective athletes about the whole military experience. RMC is a unique and special place, and a great place, to begin their career. It is really important that the prospective athlete understands everything that RMC is offering; education, military leadership, bilingualism, and fitness & sport, as well as how it will shape them into well-rounded capable people. RMC is an opportunity to expand their learning opportunities in life, challenge themselves, and to meet life-long friends along the way. Prospective athletes have to want all that, and then the fencing, simply becomes the icing on the cake.
Cush: What would your profile of a top player be?
Coach: A top player is someone who thinks of themselves as a champion. Not in a cocky way but in a confident way. When someone has the attitude of a champion then everything they say and do reflects their belief in themselves. They live, eat and sleep knowing that what they do today will have an impact on their tomorrow. Usually this translates into someone who is academically sound, rises in leadership in most things they do, has solid skills and understands their own strengths and weakness in sport. A top player has to know how to lose gracefully, and learn from that loss, as well as how to win with confidence and conviction. For me as a coach, a top player has actually made the decision to become a champion. Personally, it is not about statistics, it's about the day-to-day decision to be the best you can be both in sport and in life.
Cush: Do you plan on recruiting any from within the college?
Coach: Absolutely! The fencing program is unique as a varsity sport. It is the one program where someone can come onto the team as a "walk on" with no fencing experience and become competitive within 3-4 years. We have many examples of people like this on our current teams right now, and in our history, at the college. However, it takes some serious dedication and training to become that good and usually the individual has played several other sports competitively prior to trying fencing. During the September try-outs we look for good well-rounded athletes with strong physical literacy. Physical literacy is about the basic sports skills needed to perform well at any sport: running, jumping, taking off, landing, speed, agility etc…..RMC is full of talented multi-sport athletes and those are the ones we welcome to our program!
Cush: How many non-cadet players do you expect in the line up?
Coach: We will have two PG students on the women's team this year and one reservist.
Cush: What are your views on using non-cadet players? Are there set guidelines?
Coach: We have had post grad students on the RMC fencing teams off and on for decades. Historically this is comparable practice to all the other universities in our OUA league. For example it is not uncommon for RMC to have a 17-year-old Ocdt having to fence a 28-year-old Ph.D. student from U of T or McMaster. RMC is both an undergraduate and postgraduate institution, however, traditionally the fencing teams are 98% officer cadets.
This year we will have our first reservist fencing in the program. However, this is unique and hasn't been done before. It will provide a bridge, and a positive outcome for both this experienced fencer and the team, until such time that there is the opportunity for this individual to become an officer cadet.
Cush: Are there any returning players you're particularly counting on this year in terms of leadership or ability?
Coach: I am super pumped about the leadership and ability on both teams this coming season.
IV Ocdt Jacklyn Power 24446 and IV Ocdt Bryan McCullough 24247 are the 2008-09 Varsity Team Captains for the women's and men's teams respectively. They are both outgoing dynamic leaders, who are intelligent, fit, and determined. They will be my right (and left) arm(s) this year to guide their teams. They have a cohesive support staff of Weapon Team Captains working under them to help run the varsity fencing program. The weapon team captains are: Women's Foil III Ocdt Michelle Guertin, Women's Epee III Ocdt Rachel Middleton, Women's Sabre III Ocdt Diana Prenoveau, Men's Foil IV Ocdt Mat McInnes, Men's Epee IV Ocdt Dorian Widling, III Ocdt Nick Goulet.
Cush: Looking at last season what are your expectations for the team's performance this year?
Coach: It's always tough to predict the upcoming season until you see your final team roster. After try-outs, and once we start our fall competitions, it will be easier to gauge how we sit compared to the other universities in our league.
Last season the women's team had just come off of a cycle of three consecutive OUA championships and had graduated a key host of players. From a sport psych point of view this was tough pressure. The athletes focused on building up their skills, experience and confidence last year, and is therefore looking much stronger for this coming season. Last season was a normal part of the re-building cycle and important for solidifying the foundation of the women's team. This season, with the strong leadership, increased competitive experience and positive team cohesion to "get it back" they are well positioned to have some excellent personal best performances in individual fencing as well as to maintain or better their team performances.
The men's team is in the upswing of their long-term training cycle and luckily has only graduated a couple of players per year. They are focused, just coming off of two consecutive OUA championship titles, and are determined to hold strong and forge ahead. The younger players want their time to shine and the experienced players are solid. They know all the other universities are gunning for them to take them out but this only serves to inspire their drive to keep the lead. They are gaining two outstanding athletes this fall, one in foil and one in epee, and the team overall has an excellent depth of knowledge and experienced players to continue to move forward to maintain their OUA standings.
Cush: Future years?
Coach: My expectations for RMC Fencing in the future? My main goal as program coordinator is that the program overall remains strong, well led, and is something that all students and staff at RMC can be proud of. It is a program that provides OCdts with excellent leadership opportunities, sport challenges and life skills. We have 30 cadets on two teams, fencing three disciplines (foil, epee, sabre) with both genders. We also have a busy youth fencing program here at RMC, Cutting Edge, we run many summer camps and host fencing tournaments, clinics and workshops. It is a complex program taking all these things into account and takes a lot of energy to maintain. Therefore the successes of the past, present and future, are inherently linked to the attitude, work ethic and leadership of every member of the team and staff. I'd say so far so good, so let's keep the wheels turning toward a bright future for fencing.
Cush: Any thought on making the playoffs?
Coach: That's one of our goals.
Cush: What do you do to keep your team motivated?
Coach: I watch and listen on a daily basis to what the cadets are going through, and what they need to make their day better, and I try to make each individual lesson, practice or training week worth committing to. We spend more time training than competing, so training better be challenging, interesting, and positive. Even if they lose, I don't want them to lose the lesson. The best thing about sport is that in a two-hour time slot, from the beginning to the end of a practice, everyone has the opportunity to commit to making themselves better, to improving themselves if ever so slightly, and to leave practice with a sense of accomplishment having achieved one more small step toward becoming a champion. Being motivated is a skill that needs to be practiced day by day, just like any other skill, so I work on that with each student so that the training process is worth it.
Cush: Yourself motivated?
Coach: I like the expression "sator arepo tenet opera rotas" which loosely translated means you reap what you sow. It is centuries old and yet it still holds true today. Therefore I work hard to motivate my students, they work hard to improve and perform well, and their improvements and progress motivates me. That……and chocolate!
Cush: What does your exhibition schedule look like? Pre-season, xmas trip, etc.?
Coach: We have an excellent fall schedule with a series of university tournaments including our own. We will be competing at the Queens Open, Brock Open, RMC Invitational and Carleton Invitational. Our advanced fencers will also compete at provincial and national level events in Ontario and Quebec from September to January leading up to the OUA League events, and then continuing on towards Nationals in the late spring. We compete in both individual tournaments and team tournaments. This makes training and competing a lot of fun because we have the best of both worlds in competition.
Probably our most exciting, heart stopping match will be the annual West Point vs RMC Gala Match to be held Saturday November 1st 2008 at the KMCSC Field House. We narrowly lost to West Point last year and I know my players want to take back the Challenge Shield from the Black Knights and hang it up in its rightful place in our gym!
Cush: What role if any do you feel you'll have in your players away from the floor?
Coach: As varsity coaches at RMC we see our players on almost a daily basis. That means we are generally in contact with them quite regularly as they go about life at RMC and play and travel on our teams. While our service to the college resides in teaching technical and tactical skills, coaching in games and tournaments, and running the finances and logistics of the varsity program, there are times when we are also mentors or role models to cadets both in and out of the gym. I read a recent article, which stated, " Competitive sport can be a powerful laboratory for teaching discipline, social skills, conflict resolution, responsibility, attention skills, adversity management, goal setting, and leadership." I believe that if we as coaches ensure we run programs that provide these learning opportunities and experiences to our players in the gym, then we also have an influence as role models outside of the sport, which we must be cognitive of. The players know and understand that their coach is another resource for them, in their circle of support, as they make their way through the RMC experience. Players come to trust that their coach will provide guidance if needed. To me, the roles are inextricably linked. I don't think you enter the coaching profession unless you are prepared to be some sort of mentor or role model to your students.
Cush: Assuming the best interest of the college should come first, what should come second, team? Players? Coach? Why?
Coach: Due to the unique nature of the fencing program having two teams, male and female that train together, I would take this even one step further and say it is the whole program that comes second to their college commitment, then their team (i.e. men's team), then their weapon team (i.e. men's epee), etc…. It is a very unique situation to have male and female athletes training together. It is a different dynamic to same sex teams and there are important considerations to take into account. A careful balance has to be struck in both the training and competitive environment for mutual respect and support. Secondly, the fencers are all at different levels and abilities, therefore each individual needs to sacrifice a little time to work with others for the betterment of the program, the team and the weapon group. If a player only worked on improving their own skills, and not those of their training partners, then the program overall would not advance. Therefore, not only are the fencers learning to advance each other's skills, they are advancing their instructor skills, and they are doing so across gender, skill level and sometimes seniority. The final outcome of this focus on the overall program is: excellent team building, positive critique and feedback, social support and a solid program foundation. The sport of fencing has always been this way. Think of the three musketeers: all for one, and one for all…….perhaps a bit cliché, but it works! To me it is the same as service before self, and that I believe, is one of the key concepts we are trying to teach here at RMC.