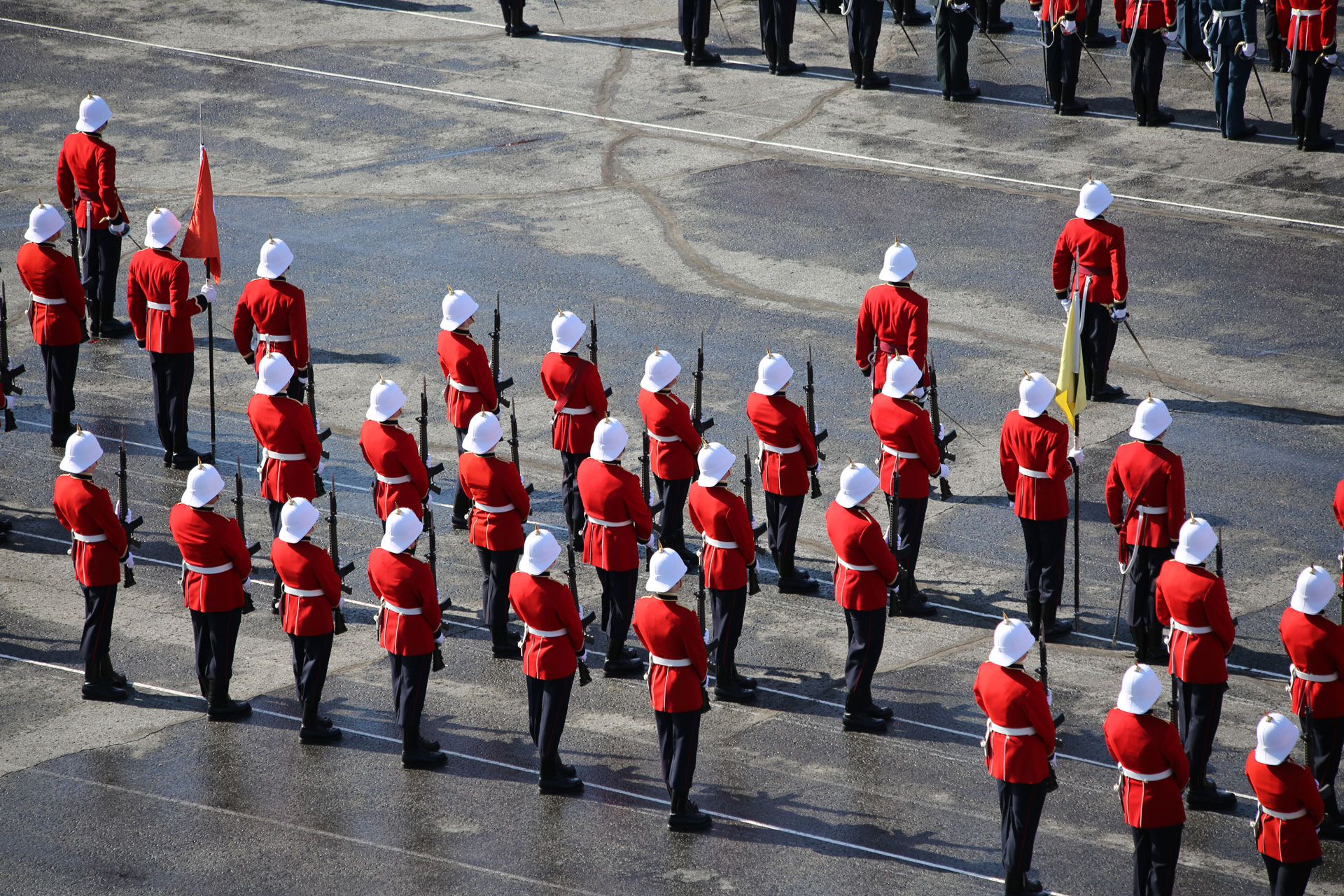 Ladies Rugby Impressive in 10 – 0 Winning Debut!
By: 24579 Nicole Bach

The newly formed RMC Women's Rugby Club played their first ever match Wednesday September 24th against St. Lawrence College on home turf. The final score was 10 to 0 for RMC, starting scrum-half Alyssa Quartermain scored both trys, one in both the first and second quarters.  Unfortunately the game was called in the third quarter due to a lack of daylight. With a turn-out of almost 30 girls, RMC was able to keep the tempo and intensity up throughout the entire match. The ladies dominated the pitch defensively, confining St. Lawrence to their end for the majority of the game. With a mixture of both veterans and newbies on the field at all times, the ladies demonstrated excellent teamwork and communication with only a few minor errors- which will come with more experience. All and all the ladies played a solid and fierce first game!
___________________________________________________
Undergraduate students are invited to submit papers about federalism to be considered for publication in Federalism-E, a bilingual and peer-reviewed journal published on-line each year. Full-length research articles and shorter works, such as think pieces, book reviews or excerpts from theses, will be considered for publication. The journal strives to investigate issues concerning federalism in a broad and inclusive fashion; to this end, it is a forum for scholarly debate about an important area of politics in Canada and abroad. Please consider contributing to this debate by having your work – or the work of your students – published in Federalism-E. Submissions will be accepted via email to one of the co-editors immediately until 15 Jan 08. Visit http://www.federalism-e.com for more information and to view the most recent volume of this widely-read publication.
Les étudiants universitaires de premier cycle sont invités à soumettre des écrits sur le vaste sujet qu'est le fédéralisme dans la revue Federalism-e, un moyen innovateur et facilement accessible pour ceux qui désirent se faire connaître et débattre de sujets importants touchant le fédéralisme. Ce périodique unique en son genre est totalement bilingue; il est basé sur le système de révision par les pairs et est édité en ligne à chaque année. L'objectif recherché par ce journal est d'explorer et d'approfondir nos connaissances sur les multiples facettes que couvre le fédéralisme d'une manière globale. À cette fin, Federalism-e prend la forme d'un forum de discussion où s'y débattent d'importantes questions politiques et idéologiques, tant au Canada qu'ailleurs dans le monde. Les travaux ne devraient idéalement pas excéder plus de 20 pages ou 5000 mots. Ceux-ci peuvent prendre la forme d'articles, de précis ou même d'extraits de thèses.Contribuez à ce débat en publiant vos travaux, ou ceux de vos étudiants dans Federalism-e. Pour plus de détails, nous vous encourageons à visiter le site internet à l'adresse http://www.federalism-e.com, où vous pourrez aussi y consulter les volumes des années précédentes. Un tout nouveau site beaucoup plus structuré verra le jour d'ici peu!
___________________________________________________
Cadet Wing enjoys a cool dip in Navy Bay
Wednesday mornings at RMC are dedicated to military training, which in the past few years has usually involved a lot of marching.  On October 1st, the cadets shed their boots and uniforms and traded them for swimming trunks and bright orange "shower caps".  Under the watchful eyes of military and PSP staff, as well as some highly qualified cadets let by Ocdt Bujold, most of the Third and Fourth Years took a long step off the pier for a swim in the cool — some would say cold — waters of Navy Bay.  The event started at around 07h30, when a small group of cadets broke the ice (figuratively) by jumping in.  Cadets swam in teams from the pier to a buoy in the middle of Navy Bay and then came back to shore where they were greeted by some well deserved hot chocolate.  The event ended at around 09h50 when all teams finally climbed out of the water.  Amid chattering teeth and cadets desperately hoping there would be hot water left in the showers, sly grins could be seen as some of the braver swimmers suggested that this should become an annual event.  Cadet Wing Commander Jacklyn Power should be commended for showing good leadership  when she jumped in a second time to help motivate a struggling swimmer.
The Swim saw a lot of determination, and some morale building spirit as well!
Divers (all RMC cadets) kept close watch on the swimmers.
Some enjoyed the refreshing coolness of the water…others not so much…
___________________________________________________
First OUA Cross-Country Race for RMC Running
III Patrick Wheeler
II Donald Saul
Saturday, October 4th 2008 marked the RMC Running team's first official OUA race of the season. The Queen's Invitational on Fort Henry was a great success for the team. The team placed 8th out of 9 in the women's cross-country teams and 7th out of 8 in men's cross-country teams. This is a great accomplishment for a young team at their first race!
Several runners demonstrated exceptional drive and talent. OCdt (I) Richard Hayes placed 5th on the RMC Men's team with a time of 37:52 on the 10km circuit less than 24 hours after completing the RMC First Year obstacle course. OCdt (I) Hayes proved himself as a key member of 13 SQN's Good Flight on Friday and as a resolute athlete on the running team Saturday. Five other team members involved with FYOP (four staff and OCdt (I) Jamie Jessup) also competed with excellent results at the Queen's Invitational.
OCdt (II) CJ Best's determination placed her 1st for the RMC women's cross-country team with a blistering time of 19:58 on the 5km course despite a knee injury. She placed 29th on the scoreboard. OCdt (IV) Nicolas St-Amant placed 1st for RMC and 34th on the men's scoreboard with a solid time of 36:09 for the 10km course. Also representing the college was Mike Spears, one of our exchange students from the United States Military Academy at WestPoint, who placed 38th on the score board and not far from Nick with a time of 36:42.
The course was not uncommon to the Paladins as it is the same course that they have been training on all fall. The 10K course featured four loops including a series of rather steep hills and some uneven ground that proved challenging for every runner. RMC will complete on this course again in a few weeks as part of the OUA Championships.
There remains one more race before the OUA Championship; October 18th is the Brock Invitational Race, where the team hopes to further hone its skills. The team is excited and pumped to compete in three weeks, on October 25th, at the OUA Cross-Country Championships on Fort Henry. Come and cheer us on! The girls start at 11:00 AM and the guys start at 11:45 AM.
Women Team Results:
PLACE TEAM POINTS
1 UNIVERSITY OF TORONTO 47
2 MCMASTER MARAUDERS 54
3 OTTAWA LIONS TRACK 64
4 QUEEN'S UNIVERSITY 75
5 UNIVERSITY OF OTTAWA 130
6 UNIVERSITY OF WATERLOO 162
7 YORK UNIVERSITY 183
8 ROYAL MILITARY COLLEGE 217
9 NIPISSING UNIVERSITY 269
Men Team Results:
PLACE TEAM POINTS
1 QUEEN'S ALUMNI 15
2 UNIVERSITY OF TORONTO 57
3 MCMASTER MARAUDERS 65
4 QUEEN'S UNIVERSITY 94
5 UNIVERSITY OF WATERLOO 149
6 UNIVERSITY OF OTTAWA 187
7 ROYAL MILITARY COLLEGE 197
8 TRENT UNIVERSITY 213
OVERALL FEMALE ATHLETE:
PLACE NAME TIME
35 Celine Best 19:58.9
53 Eve Boyce 20:35.1
75 Leah Kellar 21:39.3
84 Ashley Fitzpatrick 22:02.5
91 Ashley Galvin 22:37.5
95 Dunerci Carolin Caceres 23:17.8
98 Mary Sun 23:48.1
OVERALL MALE ATHLETE:
PLACE NAME TIME
51 Nicolas S-Amant 36:09.3
64 Mike Spears 36:42.3
67 John Marshall 37:16.8
72 Sean Young 37:39.8
74 Richard Hayes 37:42.0
77 Julian Yates 38:01.4
79 Jonathan Lemieux 38:02.5
86 Jacob Trivers 38:42.1
87 David Bernatchez 39:02.3
88 Donald Saul 39:02.5
89 Patrick Wheeler 39:30.6
93 Mathieu Walker 39:49.5
98 Aaron Bradley 41:01.2
107 Jamie Jessup 45:08.4