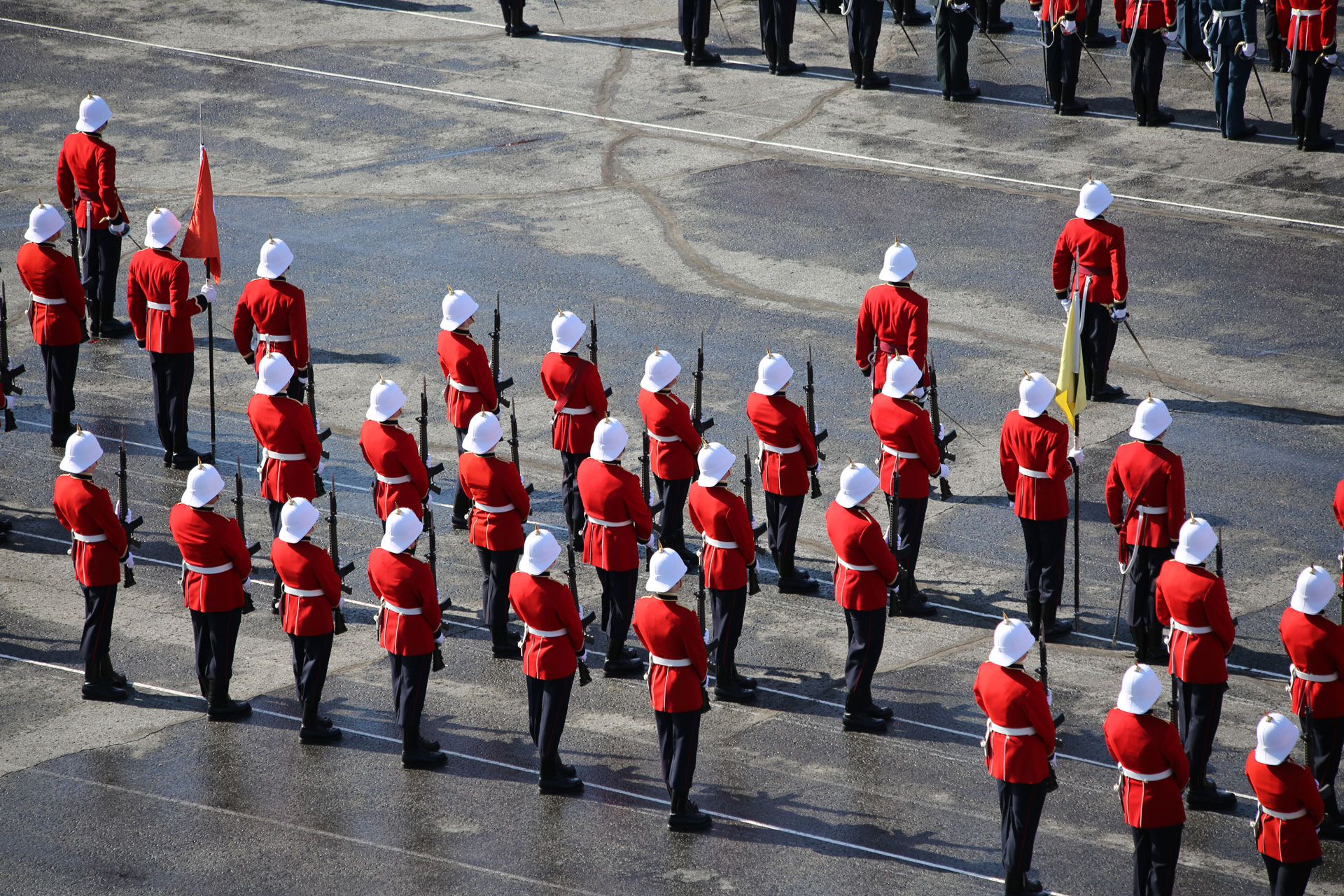 M0819 Captain Christopher Nobrega (RMC 2001), Officer Commanding SkyHawks (former UTPNCM – Otter Squadron)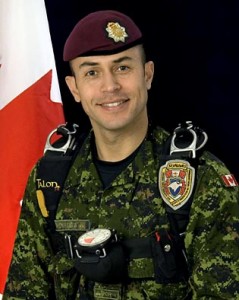 Captain Christopher Nobrega was born on 4 March 1969 in Georgetown, Guyana and was raised in Toronto, Ontario from the age of six. He joined the Queen's Own Rifles as part of the Primary Reserves in 1987 before component transferring to the Royal Canadian Regiment of the Regular Force in 1996. He served as a Corporal with the 1st Battalion of The Royal Canadian Regiment in Petawawa, Ontario until being accepted to The Royal Military College in Kingston during 1999. Following his commissioning and graduation from RMC in 2001, he returned to Petawawa to serve with 3 RCR until 2005. After completing his second tour of duty in Petawawa, he then served as RSS with the Royal Hamilton Light Infantry until moving to Trenton, Ontario in 2008.
Captain Nobrega has completed an operational tour of duty in Bosnia and has twice been to Afghanistan, returning from his latest tour in August of 2007. He started his parachuting career in 1989 and served as a paratrooper with the Queen's Own Rifles and Mike (Para) Company 3 RCR. After being posted to Trenton, he subsequently completed his Military Freefall Parachute course at the Canadian Forces Land Advanced Warfare Centre where he is now employed as the SkyHawks Team Captain. Source nobrega.ca@forces.gc.ca
__________________________________
16733 Col Michel Lalumière (CMR RMC 1989) – Wing Commander 19 Wing Comox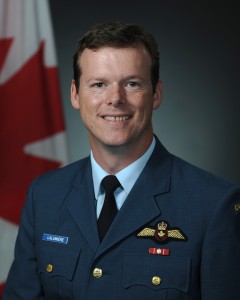 Born and raised in Montreal, Colonel Lalumière joined the military in 1984 at the Collège Militaire Royal (CMR) de St-Jean, graduating from (RMC) in Kingston, with an engineering degree.
After receiving his wings in 1990, he served at 103 Search and Rescue Unit in Gander NF on the CH113 Labrador helicopter, followed by 442 (T and R) Squadron in Comox BC, and at the 442 Squadron Operational Training Flight as an instructor.
In 1997, he joined the New SAR Helicopter (CSH) Project in Ottawa in its definition and evaluation phase. The Italian/English Consortium EHI was selected to build the 15 new Canadian helicopters, and in 1998 the Lalumieres moved to Italy, where he served as the Detachment Commander for the Project Management Office. He took part in the first transatlantic delivery mission of CSH 904 and 905 from Italy to Comox in 2001. For his work in the CSH project, Col Lalumière received a Special Achievement Award from BGen Lucas, DGAEPM.
On graduation from Command & Staff College at Canadian Forces College in Toronto, Col Lalumière was given Command in 2003 of 424 Transport & Rescue Squadron, 8 Wing Trenton. This entailed implementing the CH149 Helicopter to Operational status in this fourth SAR area, and retiring the venerable CH113 Labrador helicopter. As CO, he was also actively involved in the 1 Canadian Air Div Project Transform, and the C130 Hercules fleet hours rationalization.
Posted to Ottawa in 2005, he had the opportunity to experience the NDHQ challenges fully: first by being assigned to the Air Staff with responsibilities in NATO, NORAD and other cooperation efforts with our allies; then the newly formed Strategic Joint Staff for the Chief of Defence Staff, Gen Hillier; and finally, joined the Chief of Air Staff Exec staff as Executive Assistant to CAS and Commander of Air Command LGen Watt.
Col Lalumière attended the Advanced Military Studies Program, and is currently completing the inaugural National Security Program again at CFC in Toronto. He is presently working on a masters degree in Security and Defence Management and Policy.
Col Lalumière and Ms Nathalie Charest joined their lives at the beginning of this great adventure. They have two wonderful children, Chloé and Hugo, a little gymnast and a swimmer.
__________________________________
14681 Colonel J.A.M. Bigaouette (CMR 1985) Wing Commander of 15 Wing Moose Jaw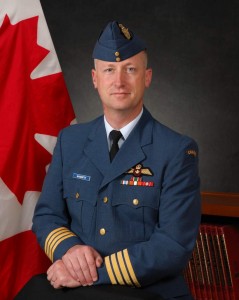 Colonel Bigaouette joined the Canadian Forces in 1980. In 1985, he graduated from the Collège Militaire Royal de St-Jean and one year later, he obtained his pilot wings in Moose Jaw, Saskatchewan. His first posting is with 403 Squadron in Gagetown, New-Brunswick. During the course of this assignment, he will deploy on two occasions to the Sinaï with the Multinational Force of Observers (MFO) to implement the Camp David peace accord between Israel and Egypt. In 1990, he is assigned to 450 Squadron in Ottawa for the stand up a Flight dedicated to the RCMP Special Emergency response Team (SERT).
In 1993, he is posted to 10 Tactical Air Group (10 TAG) Headquarters as staff officer operations. Upon promotion to the rank of Major in 1996, he resumes flying as Officer Commanding B Flight, with the Canadian Forces Special Operations Forces. During his mandate, he will effect the transfer of the counter-terrorist Flight from Montreal to Petawawa and a transition from the CH-135 Twin Huey to the CH-146 Griffon before occupying the function of Operations officer at 427 Squadron.
In 1999, Colonel Bigaouette is assigned to National Defence Headquarters in Ottawa, as pilot career manager. Promoted to the rank of Lieutenant-Colonel in 2003, he pursues his military education at the US Air Force Command and Staff College in Montgomery, Alabama. He returns to Ottawa the following year as section head in the Chief of the Air Staff Directorate of Force Employment. During this period, he will participate in the planning of CF operations in Haiti and Afghanistan.
In May 2005, following a decision by the Canadian Government to acquire a new fleet of tactical helicopters, Colonel Bigaouette is assigned to the Directorate of Air Requirements as Project Director for the fielding of a Medium to Heavy Lift Helicopter (MHLH).
In July 2007, he takes over as Commanding Officer of 430 Tactical Helicopter Squadron in Valcartier, Québec. After nine months of readiness training, Col Bigaouette deploys to Kandahar to command the Canadian Helicopter Force Afghanistan – CHF (A) – in combat. Upon his return to Canada in November 2009, he is promoted to his current rank and assigned to the Second Canadian Air Division in Winnipeg as Director Air Force Training.
In July 2010, he takes over as Commanding Officer of 15 Wing Moose Jaw and the military director of the NATO Flying Training in Canada Program (NFTC).
During his career, Colonel Bigaouette has accumulated over 2500 hours of flying on five types of aircraft. He is a graduate of the Canadian Forces Staff School, the Land Forces Command and Staff College and the US Air Force Command and Staff College. He has a bachelor in administration from the Collège Militaire Royal de St-Jean and a Master in Military Art and Science from the US Air Force University.
__________________________________