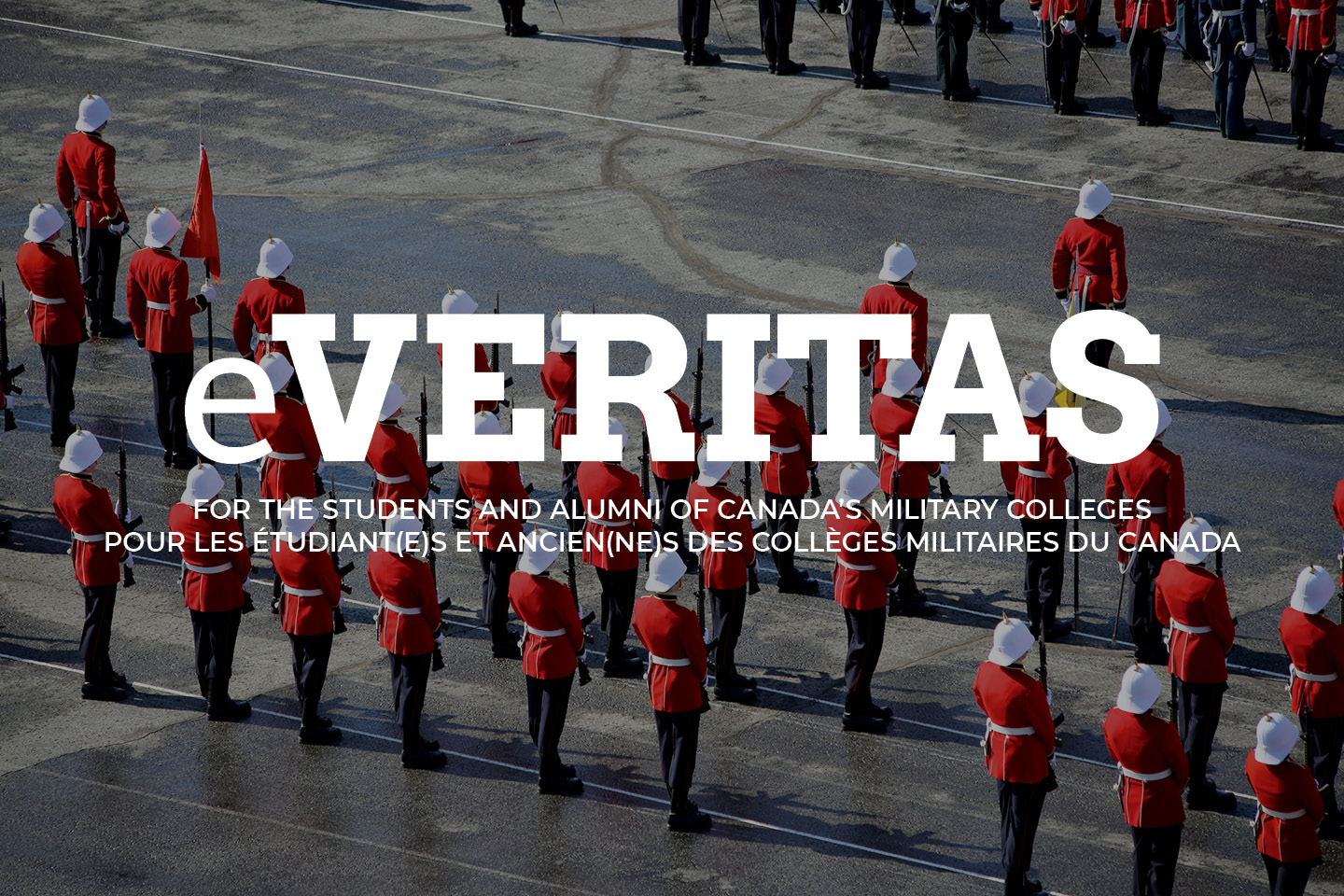 H2951 Ramsey Withers (RRMC RMC '52); 8883 Richard Balfour (RRMC '71); 10203 Robert Boutilier (RRMC RMC '74); 10277 John Miller (RRMC RMC '74); 11132 David Oickle (RRMC RMC '76); 12668 Scott Hayter (RRMC RMC '80); 15773 Jacques Fauteux (CMR RMC '87); 16080 LCol Douglas Delaney (RRMC RMC '87); 17324 Sharon Donnelly (RMC '90) & 17384 Dave Rudnicki (RMC '90); 17409 John Weigelt (RMC '90)


H2951 General (Ret'd) Ramsey M Withers CMM CD (RRMC RMC '52) is the Honourary President of the RMC Club of Canada. He is also senior counsel at Hillwatch Inc., a government relations firm in Ottawa. General Ramsey Withers spent 35 years in uniform, serving in the Korean War and in command and staff positions throughout Canada and overseas, culminating in his appointment as Chief of the Defence Staff, 1980-1983. Appointed Deputy Minister of Transport in 1983, he served under Ministers Pepin, Axworthy, Mazankowski, and Crosbie. He retired from the Public Service in 1988. Awards during this period included The Commissioner's Award of the Northwest Territories and the Outstanding Achievement Award of the Public Service of Canada. Ramsey served as Chairman of one of Canada's leading government relations firms. A Professional Engineer, he has degrees from The Royal Military College of Canada and Queen's University and is a graduate of the Canadian Army Staff College and Britain's Joint Services Staff College. Ramsey holds two doctorates (honoris causa), is a Fellow of Georgian College and is an honorary graduate of the National Defence College and the NATO Defense College. Ramsey is a former Trustee of the Canadian Museum of Civilization and Chairman of the Canadian War Museum Committee, former Director of the Canadian Institute of Strategic Studies, and a Honourary Vice-President of the Boy Scouts of Canada.

8883 Richard Balfour (RRMC '71) is partner/associate in Richard Balfour &Company Architect in Vancouver, which provides services in programming, planning, architecture and urban design in conjunction with a subsidiary firm, Balfour & Associates. He is a member of the Metro Vancouver Planning Coalition, a Sustainable Planning and UrbanDesign Think Tank.
He was educated in Engineering (RCAF/ROTP, Royal Roads Military College), Sociology (UBC B.A., 1972) and Architecture (UBC, B.Arch. 1974). He has spent 30 years working in the planning design and construction professions in British Columbia. As a Council member of the Architectural Institute of British Columbia, Richard has served on professional committees and task forces dealing with community and government affairs including the Urban Design Committee and the Housing Committee. In addition he has chaired the Discretionary Planning Task Force and was a coordinator of the Vancouver 2001 Public Planning forum (1982).
Recently he served as vice-chairman of the Design Panel for the Corporation of the District of Surrey. Richard is particularly sensitive to the concept of community and is concerned about the complex issues which affect a community's growth and change. He is a founding member of the Metro Vancouver Planning Coalition, and a director of the New City Institute. Since 2004 he has been a member of the Vancouver City Planning Commission and is currently Chair of the Strategic Sustainable Planning Committee of the VCPC.

10203 Robert Boutilier (RRMC RMC '74) attended
Royal Roads Military college 1970-71; attended the Royal Military
College in Kingston, graduating with a master's degree in 1991. He
served twenty-two years in the Canadian Forces as a mechanical
engineer with the Land Electric Mechanical Engineers. He worked for
Calgary Transit for four years, starting in 1991. He worked at
Toronto Transit Commission for 11 years, most of that time as general
manager of service operations, overseeing some 1,800 buses and 250
street cars. He is married, with two grown children.

10277 John Miller (RRMC RMC '74) is leading
Royal Roads University's Homecoming Committee. His wife, Christine
Miller is Alumni Chair. The two met while John was at the former
Royal Roads Military College, little knowing that years later
Christine would become an RRU graduate herself. "Large communities of
ex-cadets have a history of class reunions every five years. As
alumni of RRU, though, we want to offer the same sort of opportunity
for all learners to come to Homecoming and connect with their friends
and fellow learners and to network with the ex-cadets community as
well." Christine says, "John and I truly are partners. He organized
and laid the groundwork last year so has a great deal of insight that
I am able to draw from and he has great ideas that I can use as I
connect with more RRU alumni. We are both very committed to the
success of Homecoming 2008 so we draw on each other for moral support
and insights." The overlap comes from having shared in the good times
of the ex-cadet reunions and I hope that we are able to establish
those good times for RRU alumni. It's about wonderful friendship and
camaraderie. It is my hope that we can build on what is already there
in the ex-cadet community and leverage it so that it becomes part of
the RRU alumni community too.
More

11132 David Oickle (RRMC RMC '76) is
First Secretary MBC/CBC in Defence Support at NATO HQ in Brussels. He
is a graduate of Royal Roads Military College formerly located in
Victoria, British Columbia and Royal Military College in Kingston,
Ontario. He graduated from the Canadian Forces Command and Staff
College in Toronto on 16 June 1999. He has held various appointments
during his career as a Logistics Officer in the Canadian Forces
including several senior staff appointments at National Defence
Headquarters in Ottawa. Of note among these appointments were
Comptroller for the Assistant Deputy Minister of Civilian Human
Resources; Senior Officer for United Nations Financial Arrangements,
Senior Officer for NATO Financial Arrangements, Director of Support
Services for the Departmental Information Services Organization and
Project Director for the Amalgamation of the Canadian Forces Finance
and Administration Clerk occupations. He is married to the former
Robin LeFebvre of Montreal and they have three children Eric, Daniel
and Sarah. Robin is an accomplished musician who sings and writes her
own music. Source:
More


12668 Scott Hayter (RRMC RMC '80) will become
executive director of advancement at St. Andrew`s College in May 2008. Mr. Hayter has also been named president of the college`s foundation at the Aurora private boy`s school where he will carry on work similar to his last four years at Wilfrid Laurier University. He is a faculty member of the CASE Summer Institute for Educational Fundraising held at Dartmouth College every summer and has authored and co-authored a number of publications, including Response to:
Business/Higher Education Round Table. Mr. Hayter received his M.Ed. in Educational Administration from Brock University and his bachelor's degree in History from Royal Military College.
.

15773 Jacques Fauteux (CMR RMC '87) was recruited about a year-and-a-half ago as the Prime Minister's deputy director of communications. Cynthia Münster of the Hill Times says, He is an experienced, straight-shooting communications professional. He was trained as a diver at the Canadian navy, and attended the Royal Military College of Canada. (613)957-5555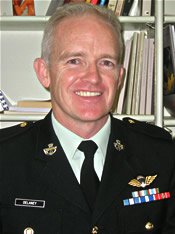 16080 LCol Douglas Delaney (RRMC RMC '87), CD is Associate Professor and Chair of War Studies graduate programme at the Royal Military College of Canada. War Studies is an established field dedicated to an examination of the phenomenon of war and peace. It brings scholarly insight and academic discipline to bear on the practical issues of defence policy, strategic planning as well as the operational aspects of modern warfare. A serving infantry officer with operational experience in Somalia, Cyprus and the Balkans, LCol Douglas Delaney also holds a doctorate in War Studies from the Royal Military College of Canada. He lectures on Canadian military history, strategic studies, guerilla warfare, and the Second World War.
His most recent publications include The Soldiers' General: Bert Hoffmeister at War (2005); "Cutting, Running, or Otherwise? The U.S. Decision to Withdraw From Somalia." Small Wars and Insurgencies (2004); "Hoffmeister in his Proving Ground: Sicily, July-August 1943." Canadian Military History (2003); and "Churchill and the Mediterranean Strategy: December 1941 — January 1943," Defence Studies (2002). He is currently writing a book on corps commanders in First Canadian Army, 1944-1945.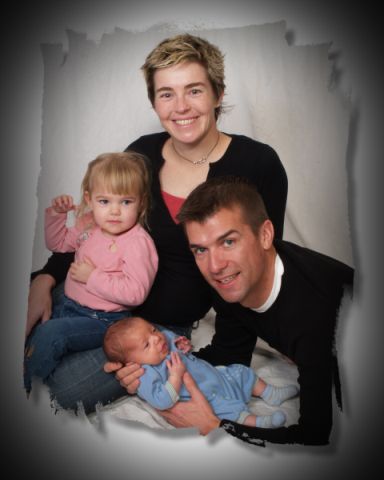 17324 Sharon Donnelly (RMC '90) & 17384 Dave Rudnicki (RMC '90) left Kingston a couple of years ago and they thought that by being posted to Colorado Springs they would have more relaxing time to hang out, go one hikes and camping. In short, enjoy the Rocky Mountains area of the United States. Recreation and leisure time is still part of their agenda, however, not the main part.
Evan Robert Rudnicki, joined Dave, Sharon and two year old sister, Gemma, on Dec 1, 2007. Evan weighted in at 6lb 13oz. From all reports it was as smooth delivery as Sharon winning the gold medal at the 1999 Pan American games.
Sharon the former Olympian tri-athlete who won the hearts of millions of Canadians by her gutsy performance at the 2000 games in Sydney, Australia was offered a position as Resident Coach with the United States Olympic Center shortly after her their arrival in Colorado Springs. Subsequently, she has been chosen as the Assistant Coach, USA Olympic Triathlon Team going to Beijing.
Dave is on parental leave April to September, from his NORAD HQ position so that Sharon can pursue this opportunity.

17409 John Weigelt (RMC '90) National Technology Officer for
Microsoft Canada, to Deliver Keynote at the 2008 Government
Technologies Conference and Expo place April 15 -16, 2008 at the
Design Exchange in Toronto Ontario. John holds a Master's Degree in
computer and communications security from the Royal Military College
of Canada and is both a certified information systems security
professional as well as a certified information security manager.
More