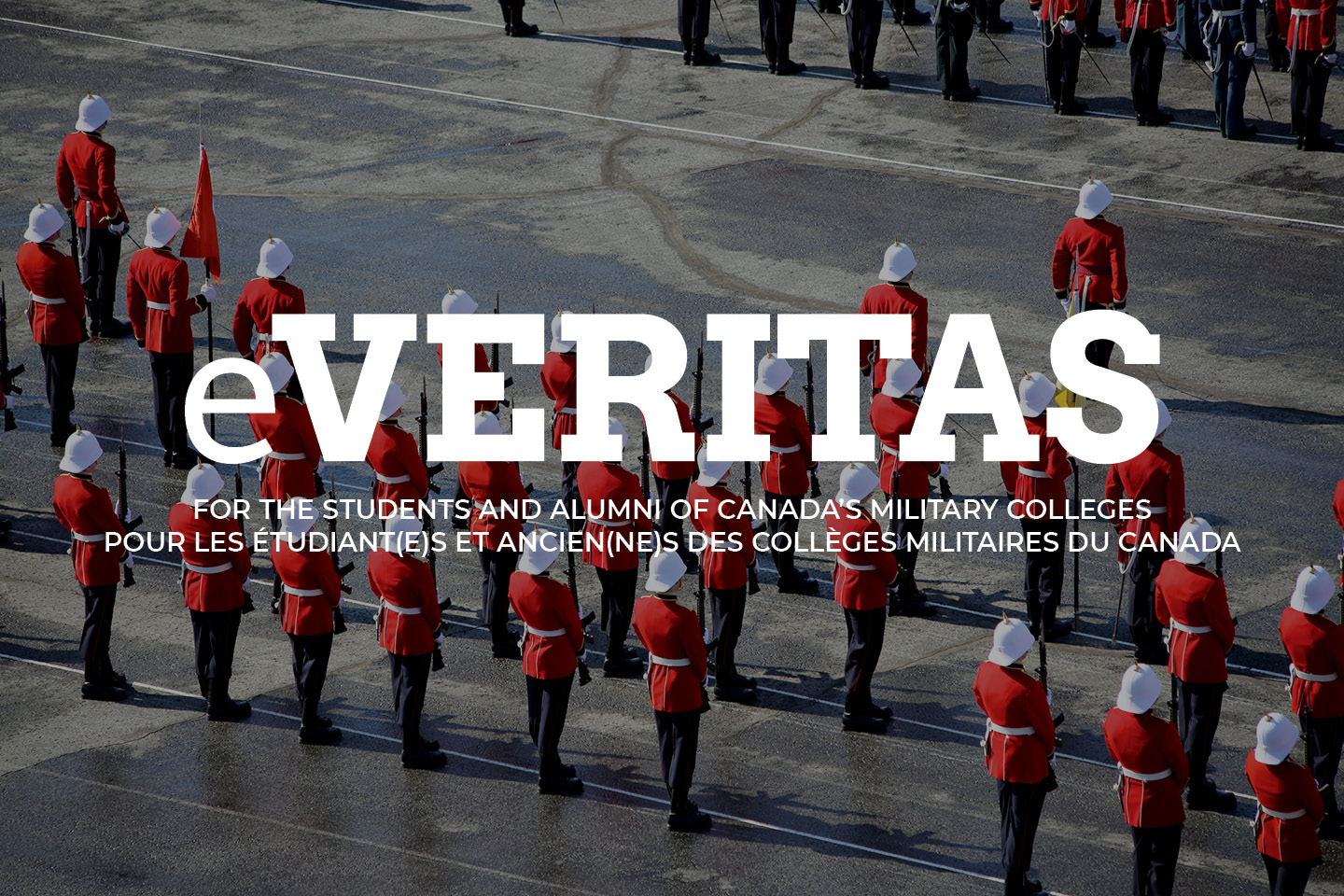 3169 Bill Smallwood (RRMC RMC '53); 4848 Dr. Kenneth Graham (RMC '61); 7415 John Orr (RRMC RMC '67); 8676 Roberto Gonzales (CMR RMC '71); 9319 Dr. William (Bill) Blake (RRMC RMC '72); 9473 Dr. Dale Carl (CMR RMC '73); 10238 Ronald (Ron) Guidinger (RRMC RMC '74); 10420 Charles Kaszap (CMR RMC '75); 11027 Brigadier-General Kenneth Watkin (RMC '76); 12509 Denis JB Brazeau OMM (RMC '80); 13343 Jean Claude Bélisle (RMC '83); 14358 Colonel Christian Rousseau (CMR RMC '84); 15052 Lieutenant Colonel Michael Vernon (RMC '85); 16073 Steve Brown (RRMC RMC '87); 18296 Alain Bureau (RMC '88); All In The de Grasse Family.

3169 Bill Smallwood (RRMC RMC '53) earned a real estate licence and became the right hand man for his wife and daughter in their highly successful real estate career upon retirement from the Canadian Forces. He also carved a wooden chess set that is played on a chessboard eight feet square. The chess men all stand at least knee high. He wrote the Abuse of Power historical adventure series by Borealis Press encompassing the years 1749-1910 and featuring six Canadian families. Bill is now working on Abuse of Power Volume 7, Sons of Empire, which will be published early in 2008. He regularly travels to speak to students (in particular) about Canadian History. After high school, he left Dartmouth, Nova Scotia on a National Sea Products Scholarship to Canadian Services College, Royal Roads. He
graduated from the Royal Military College with a degree in history and an officer´s commission in the Royal Canadian Airforce, going on to navigate transport aircraft in the Korean War and jet fighters along the East German border during the Berlin Crisis. With the Cold War drawing to a close, Bill joined the Public Service at HMC Dockyard, Halifax. Before his retirement from the Canadian Public Service in 1986, he was Director of Civilian Training and Development for the Department of National Defence.
williamsmallwood@rogers.com
more…

4848 Dr. Kenneth Graham (RMC '61)
Kenneth W. Graham has been a professor of Literary Studies/Theatre
Studies at the University of Guelph since 1990. He earned a BA at
Royal Military College, and a MPhil, PhD at the University of London.
His research interests include restoration and 18th Century
literature, interdisciplinary studies; history of ideas; romantic
reviewing; the Gothic; William Beckford; and William Godwin. "As for
why I've chosen to study people such as Beckford and Godwin, well, I
certainly believe that both were treated unjustly during their
lifetimes and neglected or misrepresented as a result. I wanted to
get beneath the surface of what really happened, why they were
treated the way they were, the effect it had on their writing. I
wanted to better understand the times in which they wrote, why it
seemed the people around them went out of their way to be unfair"
says Graham of his research.

7415 John Orr (RRMC RMC '67)
John Orr joined the Royal Canadian Navy in September 1963 and is a
graduate of the Royal Military College of Canada and the Canadian
Armed Forces Staff College. Selected for aircrew training, he
completed five operational tours on the Sea King helicopter
culminating in the command of 423 Helicopter Anti-Submarine Squadron.
Colonel Orr has served overseas as Canadian Forces Attaché, Cairo and
as Secretary to the Chief of Staff, Headquarters Allied Forces
Central Europe. After completing appointments as the Deputy Commander
Maritime Air Group and the Maritime Air Component Commander
(Atlantic), Colonel Orr returned to the Middle East as the Chief of
Liaison with the Multinational Force and Observers in the Sinai. Upon
completion of that tour, he retired from the Canadian Armed Forces
and is currently a Research Fellow with the Centre for Foreign Policy
Studies of Dalhousie University in Halifax, Nova Scotia. His research
interests include Maritime Surveillance and Middle East affairs.

jandcorr@hotmail.com


8676 Roberto Gonzales (CMR RMC '71) is
on the faculty of Royal Roads University, School of Peace & Conflict
Management, assisting in the development and delivery of the MA
Disaster and Emergency Management programme. Roberto has 38 years
experience with the Federal Government (22 years in the Canadian Army
and sixteen years with the Public Service of Canada). Whilst in the
Canadian Army he obtained his BA (Honours) International Studies from
the Royal Military College and served with the Royal 22é Régiment
throughout Canada as well as in Germany, Cyprus and the Netherlands
in different command, operational and training positions, retiring in
the rank of Lieutenant Colonel. After leaving the Army in 1988,
Roberto first remained in the Department of National Defence
performing the duties of: of strategic analyst and special advisor to
senior executives; Director Parliamentary Affairs for the Ministers;
and Director-General Public Affairs for the department. He also
graduated from the prestigious one year National Defence Course. In
1994 he joined Emergency Preparedness Canada (EPC) as Director
Emergency Arrangements. Shortly thereafter and for a period of seven
years he assumed the responsibilities of Regional Director for BC &
YT. In 2004 he founded EMGI Emergency Management Consultants
Incorporated, a Victoria-based, independent company that specializes
in risk reduction and disaster emergency management which has worked
on projects in Colombia, Bolivia and Ecuador.


9319 Dr. William (Bill) Blake (RRMC RMC '72) is the Associate Dean responsible for MBA programs and is a professor of Organizational Behaviour at Queen's School of Business. He joined Queens in 2002 as a Director of Executive Development. A native of Kingston and a graduate of the Royal Military College of Canada, Dr. Blake spent six years in a variety of leadership positions in the Canadian Navy prior to entering the University of Western Ontario where he completed an MBA and a Ph.D. in business. Dr. Blake joined the Faculty of Business Administration at Memorial University of Newfoundland in 1986. His research and teaching have focused on the relationship between cultural adaptability and international effectiveness and he has been actively involved in consulting and executive development, with a particular focus on the Banking sector. He has delivered programs in cross-cultural management and human resource management nationally and internationally. He serves as External Examiner for the MBA Program at the Dublin Institute of Technology and on the International Advisory Council of AACSB International.
bblake@business.queensu.ca
more…

9473 Dr. Dale Carl (CMR RMC '73)
Dale Carl is Associate Director, International Exchange in the
Faculty of Business at Ryerson University. He has been an Associate
Professor of International Marketing in the School of Business
Management since 2000. In 2003, he won the GREET Award of Teaching
Excellence. From 1973 to 1977, he was a Canadian Naval Officer and
Canadian Commonwealth Officer onboard Her Majesty's Royal Yacht
Britannia. Dale had a distinguished career with the Canadian Foreign
Service, in the US, Norway, Pakistan, East Africa, and the Middle
East and was Chargé D'Affaires of the Canadian Embassy in Baghdad
during the last Gulf crisis. He got his BA at RMC, his MBA at Queens,
a certificate in International Oil and Gas from the LSE, and a PhD
from the University of Calgary.

10238 Ronald (Ron) Guidinger (RRMC RMC '74) has
been the Vice President and General Manager, Raytheon Canada Limited,
Support Services since May 2004. As a former senior executive
(Colonel) in the Canadian Forces, Ron has a myriad of experience in
command and staff appointments at tactical, operational and strategic
levels. He also has had the distinction of commanding 416 Tactical
Fighter Squadron, which was selected for participation in the Gulf
War. During this conflict, he served as Senior Staff Officer
Operations for the Canadian Air Task Group Middle East (CATGME),
based in Doha, Qatar. He then moved to the position of Deputy Chief
of Staff Operations for Canadian Forces Middle East (CANFORME). Ron
also flew 12 combat sorties during this conflict. In the key
Department of National Defence positions of Directorate of Aerospace
Requirements 4 and Director Continental Policy, Ron advised the most
senior members of DND on many issues. Notably, he is an expert in
Canada-US Defense Relations with particular expertise in North
American Air Defence, Ballistic Missile Defence and Coalition
Operations. Ron earned his Bachelor of Engineering – Engineering and
Management from Royal Military College of Canada and a Masters of
Business Administration from Queen's University. Ron resides in
Airdrie with his wife and two children.

10420 Charles Kaszap (CMR RMC '75) is the Project Manager of
Contracted Airborne Training Services at the Department of National
Defence, a one billion dollars project in the Department of National
Defence (DND) to contract out the essential services previously
provided by two fleets of military aircraft. Prior to that, he spent
two years in Public Works and Government Services Canada leading a
team with a 40 million dollars/year portfolio providing IM/IT
services to client departments. Previous assignments included: Senior
Engineering Team Leader for Maritime Air and Helicopter Simulators
and Trainers, IM/IT Strategic Planner, both for DND in the National
Research Centre (NCR), Exchange Officer at the United States Air
Force Data Systems Design Centre in Montgomery, Alabama,
Teleprocessing Systems Engineer for DND in the NCR and Systems
Standards and Training Officer at the CFS Lowther radar station in
Ontario. He holds a B.Eng. (Electrical) from the Royal Military
College of Kingston, an MBA from the University of Ottawa, is a
registered Professional Engineer in Ontario and a certified Project
Management Professional with the Project Management Institute.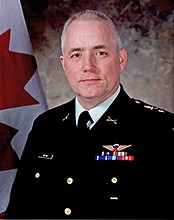 11027 Kenneth Watkin (RMC '76) is Judge Advocate General of the Canadian Forces. He has served as a Canadian Forces legal officer for 24 years in a variety of positions within the Office of the Judge Advocate General in the operational law, military justice and general legal services fields. Brigadier-General Watkin has a Bachelor of Arts degree from the Royal Military College as well as a Bachelor of Laws and Master of Laws degrees from Queen's University. From 2002 to 2003 he was a Visiting Fellow at the Human Rights Program, Harvard Law School. He has published widely on issues such as operational law, the law of armed conflict, discipline and human rights. He was appointed Queen's Counsel (Q.C.) by the Lieutenant Governor in Council of the Province of Newfoundland on 15 May 2006. Brigadier-General Watkin has been a member of the Law Society of Newfoundland since 1981. He and wife, Maureen, have three daughters.


12509 Denis Brazeau (RMC '80) was appointed
as part-time Member to the Canadian Forces Grievance Board on June
27, 2006, and subsequently as part-time Vice-Chairperson on February
9, 2007. Mr. Brazeau was enrolled in the Regular Officer Training
Plan in 1975, graduating from the Royal Military College in Kingston
in 1980 with a Bachelors degree in history. Mr. Brazeau completed a
Master's degree in War Studies from the Royal Military College of
Canada, in 1999. His overseas experience includes service in the
Democratic Republic of Congo in 2000 and in Bosnia-Herzegovina in
2001 and 2002. He was appointed as an Officer of the Order of
Military Merit by the Governor-General in 2004. In 2005, he completed
the Advanced Military Science Course and the National Security
Studies Course at the Canadian Forces College in Toronto. That same
year, Mr. Brazeau retired from the Canadian Forces 2005 after thirty
years of service. Today, Mr. Brazeau is a sometime mentor to
designated commanders of task forces as part of their pre-deployment
training. He is currently working on a study for the Canadian Defence
Academy.

13343 Jean Claude Bélisle (RMC '83) is Vice-President Satellite
Communications and Radio Propagation Research at Communications
Research Centre Canada in Ottawa, an agency of Industry Canada. Mr.
Bélisle joined CRC in 1989, following a three-year stint with the
Department of National Defence as a Satcom System Engineer. In 1997,
Mr. Bélisle undertook the challenge of Research Manager for the
Advanced Radio System Research group. Mr. Bélisle also accepted the
position of Acting Vice-President in the summer of 2005, a role that
he continues to thrive in today. Mr. Bélisle graduated with a
Baccalaureate in Engineering Physics from the Royal Military College
of Canada in 1983, he then went on to earn his Master Degree in
Science Physics (Optics) from Québec's Université Laval in 1985.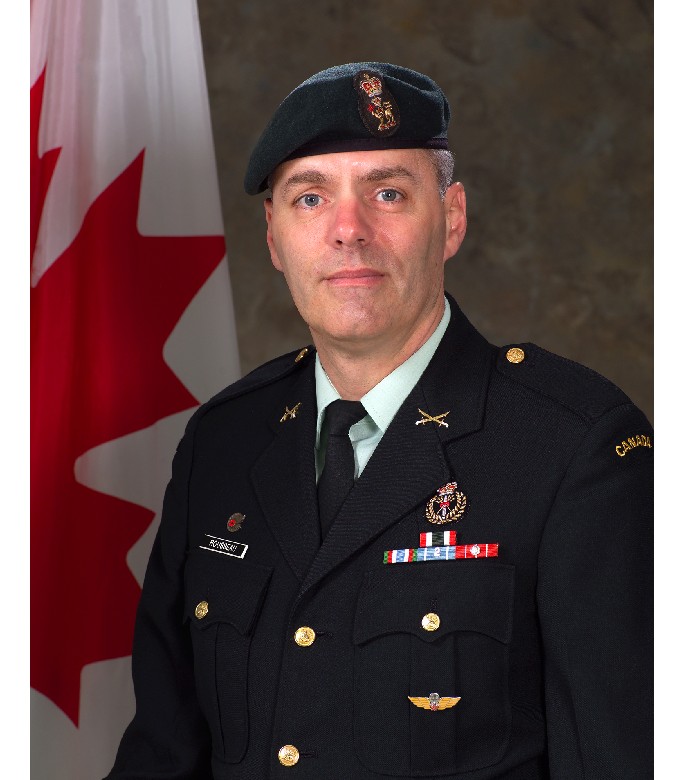 14358 Brigadier General Christian Rousseau (CMR RMC '84), P.Eng is now assigned for service in Afghanistan. olonel Christian Rousseau was Director General Military Engineering and Chief Military Engineer at Canada's National Defence Headquarters in Ottawa, from July 2005 until August 2007. A graduate in science from the Royal Military College of Canada in Kingston, Ontario, Colonel Rousseau went on to field nd operational assignments with combat units in Quebec, and in July 2003 he took command of 5 Area Support Group and its six garrisons. Rousseau's international roles include being Force Engineer for the multinational force in Eastern Zaire in 1996. He is the incoming Deputy Chief of Staff with the Headquarters of the International Security Assistance Force in Kabul, Afghanistan.
.

15052 Lieutenant Colonel Michael Vernon (RMC '85) is Commanding Officer of the Calgary Highlanders. He graduated from Royal Military College of Canada with a Bachelor of Arts degree in English Literature in 1985. He was commissioned in Princess Patricia's Canadian Light Infantry, and completed a Master of Arts degree at Dalhousie University in Halifax before joining his regiment's Second Battalion in Baden-Soellingen, West Germany, in September 1986. In Germany, Lieutenant Colonel Vernon served as a mechanized rifle platoon commander, completed the Basic Mortarman Course, obtained his German jump wings, and played on his unit's rugby team. When the battalion was repatriated in 1988, he was posted to Royal Roads Military College as a newly-promoted captain and squadron commander. One year later, he went to 3 PPCLI as second-in-command of C, and later Administration, Company. He finished his Short Service Engagement as a leadership and tactics instructor at the Infantry School at Canadian Forces Base Gagetown. As a secondary duty, he edited the quarterly Infantry Journal. On leaving the army in 1994, he and his wife, Sherri, moved to Calgary and shortly thereafter he spent a month in Croatia as a freelance journalist. On his return, he began working for CBC Newsworld as a researcher and later television news program producer. He is currently a videojournalist for the CBC TV supper hour news program "CBC News at Six". During the spring of 2002 he was assigned to cover Canadian troops in Afghanistan and spent two months in Kandahar, Kabul, and Bagram. He joined the Calgary Highlanders in 1999. Since then, he has completed a number of staff courses and served as the operations officer, officer commanding A Company, and deputy commanding officer. In 2003 he was the deputy commanding officer of Task Force Four, assigned to fighting forest fires near Okanagan Falls, BC. In 2006 he completed the Combat Team Commanders Course in Gagetown, New Brunswick. He was promoted to his present rank and assumed command of the Calgary Highlanders in October 2007. He is married to Sherri White Vernon and they have a nine year-old son. In his spare time he enjoys reading, traveling, listening to music, mountaineering and sailing.

16073 Steve Brown (RRMC RMC '87) is a Partner with Deloitte
and leader of the Firm's Consumer Packaged Good industry segment in
Canada. He has been with Deloitte for 11 years and has served leading
Food and Beverage clients across North America. He has published
several articles on Food Industry issues and has presented at a
number of Food Industry conferences. He serves on the Board of
Directors of a local Canadian charity focused on International youth
development and on the Board of an International charity focused on
global youth employment. Prior to entering Consulting he served as an
officer in the Canadian Forces for seven years including a tour with
NATO in Europe and a peacekeeping mission with the United Nations in
the Former Yugoslavia. He has an engineering degree from the Royal
Military College of Canada, and an MBA from the University of
Calgary.

18296 Alain Bureau (RMC '88), eng. is the Vice-President of
Special Projects and Operations at Pershimco Resources. Mr. Alain
Bureau holds an engineering degree from the Royal Military College of
Canada, He worked in the mining industry in Canada, Chile, Peru and
in Mexico. Mr. Bureau has more than 15 years of experience in
construction and in project management. Previously, he was the
Venezuela Construction division director of the Montreal engineering
and construction firm Dessau-Soprin International.


All In The de Grasse Family!

4662 Jean de Grasse (CMR RMC '60) and Suzanne are the parents of 15285 Rob (CMR RMC '86), 15283 André (CMR '81), and 15284 Charles (CMR '81). Jean was CWC at CMR and CWTO at RMC. Jean had a distinguishing career working for NASA on the Apollo missions program as an operations manager, ITT as Manager of Engineer for the ICBM northern early warning system, ICG Gas as VP & General Manager, and others. They are now retired in Sooke, BC. Jean and Suzanne attended the class of 1960 reunion.
.
.
15283 Andre de Grasse (CMR '81) currently work for Bechtel Corporation as the Senior Director / Engineering Manager of Network Planning leading the division globally. Andre graduated with a Bachelor of Applied Sciences in Electrical Engineering from the University of New Brunswick. He has over 22 years of professional experience which ranges in telecommunications, project management, quality control and management. Prior to joining Bechtel Andre worked with various telecommunications employers and as an independent consultant in the oil & gas industry. His locations of work has varied from Canada, U.S.A., Chile, Brazil, Mexico, Guatemala, China and Bulgaria.
15284 Charles de Grasse (CMR '81) is a Technology Architect within the Enterprise Architecture and Standards Program at Treasury Board of Canada in Ottawa where he advises on major Enterprise Architecture (EA) projects. He worked in Network Support at Finance Canada (1993 – 2005) and at ISM (1993 – 2005). He was a computer systems analyst at Dominion Bridge (1993 – 2005). After leaving the forces he married and had 3 children and is now settled in Ottawa. In pursuit of his passion for flying he has obtained his private pilots license and currently flies out of the Rockcliffe Flying Club.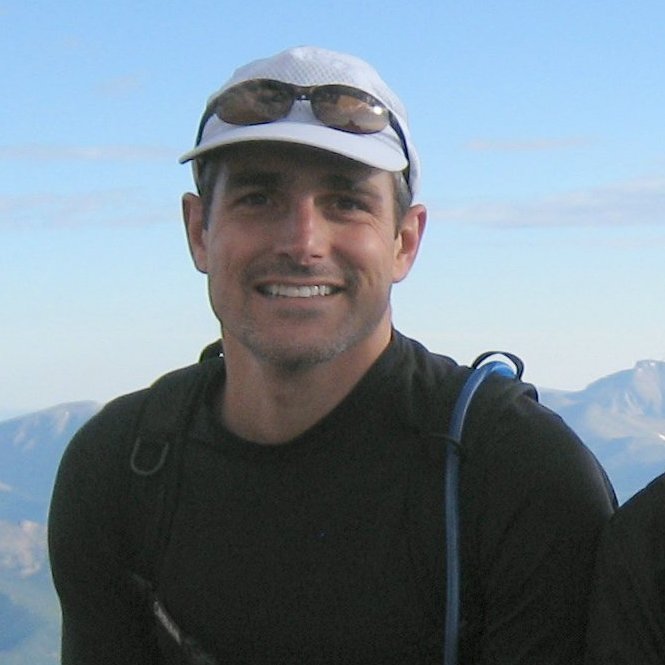 15285 Rob de Grasse (RMC '86), P.E., PMP, LEED has been President of RD3 Sustainable Solutions, a facilities service firm, in Denver CO since October 2007. Rob has diverse experience in the facilities management industry leading and managing very large national and international portfolios of real estate across many different industry types. He has formed and led teams that have managed as many as 18,000 buildings and more than 200,000,000 square feet of buildings including medical facilities, higher education, critical environments, financial institutions, multifamily housing, software development, manufacturing, and others. He was Senior VP, Technical Standards at AIMCO from June 2005 – October 2007. He earned a BSE, Engineering & Management at Royal Military College of Canada in 1986. He served in the Canadian Armed Forces as an engineer, Planning & Work Control Officer. He had a wide range of responsibilities including the management of capital planning, construction and service coordination and contract services for the Canadian Forces Naval Base Esquimalt, Victoria, BC, Canada. Rob is married with three daughters and his youngest, Justine (10 years old), says she will follow in her grandfather and fathers' footsteps and attend RMC to be an engineer.