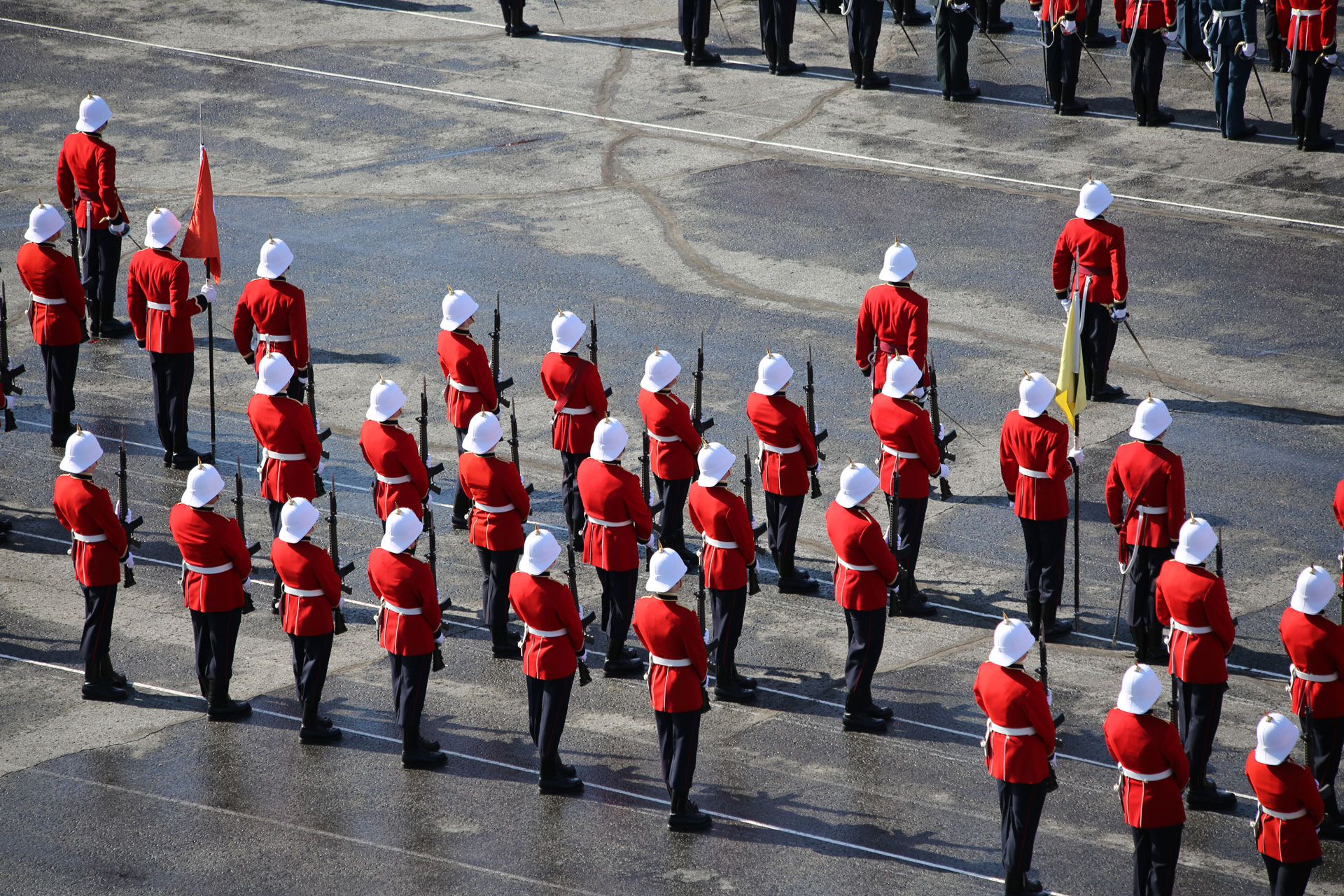 We have contacted numerous ex-cadets from the fifties through to the new millennium and plan to feature them in the coming months to give readers a chance to catch up with names and faces from each of the respective CMCs. If you would like to contribute to this column, please feel free to email me at dean.fleet@rmc.ca
by M0917 Dean Fleet
– 7988 Gordon Hamilton (CMR RMC 1969)
As a Civil Engineering graduate, Gordon has spent much of his career in foreign countries. Following grad, he was posted to Soest, Germany and from there to Baden, Germany. After three years in Germany, he obtained a Masters degree in engineering from Queens and taught at RMC for three years. After leaving the Military in 1975, Gordon joined the Airports Group in Transport Canada, where he served in a variety of positions, including Transport Attache in London England.
In 1981, Gordon founded a transportation management consulting business, Sypher Consultants, where he remained as CEO for 28 years as the firm grew and expanded into airport design and construction management and strategic real estate advisory services. In 2005, Sypher was sold to Jacobs Engineering Group, a 58,000 person worldwide group and Gordon stayed on as Managing Director of Jacobs Consultancy Canada.
In the 28 years at Sypher and Jacobs, Gordon led the Canadian office to work in 79 countries around the globe. Almost all the world's major airports – British Airports, Schiphol (Amsterdam), Rome, Turin, Madrid, Lisbon, Kennedy, Los Angeles, Bangkok, Incheon (Korea) and almost every airport in the Caribbean have been the firm's clients. During his time at Sypher, Gordon was also a Director of several other companies – Caribbean Hovercraft, and FleetTrak Systems. In 2009, Gordon stepped back and is now working in a part time role. He has two sons and lives in Ottawa.
Gordon can be contacted at gordon.hamilton@jacobs-consultancy.com
____________________________________________________________________
– 17514 Darren Stadel (RRMC RMC 1990)
Since graduating RMC in 1990, Darren spent the next 4 years in the CF on both coasts working towards his Combat Systems Engineering classification (44C). Accepting a posting to CFRC Calgary in 1994, Darren completed two years as a Military Career Counselor/Deputy CO before FRP'ing in 1996.
Darren and his family stayed in Calgary for the next 10 years, where Darren worked for Nortel as a Component Engineering Manager, and Hitachi as their Semiconductor Regional Sales Manager. In Dec 2004, Darren accepted a position in Whitehorse, Yukon as the Assistant Vice-President Sales for Northwestel. He and his family had a great four-year adventure up North, before finally settling back to the West Coast in Victoria, BC.
Darren now works for the BC Provincial Government as an Executive Director in charge of large IT outsourcing contracts. Darren has two children (Austin -13, Cassidy – 12) and a wife, Michele of 16 years.
Darren can be contacted at dstadel@shaw.ca
____________________________________________________________________
– 19825 Ken Falkner (RMC 1995)
Following graduation, Ken headed off to Greenwood Nova Scotia and then Borden Ontario to continue his AERE training. Upon completion of the course he was posted to 4 SES Detachment Mirabel to work in the Training With Industry Program (TWIP) at CAE. He worked there with CAE engineers learning the ins and outs of CF-18 Mission Computer software as well as how the contractor worked and did business. He eventually moved into a role as an Integrator of the CF-18 software and did final acceptance testing before the software moved off to Flight Test.
In 1997 while an opportunity came up outside of the military, Ken made the hard decision to leave the CF and pursue a civilian life. He moved to Phoenix Arizona and did contract work at Honeywell doing software testing on the Flight Management System (FMS) for the A340 passenger liner. After that work finished, he spent a short time with a company which produced tools for semi-conductor work but missed working with aircraft and was soon back at Honeywell. Ken worked in the Displays organization within Honeywell doing software testing on a variety of business and regional aircraft, eventually becoming a manager of that team. It was during this time that he met a wonderful woman named Gail and they were soon married.
In 2006 he realized it was time to return home to Canada, so he and Gail started looking for opportunities up north. As fate would have it, a Software Manager position within Honeywell at the Mississauga facility had opened up and Ken was offered the position. For two years he led the software team who was designing the Power Thermal Management System (PTMS) for the F-35 Joint Strike Fighter (JSF). Recently he has moved to a Sr. Program Manager position in the Velocity Product Development (VPD)TM team working on productivity and process improvements across the Aerospace business.
Ken can be reached at rfalkner@computer.org
____________________________________________________________________

Chinook pilot returns to Kingston from overseas deployment
A/SLt 24498 Noelani Shore (RMC 2009)
Assistant 1 Wing PAO
21976 Captain Frédéric Guénette (RMC 2001) has returned to Kingston to bring his experience as a CH-147 Chinook helicopter pilot in Kandahar to 1 Wing headquarters as the A3 Standards 3 for Interim Medium Lift Capability (IMLC). The first time he returned to Kingston was in 2005, just four years after graduating. This time, his homecoming to Kingston is with his wife, Lauren Reid, and they are expecting their first child sometime in December.
"It felt like I never left, and I was quite happy to relive some memories as I walked around. The human mind has this tendency to just remember the good times," Capt Guénette said with a smile. Now that he is posted here again, "it still feels like I never left for more than a couple of months … it's the smell."
After graduating with the first Honours Computer Sciences degree given at RMC, Capt Guénette was posted to 430 Tactical Helicopter Squadron in Québec City. He flew the CH 146 Griffon until 2008, when he got his qualification on the CH 147 Chinook. He has since had incredible experiences flying the Chinook overseas.
"The highlight of my career so far has been my involvement as a pilot in reinstating the CH-47D Chinook helicopter capability for the CF and deploying in Kandahar as the first pilot and instructor. I was sent in March 2008 to Fort Rucker in Alabama to start six months training on the aircraft, and by the end of December 2008, I was flying over Kandahar City," Capt Guénette said. "While talking with CH-47 pilots from other nations, they all thought that we were crazy to attempt such a project. They didn't think that we would be successful, while being safe, due to our lack of experience on the aircraft. The fact that this project worked and was a success is a symbol of the quality of CF aviators. It was a very challenging endeavour that required hard work and sacrifices but made it all worth it when we flew our Canadians soldiers off the roads in Afghanistan and supported them for other mobility operations. I truly felt and heard their appreciation and made it all worth it to me."
Capt Guénette decided to join RMC when, in high school, a Canadian Forces recruiting centre display caught his attention during career day.
"There was one of those life-size pictures of RMC cadets in full Scarlet uniform, and I always thought it looked really sharp," explained Capt Guénette. "I knew that I always wanted to be a pilot, and if I could do it while going to university for free, traveling all over the country, meeting great people and doing it in style, I was in!"
Joining the military seemed like a good idea after hearing about his grandfather's experience during World War II.
"My grandfather served as a cook during WWII in Europe. He was working at the Officer's mess and had access to alcohol. I guess times were hard because one day him and his buddy got quite drunk and went AWOL with a Jeep for a night. They must have been cooking good food because no disciplinary actions were taken against them on their return. What a different time it was!" laughed Capt Guénette.
Capt Guénette enjoyed the leadership opportunities offered by RMC, but the memories that stand out most in his mind are his experiences with his peers, along with extra-curricular activities.
"My most memorable memories about RMC are, in no specific order: Recruit camp, learning and playing the bagpipes in the band, the broomball tournament in St-Jean, IM soccer, the francophone Plein Feux music show that I participated in every year and the mess…oh, and academics classes are in there somewhere as well," Capt Guénette said.
He understands that, while some aspects of the "real world" are not present on the RMC campus, the leadership opportunities and positions, along with staff personnel, guest lecturers, training weekends, and summer on-job-trainings allow Officer Cadets to anticipate some aspects of the "real world" that awaits them upon graduation.
"It is all about exposure, and cadets have to look outside the "bubble", be proactive and seek the information," said Capt Guénette.