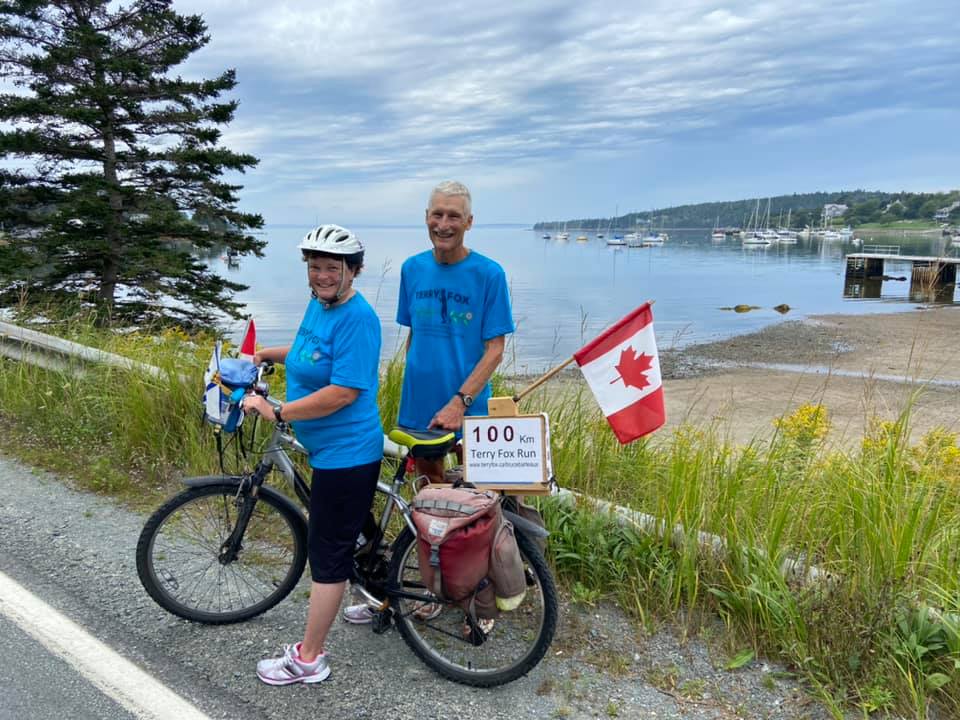 Article submitted by:  11338 Bruce Barteaux, Class of 1978
It should come as no surprise that the Class of 1978 have been looking forward to Ex-Cadet weekend in 2023 as it will mark their entry into the Old Brigade.  While members of the Old Brigade are highly respected and esteemed for their many years of experience, their storied military service, civilian accomplishments and their well-earned wisdom, generally their current athletic prowess is not high on the list of their attributes.  11338 Bruce Barteaux aims to challenge that by joining the Old Brigade with a 100-Kilometre run fresh under his heels.  This is not a feat that he simply has high hopes of accomplishing, based on a bit of recent training, or even a "bucket list" goal.  It will, in fact, be his 25th annual solo, one-day run of 100 Km or more (sometimes much more) as a fundraising event for the Terry Fox Foundation.  A long time runner and member of the CAF Sports Hall of Fame, Barteaux has raced over 75 marathons and more than 50 ultramarathons, in 16 of which he proudly wore the Canadian flag on his jersey, at world- or commonwealth-championship events.  Many of his Terry Fox Runs, though, have not counted toward this total, as, like the one he plans on Ex-Cadet weekend, they have been stand-alone events, done solely to raise funds for cancer research.  And his fundraising efforts have certainly paid off, with well over $100,000 to his credit.
On Fri, 15 Sep, Bruce and Bonnie, his lovely bride of 45 years (they tied the knot one week before grad) will forge off east of Kingston with Bruce running and Bonnie cycling as his support crew. Bonnie has crewed for many a Canadian Ultramarathon team and she has been part of the dynamic duo on many of these long Terry Fox Runs as well as countless rides on a regular basis during training runs.
Sadly, most folks have far too many family, friends & classmates who have suffered with the impact of cancer so Barteaux is pleased to have been able to show compassion and raise research funds to support the cause that Terry Fox started and that has been on-going as an annual event for 43 years!  If you know someone who would be inspired, comforted or encouraged by this story, please feel free to share.
Il n'est pas surprenant que la promotion de 1978 attendait avec impatience la fin de semaine des ex-cadets en 2023, car elle marquera leur entrée dans la vieille brigade.  Bien que les membres de la Vieille Brigade soient très respectés et estimés pour leurs nombreuses années d'expérience, leur service militaire légendaire, leurs réalisations civiles et leur sagesse bien méritée, leurs prouesses sportives actuelles ne figurent généralement pas en tête de liste de leurs attributs.  11338 Bruce Barteaux vise à défier cela en rejoignant la Old Brigade avec une course de 100 kilomètres fraîche sous ses talons.  Ce n'est pas un exploit qu'il a simplement de grands espoirs d'accomplir, basé sur un peu d'entraînement récent, ou même un objectif de « liste de seaux ».  Il s'agira en fait de sa 25e course annuelle solo d'une journée de 100 km ou plus (parfois beaucoup plus) en tant qu'événement de collecte de fonds pour la Fondation Terry Fox.  Coureur de longue date et membre du Temple de la renommée des sports des FAC, Barteaux a couru plus de 75 marathons et plus de 50 ultramarathons, dont 16 ont fièrement porté le drapeau canadien sur son chandail, lors d'événements de championnats du monde ou du Commonwealth.  Cependant, bon nombre de ses courses Terry Fox n'ont pas été prises en compte dans ce total, car, comme celle qu'il planifie la fin de semaine des ex-cadets, il s'agissait d'événements autonomes, organisés uniquement pour amasser des fonds pour la recherche sur le cancer.  Et ses efforts de collecte de fonds ont certainement porté leurs fruits, avec plus de 100 000 $ à son actif.
Le vendredi 15 septembre, Bruce et Bonnie, sa charmante épouse de 45 ans (ils se sont mariés une semaine avant l'obtention de leur diplôme) partiront à l'est de Kingston avec Bruce qui court et Bonnie qui fait du vélo comme équipe de soutien. Bonnie a fait partie de l'équipage de nombreuses équipes canadiennes d'ultramarathon et elle a fait partie du duo dynamique sur plusieurs de ces longues courses Terry Fox ainsi que sur d'innombrables randonnées sur une base régulière pendant les courses d'entraînement.
Malheureusement, la plupart des gens ont beaucoup trop de membres de la famille, d'amis et de camarades de classe qui ont souffert de l'impact du cancer, alors Barteaux est heureux d'avoir pu faire preuve de compassion et recueillir des fonds de recherche pour soutenir la cause que Terry Fox a commencée et qui se poursuit en tant qu'événement annuel depuis 43 ans!  Si vous connaissez quelqu'un qui serait inspiré, réconforté ou encouragé par cette histoire, n'hésitez pas à la partager.
BB Barteaux, 11338, Class of '78