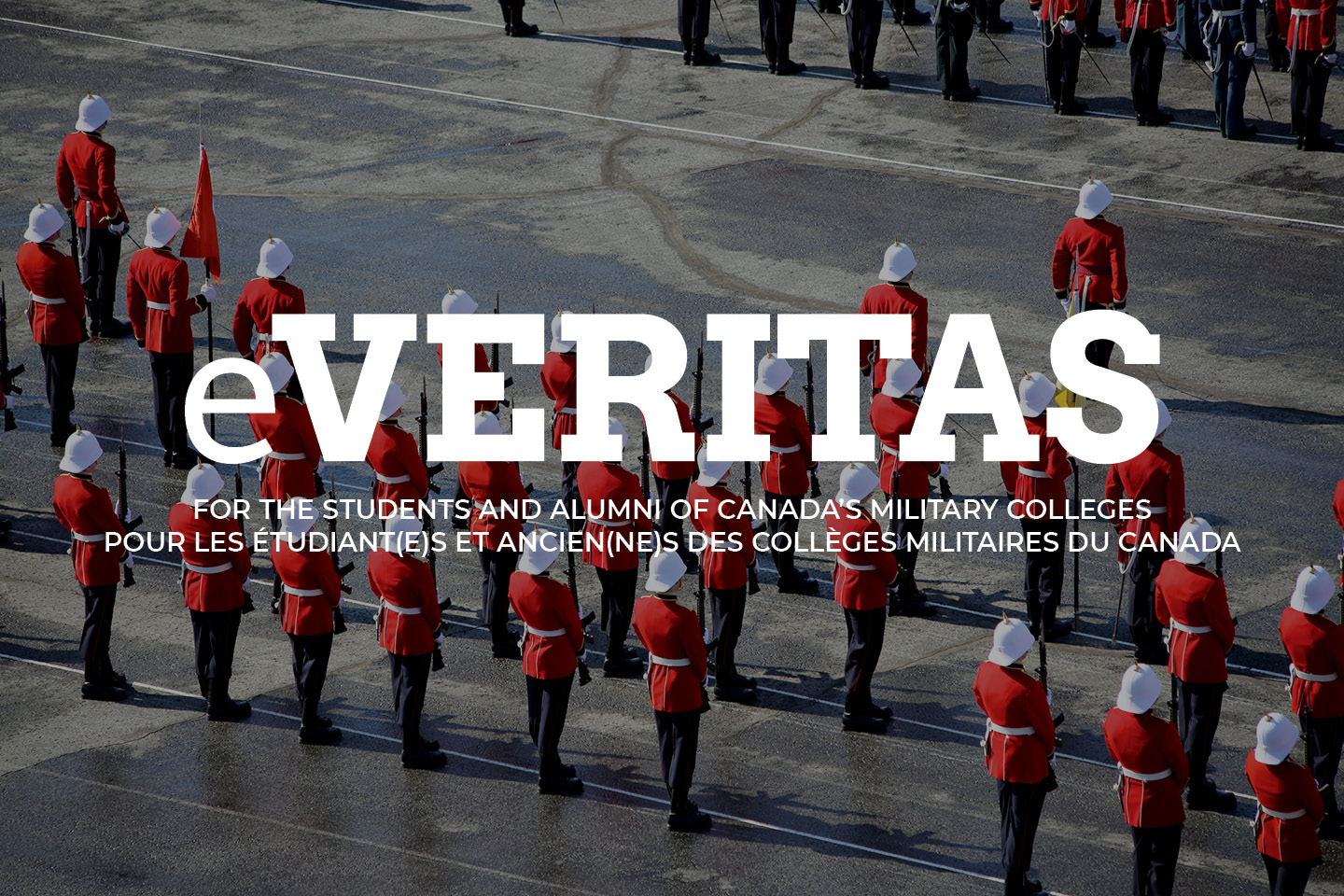 From Winnipeg Rifles to E.D. of the RMC Club in 35 Years

13987 Bryan Bailey commenced his career in the Canadian Forces as a soldier with the Royal Winnipeg Rifles in 1978. In 1979, he transferred to the Regular Force and attended both Royal Roads and Royal Military College graduating with a Bachelors Degree in Political and Economic Science in 1983. He continued his studies at Queen's University receiving a Masters in Political Studies in 1984.
Commissioned into the Princess Patricia's Canadian Light Infantry (PPCLI), he commenced regimental duty with the First Battalion in Calgary. From 1984 to 1987, he served as a rifle platoon commander, Assistant Adjutant, and as Second-in-Command of a rifle company. He then served three years as the Adjutant of the Hastings and Prince Edward Regiment in Belleville, Ontario.
In 1990, he was posted to 2 PPCLI in Winnipeg where he served initially as Second-in-Command of Administration Company and the Adjutant followed by command of Combat Support Company, C Company, and Administration Company. During this posting, he deployed twice to Croatia as part of UNPROFOR. With 3 PPCLI in 1992, he served as the Senior LO and in 1993 he returned as OC C Company. The highlight of this tour was the Medak operation for which 2 PPCLI was awarded the Governor-General's unit commendation.
In 1994, he was posted to Toronto where he served two years as G3 of 32 Canadian Brigade Group. On departure, he attended the Canadian Forces Command and Staff College graduating in 1997. He was subsequently posted to Land Force Atlantic Area Headquarters in Halifax where he served as G3 Operations until promotion to Lieutenant-Colonel in 1999. He continued his service with LFAA until 2002 as the G3, G5, and Chief of Staff of the Headquarters while concurrently commanding the 5th Canadian Ranger Patrol Group which is based in Newfoundland and Labrador.
In 2002, he assumed command of Western Area Training Centre in Wainwright which also included base commander responsibilities. During his tenure, he oversaw significant growth and organizational change resulting in the doubling of military personnel and the separation of the School from the Base on his departure in 2005. From 2005 to 2008, he served as the Assistant Director of Army Training within the Land Force Doctrine and Training System Headquarters in Kingston, Ontario.
In 2008, he deployed to the Democratic Republic of the Congo as an Acting Colonel where he commanded the Canadian Task Force and served as the Deputy Chief of Staff Operations and Plans of the MONUC Force Headquarters. In this capacity, he led Force Headquarters general staff during a period marked by considerable crisis and instability.
On return to Kingston in 2009, Lieutenant-Colonel Bailey served three years at the Canadian Army Staff College as a Directing Staff  and the Deputy Commandant. Again as an Acting Colonel, he was the Senior Advisor to the Vice Chief of the Afghan National Army in Kabul as part of the NATO Training Mission. After 35 years in uniform, he retired from the Canadian Forces in 2013 and is presently the Executive Director of the RMC Club of Canada. He is married to Jennifer and they have three children: Laura, Karyn, and Steven.
When he is not involved with RMC Club duties or spending time with family related matters – Bryan can be found, during the winter months in the Garrison Curling Rink.  In the summer he plays a little golf, and spends some time in the outdoors fishing and camping with family & friends.
For readers not sure about the best dining spots in Kingston, they would be wise indeed to check with Bryan prior to making any restaurant reservations.
Bill Oliver recently sat down with the one year Executive Director and they reminisced about high-lights from the past year.
Q: You officially took over as the Executive Director 15 April 2013. What are your thoughts on these past 12 months?
A: I must admit that I am more than somewhat incredulous that my first year as the Executive       Director of the Club has already come to an end; the year seems to have somehow evaporated!
After a year in Panet House, I now have a much clearer understanding of the extremely valuable contributions that both the Club and Foundation make to its members and to the Colleges and Cadets. Much like the axiomatic slogan that our military colleges are "universities with a difference"; the RMC Club is also a unique Alumni association that has served the needs of its members incredibly well for the past 130 years.
Q: What type of experiences did you have with the RMC Club prior to accepting your current position?
A.  I would say that my experiences were fairly typical starting while I was a Cadet at Royal Roads when we organized a home-at-home pistol shooting competition with ex-Cadets from Chilliwack.  While at RMC, we were invited by the Toronto Branch to curl and afterwards we enjoyed a visit to RCMI. I also recall interacting with the Ottawa Branch after the Remembrance Day ceremonies at the Army and Navy Messes. Like most of our graduating class, I took out a 5-year membership and then continued as an annual member until deciding in 2002 that it was time to become a life member. During my military career, I attended a few Branch functions while serving in Calgary, Winnipeg, Toronto, Halifax, and Kingston.     
Q: I'm aware that you have been called upon to make presentations to students in various Political Science classes a number of times over the past year. How often have you done this and what do you mainly present?
A. This grew from a long friendship with Dr. John Young whom I met at Queen's.  Over the years he was kind of enough to invite me to his classes at CMR and RMC. Now that I am on campus, it is even easier to get involved with classes.  In addition to his political science courses, I was invited by Dr. Howie Coombs to speak to his class. My presentations are focussed on my operational experiences in the Medak Pocket as a Company Commander as well as my year in the Congo as the Senior Operations and Plans officer for MONUC. 
Q: What are the main differences, if any, that you find between these cadets in a classroom setting compared to cadets of your time 30 years ago?
A. Honestly, I have not noticed a tremendous difference in the classroom. Today's cadets are as engaged as ever and I have been impressed with the sophistication of their questions which reflects excellent intellect, sound reasoning and surprisingly good class preparation.  The latter was not always universally evident when I was a student! 
Q: I have noticed that at every opportunity you have speaking in a formal group setting with cadets, and or staff, that you make a solid effort to speak French. What formal second language training do you have?
A. I am very cognizant of the importance of bilingualism which is not only one of the four pillars for the RMC programme, but also a hallmark of the College and the Armed Forces. To be honest, I started with a very weak French background and therefore most of my French was acquired during my four years of College which included a very humid summer at CMR. While this provided an adequate base, I returned to the RMC in 2007 and spent 5 months with the cours supérieur.  Thanks to an excellent team of profs (Rita, Delores and Catherine) I was able to make a significant leap forward.  While the Club does it best to be bilingual, we are striving to do better.   
Q: Among the many challenges, the ED is the Editor of the Veritas magazine which is now published twice a year. What are the main challenges with this part of the job?
A. I only have one edition under my belt, and I have to admit that many aspects of this task were a challenge the first time as there is a rather steep learning curve!  First of all, I quickly came to realize that coordinating the advertising is critical but also difficult, particularly during the last few weeks.  It is challenging to not only attract but retain advertisers in a world that is going digital.  I also learned that ensuring photo quality is a huge challenge and was unable to publish some excellent photos.  As well, the final editing and proofing process requires intense effort due to the very short time lines.  Lastly, I found it difficult to pare down text while retaining sufficient context and respecting essential messages. 
Q: Without argument, the highest profile event of the year is Reunion Weekend.  What did you learn from this event in 2013?
A. I must say that you did warn me but I needed to experience it in order to fully appreciate the demands of preparing for a Reunion which is not only remarkably full, but also has many moving parts.  This is partly due to the fact that the Reunion Weekend represents the culmination of the Club governance cycle with the AGM. To be honest, it is surprising how well this weekend unfolds each year and the College deserves full credit for making it work.  Lastly, the Club Dinner Dance is still a challenge as it is difficult to find a venue and format that is popular with all attendees; we certainly hope to do better going forward. 
Q: What has surprised you most about the operation of the RMC Club since becoming the Executive Director?
A. I suppose the biggest surprise for me was discovering that Club needs to operate like a small business despite the fact it is a not-for-profit organization.  As a result, I had to devote a lot more time than expected to budget development, refinement, and monitoring budget execution.  We are always looking for creative ways to generate revenue so that the budget can be balanced at year end.  I am deeply indebted to all those individuals who answered the eVeritas call for sponsorship which enabled the Club to finish with a modest year end surplus. 
Q: A formal external and independent professional audit has just been carried out on the operation of the Club. Are you able to share some of the major findings?
A. While the Audit has completed its field work and draft statements, it is best to wait until they are reviewed and approved before sharing. That said, I am very pleased to report that the Auditors confirmed that the Club could use its not-for-profit status to exempt membership fees from all taxation which the Club has already implemented, effective end March. 
Q: I have sat in on a number of your briefings – formal & informal – big & small, you never fail to make a "pitch" on behalf of the Foundation. What message would like to pass on to our readers in regards to supporting the Foundation?
A.  As a result of a year in Panet House, I now have a much better understanding and appreciation for what the Foundation does each year to enhance the programmes at both Colleges.  The Foundation has been very successful in attracting donations from Alumni or from corporations that are, for the most part, linked to Alumni.  The results are impressive, with more than $600,000 of funding being gifted to the Colleges annually.  In this environment of increased budgetary pressure, support to the Colleges from the Foundation is more important now than ever.  I certainly regard the Club and the Foundation as being "joined at the hip" in terms of creating a mutual membership base which is dedicated to supporting the Colleges and Cadets. While many will confuse the two entities, the good news is that there is extensive cross-pollination between the two Boards which is not only healthy but essential to moving forward together.   
Q: What is the most common misconception that you feel Ex Cadets have about Club programs in general, RMC Club in particular?
A.  While I am not sure that there are too many misconceptions about Club programs, I would say that the overall awareness of them is lower than it should be.  Certainly the Club's most high profile services are Veritas, eVeritas, and the Gift Shop and support to Reunions. What is often not appreciated is that the Club provides funding to the Branches to enable their operations. In addition, our affinity partners offer an excellent car and house insurance offer in addition to a Club credit card, both of which are now TD owned.  The Club is also experimenting with offering more travel opportunities and increasing its ability to leverage its impressive Alumni network.     
Q: What should members and potential members of the Club expect to see as a result of the strategic review which has been ongoing for almost two years?
A. Without question, the Club has proven to be resilient and relevant over the past 130 years but it was time for the Club to undergo a significant strategic renewal. In terms of the Club's core functions, it has become abundantly apparent to me that the Club's overarching raison d'être remains connecting Alumni with their fellow classmates and contemporaries as well as to the Colleges and the Cadets.  To date, there have already been several recommendations implemented such as having a Cadet LO attend the Club's governance meetings.  The Club's website is undergoing a significant redesign which will be ready shortly which will feature better integration with social media.  The Governance review is gaining momentum and will present a new model to Club members at this year's AGM. The review also identified the importance networking and desire for mentorship which is also being addressed. 
Q: What do you consider the biggest challenge going forward for the RMC Club?
A: As just mentioned, the first challenge is governance which is fortunately being addressed. Some of the other challenges are inter-related. By way of example, the Club's overall long term financial health is linked to its Life Membership Investment Fund (LMIF) which provides one third of the Club's annual net revenue for its operations budget. With a view to increasing LMIF return, the Club recently invested a significant amount of LMIF in a Canso Lysander mutual fund. Of course, growing the Club's membership base of life members is also essential.  In my opinion, the ongoing challenge for the Club is to demonstrate value to its members so that it can attract and expand its membership base, thereby increasing the LMIF and improving the Club's overall financial health.
Q: If there is one message that you would like to give to an Ex cadet – who is not a current member in good standing, maybe never was – what would it be?
A. My simple answer is "join the Club today!"  Now that all memberships are tax free, there has never been a better time to join.  In my opinion, there are several excellent reasons for joining the Club.  For me, joining the Club is first and foremost a tangible demonstration of support to the Club, Colleges and Cadets.  While altruistic, I see this as a means of paying it forward as members have benefited from the support of the Alumni who preceded them.  Certainly a healthy Club that has sufficient resources to deliver key services is essential. So, my message is simple.   If everyone were to join the Club, it would go a long way to ensuring that the Club is able to sustain its core mandate of connecting Alumni with their classmates, Colleges, Cadets and the Club both today and in the future.
Q: What are the most difficult and gratifying aspects of the job?
A. Can I just respond by saying "Working with Bill"?  Seriously, the most gratifying aspect is working with and meeting the incredibly diverse and talented Alumni as well as interacting with the Cadets at both Colleges.  
Final Thoughts:
Bill, I thank you for the opportunity to reflect on my first year and to talk about what is happening at the Club. I must admit that I have tremendously enjoyed my year and I am extremely appreciative for the generous support and assistance from all corners of the Club and Foundation, including the Classes and Branches. As well, I must make mention of the excellent support that the Club has received from both Colleges and their respective leadership teams and staff; without their support, it would be difficult, if not impossible, for the Club to operate. 
Lastly, I would be remiss if I failed to acknowledge my debt to the Club's leadership and volunteers who dedicate so much of their time and wisdom to shape and guide the Club.  As well, rarely a day goes by where I am not thankful for the phenomenal support of the small but dedicated Panet House team who are central to the operation of the Club.