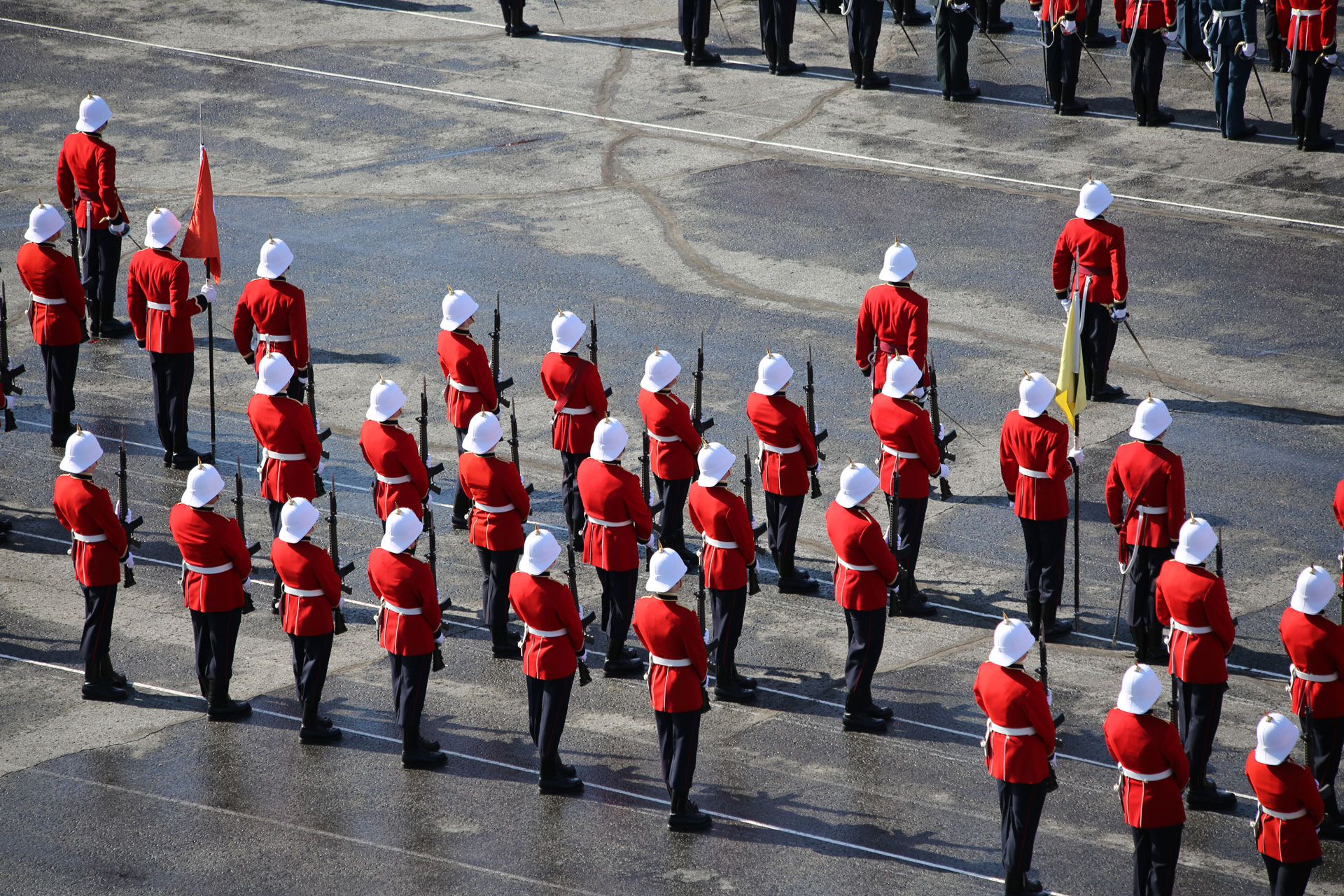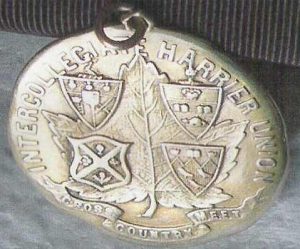 Five Year Search Ends – 1924 Gold Medal Returned To RMC.
By WJO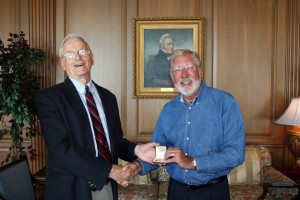 Mr. F.R. (Bob) Pugh (photo R) and his wife, Lesley Grace traveled from their home in Oakville, Ontario recently and they were  hosted at the RMC Senior Staff  Mess by 2859 professor John G Pike (RMC 1952), chairman, RMC Museum Committee (photo L) and 8057 Ross McKenzie (RMC 1970), curator, RMC Museum.
It was a particular proud time for Bob Pugh because a mission he started over five years ago came to a very happy and successful conclusion. The reason for his happiness – he was able to return a 5 carat gold medal which he felt he didn't deserve to have.
This was not just any medal.
While clearing up the personal effects of his father, Frederick Charles Pugh, who passed away in 2004,  Bob  came across this very impressive medal. On the front side were the coats of arms of McGill University; Queen's University; University of Toronto; and RMC with the inscription – Intercollegiate Harrier Union Cross Country Meet.
What caught his eye and what intrigued Bob was the fact that the engraving on the back of it read: 1924 – 1st – C. Thomson – R.M.C.
Bob Pugh took on a mission to return the gold medal to the rightful family. He had no idea what he was getting himself into. Did he ever think it would take five years to complete the mission?
"NO! Perhaps five months but certainly not five years. But I must say that I wasn't constantly working on the project. Whenever I hit a roadblock I would put it aside for a period and then ultimately it would gnaw on me that it was unfinished business and I would pick up the gauntlet and try again."
When we asked him, what his feelings were while driving to RMC  last week. "Like Atlas with the weight of the world being lifted off my back. Also, elation that I had accomplished what I set out to do because I can tell you, there were times along the way that I doubted I would ever reach the goal that I had set for myself."
Bob's dad had never ever mentioned to his son how and why he was in possession of the medal. The connection being Frederick Pugh was a student at McGill, graduating with a B.Comm in 1928.
Tracking down a university student-athlete from the 1920s turned out to be a five year project. Bob first contacted RMC who put him in touch with the RMC Club. That part was pretty easy. Files at Panet House did confirm that 1764 Corey Arthur Thomson entered RMC in 1923. The RMC Review ( November 1924) also recorded an article on the Intercollegiate Harrier Meet – " Much credit for R.M.C.'s victory is due to Thomson who won the race by some wonderful running…"
Bob Pugh had found his man! Passing on the medal, however, would prove challenging.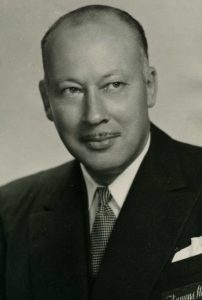 Corey Thomson (photo) left RMC following second year and transferred to McGill University, where he likely met Frederick Pugh. Following graduation with a B.Comm in 1927, Corey became a significant broadcasting personality in Montreal – a career that extended well into the 1960s. He hosted a radio show as "uncle Troy – the Answer Man". He also narrated several of the Grey Owl movies in the 1930's.
The search had Bob and others checking out Provincial and National Search Units; obituary searches with a number of different agencies; and following up with any clue he could muster.
Eventually, Bob came across a newspaper article dated Dec 14, 1952 which showed that Corey had a brother, Peter Nesbitt Thomson born 1924.  Peter Nesbitt has a son – Peter Arthur and Bob obtained his coordinates.
How did the medal end up at RMC?
Bob explained. "I contacted Peter Arthur first and it was he who forwarded my email to his father, Peter Nesbitt. In discussing it between them, PN decided the thing to do was to return the medal to the RMC Museum. PN contacted his friend, 2977 John Norris (RMC 1952), and it was John Norris that suggested PN contact professor Pike to determine if there was an interest and to make arrangements for the return of the medal."
Professor Pike confirmed how the RMC museum was contacted.  "I first became aware of the medal as a result of a call from John Norris, a classmate, about a month ago. Peter Thomson, Corey's brother, is a friend of John's. John was aware of my link to the Museum and so the circle was closed."
A classy selfless act by both the father and the son.  Professor Pike eagerly accepted on behalf of the RMC Museum. "The impressive feature of the medal, I feel, is the inclusion of the College coat of arms along with those of Toronto, McGill and Queens' – a strong measure of the prestige and achievement enjoyed by the College in intercollegiate circles during the between-the-wars years, said a very proud professor Pike.
Ross McKenzie put it all in perspective. "This gold medal is the only one of its type in the RMC collection and likely one of only two 1st place medals ever won by RMC in this intercollegiate competition."
Peter N. Thomson was made aware of the trip to RMC.  "I cannot thank you enough — it was so kind of you and your wife Lesley to deliver Corey's medal to Jack Pike — and really, I just want all of you to know how much I do appreciate your kindness. He concluded, "Corey's medal is now at "home"."
Behind the voice – Corey Arthur Thomson
Click on clipping for better viewing…