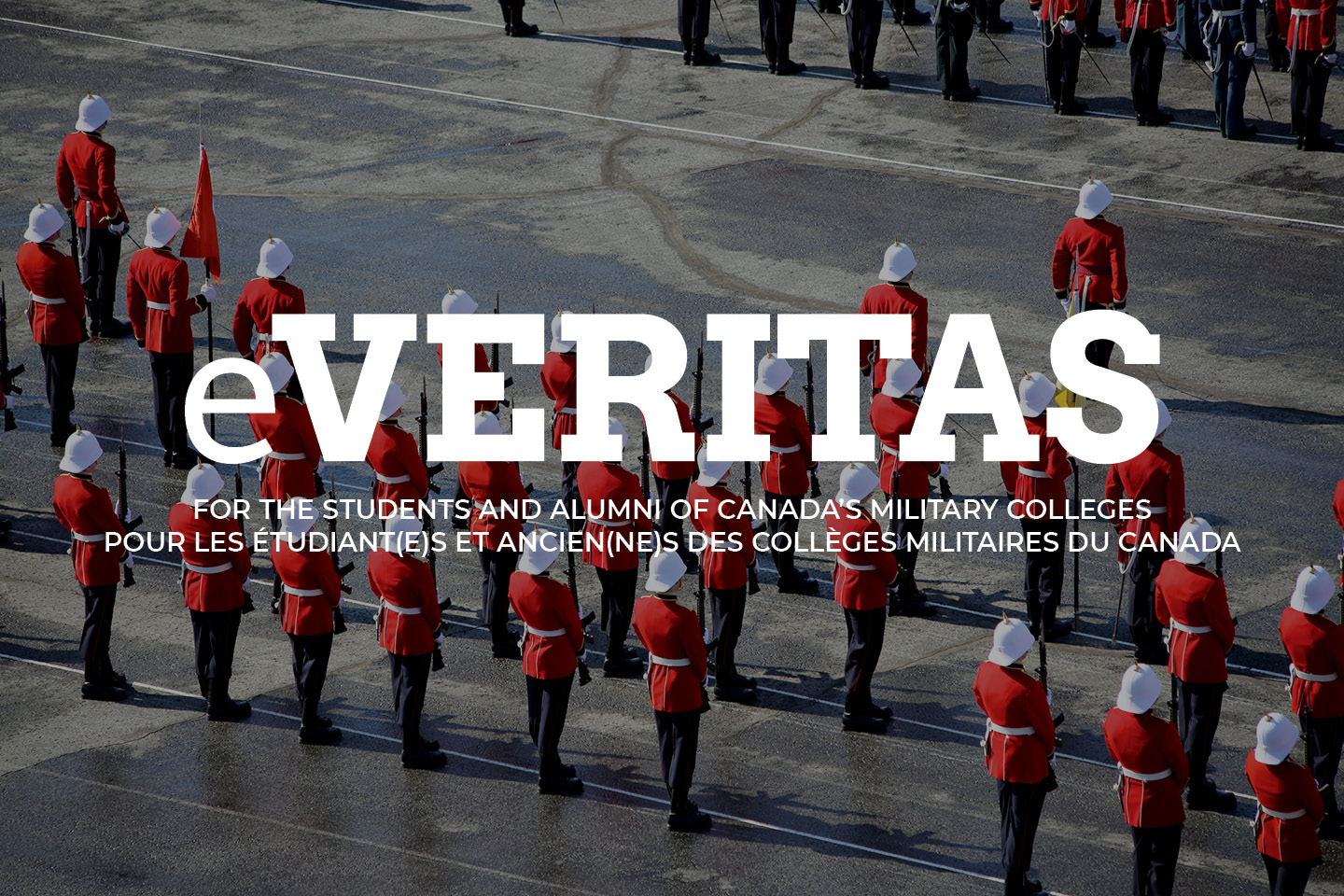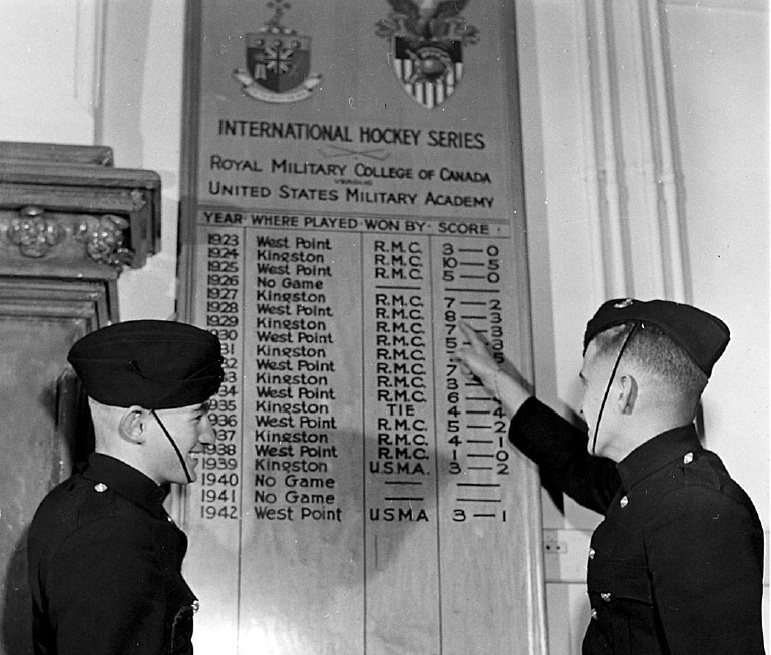 Caption: Two RMC cadets believed to be (L) 2853 RP Bourne a forward and 2889 WM MacIntosh, who was the Cadet Team Manager both view the scoreboard prior to their departure to West Point, NY during March 1949.
x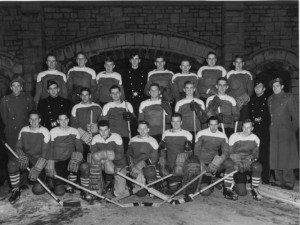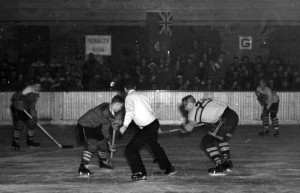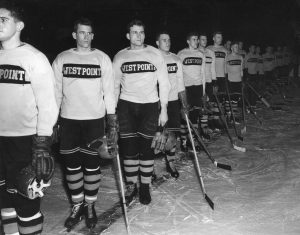 xx
Caption: Photo (L) RMC team; (C) Opening faceoff won by Bud White over an unidentified WP player.. (R) West Point team – Because RMC had only reopened the previous Summer / Fall of 1948 after the wartime period, the team was picked from an enrollment of100 cadets who made up the first-year class. At the time West Point had 2,000 cadets from I, II, III & IV Years. Consequently, the older Americans outweighed the Canadians by 20 pounds per man.

1949: Young RMC Hockey Team Downed 5-4 by West Point
By: WJO
What was billed from the start in 1923 as – 'The International Hockey Series' between military cadets of Canada and the United States was revived on March 12, 1949 at West Point, NY. The classic rivalry had lapsed during the war.
In what was described as a fast and rugged game was won by West Point 5-4.
Leading Canadian and United States diplomatic and military officials saw the game, often called 'the most sporting athletic event in the world'.
They included Brooke Claxton, Canada's defence minister; Hume Wrong, Canadian ambassador to the United States; Lawrence Steinhardt, American envoy to Canada who accompanied Claxton from Ottawa and senior officers of the Canadian Army, Navy and Air Force.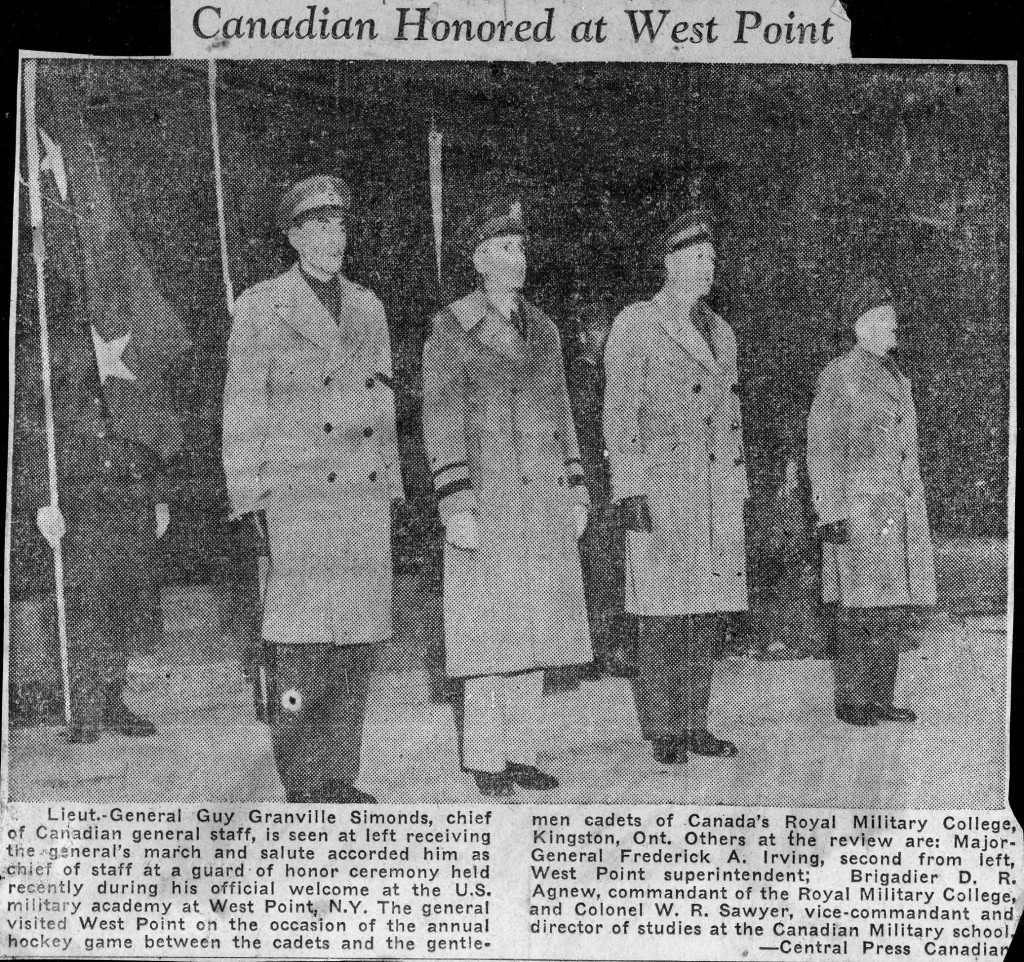 Elaborate military ceremonies preceded the game. Saturday morning a 19 gun salute was fired in honour of Claxton, who later watched the West Pointers parade in review.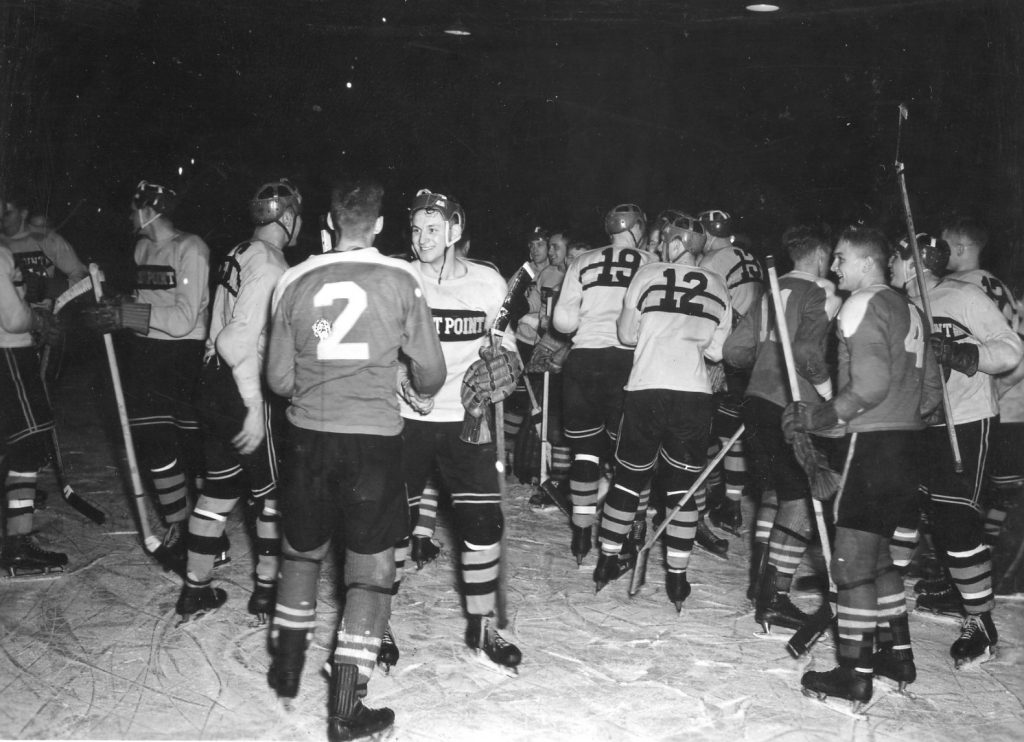 Caption: The game was clean and fast. Neither team had a player assessed a penalty maintaining the tradition of 'no' penalties. One point of which both schools are proud is that no penalty has been called against any player since the series started. 2847 Dave Hargraft put into words  what the RMC group felt after the game. "You couldn't want to lose to a better bunch of fellows."
"Our boys put up a splendid fight," said Defence Minister Claxton. "This is another step in getting back to normal peacetime relations between Canada and the United States." The minister spent most of the game as a 'standee' at the railing – near the player's bench – cheering and personally congratulating the RMC players when they left the ice.
Following the hockey game at night, the visitors were guests at the 100th Night Ball. It was also the beginning of the end of arduous study and training for the graduating class of West Point. Many of whom would find themselves in Korea in just over a year.
Sunday, following a church parade, the RMC contingent enjoyed a day of sightseeing in New York. In the evening they left for Kingston by train.
Compiled from various sources including the Toronto Telegram and Kingston Whig Standard March 1949.
***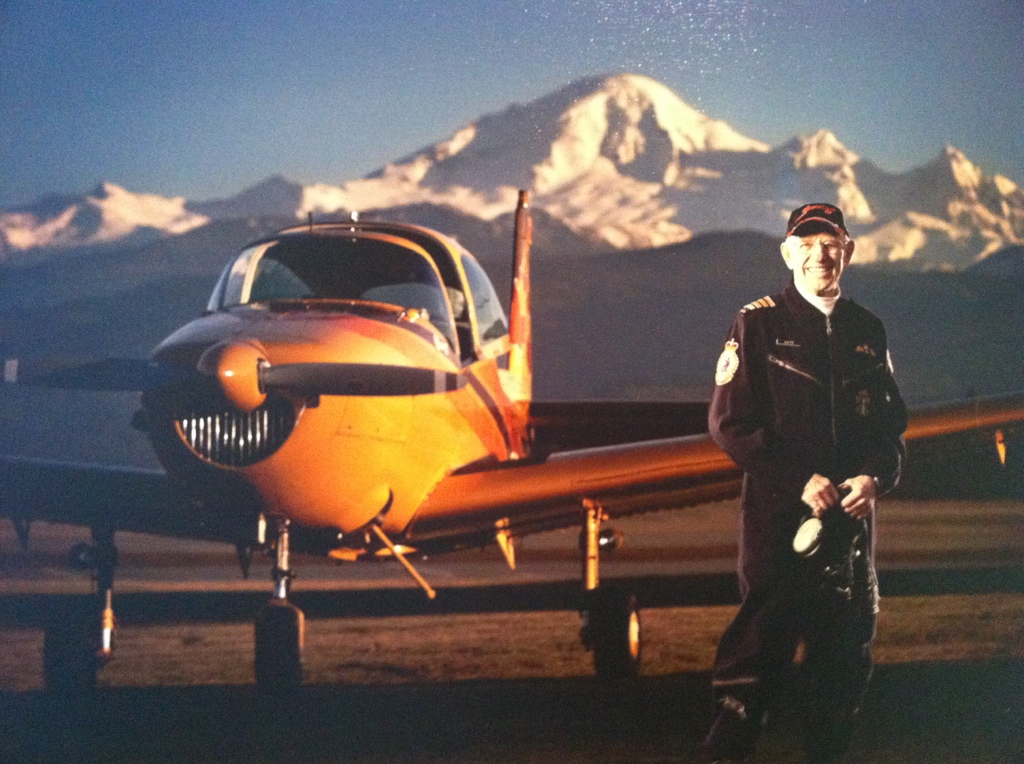 Caption: Team captain for the RMC 1949 hockey team was 2893 Bud White. Pictured is the 87 year old pilot with his Navion aircraft which he regularly flies on the West Coast. This is the same, Bud White, who in 1967, led a Canadian Team which unsuccessfully attempted to break the Russian-held world altitude record for aircraft. However, he did pilot the craft to a new FAI national record of 100,100 feet. In 1969 he returned to RMC as Director of Cadets. He left the college in 1972 when he was posted to the United States War College at Montgomery, Alabama.
Following is his recollections of the 1949 West Point game and much more…
MORE…
Recollections by 2893 Bud White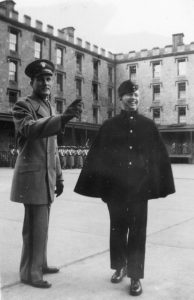 I remember that '49 West Point Game well, and all the "hoopla" that went with that resumption of "traditional rivalry".
'Hoopla' like VIPs, 19-gun salutes, bunking in with West Pointers, the 100th Nite Ball, the Parade & Review, and the return trip through New York (with drinks at Billie Rose's Diamond Horseshoe). Brooke Claxton, our Defence Minister, brought down Chief of the General Staff Gen. Guy Simonds, Ambassadore Hume Wrong & others. And our Commandant BGen Agnew brought down a large RMC staff contingent. Diplomatic & Military "Brass" was equally evident on the American side under the US Ambassador Steinhardt & the West Point Superintendent. So that game — the first after 7 years & after we'd fought World War II together — was a real big deal for both Canada & the USA.
The game was a real nail-biter & it shouldn't have been ! They should have murdered us !
All of us were just 19-year old First Yearmen from a total College enrolment of the "New One Hundred"
Most of them were older Fourth Yearmen & they must have outweighed us by more than 20 pounds per man.
And unlike pre-war years, the West Point team was a skilled and well-coached team playing in a tough league!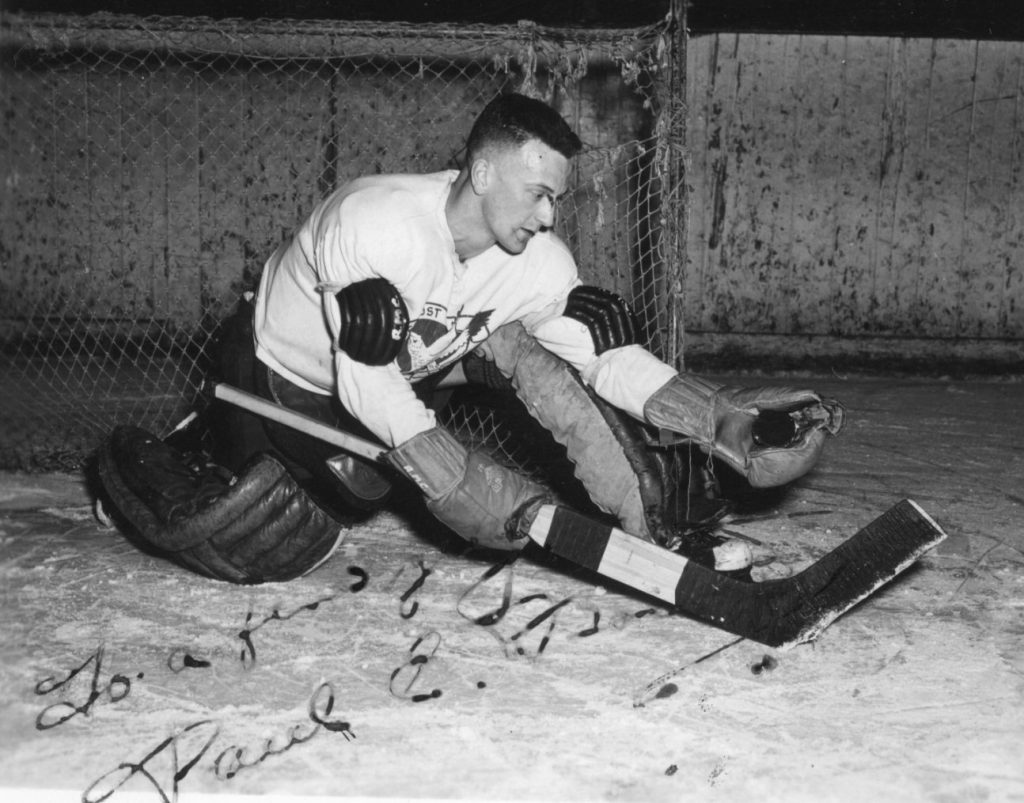 But we played our hearts out, and my best buddie our Goalie Paul Boivin was magnificent & drove them to complete distraction. Arthur Cole wrote in the Telegram that "West Point iced a team which outweighed the Canucks by plenty, but outplayed them not a whit. The final tally was 5-4, and it was as close as that !"
I also remember that our Defencemen played their best but toughest game of the season ! Bugs Farrell , Don Bethune, Jim Sinclair, John Waterston, and especially Roger Pominville all emerged bruised & battered ! That should have put an end to to the concept of playing hockey with "No Penalties" being awarded ! Naturally, all of the papers reported that, "Although the record for clean play remained spotless – neither school has ever had a man in the penalty box …", I can confirm that the '49 game would have been much 'cleaner', if a few penalties had been awarded ! The Whig Standard did claim that "When a player fell or was accidentally knocked down, the opposing player stopped & assisted his opponent to his feet". But that was nonsense & never happened ! Baah to the crazy concept that this was "The most sporting athletic event in the world" !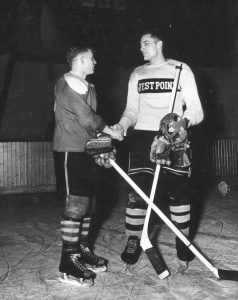 But it sure was interesting, hanging out with West Point 'Seniors' who were about to graduate & go off to war in Korea ! We literally moved into their barracks with them, ate & paraded with them, but (depite the PR) we really didn't share their girlfriends. My opposite, Al Austin from Memphis Tennessee was their Captain, and a great big guy in every way. As their top defenceman he taught me quickly to keep my head up and avoid the boards !
That was only one of the many lessons I took away from my 4 years of RMC Hockey with West Point teams. After RMC & UofT, my 3 years with the RCAF 'Flyers' (against all of the top European National teams) hinged on the skillset I'd developed with the Redmen. Returning to RMC as Director of Cadets in 1969, I was able to help the wonderful Danny McLeod build stronger Red Teams, and share 3 more 'international' games with their Commandant of Cadets Sam Walker at West Point & Kingston.
Danny & I even inaugurated a first USAF Academy vs RMC game in Colorado Springs. Even better (while attending the USAF's Air War College in Montgomery Alabama), I was able to argue intelligently that "Truth, Duty , Valour" was far superior to "Duty, Honour, Country", since without "Truth" coming first, everything else can be distorted !
Cheers Bud White (#2893)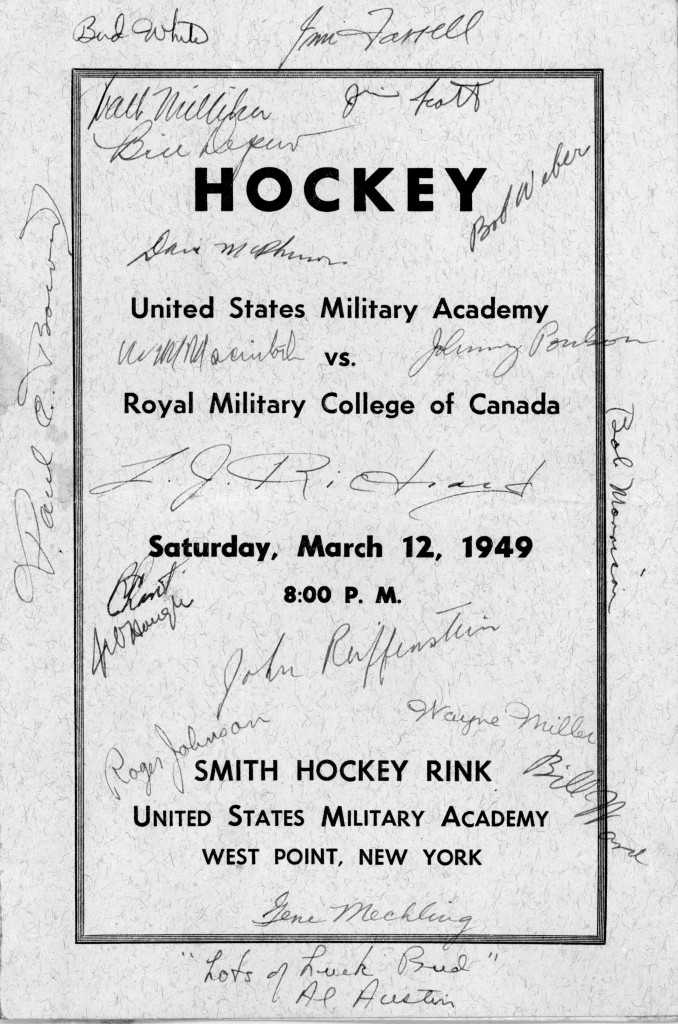 Lineups:
West Point- Goal, Moss ; right defense, Donohoe ; left defense, Austin ; right wing, David ; left wing, Norby ; centre, Kyuk ; subs, Milliken, Weber, W.D. Miller, Depew, Mechling, Ritteman, Poulson, Morrison, Lind, Johnson, Bonfoey, Ward, Dunlop, Wardrop, F.R. Miller.
RMC-  Goal, Boivin ; right defense, Farrell ; left defense, Bethune; right wing, Hargraft ; left wing, McPherson ; centre, White ; subs, Sinclair, Waterson, Scott, Richard, Pominville, Reiffenstein, Chant, Preston, Hough, Osler.