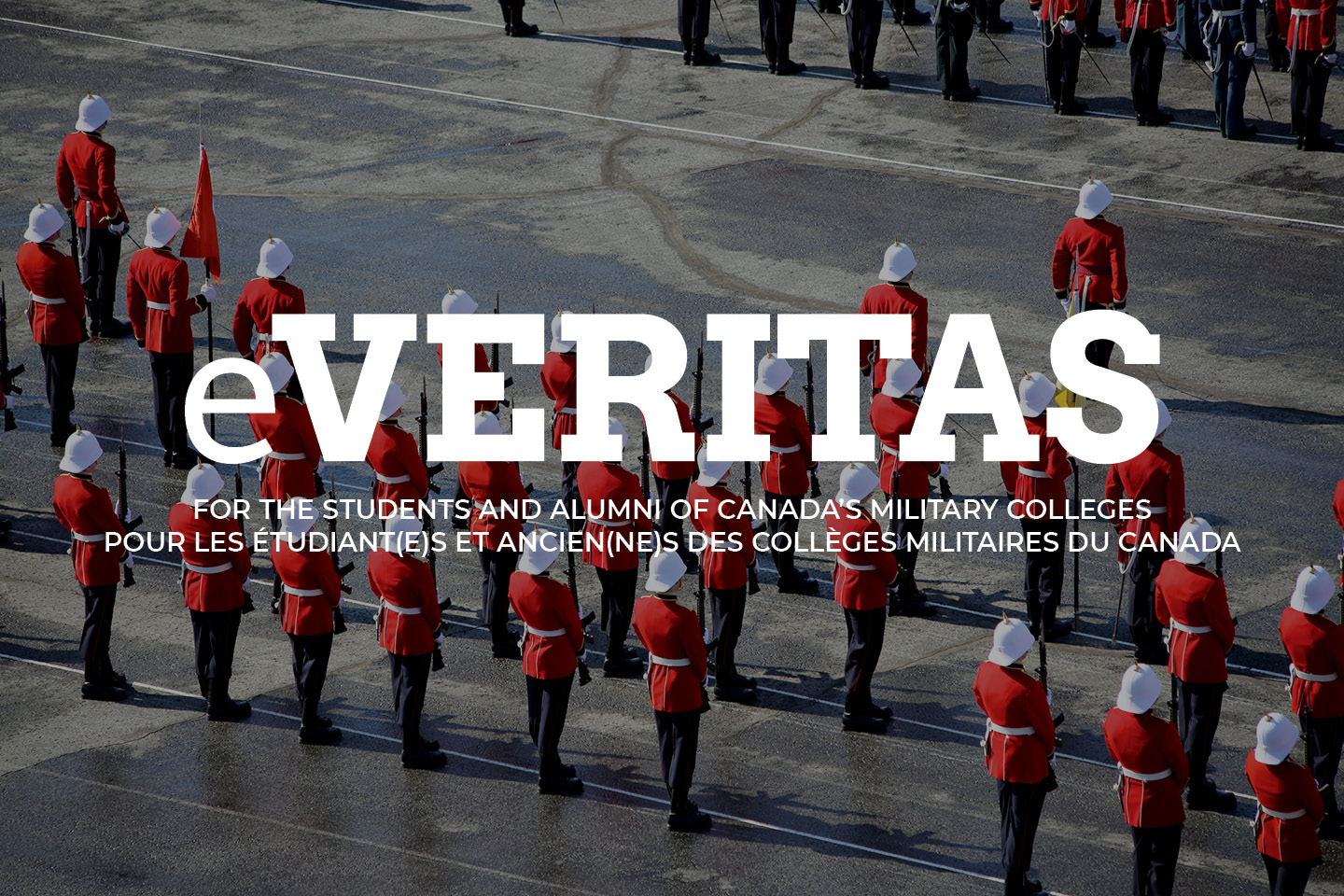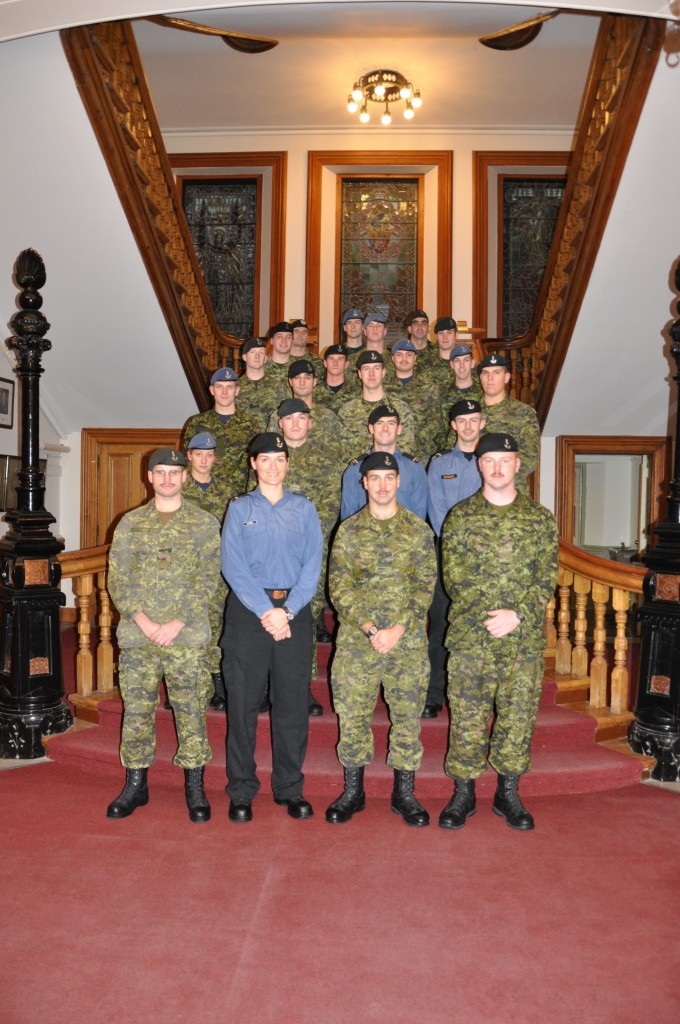 What's in Store for the Cadet Wing? A First Look at the Winter Barslate
– 25337 OCdt Chris Manning, CWPIO.
After a challenging, but rewarding, fall semester, it is time to hand over the reins once again. The morning parade if Wednesday, 30 Nov gave the cadets of RMCC the opportunity to see their new leadership for the first time. The barmen designates were met with much applause as the Director of Cadets, Lieutenant-Colonel Wigg, gave her blessing to the new Cadet Wing Chain of Command. Here's a little insight to what is going to be behind the bars and pith helmets!
TOP 4
Cadet Wing Commander
25447, OCdt Martin de Souza. Fall 2011 Bar Position: CSL 3 SQN
OCdt Martin de Souza is a fourth year Military and Strategic studies student. He hails from Markham, ON. OCdt de Souza has distinguished himself at RMCC through his various bar positions and passionate involvement with the Cadet Wing. Of note, he was a FYOP first year Deputy Cadet Flight Leader, and is winding down the current semester as Cadet Squadron Leader of 3 Sqn. He has completed Phase 2 of his Officer Training – Basic Military Officer Qualification (Land). He is the winner of the ANAVICUS Scholarship, which is awarded to candidates based on their potential as Canadian Forces officers. OCdt de Souza had an integral role in the review of the Cadet Organizational Chart, giving him an excellent understanding of the roles and capabilities of the Barslate he is working with. Upon graduation, OCdt de Souza will continue his training as an armoured officer.
Editor's note: OCdt Martin de Souza has acquired some interesting nicknames over his years at RMCC, including The Godfather, de Snooze, and de Zoltan.
"I am honoured to be the Cadet Wing Commander for the upcoming semester. I am looking forward to leading the Cadet Wing with the great team the Training Wing has assembled. I would like to thank Landon Lavictoire and his team for the job they have done this semester, and I hope to continue on the initiatives they have started."
Deputy Cadet Wing Commander
25314, NCdt Jacqueline Forbes. Fall 2011 Bar Position: CFL 3 SQN J Flight
NCdt Forbes is a fourth year Business Administration student, who is passionate about her studies and college life. NCdt Forbes is a native of Kemptville, ON. She has worked as the Cadet Flight Leader of 3 SQN's J Flight for the fall semester. The barslate can't get enough of 3 SQN. Among other bar positions, NCdt Forbes was also selected to act as a Cadet Section Commander during her first year of the ROTP program at College Militaire Royal in St. Jean, QC. She has completed Phase 2 of naval officer training, and, upon graduation, will continue with Logistics training.
Editor's Note: NCdt Jacqueline Forbes has been known to do a mean karaoke number at the Tir Nan Og on Thursday nights.
Cadet Wing Administrative Officer
25509, OCdt Andreas Schabetsberger. Fall 2011 Bar Position: CSL 2 Sqn
OCdt Schabetsberger is a fourth year Psychology student. He comes from Morin Heights, QC, a small town in the Laurentians. OCdt Schabetsberger has just completed a semester as Cadet Squadron leader of 2 Sqn. OCdt Schabetsberger is passionate about all aspects of physical fitness; he is a proud member of the RMC Triathlon Club and also competes at the CISM level. He has completed Phase 2 of Army officer training, and will continue with Logistics Phase 3 upon his graduation from RMCC
Editor's note: OCdt Andy Schabetsberger has the baddest Red Hot Chili Peppers music collection this side of California.
Cadet Wing Training Officer
25066, OCdt R. James Brown. Fall 2011 Bar Position: CSTO 12 Squadron
OCdt Brown is a fourth year Honours Psychology student. His hometown is Toronto, ON, but he is equally at home in St. Jean, where he completed his first year at CMRSJ. Mr. Brown has clearly prepared for his role as the Wing Training Officer, having just completed a semester as Training Officer of 12 SQN (talk about "painting the town brown", 12 SQNs colour and de facto motto). OCdt Brown has completed Phase 3 Armoured Reconnaissance Troop Leader, and will continue with his Armoured training next summer. He is an avid debater.
Editor's note: OCdt James Brown is known for his sharp drill from his time as a Drill Instructor. However, he can also shoot a mean game of pool.
Cadet Division Leaders
Under the direction of the outgoing CWC, OCdt Landon Lavictoire, the Wing made the decision to reinforce the division construct. The decision was made in order to address the concerns of the Wing to meet the wide variety of tasks and operations that are conducted each semester as efficiently as possible. With that said, a new position, the Cadet Division Leader, has been created, along with an appropriate staff. Just like the TOP 4, an impressive line-up of cadets have prepared to adopt their brass as Division leaders.
CDL A
25064, OCdt Marie-Pier Blanchard-Messier. Fall 2011 Bar Position: DCSL 4 SQN
CDL B
25246, OCdt Maximillian Reinthaler. Fall 2011 Bar Position: CFL FYOP 6 SQN Romeo Flight
CDL C
25005, NCdt Aaron Bradley. Fall 2011 Bar Position: CSL 10 SQN
CDL D
25182, NCdt Shane Beaudry. Fall Bar Position: CSL 13 SQN
Cadet Squadron Leaders
Last, but certainly not least, the Cadet Squadron Leaders:
1 SQN: 25473, OCdt Michael Cockburn
2 SQN: 25453, OCdt Joel Morris
3 SQN: 25506, OCdt Ryan McNeil
4 SQN: 25243, NCdt David Reid
5 SQN: 25320, OCdt Marouan Goosen
6 SQN: 25154, OCdt, Keil Monette-Saillant
7 SQN: 25183, OCdt Felix Belzile
8 SQN: 25025, OCdt Diego Aguilar-Beauregard
9 SQN: 25045, OCdt Michel St-Pierre
10 SQN : 25514, OCdt Alex Labelle
11 SQN, 25327, OCdt Matthew Hoffart
12 SQN: 25459, OCdt Chris Pratt
13 SQN: 25048, OCdt Yannik Trudeau
After perusing the impressive list of cadet leaders, it is comforting to see the amount of previous experience that these cadets have. The wing is in good hands as we shape up for the upcoming semester. Of note, the integration of cadets who had completed their first year at RMC St. Jean is clearly evident. This shows just how welcome these cadets are in the wing, and how the differences of first year institutions truly dissolve as a class bonds. I am excited to see all of the cadet leadership on the 9th of January, the first day of the next semester. However, you can see them earlier; they will be back on the 6th for the Barslate Workshop.
 ________________________________________
RMCC Aerospace Engineering Cadets Rise to Design Challenge
Article & Photos by: Cynthia Kent – Public Affairs Officer
Cadets from the Mechanical and Aerospace Engineering Department got a taste of the challenges faced when designing an aircraft, including defending their choices, during the Conceptual Design Presentation this week at the Royal Military College of Canada.
Their mission: design an affordable and survivable light attack counter insurgency aircraft. The students all work as a team on the project, with each student specializing in a different discipline. After months of agonizing and detailed work, including paring down 23 initial drawings (one from each Officer Cadet), the result is the AEE 12 Vanguard. Their experience includes weekly briefings and technical presentations and peer review. Professors act as customers, technical advisors and management.
Under the guidance of Dr. Ruben Perez, the students from AEE471 – Capstone Aeronautical Engineering Design Project, are getting a chance to learn what it's like to deal with a customer, respond to a request for proposals and take a design through the process. During the presentation several guests, including technical experts, customers, decision makers and operators, as well as many RMCC professors, challenged the students on their design decisions and technical work.
Next semester the students will continue improving their design and will proceed to the preliminary design stage. During this stage some officer cadets will design the aircraft internal systems while other ones will concentrate in validating the current design, using wind-tunnel testing, flight dynamic simulations, and radar cross section testing. To complete the tests they will build scaled models and computer simulations. This will culminate in the Preliminary Design Presentation at the end of March.
The Officer Cadets involved in the project are: Jason David Berndt; James Junsub Byun; Jonathan Costa Campos; David Demel; Angela Joan Dey; Grant Douglas Keith Dolamore; Corey Gander; Philip Patrick Gimpel; Jared Michael Gordon; Nevin Albert Hotson; Edward Nicholas Jensen; Alexander Kisielius;  Claire Whitney Marchessault; Jared Allan Mellow; Kyle Thomas Miller; Andrew John Noris; Colin James O'Rourke; Chris Pratt; Thegne Thomas Rathbone; Logan John Sterling Reid; Dean Saroop; Gregory Calvin Theriau and  Adam William Richard Trowbridge.