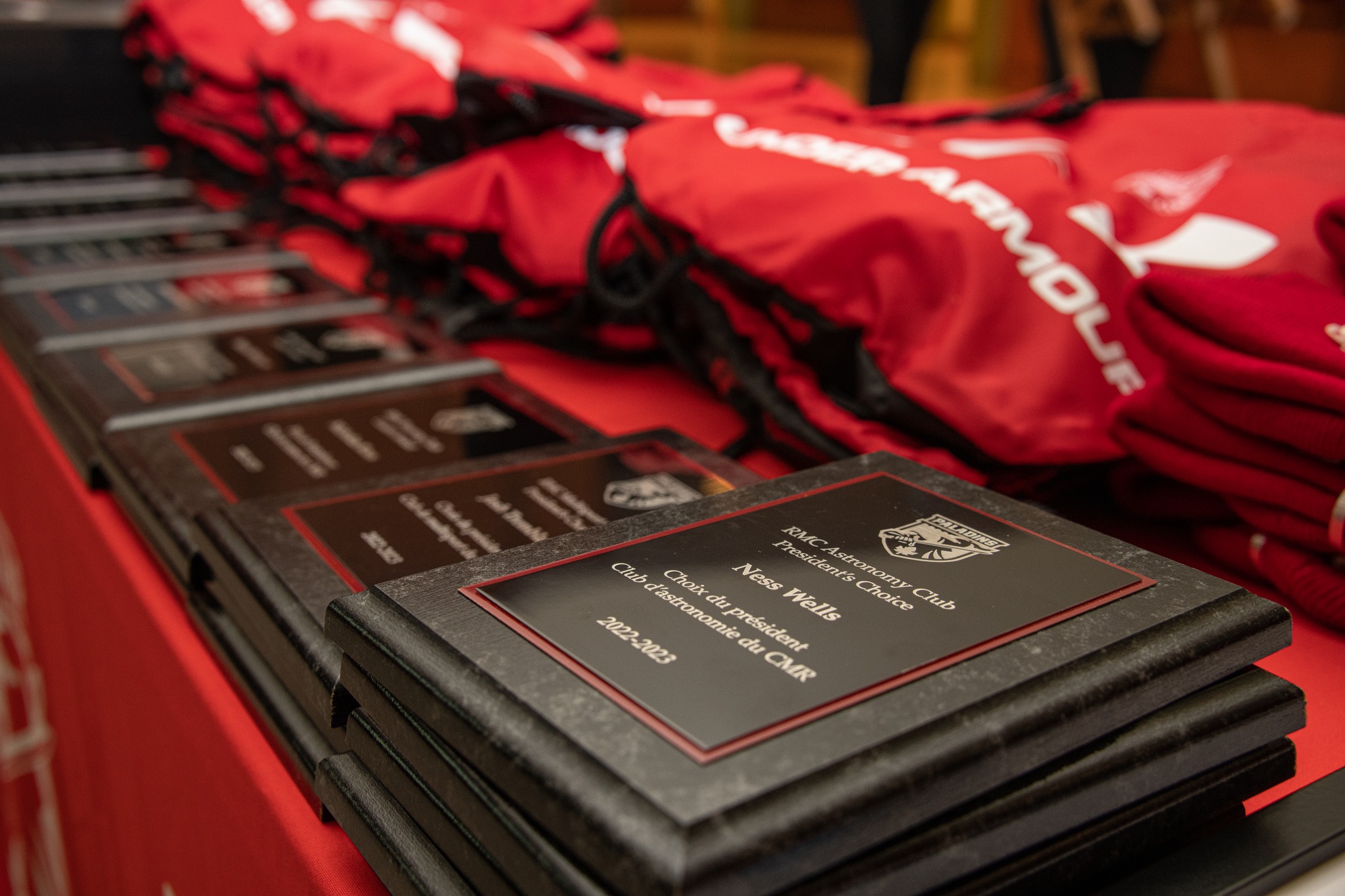 Thank to the  Class of 1962 for their continued support of Recreational Club at the Colleges!
Article shared from RMC Athletics:  https://gopaladinsgo.ca/news/2023/4/20/general-g-n-ral-2022-23-club-awards-r-compenses-des-clubs-2022-23.aspx
The RMC athletics department celebrated the achievements of its club members on Tuesday, March 28 at an awards ceremony.
For the major awards, Hannah Lee received the competitive club member of the year award, while Konrad Kasztenny took home the recreation club member of the year award.
Lee is a fourth-year honours political science major, who took on a coaching role with the RMC taekwondo team this past season. Her organization, preparation and enthusiasm helped her thrive in the new position, and she was recognized with the Commandant's Coin in March for her leadership.
Kasztenny took initiative this past season to help the sport parachuting club grow its membership. He was able to make sky diving free for 50 cadets and played an important part in submitting financial requests to make the sport more accessible.
The Paladins also made a special presentation, honouring Richard Corneau with the legacy award. While as a supervisor of the expedition and climbing club, Corneau has given the opportunity for hundreds of officer cadets the chance to travel the world and take part in unique once-in-a-lifetime experiences. His leadership and guidance will sorely be missed by the Paladins clubs as he enjoys a well-deserved retirement.
2022-23 Club Awards Winners:
Competitive Club Member of the Year: Hannah Lee (Taekwondo)
Recreation Club Member of the Year: Konrad Kasztenny (Sport Parachuting)
Legacy Award: MWO Richard Corneau
Astronomy – President's Choice Award: Ness Wells
Chess – President's Choice Award: Will Than
Debate – Club President's Choice Award: David McKinney
Expedition – Club Leadership Award: Brooke Baker /Craig Vollweiter
Sport Parachuting – Supervisors Choice Award: Konrad Kasztenny
Multisport Club – President's Choice Award: Josh Tremblay
War Games – President's Choice Award: Robin Kynast
Windsurfing – Supervisor's Choice Award: William Lapointe
Running – Coach's Award: Nicholas Koss
Running – Most Valuable Runner: Charles Domingue
Rowing – Coach's Award: Marie Bourque
Rowing – Most Valuable Rower: Philippe Fohr
Judo – Coach's Award: David Grottoli
Judo – Most Valuable Fighter: John Moncrieff
Sailing – Coach's Award; Thomas Anstey
Sailing – Most Valuable Sailor: Nick O'Brien
Swimming – Coach's Award: Henry Pink
Swimming – Most Valuable Swimmer: Hanna Mountford
Women's Rugby – Coach's Award: Valerie Cunningham – Reimann
Women's Rugby – Most Valuable Player: Katie Newman
Taekwondo – President's Choice: Yoontae Kim
Taekwondo: – Most Valuable Player: William Lee
---
Le département des sports du CMR a célébré les réalisations des membres de ses clubs le mardi 28 mars lors de la cérémonie de remise des prix. 
Pour les prix majeurs, Hannah Lee a reçu le prix du membre de club compétitif de l'année, tandis que Konrad Kasztenny a remporté le prix du membre du club de loisirs de l'année.
 
Hannah Lee, étudiante en quatrième année de sciences politiques, a assumé un rôle d'entraîneur au sein de l'équipe de taekwondo du CMR au cours de la dernière saison. Son organisation, sa préparation et son enthousiasme l'ont aidée à s'épanouir dans ses nouvelles fonctions, et elle a reçu la pièce du Commandant en mars pour son leadership. 
 
Kasztenny a pris l'initiative, la saison dernière, d'aider le club de parachutisme sportif à augmenter le nombre de ses membres. Il a réussi à rendre le parachutisme gratuit pour 50 élèves-officiers et a joué un rôle important dans la présentation de demandes de financement pour rendre ce sport plus accessible.
Les Paladins ont également fait une présentation spéciale en honorant Richard Corneau avec le prix de l'héritage. En tant que superviseur du club d'expédition et d'escalade, M. Corneau a permis à des centaines d'élèves-officiers de voyager à travers le monde et de vivre des expériences uniques. Son leadership et ses conseils manqueront grandement aux clubs Paladins alors qu'il profite d'une retraite bien méritée.
 
Les lauréats des prix de club 2022-23:
Membre du club compétitif de l'année: Hannah Lee (Taekwondo)
Membre du club de loiters de l'année: Konrad Kasztenny (Sport Parachuting)
Prix Héritage: Adjum Richard Corneau 
Astronomie – Choix du président: Ness Wells
Echecs – Choix du président: Will Than
Débat – Choix du président: David McKinney
Expédition – Prix du leadership: Brooke Baker /Craig Vollweiter
Parachutisme Sportif  – Choix du superviseur: Konrad Kasztenny
Multisport – Choix du président: Josh Tremblay
Jeux de guerre – Choix du président: Robin Kynast
Voile – Choix du superviseur:: William Lapointe
Course – Prix de l'entraîneur: Nicholas Koss
Course – Coureur le plus utile: Charles Domingue
Aviron – Prix de l'entraîneur: Marie Bourque
Aviron – Rameur le plus utile: Philippe Fohr
Judo – Prix de l'entraîneur: David Grottoli
Judo – Combattant le plus utile: John Moncrieff
Voile – Prix de l'entraîneur: Thomas Anstey
Voile – Marin le plus utile: Nick O'Brien
Natation – Prix de l'entraîneur: Henry Pink
Natation – Nageuse la plus utile: Hanna Mountford
Rugby féminin  – Prix de l'entraîneur: Valerie Cunningham – Reimann
Rugby féminin  – Joueuse la plus utile: Katie Newman
Taekwondo – Choix du président: Yoontae Kim
Taekwondo: – Joueuse la plus utile: William Lee