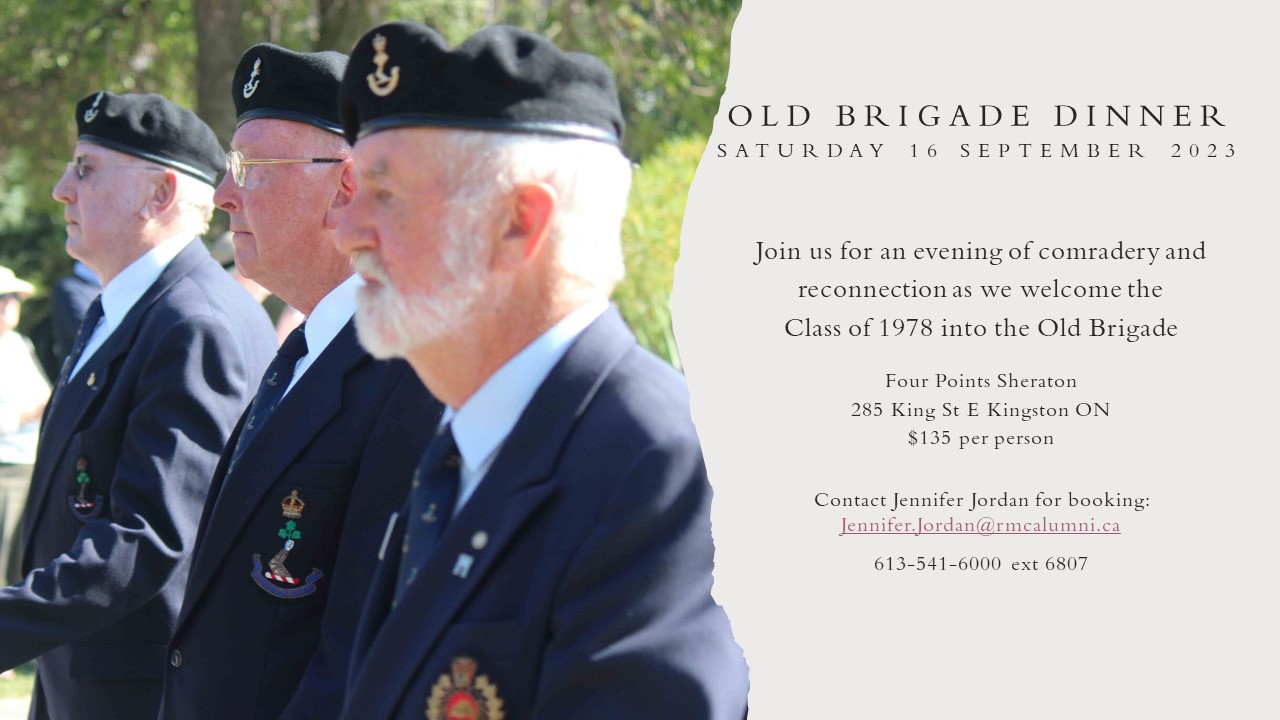 One of the big events of the Kingston Reunion Weekend is the Old Brigade Dinner, a tradition that dates back to 1906.  Last year's was a big success, and we hope this one will be even better.  Members of more senior classes will welcome and induct the 2023 Class of Entry into the Old Brigade, those who first entered a Canadian Military College in 1973-4, and/or who graduated in 1978.  This is a time to renew long-ago friendships and to reflect on how fortunate we are to have shared our MilCol experience.  Whether from Royal Roads, Kingston, or Saint Jean, we all had a unique start to our careers, one that bonds us together for a lifetime.
The dinner this year will be on Saturday 16 September 1800 for 1900 hrs, at the Kingston Four Points by Sheraton, which has the largest dining room close to waterfront hotels.  Yes, the dinner is a bit formal – there will be a short induction ceremony, a roll call, and a few toasts, but the main aim is to maximize talk-time at the table, and to encourage circulation among tables after dinner.  It's a time to dress up if you like – black tie and medals for Alumni, with spouses and partners invited to dress accordingly – but we recognize how difficult it is to carry that kit for long distances, so college blazer or dark suit with Old Brigade tie and medals are fully acceptable and welcome alternatives.
Now that this event is being organized as part of the Alumni Association, it can be considered a charitable event in the same way as the Legacy Dinner.  This year, the ticket price will be $135 per person with a charitable tax receipt provided for a portion of that price.
Early indications are that there is keen interest for this dinner, so please buy your tickets early to avoid disappointment.   Members of this year's 5-Year Cohort – the classes of 1953, 58, 63, 68, 73 and 78 – may purchase tickets starting Monday March 13.  General sales to those and all other classes will begin on Monday March 27.  Call Jennifer Jordan at 613-541-6000 ext 6807, or Jennifer.Jordan@rmcalumni.ca .
TDV***VDV
Don Bell, 7964
Adjutant, Old Brigade
---
2023 Dîner de la Vieille Brigade
L'un des grands événements de la fin de semaine des retrouvailles à Kingston est le dîner de la Vieille Brigade, une tradition qui remonte à 1906. Celui de l'année dernière a été un grand succès, et nous espérons que celui-ci sera encore meilleur. Les membres des classes plus anciennes accueilleront et introniseront la nouvelle classe d'entrée dans la Vieille Brigade 2022, incluant ceux qui sont entrés pour la première fois dans un collège militaire canadien en 1973-4 et/ou qui ont obtenu leur diplôme en 1978. C'est le moment de renouer des amitiés de longue date et de réfléchir à la chance que nous avons eu d'avoir partagé notre expérience des collèges militaires. Que nous ayons commencé à Royal Roads, à Kingston ou à Saint Jean, nous avons tous eu un début de carrière unique qui nous lie pour la vie.
Cette année, le dîner aura lieu le samedi 16 septembre à 19 h (arrivée à 18 h) au Kingston Four Points by Sheraton, qui possède la plus grande salle à manger à proximité des hôtels du bord du lac Ontario. Oui, le dîner est un peu formel — il y aura une courte cérémonie d'intronisation, un appel nominal et quelques toasts, mais l'objectif principal est de maximiser le temps de conversation à table et d'encourager la circulation entre les tables après le dîner. C'est aussi une bonne opportunité de s'habiller chic si vous le souhaitez — cravate noire et médailles pour les anciens, les conjoints et partenaires étant invités à s'habiller en conséquence — mais nous reconnaissons à quel point il est difficile de transporter tous ces ensembles sur de longues distances, donc le blazer ou un costume sombre avec la cravate de la Vieille brigade et médailles sont des alternatives tout à fait acceptables et bienvenues.
Maintenant que cet événement est organisé dans le cadre de l'Association des anciens(nes) des CMR, il peut être considéré comme un événement caritatif au même titre que le Dîner héritage. Cette année, le prix du billet sera de 135 $ par personne avec un reçu d'impôt comme don de bienfaisance pour une partie du prix.
Selon les premières indications, il y a un vif intérêt pour ce dîner, veuillez donc acheter vos billets tôt pour éviter toute déception. Les membres de la cohorte de 5 ans de cette année – les classes de 1953, 58, 63, 68, 73 et 78 – peuvent acheter des billets à partir du lundi 13 mars. Les ventes générales à ces classes et à toutes les autres classes commenceront le lundi 27 mars. Communiquez avec Jennifer Jordan au 613-541-6000 poste 6807 au Jennifer.JOrdan@rmcalumni.ca .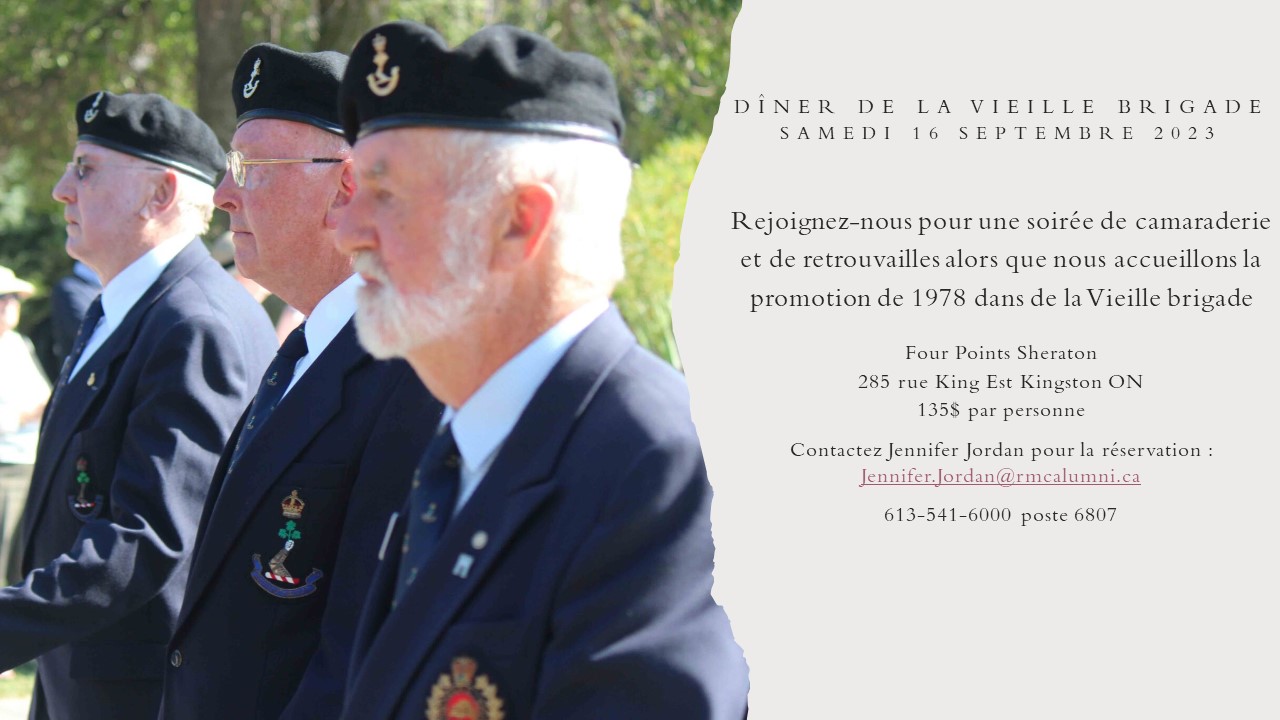 VDV***TDV
Don Bell, 7964
Adjudant, Vieille Brigade