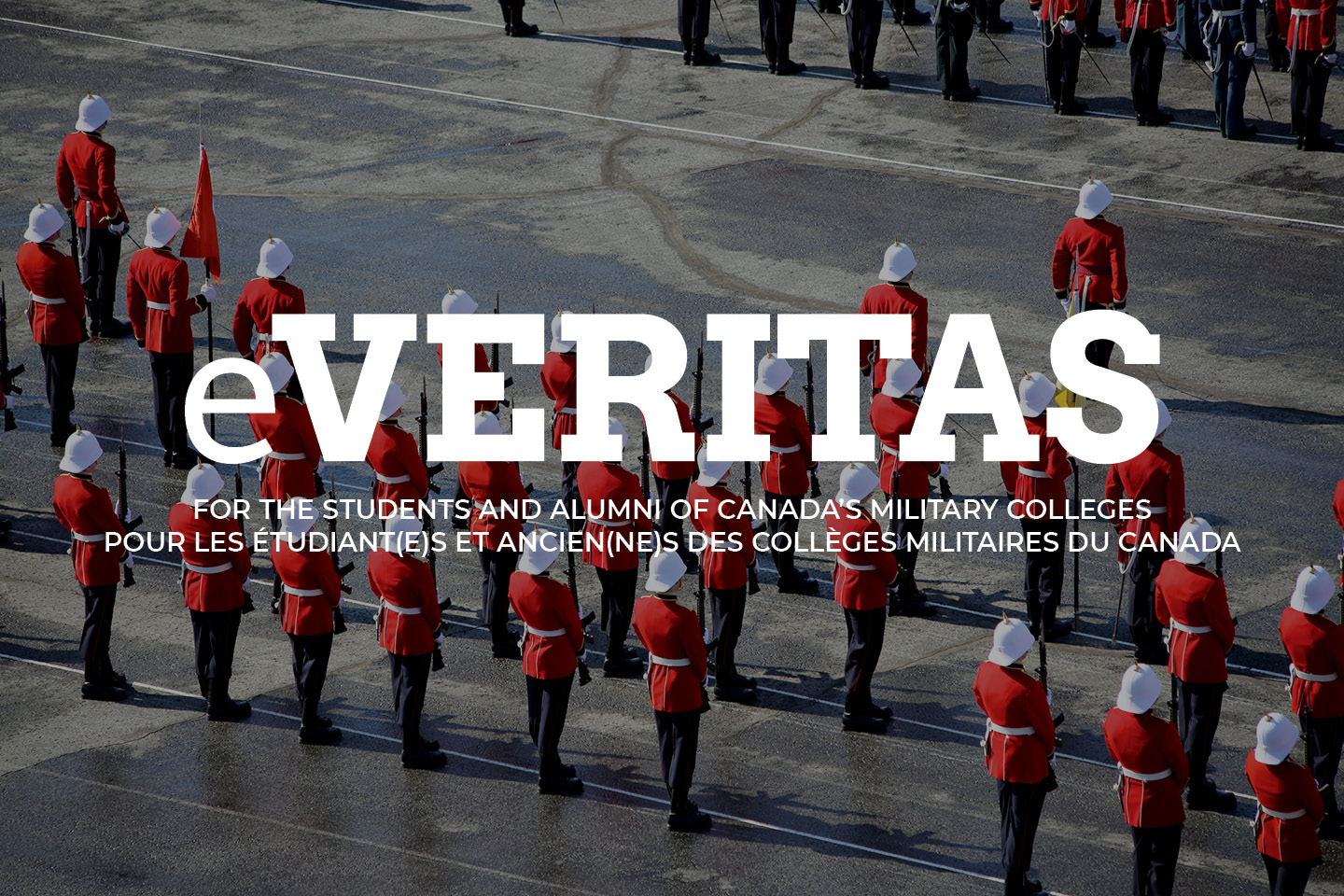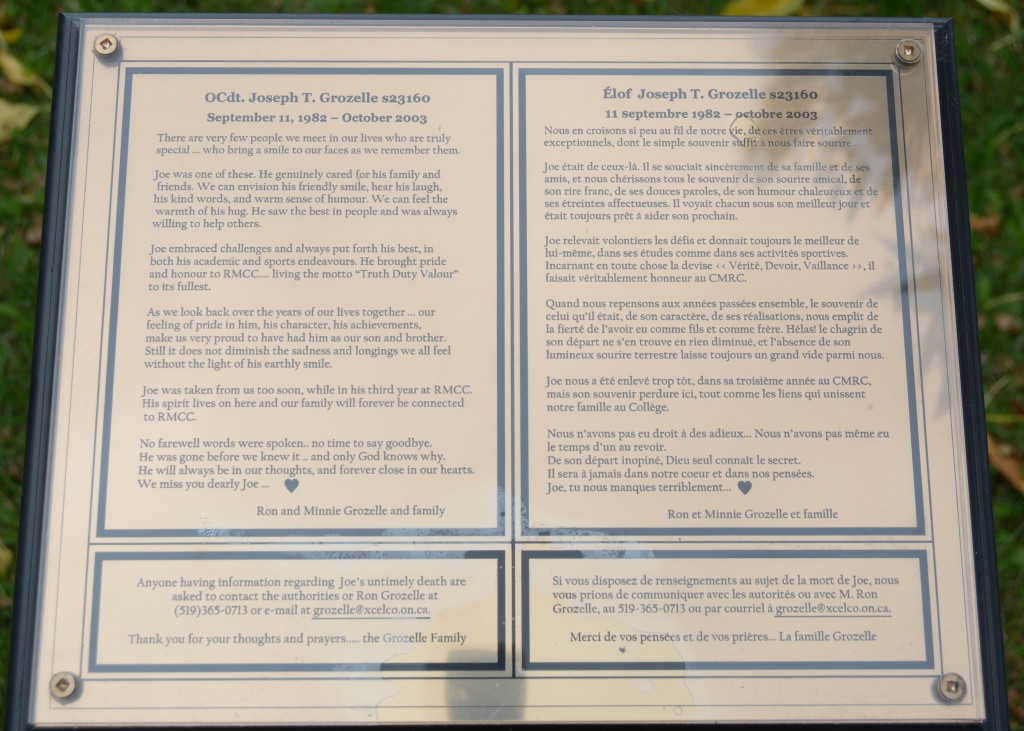 Photo by: OCdt J.E.Scott Howells – Click, click on photo for better viewing
23160 Joe Grozelle Class of '05 – Not Forgotten
WJO
October of each year is a very difficult time for Ron & Min Grozelle and their family, as it represents the time when they lost their son / brother Joe.
Later this week, Thursday to be exact (22 Oct) will mark 12 years when 23160 (III) Officer Cadet Joseph Grozelle was last seen alive.
Just over three weeks later – 13th Nov 2003 – his body was pulled from the Cataraqui River – just across the road from the Memorial Arch.
By now, most Ex Cadets – family and friends from that era (and earlier) are familiar with this very sad story. For those who are not and because, after all, it has been 12 years we suggest that you catch-up with a couple of previous articles covered by e-Veritas – Here.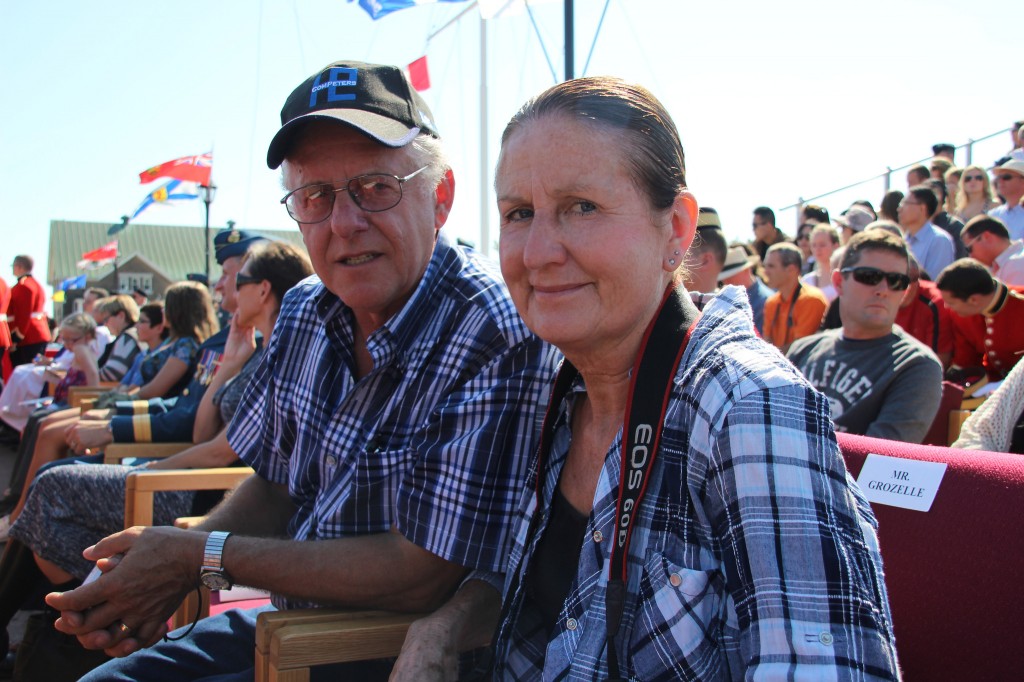 Mr & Mrs Grozelle (Ron & Minnie) still visit the college at least once a year.
MORE…
"We continue with our commitment to attend RMC every fall to revisit Joe's school and to watch and enjoy the Reunion Weekend festivities especially the Obstacle Course and the new cadet Badging Ceremonies", told us during a recent phone conversation. "We see Joe's enthusiasm and spirit in the faces of the new cadets as they start their exciting journey at RMC." He added,  "These events bring back fond memories of watching Joe's 9 Squad compete and winning the course challenge to earn the "honored bragging rights" for the year," he chuckled.
The family have continued tirelessly over this period to try to find answers to what happened to Joe. Was it an accident? Was it murder? Was it suicide?
Ironically, 2015 would have been Joe's Class of 2005 – 10th anniversary.
We had a chance meeting with Ron on the Saturday morning this past Reunion Weekend, just before the Badging parade.
Unfortunately, I was preoccupied with a couple of mundane tasks that had to be completed. I'm sure that I wasn't very good company for him.
Nevertheless, we had a short chat as he accompanied me from near the Fort LaSalle building; the dormitory where Joe resided at the time of his disappearance. We walked fast over to 'Brucie' to follow-up on something. We proceeded to Panet House – talking all the way. We then parted company as I had to get some things done. We promised to catch up soon.
Which we have.
"In early 2013 we were contacted by Chief Petty Officer Keith Davidson, College Chief Warrant Officer at RMC, who wanted to touch base with us as to how RMC might be able to create some type of remembrance in honor of Joe so that he would not be forgotten as a member of the RMC family." Ron further mentioned, "A number of options were discussed and it was finally agreed that a plaque would be the most appropriate tribute. Over the following months the final wording and location for the plaque was agreed upon and approved."
Min and Ron attended RMC the most recent Reunion Weekend, as usual, and they saw the plaque which is located near the RMC Foundation pavilion, next to the Memorial Arch. "We were very pleased and happy with the end product," said a grateful sounding, Ron.
We closed out our conversation with promises to keep in touch.
"We wish to thank Chief Petty Officer Keith Davidson, for his dedication and commitment to make this happen for Joe and our family. We also want to thank Dan Rose, who we were advised made the plaque and stand. Excellent job done Dan….!!"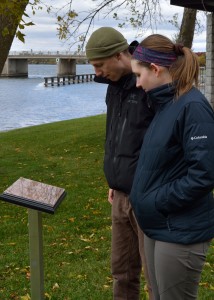 Caption: OCdt J.E.Scott Howells, 27106 and fiance, Kate-Lynn Andrews, reading the memorial plaque in honor of OCdt Joe Grozelle.
Special add on: As mentioned in the article, the Joe Grozelle plaque is mounted on a small stand near the RMC Foundation pavilion (close to the Memorial Arch).
Readers are encouraged to stop and read the inscription on the plaque the next time that they are in that area of the college grounds.