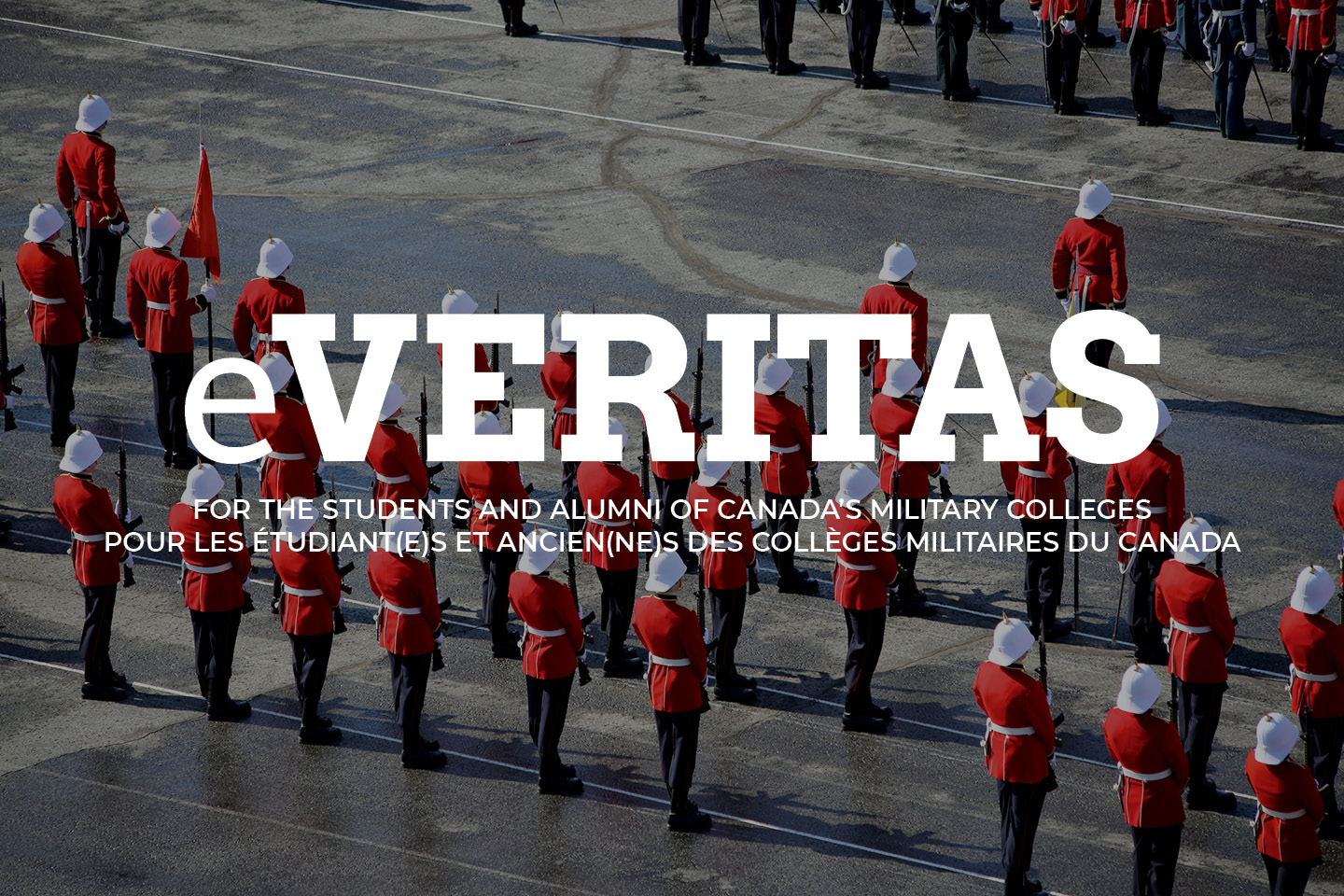 In the continuation of the Seven Day Diary project, 24245 Captain Justin Lystiuk, Squadron Commander of 6 Squadron, was the next designated victim.
24/7 RMCC Squadron Commander
Article by: 26972 OCdt (II) Chantel Fortier
As is becoming apparent, Captain Lystiuk's path to RMCC command is far from predictable. Beginning in the Reserves, Lystiuk started his military career as a vehicle technician in Halifax before a chance encounter with the Red and White Club. Eight months after enlisting as an NCM, Lystiuk was accepted into the Royal Military College as an Aerospace Engineering Officer in September of 2005. At the time, with CMR and Royal Roads closed as fully functioning universities, he enrolled in a preparatory year before beginning the traditional four-year degree in Kingston. He was selected for 9 Squadron, as a member of the very first Aeronautical Engineering class (composed, coincidentally, of 18 cadetss). It was a scholarly career of many firsts indeed.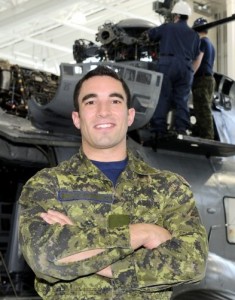 Following graduation, Lystiuk was posted to 12 Air Maintenance in Shearwater for four years. Upon completion of his posting, he faced a choice – Ottawa or RMCC. Remembering his time fondly with the College, he chose to return, though he desired a mentorship position specifically. His place as 6 Squadron Commander brought back early memories, such as the infamous "Sauve Experiment", when all first years (including his class) were housed in Fort Sauve in a misguided effort to foster camaraderie amongst the freshmen. Seeing himself as closer to the cadets' experiences than many of his colleagues, and a relatively small gap between his graduation and that of the fourth years, Captain Lystiuk wanted to foster a strong link with the cadets under his command. He approached the position with a focus on mentorship of the fourth years, anticipating their first postings, and restoring the spirit of RMCC as a military-oriented college.
Like many of the SCs here at the college, Captain Lystiuk emphasized the importance of being available after hours. "While we work, the cadets are in school," he explained. "But after the typical 8-4, the real work for the barmen begins. We have to understand (as Squadron Commanders) that the lion's share of work is done after classes end, and we need to be available for them." He takes his position as a liaison between the squadron barslate and the Military Wing quite seriously, and, living close by, makes himself openly accessible to the still-learning third- and fourth-year Cadets.
When asked what else Captain Lystiuk would like to do with his position as a Squadron Commander, he noted the importance of taking pride in the institution. "RMCC tends to have a cycle of memory," he remarked, reflecting on his own days at the College. "All it takes is four years for something to have existed 'forever'." He explained that it was important to note that the struggles of the cadets, while fresh to them, are not new occurrences and so they are not alone in experiencing them. Emphasizing the military part of RMC is an aspect he wishes to see all the cadets take to heart, taking pride in what distinguishes RMCC from typical civilian universities, and sharing that pride amongst one another when tackling each year.
As always, it was a refreshing experience to interview a Squadron Commander and see their impression of their position within the College. It's my great hope that cadets will take advantage of these open doors and get to know the men and women in charge of them, even if is only to say hello. Be it a RMCC graduate or Direct Entry Officer, they continue to have a wealth of knowledge they're eager to share.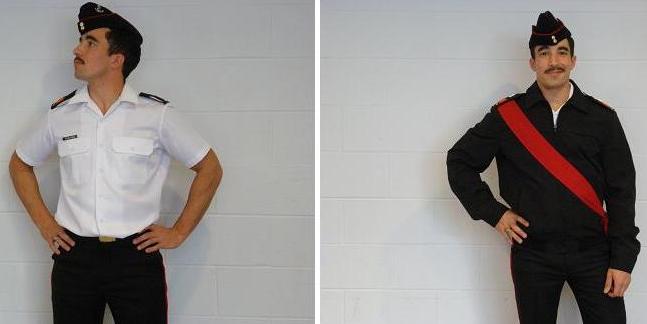 Caption: Earlier days (2009) as a cadet, Justin Lystiuk – modeling what was then a new uniform for cadets. No. 5 Dress (L-R): Male Summer Dress, Male Summer Dress (w/ windbreaker). e-Veritas article
Sunday, 2 November, 2014
Arrived the night prior from Nova Scotia. I had flown out on Wednesday of last week. My parents picked me up in Moncton and we went to our Cottage in Pugwash NS. I borrowed their vehicle to visit Halifax for 2 days to check up on my house that I still have in NS that still has not sold. This is becoming a more and more common issue among members of the CF being posted. Many of us are having difficulty selling our houses. I checked on the property, met with the realtor and made sure all is good for the winter months.
I drove back starting at 0500 on Saturday and drove right through to Kingston arriving that night.
0900 – Wake-up. Feed the dogs, breakfast, take the dogs out.
1040 – Go outside and put winter cover on the air conditioner.
1130 – Grocery shopping out in West End Kingston
1830 – Go out for supper with Alicia to Fardella's in West End Kingston
2030 – Arrive home and realize that I can't find my cell phone. Then I realize that I left it on the bed of my truck while I was putting air in my tire while in my driveway before dinner. So I walk down the road and I actually find it….in pieces because it got run over. So I have no cell phone now.
Monday
B Div Comd Maj Hook is on leave until Thursday. A/B Div Comd is Capt Kilburn SC5
0630 – Wake-up. Feed the dogs, breakfast, take the dogs out.
0745 – Arrive at work
0930 – OCdt (2nd Year) arrives at my office to discuss the possibility of changing Academic Programs as they are currently struggling academically. Discussed the career, academic and college implications to his decision. Encouraged him to engage the registrar into this possibility.
1000 – Go home quickly to check on the cement crew that is pouring a concrete walkway at my house
1045 – 1200– Met with CSL, OCdt Kirkham to discuss the current state of 4 sqn. I have been away for 2 and half weeks. I left on the 17th Oct to attend the People's Liberation Army Air Force (PLAAF) for the 2nd International Cadets Week event in Changchun, China. I went with 3 other RMCC Cadets, OCdt Trudel, OCdt Otis and OCdt Cruz. There we spent a week immersed in their academy. We were one among 12 other countries invited, which include the US, Spain, Portugal, Pakistan, Indonesia, Malaysia, South Korea, Italy, Brazil, Turkey and UK.
We discussed my trip as well as he gave me a complete update on the state of affairs in our squadron.
1200 -1230 – Lunch
1230 – Order new cell phone from Bell.
1640 – Winter Ball meeting in the Cadet Mess
1930 – Drop mess kit and shirts off at dry cleaners in prep for Winter Ball as well as uniform for Remembrance Day
2000 – Prep all the garbage and recycling for the next day at home.
Tuesday
0630 – Wake-up. Feed the dogs, breakfast, take the dogs out.
0730 – Arrive at work
0800 – 0830 – Met with CSL
0900 – 1000 – Attend SO Coord Meeting (all squadron Comds and other TW Staff)
1000 – Met with a CFL (Cadet Flight Leader) to discuss issues with one of their members. The member has been observed to have issues regarding alcohol and it's now being brought to my attention.
1100 – Asked to participate in B Div Intramural hockey tonight at 2000hrs
1400 – 1420 – Met with COS Cmdr Mooz
2000 – Play intramural hockey with the B Div Ocdts
Wednesday
0545 – Wake-up. Feed the dogs, breakfast, take the dogs out.
0645 – Arrive at work
0700 – B Division form-up outside Fort Sauve. A/Div Comd addressed the Div in regards to the current lack of interest in the 2014 RMCC Winter Ball.
0715-0800 – CWC Inspection for those who are not going to be there for this upcoming Saturday's Commandants Inspection
0800 -0830 – At Cadet Orderly Room (COR) to finalize the claim from my trip to China (discussed earlier)
0845-0915 – Met with CSL
1100 – 1200 – Attended and chaired the Health and Safety Committee monthly meeting as the TW General Safety Officer
1230 – Pick up new phone at the Post Office. New cell phone again! This is a big deal because the RMCC Webmail can be accessed through our Smartphones now. Almost every single cadet has their email to their phones now. This is a big difference from when I was here.
1505 -1535 – Haircut on Campus
1545 – Attended the CWC Coord with the Winter Ball OPI OCdt Germain to discuss the winter ball.
1700 – Meeting Ended.
1715 – Return home.
1800 – Dinner
1930 – Depart for Intersection Hockey. My brother Paul (who is currently on his QL3's for Comms Resch Tech in Kingston) came out to play with us as well. It was good to play hockey again with my brother, which I haven't done in well over 5 years.
2015 – 2130 – Playing hockey
2200 – Return home
2330 – Bed
Thursday
B Div Comd Maj Hook back from leave
0630 – Wake-up. Feed the dogs, breakfast, take the dogs out.
0800 – Arrive at Constantine Arena for 'mandatory' Training Wing Staff Hockey.
1000 – SMM for weekly mandatory Coffee (discussed my trip to China with Bill Oliver and Bryan Bailey)
1045 – Return to my office and met with my CSL. Discussed the upcoming Winter Ball, IR's for Cadets, PPT failures, mid-term academic marks (specifically cadets who are currently failing classes) and coming up with an action plan as to how we can assist these cadets succeed in their academics
1200 – Over to the SMM for Lunch with my spouse, Alicia
1300 – Div Meeting to discuss B Div Top 5 Candidates.
1345 – Met with A/Mess Mgr Ted Huber to discuss the Winter Ball and current ticket sales. Ticket sales have been significantly less than they have in previous years
1400 – Review the 2014 Winter Ball Op Order
Friday
0630 – Wake-up
0730 – Arrive at work
0800 – 0830 – Meet with CSL
0830 – 1030 – Took 2 hours to sit down and complete some long needed paperwork that has been piling up on my desk.
1530 -1600 – Meet with OCdt regarding mulitiple deficiencies
Saturday
0745 – Wake-up
0835 – Arrive at work. Today is the Commandant's Room Inspection
0900 – 0945 – Sgt and I met with OCdt regarding personal issues.
1020 – 1200 – Commandants Room and Dress Inspection. The inspection went well. It was a good opportunity for me to finally get a chance to see the whole squadron in their sqn lines and have a chat with a few of them.
1230 – 1300 – Took dogs to the dog park
1315-1400 – Lunch
1400 – 1600 – Watch TV
1600 – 1730 – Vacuum and clean house
1800 – Make dinner. Alicia is working nights so night alone with the dogs!
Sunday
0730 – Wake-up
0850 – Arrive at the gym for the Drill Competition (1st and 2nd years)
1130 – Go home for lunch and let the dogs out
1300 – 1630 – Return to the gym for 3rd Year Flag party
1700 – Arrive home, cook supper
***
7 Days in the Life of a Squadron Commander Pt. 1