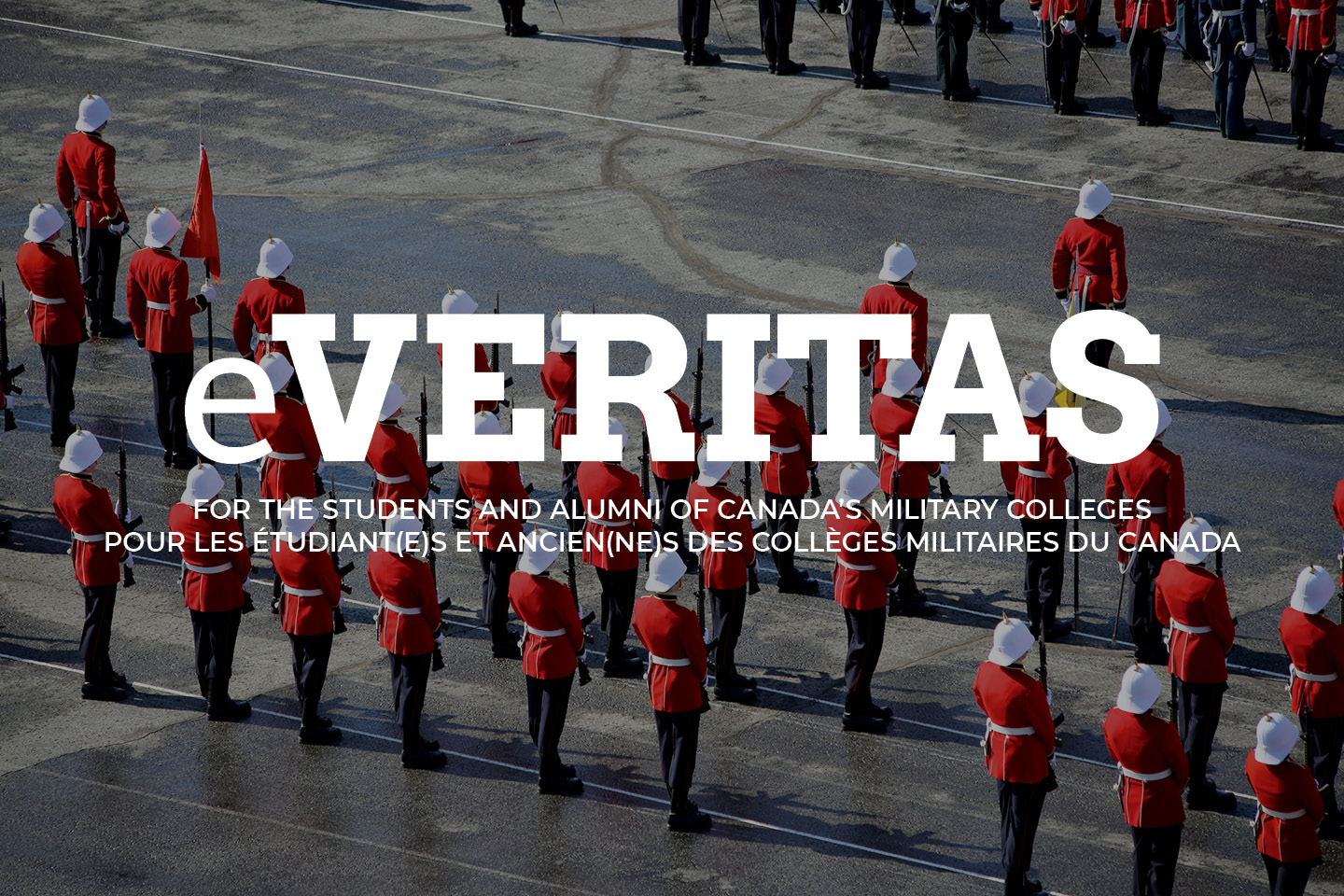 E3161 Victoria Edwards has been interviewing members of the early band at the Royal Military College. In this case, 3798 Bill Lynn (CMR'52 / RMC'57) interviewed 3707 Dave Stothers (CMR/RMC 1957).
e-veritas: What follows is a profile of Dave Stothers taken from RMC Review Yearbook p 68 somewhat amended to highlight points that would have well known at the time:
Dave appeared from the Woods of British Columbia, Where he was born on February 25, 1935, and began his C.S.C. career at C.M.R. in 1952. Having spent two reportedly excellent years at C.M.R., he was transferred to R.M.C. in 1954 with second year. He immediately impressed his classmates and his seniors as being a particularly fine cadet and a very good friend to have. Although he is one of the pillars of R.M.C., his first love is the Artillery. It is believed that this is the reason he pits in class-he is dreaming of his days as a field soldier. For his outstanding work at R.M.C. and in his first two summers at Camp Shilo, Dave was posted to Germany in the summer of 1956.to the R.C.H.A. From the many stories he has told and from the new name he acquired, it is evident that he enjoyed himself very much. Dave continued his studies in Civil Engineering at U.B.C., and on the completion of this a permanent career in the R.C.A.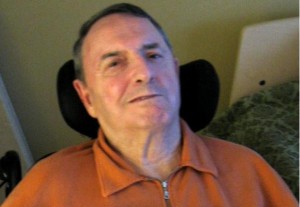 e-veritas: How did you come to interview 3707 Dave Stothers?
Bill Lynn: Dave Stothers is in a long-term care facility in Toronto as a result of several strokes two or three years ago. His residence is not too far from mine, so I did a bit of an interview with him today.
e-veritas: The R.M.C. Review yearbook described Dave Stothers as C.M.R.'s gift to the pipe section at RMC.
Bill Lynn: He went to RMC from CMR in second year (one of the "magnificent seven", guinea pigs to see how the CMR programme was fitting cadets for RMC). He tells me that he was in the band in third and fourth year (55/56, 56/57).
e-veritas: What instrument(s) did Dave Stothers play?
Bill Lynn: Dave used to play piano, saxophone and clarinet, but not in a band. He played the pipes with the RMC band.
e-veritas: I understand that the late 3527 LCdr.(Ret`d) Dr. William Bruce Hamel (Cookie) Cooke, CD (RMC 56) was a leader in the early RMC band.
Bill Lynn: Dave had not played the pipes before, so "Cookie" taught him how. Dave says Cooke was very serious about it, but Dave joked (I think) that pipers only played the pipes because they could not play music.
e-veritas: Did the band have special uniforms or regalia?
Bill Lynn: Dave told me they did not wear kilts when he was in the band ("There's no way you'd get me in a kilt.")
e-veritas: Where did the band practice?
Bill Lynn: Dave thinks they practiced in the Old Gym, but is not sure.
e-veritas: What tunes did they play?
Bill Lynn: They played mostly Highland Scots tunes. He thinks they learned about twelve, but cannot remember the names.
e-veritas: Any notable performances?
Bill Lynn: Not sure what events they played for, but it usually seemed to be in bad weather.
e-veritas: Lieutenant-Colonel (ret`d) Rev. John (Jock) MacMorran Anderson MC and Bar influenced the Pipes and Drums during his tour as the Protestant Padre at RMC.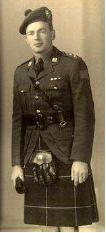 Bill Lynn: Dave remembers Padre Anderson as the Godfather of the pipe band. [Rev. Jock Anderson; Known as "Padre Jock", served as the Protestant Chaplain at the Saint Martin Protestant Chapel at RMC in Kingston from 1955-8. He was involved in the process of formation and training of the RMC band. His experiences as chaplain, counsellor, stretcher-bearer are recounted by 2357 BGen Denis and Shelagh Whitaker (RMC 1933) in `Victory at Falaise` and `Tug of War`. He received two Military Crosses for courage and initiative in evacuating casualties under heavy enemy fire during the Second World War.]
e-veritas: Did/Will he attend the 50th or 60th band reunion celebrations in 2003 or 2013?
Bill Lynn: Dave did not attend the 50th reunion in 2003 and will be unable to attend the 60th this year.
Well done to all those who have been in the RMC band at one time or another over the years!
What follows is description of the R.M.C. Pipe Band in 1954-5, by 3641 W. Ian McLachlan (RMC 1956) taken from the June, 1955, copy of the RMC Review, somewhat amended to highlight points that would have well known at the time:
Now in its third year of life, the R.M.C. Pipe Band has undoubtedly achieved its greatest measure of success in 1954-55. Three years ago the band was formed through the inspiration of a group of Fourth Year cadets. Unfortunately, the experience and talent of these cadets was lots to the band through graduation, and the following year had necessarily to be devoted mainly to rebuilding. Not enough cooperation was given to the band during its second year, especially as regards practice time, which greatly hampered its effectiveness.
The face of 1954, however, saw a complete reorganization of the band under the direction of C.F.L. 3480 Morrison Hewitt. Many new members were trained-a long process when teaching pipes-and about one-half of this year's band were playing for the first time. It is rather remarkable to note that 3527 Bruce Cooke is the only member of the band who had ever played in a pipe band before coming to R.M.C. His advice and patient instruction of the pipers has been one of the outstanding reasons for any success which the band has attained. Special mention must also be made of the work of C.F.L. Morrison Hewitt, who took the trouble to assume control of the band at the beginning of this year, and has provided it with the leadership lacking in former years.
The band this year is composed of several different groups. There are a number of the "old originals", who have been members since its inception. These include pipers 3527 Bruce Cooke, 3591 Donald Gregory, 3533 Ray Boal and 3641 Ian McLachlan, plus drummers 3480 Morrison Hewitt, 3268 Charles Casson and 3669 James Doyle. Other members who have joined during the last three years are 3351 Norman Haslett and 3820 David Greenfield on the pipes, and 3506 Ron Capern and 3231 Peter MacGowan, our two tenor drummers.
A good deal of the success which the band has enjoyed this year can be attributed to the infusion of enthusiastic new members from R.M.C.'s two sister colleges. Royal Roads provided us with four pipers- 3643 Frank Carson, 3648 Hugh Pullen, 3646 Fred Simpkin and 3657 John Wigmore, and a side drummer in the person of 3585 Al Sherwin. 3707 Dave Stothers was C.M.R.'s gift to the pipe section. In addition, there are several recruits in the band this year-an encouraging sign for future years. These are 4139 Sam Dunbar, Bertram and 4821 Philip Jones. Following C.F.L. 3480 Morrison Hewitt's policy of "a good band, or no band at all", no public performance was made until a high degree of proficiency had been reached. Thus it was that the band did not appear until well on in January, when they provided half-time entertainment at a sports night.
The long hours of practice in the drafting room and Kingston Armouries seemed adequately rewarded by the enthusiastic response of the large crowd to the band's performance. The band waited with a good deal of impatience for warmer weather so that they could play for College church parades, and finally it was decided to march the Wing into Kingston on the second Sunday in March. Although colder than normal piping weather, the parade proved to be a success and the following weeks saw the pipe band on many church parades. The band was given maximum co-operation this year through our Staff Advisor, Captain Botting, and sufficient time for practices was allowed. The band will lose three of its members via graduation this year: C.F.L. Hewitt, our leader and base drummer, C.S.C. Haslett, a piper who has devoted much time to the instruction of beginners, and C.S.C. Casson, a member of the original drumming section. In spite of this loss, it is hoped that next year's R.M.C. pipe band can achieve an even higher standard. -No. 3641 W. I. MCLACHLAN
Calling all Ex Cadet Band Members to join in the celebration of the 60th Anniversary of the College Pipes and Drums!
The RMCC Pipes and Drums are celebrating its 60th Anniversary this year and there are several initiatives under way to commemorate this milestone. Alumni have already stepped forward and have donated art work as well as funding for a kilt pin for all members of the RMCC Band who wear kilts.
The College has also graciously approved a request for Alumni members to participate in a Band Rehearsal on Saturday and to join the Band in leading the parade back to the Parade Square on completion of the Arch Ceremony on Sunday morning of Reunion Weekend.
For those Ex Cadets who would like to participate in the march from the Arch on Sunday, please contact MWO Ron Reedy, RMC Band Master at 613 541-6000 extension 6262 or by e-mail at Ronald.Reedy@rmc.ca. Or leave a comment below.
For previous band-related stories, see…