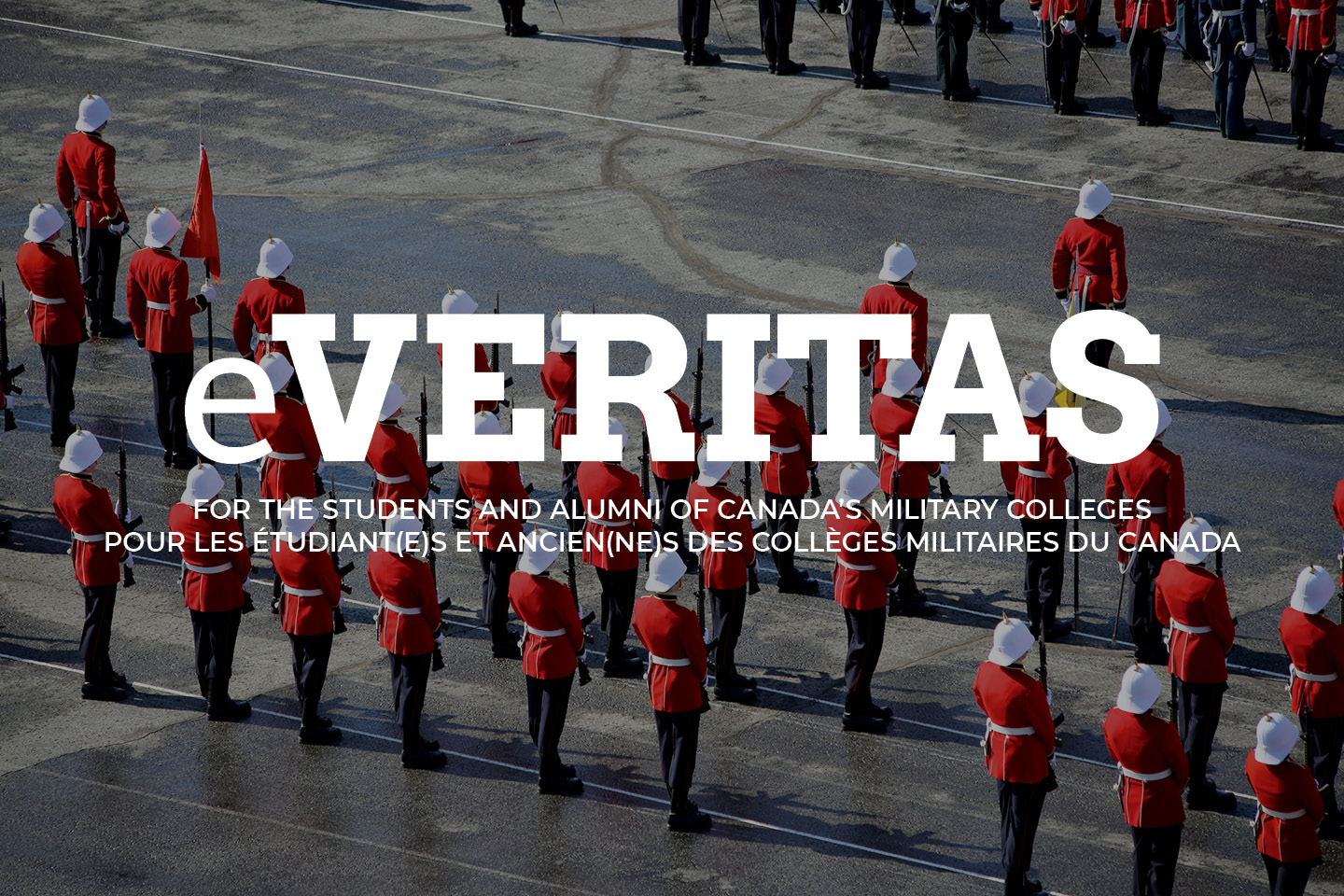 Visiting the Boat
Article by: 26972 OCdt (II) Chantel Fortier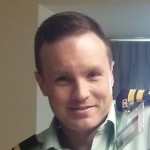 Finding one's way through the maze of the Stone Frigate to Captain Ready's office was slightly intimidating, but the Squadron Commander was quick to make guests feel at ease. The second interviewee for the Seven Day Diary project, Captain Ready is another new addition to the Training Wing team. Previously, he served with the Royal Canadian Dragoons, particularly 2 CMBG, before specifically requesting a posting at the Royal Military College.
The reason for the request, he explained, was directed towards the cadets themselves. Postings at the College for military personnel vary from one to three year durations; Captain Ready wants the full three year term to work with the cadets of 1 Squadron. Like many of the other Squadron Commanders, he works closely with the third and fourth years; by shaping their attitudes toward post-College experiences and working one-on-one with the barmen, he hopes to establish the firm footing newly commissioned officers will need to succeed in their first units. But it isn't all about the work. "I try to attend as many events as I can," he remarked, "both formal and informal, such as the recent physical fitness tests up at the KMCSC."
The CSL of 1 Squadron, (insert name), sat in on the interview. As the discussion unfolded, he reinforced Captain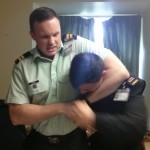 Ready's aim, describing the importance of working closely with the senior cadets. At RMC, 'slasher positions' are fondly spoken of – the few positions in which seniors are not given bar duties to perform in addition to their classwork. But, as easy as it would be, preparing for the challenges of working with a unit – which would consist of so much more than the mere job description an MOC gives – will ultimately give second lieutenants the upper hand. Additionally, administration skills are a necessary evil of advanced authority. When asked what the largest portion of his work consisted of, the Captain responded ruefully, "Definitely administration." The week he recorded for the project reflects this, giving an accurate representation of the hours required of Squadron Commanders in the office just to stay on top of daily activities. Unfortunately, much of this work is invisible to the rest of the squadron, making it difficult to participate as often as these senior officers would like in the life of squadron members.
Nonetheless, Captain Ready was distinctly proud of his position. "I would like to work with 1 Squadron for the duration of my posting," he said, his CSL nodding enthusiastically. Being able to work with the rising years of the squadron members would, of course, be an advantage, but Captain Ready seems to have an excellent rapport with his cadets. As the years unfold, 1 Squadron will be lucky indeed to have an officer so dedicated to their future success.
Seven Days in the life of Capt Russell Ready – 1 Squadron Commander
Monday Oct 20
0530hrs Reveille
0545-0615hrs Helped girlfriend pack her belongings into car before she departed to her home in Ottawa
0715-1030hrs Admin in office (preparing VOT and PRB)
1030-1200hrs Met with OC A Div to discuss several ongoing issues and my recommended solutions
1200-1230hrs Lunch at the SSM
1300-1330hrs Met with CSL
1330-1400hrs Picked up mail from both mailboxes, met briefly with OC A Div
1400-1730hrs Admin
1800-2000hrs Watched old episodes of "The Ultimate Fighter", had supper, shopped for Christmas gifts online
2000-2100hr Telephone call
2100-2145hrs Reading "GSP: The Way of the Fight" by Georges St Pierre
Tuesday Oct 21
0600hrs Reveille
0700-0845hrs Admin
0900-1000hrs SO Coord Meeting
1000-1030hrs Haircut
1100-1215hrs Meeting about Professional Development
1245-1315hrs Meeting with OCdt
1315-1400hrs Meeting with CSL
1400-1600hrs Admin
1600-1700hrs Two phone calls discussing guidance for OCdts
1700-1730hrs Meeting with OCdt
1730hrs-1900hrs Admin – Completion of PRB file, with nine different source documents, my commentary on the subject OCdt's performance, and my recommendation for the best path forward
1945-2100hrs PT – weights & martial arts
2100-2215hrs Supper, hygiene, phone call with girlfriend
Wed Oct 22
0545hrs- Reveille
0545-0630hrs PT – functional movement training
0630-0730hrs Breakfast, hygiene, prep uniform, drive to work
0730-0900hrs Polish & submit PRB paperwork for review
0900-1000hrs SC Shoptalk with SC 10
1000-1030hrs Admin
1030-1100hrs TOETs for pistol range
1100-1130hrs Meeting with CSL and CSAdO
1130hrs-1330hrs RMCC Mentorship Creative Problem Solving session
1330hrs-1400hrs Counselling OCdt
1400-1430hrs Admin
1430-1530hrs Meeting with OC A Div and SC3
1530-1600hrs Admin
1600-1630hrs Interviewed OCdt
1645hrs Parade
1715- 1830hrs Admin
1830-1930hrs Chores
1930-2100hrs PT – martial arts
2100-2200hrs hygiene, prepare supper
2200-2300hrs supper, phonecall with girlfriend, scoured internet for deals on new boxing gloves, researched Kingston plumbers in case DIY plumbing is a bad idea
Thurs Oct 23
0545hrs – Reveille
0700-0800hrs Admin
0800-1245hrs 9mm Browning pistol range
1245-1330hrs Lunch at the SSM
1330-1430hrs Admin
1430-1600hrs TW Staff sports afternoon (bouldering)
1600-1800hrs SSM for TGIT & supper
1800-1930hrs Laundry & other chores at home
1930-2030hrs Set up and configuration of a tablet…a Christmas gift for a less tech-savvy person
2030-2100hrs Found good quality boxing gloves at the 'right price' and ordered them.
2100-2200hrs Watched "The Ultimate Fighter" and "Eastbound and Down"
Friday Oct 24
0545hrs Reveille
0645-0800hrs Admin & cleaned out email Inbox
0800-0830hrs Worked with CSAdO on going through records to find if there is any missing information
0830-0900hrs Meeting with CSL
0900-0930hrs Meeting with OC A DIv
0930-1100hrs Admin
1100-1145hrs OC A Div and myself counselling OCdt
1200-1245hrs Div O Grp
1245-1330hrs Lunch at SSM
1330-1400hrs Admin
1400-1430hrs Inspection of Stone Frigate common areas for security and working lock mechanisms
1430-1500hrs Picked up new ID card holder, checked my two mailboxes
1500-1630hrs Admin
1630-1730hrs Chores
1730-2100hrs Gananoque Home Hardware for plumbing supplies / Canadian Tire for air filters for the car, jack stands, and air compressor / grocery shopping at the Metro
2100-2200hrs Supper, then hung out with girlfriend who'd just arrived from Ottawa
Sat Oct 25
1000hrs Reveille
1000-1100hrs Read GSP's book
1100-1400hrs Changed air filters in my car, raked leaves, mowed lawn
1400-1600hrs Hung out with girlfriend
1600-1700hrs Groceries for supper
1700-1830hrs Prepared and ate supper
1830-1900hrs Chores
1930-2100hrs PT resistance training and martial arts
2100-2230hrs PT functional movement training & hygiene
2230-0030hrs Watched "How to Train Your Dragon 2" (a great animated film)
Sun Oct 26
1000hrs Reveille
1000-1400hrs Chores, laundry, iron uniform
1400-1700hrs Video games
1700-1830hrs Supper
1830-1930hrs PT – functional movement training
1930-2030hrs Cleaned kitchen
2030-2130hrs Reading
2130-2230hrs Watched "Sons of Anarchy" & polished oxfords