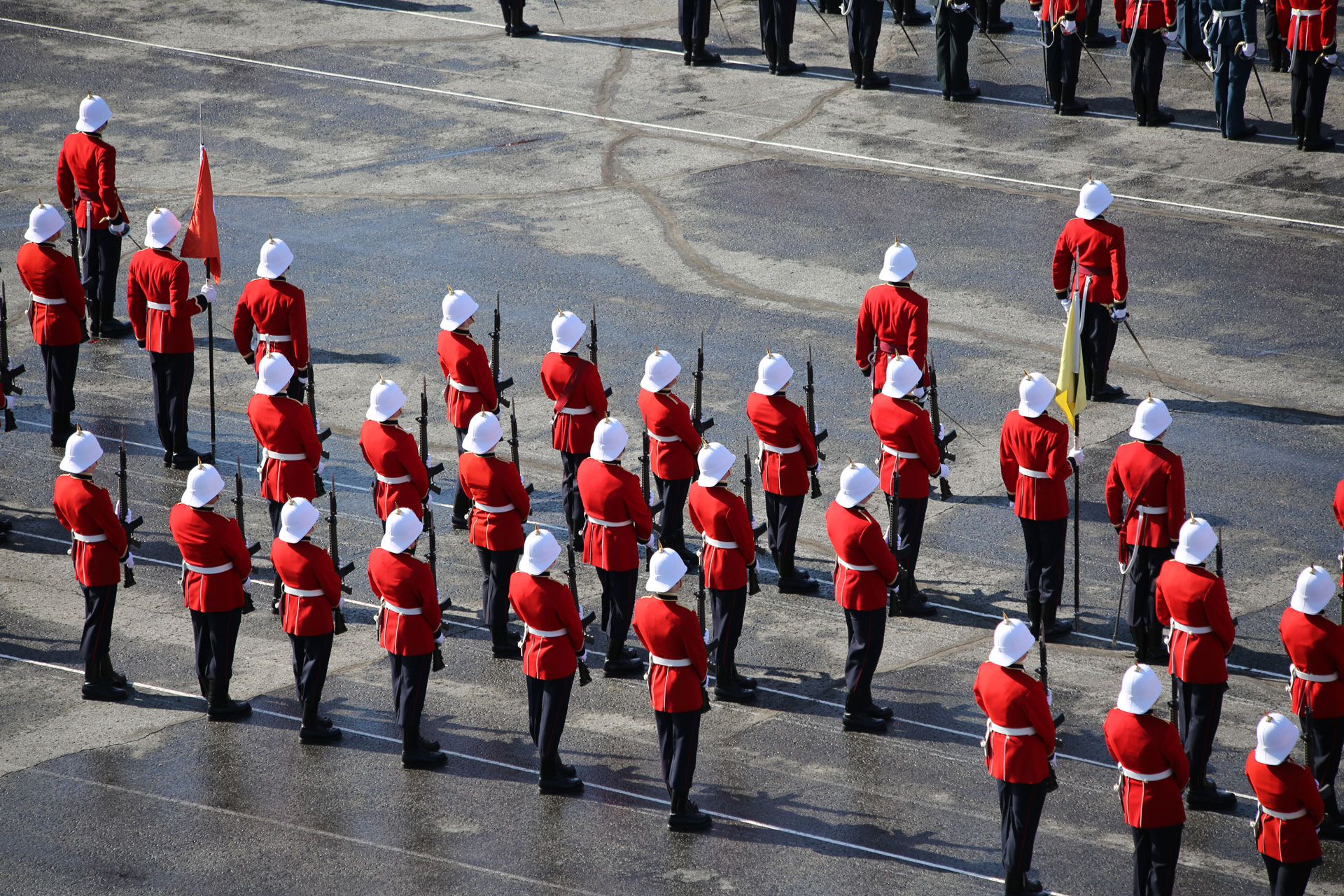 World traveler has roots at military colleges
12070 Alan Gordon (CMR RMC 1979)

By: A/SLt 24498 Noelani Shore(RMC 2009)
Born in Portage La Prairie, MB, Alan Gordon,

CD, MBA, P.Eng,

(

CMR

RMC 1979) has spent a lot of time on the move, thanks in part to the military.
"I was a service brat so I lived in many places

,

including

Portage

for six months,

Zweibrucken

,

West Germany

for four years,

Montreal

for a year,

Cold

Lake

for four years,

St. Hubert

,

Quebec

for two years and finally

North Bay

for six years before heading off the College Militaire Royale de St. Jean," he explained.
Mr.

Gordon fell into the military profession through family influence

s

. His father was in the Air Force, and his mother has a down East connection from the French speaking side of the Maritime culture, "so going to CMR was also something I aspired to do. Attending a military college really only offered two academic extremes: Engineering and Arts. So, I vacillated between one and the other until the end of 2

nd

year, and finally chose Engineering. It was one of the best decisions I've ever made in my life," he said.
After graduating from the

Royal

Military

College

with a Bachelor of Mechanical Engineering, he continued with his education, taking an MBA through Northland Open University in 1990.
The exam routines at CMR were memorable for Mr. Gordon, and he learned a lot from the process.
"They were killers and taught me how to work. Not how to be smart, but how to perform under very difficult circumstances," he said.
While Mr. Gordon left the military in 1987, the lessons he learned about leadership stayed with him throughout his career.
"I learned about many different leadership styles from the military college. I had the opportunity to watch Brigadier General Jean de Chastelain, Cadet Wing Commander Larry Stevenson, and Dean Tilley manage the RMC environment that I lived in for two years," he said.
While in his second year, Mr. Gordon had the chance to act in a formal leadership role. He was a section commander, followed by the Deputy Cadet Squadron Leader, and Cadet Flight Leader in his fourth year.
"I cannot emphasize enough the value of the exposure which I had to leadership roles as a result of my early training at the military colleges," he said.
Mr. Gordon's first posting out of RMC was not to one of the most desirable postings in his class, but the opportunity to work at the Aerospace Maintenance Development Unit (AMDU)

in Trenton was likely the best posting that anyone in his class had the opportunity of taking.
"I was exposed to leading edge technologies, program management, and some of the best technical experts in the Canadian Air Force. In this position, I also had the opportunity to observe and assist with the introduction of the CF-18 into service in

Cold

Lake

, and ultimately as a line officer in Baden

Soellingen

,

West Germany

," he said.
The posting to

West Germany

was the most enjoyable and challenging posting Mr. Gordon experienced, as it gave him a chance to operate in a war footing environment, without having to go into battle.
"It made me appreciate that the physical situation is so real, and that people will be harmed, but that the political realities are only a figment of a collective imagination. This became obvious when the Berlin Wall came down in 1989, just three years after I had been in the NATO environment," Mr. Gordon said.
Mr. Gordon's experience in the CF has influenced his strategic skills as well.
"My strategic skills are much better developed than my tactical leadership skills, and this has actually been a strength for me in some of the leadership roles which I have taken on.  Most of my peers possess tactical skills, and as a result, I understand how to differentiate the need in any business environment to ensure that the appropriate skills are provided at the proper time in order to ensure success," he explained.
After leaving the military in 1987, he worked for seven years at the Molson Breweries in the production environment as a middle-level executive, working with Engineering, Supply Chain Management, and business process re-engineering.
"I also spent several years in the late 80s and early 90s with Coopers & Lybrand as a Principal, working in a world wide Centre of Excellence, traveling throughout North America, Europe and the Far East. I also worked with an Engineering Consulting firm, Giffels, for a year, managing a group of 40 Engineering folks focused on designing and installing manufacturing equipment in the automotive and heavy manufacturing industries. My latest deployment started in 1997 and continues to date with a technology firm focused on building a Commercial Off the Shelf (COTS) Capital Planning tool for the international market," he said.
In his current role as the head of Altus Capital Planning business unit, Mr. Gordon is responsible for the management of a world-class leading business solution supporting the use of Capital Planning for a global 1,700 person organization.
"This is a very challenging position which requires the use of planning, political, and visionary skills that I have acquired over the years," he said. "This Capital Planning Solutions Inc (CPSI) initiative was built on all of the skill sets acquired at RMC. It culminated in the development of the world class business solution which is leading many organizations in terms of Capital Planning thinking."
Mr. Gordon's proudest moment in is his career occurred in 2008, when he sold the technology CPSI to the Altus Group, which is the largest real estate advisory company in the world.
"This was the culmination of a 10 year initiative to develop a business process and supporting technology for a corporate activity that has not been documented in the business world of Capital Planning," he said.
Mr. Gordon has had the opportunity to travel with the military,

as well as

in his civilian career.
"I have traveled to more than 50 countries throughout the world, either through employment or proactive travel during my vacations," he said.
Life has been great for Mr. Gordon, and "I attribute a lot of this feeling to RMC and CMR. The leadership and execution skills I've learned are going to lead me for the next 15 years in how I help the underprivileged throughout the world."
Mr. Gordon has a wonderful family, as "m

y wife and

I are high school sweethearts.

We have two sons

;

one is 22

, and the other is 18.

They are great kids and both Ann and I are looking forward

to see

how they will devel

op over the next 20 to 30 years," he said.
________________________________________________________________________________
Mike Taylor: Varsity Sports Manager 1997 – 2000
Mike Taylor only spent three years at RMC as the varsity sports manager. However, he left big shoes to follow! The former infantry officer turned Physical Education & Recreation Officer moved to the PSP world when the PERO Branch stood down in 1997. During the late 1980s and early 1990s he was the Base Physical Education & Recreation Officer at CFB Kingston. He was highly recognized as one of the top athletes in both fastball and volleyball during his prime competing years. He served RMC well.
Victoria Edwards recently made contact with Mike to find out what he is up to these days and what his memories are of his time at RMC.
e-veritas: At which Military College did you serve?
Mike Taylor: I was the Varsity Sports Manager at RMC in Kingston from about 1997 – 2000.
e-veritas: Your graduate research related to physical education at RMC.
Mike Taylor: My thesis was `Physical Education at the Royal Military College of Canada: a case for academic accreditation. 2001.` The RMC has had a long and wide-ranging association with sport and physical education. RMC is not deriving the benefits of an academically accredited physical education program. Both the Canadian military college system, and the physical education occupation in the military, experienced profound and significant changes during the 1990s. These changes at RMC continue under the influence of a restructuring of the professional development program for officers in the Canadian Forces. The pace and scope of change for a highly tradition bound institution like RMC must seem overwhelming to long-time observers of the College culture. However, it is within this framework of mandated change that new ideas could and should come forward. This thesis argues that numerous positive outcomes–including the development of a physical education degree program at the College–could be realized if academic accreditation were attached to the current physical education portion of a cadets training at RMC. http://www.nlc-bnc.ca/obj/s4/f2/dsk3/ftp 04/MQ63378.pdf
e-veritas: What are the challenges of physical education in the military?
Mike Taylor: As an infantry officer during the 1980s, I was responsible for the physical training and preparation of the soldiers under my command. Although physically I was fit to do so, I felt I lacked the requisite professional knowledge to produce and supervise fitness programs. To that point in my career I had never taken a course in physical education. My approach to training others was limited to mimicking the example of my basic training instructor, many of whom, like me, had never received any formal training in physical education. The system we came through did not safeguard against the passage of misinformation and it certainly did not, in terms of physical training, promote the level of professionalism that accompanies the pursuit of many other military training activities. It was not until 1986, when I commenced a physical education degree program at the University of New Brunswick, that I came to terms with the true extent of my lack of knowledge. Courses on the principles of training, basic anatomy, and the fundamentals of physiology and biomechanics taught me concepts that could have provided tremendous assistance in my early years as a junior officer. This realization provoked a personal campaign, directed specifically at the infantry officer occupation, to improve the situation. Although my work, in the form of a service paper written in 1990, was successful in bringing about limited change in physical education content and delivery during Infantry Officer Phase Training (Harrison 1990; Peters 1991), the situation remained far from optimal. Nevertheless, the military hierarchy took steps to view physical education in a more academic light. It was not until my arrival at RMC that I revisited the issue of formal physical education in the military.
e-veritas: What are the challenges of physical education at RMC?
Mike Taylor: Upon arrival at RMC it struck me that the physical education regimen of Officer-Cadets (OCdts) is not unlike physical education degree programs offered at civilian universities, albeit a rather scaled down version of them. I felt that much of what was taught in physical education at the College was worthy of some Ievel of academic credit. My years as a commissioned officer had taught me that formal physical education knowledge in the officer corps was Iacking, and I saw at RMC an opportunity to influence the system. The primary aim of my graduate thesis was to establish a framework for the academic accreditation of physical education at the Royal Military College. The concept was to seek official academic recognition for the physical education that OCdts currently undertake. Such recognition would take the form of a defined amount of credit hours within the context of the overall credit load required of students in various degree programs.
e-veritas: Although your paper was written ten years ago the arguments seem apropos today.
Mike Taylor: In the last ten years there has been increasing recognition that good health is essential to the well being of CF members and to the operational effectiveness of the CF. Since I left RMC, the Strengthening the Forces (STF), the CF's comprehensive health promotion program was designed to enable CF members to increase control over and to improve their overall health and well-being. The program includes four core program areas: addictions awareness and prevention, injury prevention and active living, nutritional wellness and social wellness.
e-veritas: How did you manage the work life balance given your work at RMC with graduate studies?
Mike Taylor: I graduated with a Master of Arts (MA) degree from Queens University School of Physical and Health Education in October, 2001. My graduate degree is in Sociology of Sport after having previously attained a BA form Dalhousie 1982 and a BPE from UNB 1988. I commenced the Master's program working full-time as a Personnel Support Program staff member at the Royal Military College and took advantage of the Canadian Forces Personnel Support Agency's Subsidized Education and Career Development Plan to offset some of the cost. At RMC, I wish to acknowledge the support and assistance of the Athletic Director, Ms. Joane Thibault and her staff in the Athletic Department, and, the Dean of Continuing Studies Dr. Jim Barrett. My family at the time included a three-year-old son Dylan who let "Daddy play on his 'big-boy' computer" even when Buzz Lightyear was summoning us both to play, and an infant son Liam and my loving and understanding wife Stephanie. "Mens Sana In Corpore Sano" a healthy mind in a healthy body and "One Day at a Time".
e-veritas: What are you doing these days?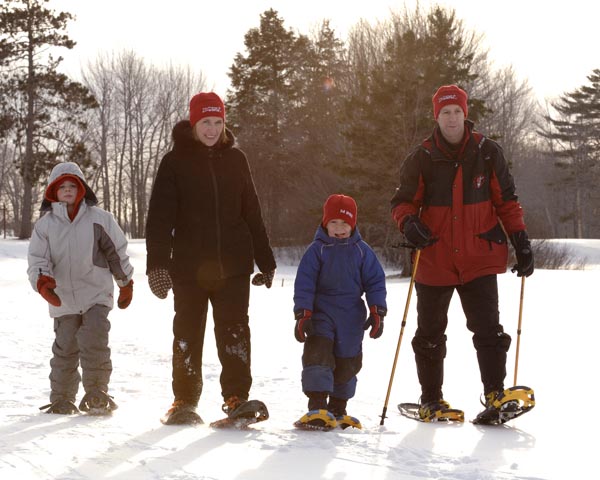 Mike Taylor: After leaving RMC I did a seven year stint as the National Physical Fitness Policy and Resources Manager with the Personnel Support Programs (PSP) division of the Canadian Forces Personnel Support Agency (CFPSA) in Ottawa. The production and analysis of current CF fitness and physical education policies formed my primary responsibilities. Furthermore, I was intimately involved with the production of the Canadian Forces Health and Physical Fitness Strategy which was widely disseminated a couple of years ago. Currently, I am the civilian Personnel Support Programs (PSP) Manager at 14 Wing Greenwood, Nova Scotia. . The mission of the personnel support programs is to develop and deliver personnel support programs to advance the quality of life of the military community and the operational effectiveness of the Canadian Forces. My personal quality of life and that of my family, wife Steph and the kids, 2 boys and a girl now, has never been better. Loving life in the Maritimes!
e-veritas: I came across a photo of you riding a camel in the Middle East.
Mike Taylor: As CFPSA National Physical Fitness Manager, I had the opportunity to serve as escort officer during a show tour offering the soldiers a night of entertainment in the Middle East. The show tour's first stop was Egypt, the morning of December 10. The first night (after only seven hours of set-up and rehearsal), the entertainers performed for a crowd of about 300 people. The following morning, the troupe departed for a 12 hour bus ride to Israel. Just over 100 people attended each of the three shows in Israel. From there it was back to Tel Aviv for a flight to North America. The entertainers caught their flights back to their hometowns and that was it. With a few hugs and handshakes, their journey was over.