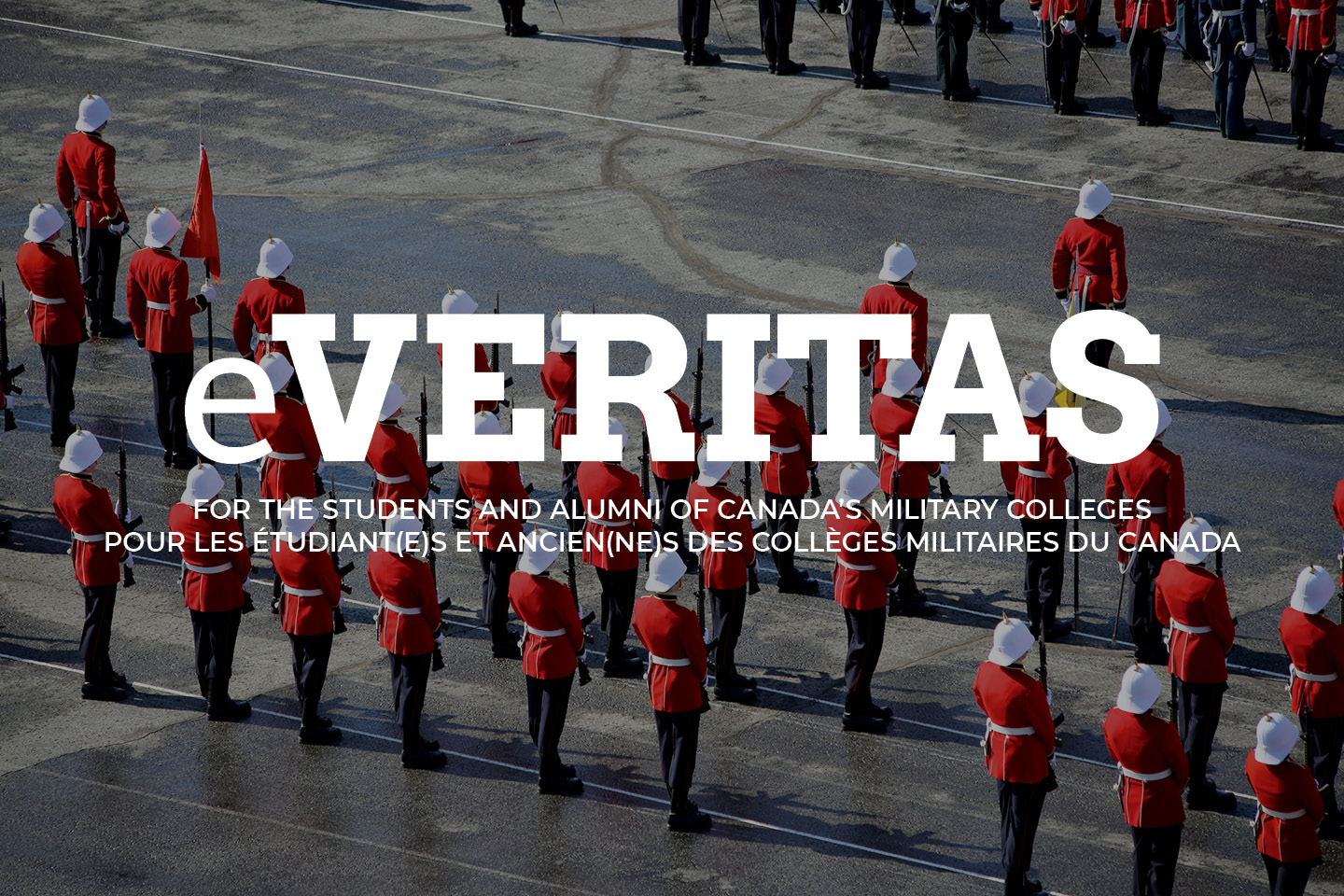 Andre Labrie looking for "Buds" over 35!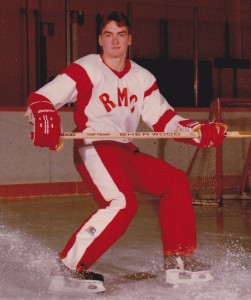 Plans are well underway for an Ex Cadet / Alumni exhibition hockey game at the K-Rock Centre on 25 Jan from 2 to 4PM. Old timer rules will apply – 35 & older. Players should arrive approximately between 1 & 1:30 PM. Information on Gate location entrance; dressing room allotment; pre-game skate / warm up and game protocol to follow soon.
This afternoon game will precede the main event – West Point vs RMC scheduled for that evening at 7:30.
15992 Andre Labrie ('87) has volunteered to assist in rounding up the players for the two Ex Cadet / Alumni teams. A number of "buds" (ranging from the 1960s to the 1990s) have already confirmed their attendance.
The invitation is extended to those Ex Cadets who attended CMR, RMC  and / or RRMC.
Other "buds" who may be interested and / or who may require further info are advised to contact Andre at labriea@limestone.on.ca and Bill Oliver at oliver-b@rmc.ca. NLT 17 Jan. e-Veritas provide up-to-date news next week.
The plan at this time is to have "buds" (35 and over) play against each other. Teams will be selected by the grad year of the players. Red team will be even numbered classes; White team odd numbered. Both teams will be augmented by two former NHL players.
Final rosters will be announced (by Commissioner Labrie) just prior to the official opening of the game scheduled for 2:30. Every effort will be to balance the teams by age / excess weight / amount of gray / white hair / etc.
Players will be responsible to provide their own equipment. However, special arrangements can be made for those travelling long distances by plane.
To date the following Ex Cadets have indicated that they will be participating:
8469 Jim Simpson;
10080 Bob Booth;
10601 Dick Mohns;
10950 Dave Hall;
13666 Steve Noonan;
15992 Andre Labrie;
16839 Mark Brouillard;
16888 Al Meinzinger;
19416 Jeremy Stowe;
19706 Patrick Lemyre;
21542 Jamie Thomson;
22336 Mark Beare;
23968 Andrew Warlow (Goalie);
In addition up to 4 Ex NHL players will be lacing up and will be split between the two teams.
Note: We are waiting confirmation from a number of other "buds" to contact us.
In addition, from 5 to 7:15 PM, the RMC Club will host a "Pre-Game Warm-up" at the Fort Frontenac Officers' Mess – just a two minute walk across the street from the game(s) venue. (Details for this event follows)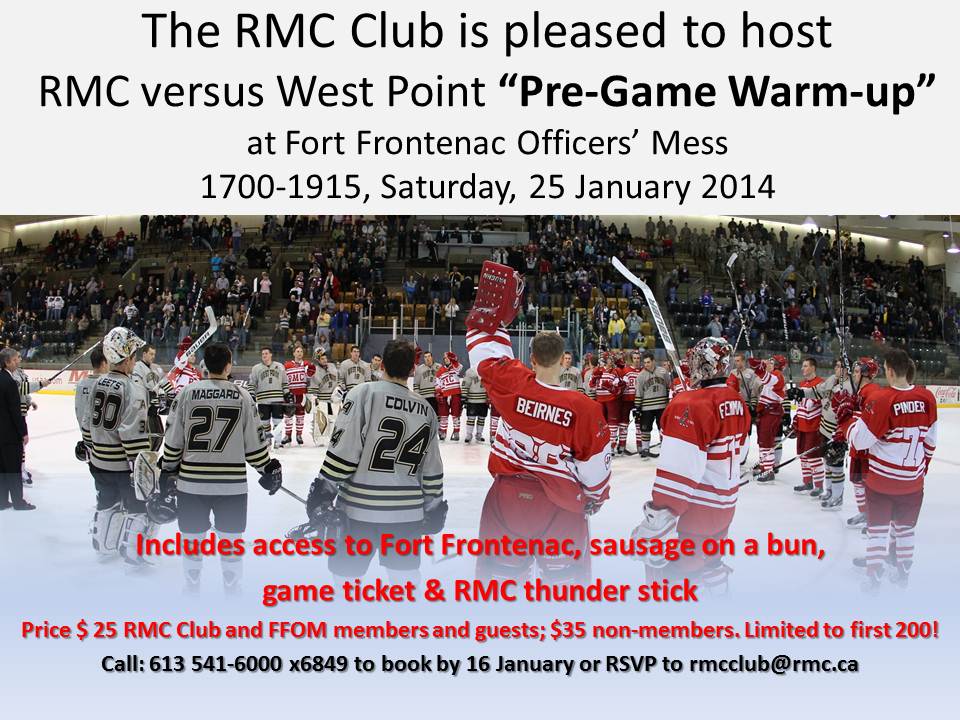 xxx

__________________________
Recent Results:

 

Volleyball (M)

January 10  Waterloo 3 @ RMC 0 Summary


January 11  Guelph 3  @ RMC 0  – Summary


Volleyball (W)

January 10  Waterloo 2 @ RMC 3  Summary


January 11  Guelph 3 @ RMC 0 –  Summary


Hockey (M)

January 10,  UOIT 2 @ RMC 4 Summary


January 11,  RMC 1  @ Carleton 7 Summary


Upcoming Games:

Volleyball (M)

Frid – January 17, 8:00 PM RMC v Western @ Alumni Hall

Sat, Jan 18, 8:00 PM RMC v Windsor @ St. Denis Centre

Volleyball (W)

Frid – January 17, 6:00 PM RMC v Western @ Alumni Hall

Sat, Jan 18, 6:00 PM RMC v Windsor @ St. Denis Centre

Hockey (M)

Thu, Jan 16, 7:30 pm RMC @ UOIT

Sat, Jan 18, 7:00 pm RMC @ McGill
RMCC Fencers – Peaking at the Right Time
Congratulations to the RMCC men's sabre team (Alex Whitehead, Justin Conroy and Jon Wilson) who won gold and women's épée (Deanna Gilmore, Kalina Larocque and Victoria McCormick) who took silver on day 1 of the Carleton Invitational this past Saturday in Ottawa.
The highlight of the day was the comeback by men's team captain Alex Whitehead, who erased a 40-31 deficit to beat Carleton 45-44 in the semi-final.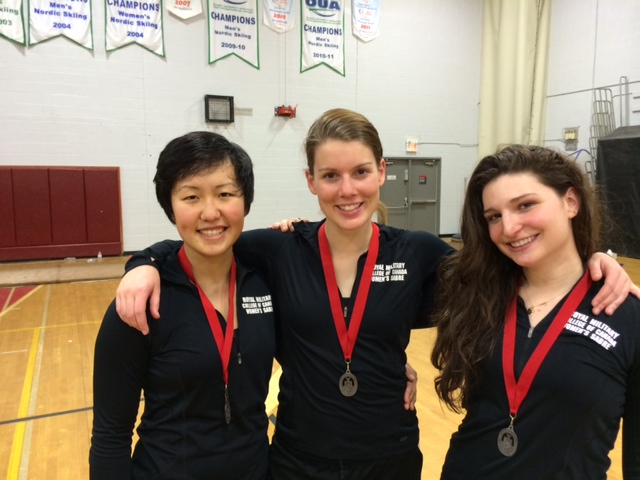 The women's sabre team of Sarah Staples, Marion Agier and Julie Cho, won the silver medal Sunday at the Carleton Invitational. Men's épée and women's foil just missed the medals and finished 4th.
The positive results: gold by men's sabre and silver by women's épée, the teams are looking good as they go into their final weeks of preparation for OUA Championships.