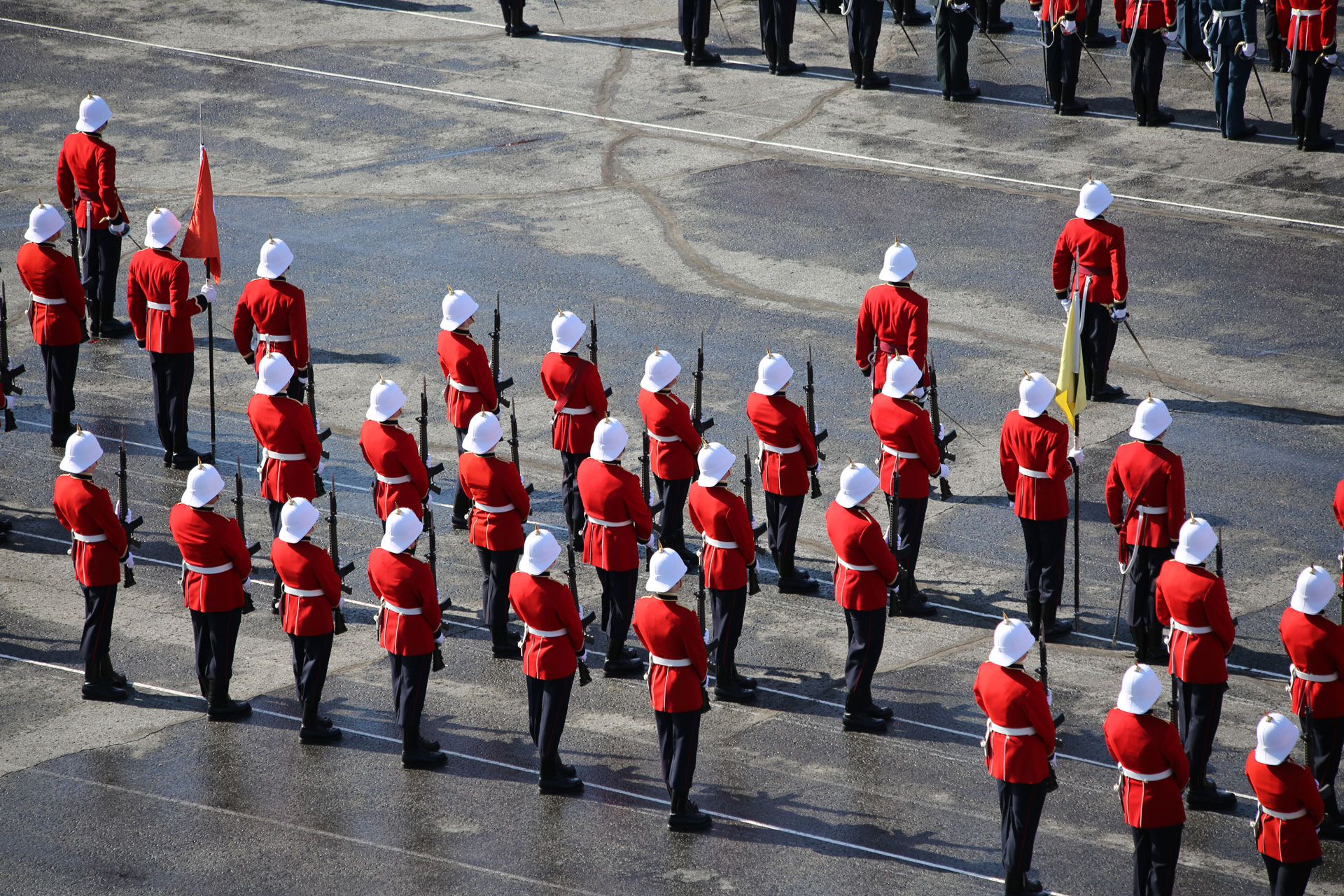 Sunday – Arch Parade
By: WJO  Photos by 25275 Julia Anderson
Weather wise this may have been the wettest Sunday morning Reunion weekend parade in over 20 years.  Constant wet weather often brings out a snarky side of people – even more likely, if, you combine it with the two words – on parade.
Most years it is a struggle to round up all the ex cadets, form them up on the parade square and ensure they reach the Arch on time which is about 1055 hrs.  Often times we do make it at the scheduled hour, however, last year we were more than five minutes late and quite frankly this tardiness took away from the solemnity of the occasion.
This year with the new Club president, 16412 Gord Clarke (RMC 1989) leading the way and 3918 Al Roberts (RMC 1957) doing his part as Adjutant, Old Brigade a very wet but sharply turned-out contingent of ex cadets comprised mostly of  classes from 1954 to 2004 were about 10 minutes or so early.
The route was changed and included an "eyes right" at the newly constructed (thanks to the Class of 1963) Wall of Honour.  H17417 The Honourable John Matheson took the salute.   8457 Reverend Paul Robinson (RMC 1971) presided at the Arch service.  2612 Michael Webber (RMC 1937) took the salute on the return from the Arch.
Special mention must be paid to 23988 Gino Bruni (RMC 2008); 24359  Steve Paish (RMC 2009); & 25247 Kenneth Eady (RMC 2012) a trio who  volunteered their time to pick-up & return; host before, during and after the ceremony both John Matheson & Michael Webber. Both these elderly gentlemen received personal, individual care one usually only sees between a grandfather and his grandson.  Very touching and speaks volume of  the value system of these three young men.