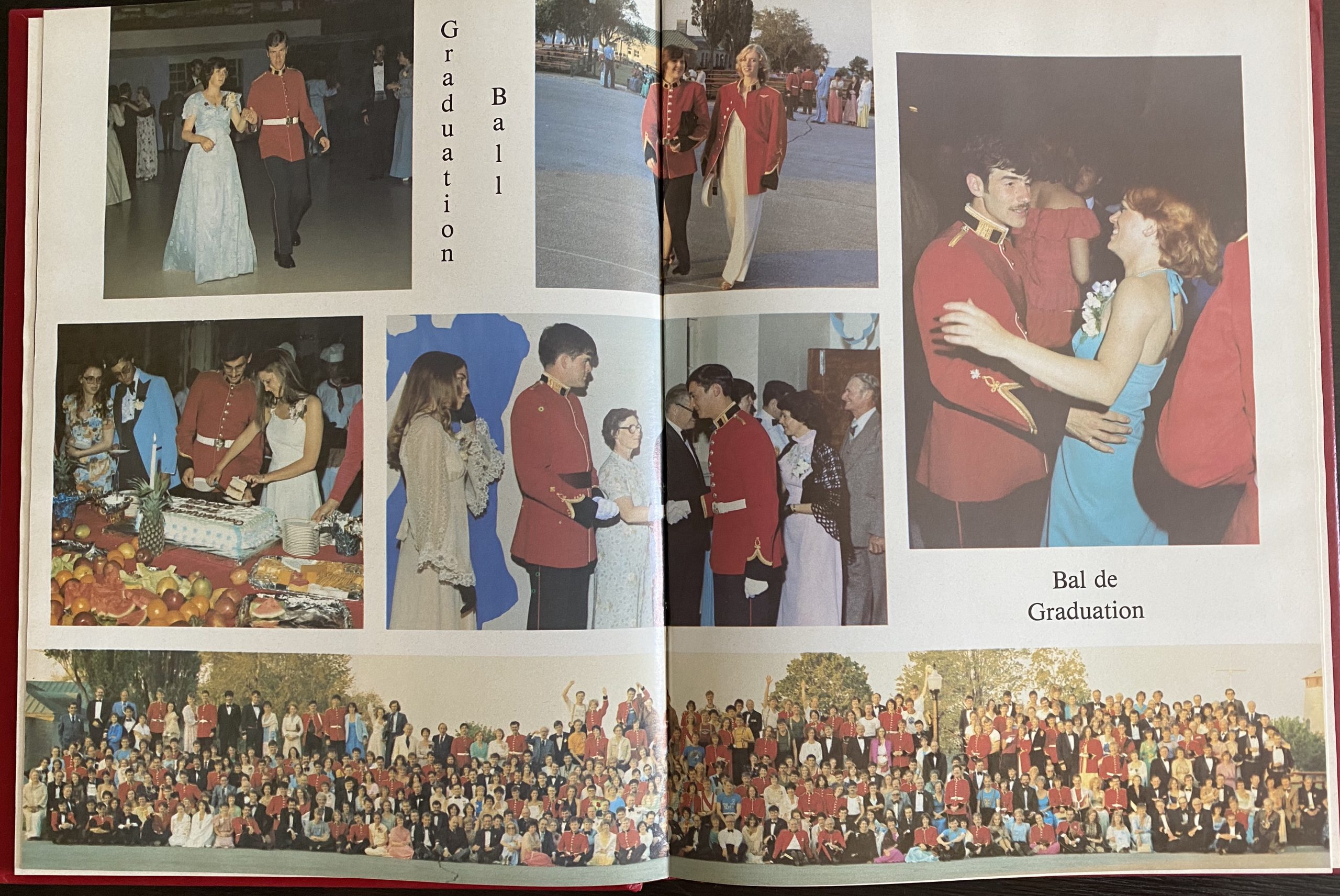 Dear Members of the Graduating Class of 2022,
So close to the finish line and you have lost four of your buds. This is a tough row to hoe by any measure, one made even more challenging as you confront the loss of your comrades in concert with the excitement and joy of graduation and career beginnings.
This is the first loss for your Class, but it will not be the last. Moreover, you will have losses under your command throughout your military careers. Following graduation and convocation, take some time to sit down and carefully read the poignant, time-honoured words of your Commission scroll. Under the Seal of the Privy Council of Canada, your Commission scroll is a Statutory Instrument in law prescribing your fundamental job description as an officer. The wording has only changed slightly over many generations and reading between the lines it requires one to deal with loss and sacrifice, as one entrusted with the lives over whom you will be given lawful authority to command.
No other RMC Class that I am aware of has lost four of its best in a single incident just before graduation. With none having faced a similar circumstance, feeling adequately qualified to offer advice is difficult. That said, the stages of grieving are important to your wellbeing. Familiarize yourselves with these stages, worked together in getting through the hard parts to come, and do not be afraid to seek professional help if you need it. Right now, you are with those who will remain your closest and most trusted friends for the rest of your life. Take good care of one another.
Congratulations on all your achievements and best wishes in all your future endeavours.
Truth, Duty, Valour,
Major (Ret'd) 12535 & G1585 John R. Fisher, MStJ, CD, RCEME
RMC, Class of 1980
---
To the class of 2022
Every year in May, I find myself remembering the last few weeks of College life. Exams finished. The anxiety of awaiting confirmation that we'd passed all the courses, mixed with the exhilaration born of having succeeded after four or five years of incredibly hard work.
Even 42 years later, I still remember clearly the happy communication with family flying in from Cold Lake, Alberta, confirming the last accommodation details. I remember the anticipation of seeing everyone, as well as the excitement as I thought of my Wings training course coming up in Moose Jaw, Saskatchewan, where I'd be flying the mighty Tutor jet trainer.
The world was so full of joy, hope, and anticipation at that point. The sun was warming the air, and runs through Kingston in May were that much less painful, because my mind focused on how everything was coming up roses in my life.
So, as I thought of that time again this year, I was horrified to hear that four Cadets had died in a tragic occurrence. I immediately thought of how this would throw a shadow on the graduation preparation, and especially how it would devastate the family members who were eagerly anticipating the pomp and ceremony of the parade, and the joy of the evening festivities. For them, it has all been replaced with the unspeakable loss of a loved one.
J'ai aussi eu une pensée pour une des finissantes que j'ai connue au CQFA. Je me suis rappelé de comment elle venait me voir dans mon bureau, pleine de questions au sujet de la vie de pilote militaire. Elle était emballée et anxieuse de bien faire – et le collège militaire était une grosse étape dans sa jeune carrière. C'est avec beaucoup de soulagement que j'ai reçu sa réponse à mon texte – ce n'était pas moi, je suis correcte.
As the son of a fighter pilot in West Germany, I lived through some anxious days in High School as the news hit – a CF-104 had crashed that day. Speculation followed. Was the pilot alive or dead? Who was it? Those of us whose fathers flew those jets were scared, quiet, and anxious. Even after we got home, with no phones (Germany in the 70s) and with all the pilots confined to base until the family was informed, we had no answers. My mother was holding back tears. Was it her beloved Bill, or one of their close friends? When Dad's car pulled up outside our PMQ, we all cheered and hugged each other, but we still waited anxiously to hear who had died – and were secretly relieved that he had left behind no wife or children. This happened more than once in the 4 years I lived there.
At RMC, in second year, one of our classmates was going home for the weekend, and died in an icy car crash on the 401. We were all affected, and some of us attended the funeral, dressed in our number 4s. I remember looking at his family, not being able to meet their eyes, but I knew that our presence showed them that their Tom would not be forgotten by his classmates.
Later, as I flew Tutors, CF-5s, and CF-18s, I experienced the loss of some very close friends. The first was a classmate who had just started instructing on the Musketeer in Portage. He had taken two OJT Officer Cadets up for a Friday afternoon flight, while a few of us in Portage who were taking the Tutor instructor's course had gone to Winnipeg to see a movie. The next morning, the flags were at half mast, and I jokingly asked at breakfast in the Mess which politician had kicked the bucket. Stunned stares – then they told me that Claude Cormier had died.
I felt incredulous, then wanted to know how and why it had happened. The next few days were a blur, as his family and fiancée showed up, and I was a pall-bearer at the funeral. Now, when I look back at photos of the Moose Jaw graduation Crud tournament and see Claude smiling, with his arms around a couple buddies, I smile sadly. I relived great memories of happy times with him (cooking pancakes with motorcycle helmets on, because the pan would spit out bits of non-slip coating as it heated up), going to the bar, studying our checklists… All of this suddenly snuffed out as he died doing what he loved most.
When I was selected to be a fighter pilot, my father was my supervisor, both of us instructing on the Tutor. He sat me down, and said 'Don't try to beat the low-flying record – it can only be tied, and your mother would never forgive you.' That was his way of saying 'be careful.'
Ours is a dangerous profession, where training accidents, or wartime actions, can lead to death or severe injuries. With the resilience and surety of youth, we all thought it could never happen to us, and seeing classmates and friends dying far too young hits hard.
With the benefit of many years of experience, having lost far too many friends and colleagues over the years, I have made peace with it all. I am convinced that those young, full-of-life people are looking down on us, and telling us to live our lives to the fullest. Follow our dreams. Cherish their memory, but don't stop living.
As you approach your graduation day, focus on the positive. Hug your loved ones. Do your best to live your life to the fullest. Hopefully, when you're taking your last breath, very old, surrounded by those dearest to you, there will be no regrets.
The friends you made as you went through the College years will remain your friends for life. Nobody else can understand the bond you have, but we all know. Honour the memory of your fallen classmates, and promise them that you will forge onward, realizing all of your potential. Graduation is just the first step in the rest of your career, yours to shape as you desire.
Maj (Ret'd) Dan McWilliams
12584, Class of 1980
---
This loss of classmates is tough and their memories will be with you for a lifetime.  Take some solace in this difficult time by acknowedging the pain and seeking to gain strength from the memories of past shared experiences!
We as ex-cadets  share your loss and recall our own dark times.  Over 45 years ago, I recall losing a second year due to a tragic scuba diving accident. I seek to honour his life by still remembering him today.   A cadet with a very close friendship to the deceased wanted to leave the Canadian Armed Forces. The pain was too great.  With the assistance of fellow cadets and  gathering inner resilience he overcame!  He continued and had a distinguished career serving Canada with honour and excellence.
Remember them always. Take courage. Be strong.
12686 Rocco Liscio
---