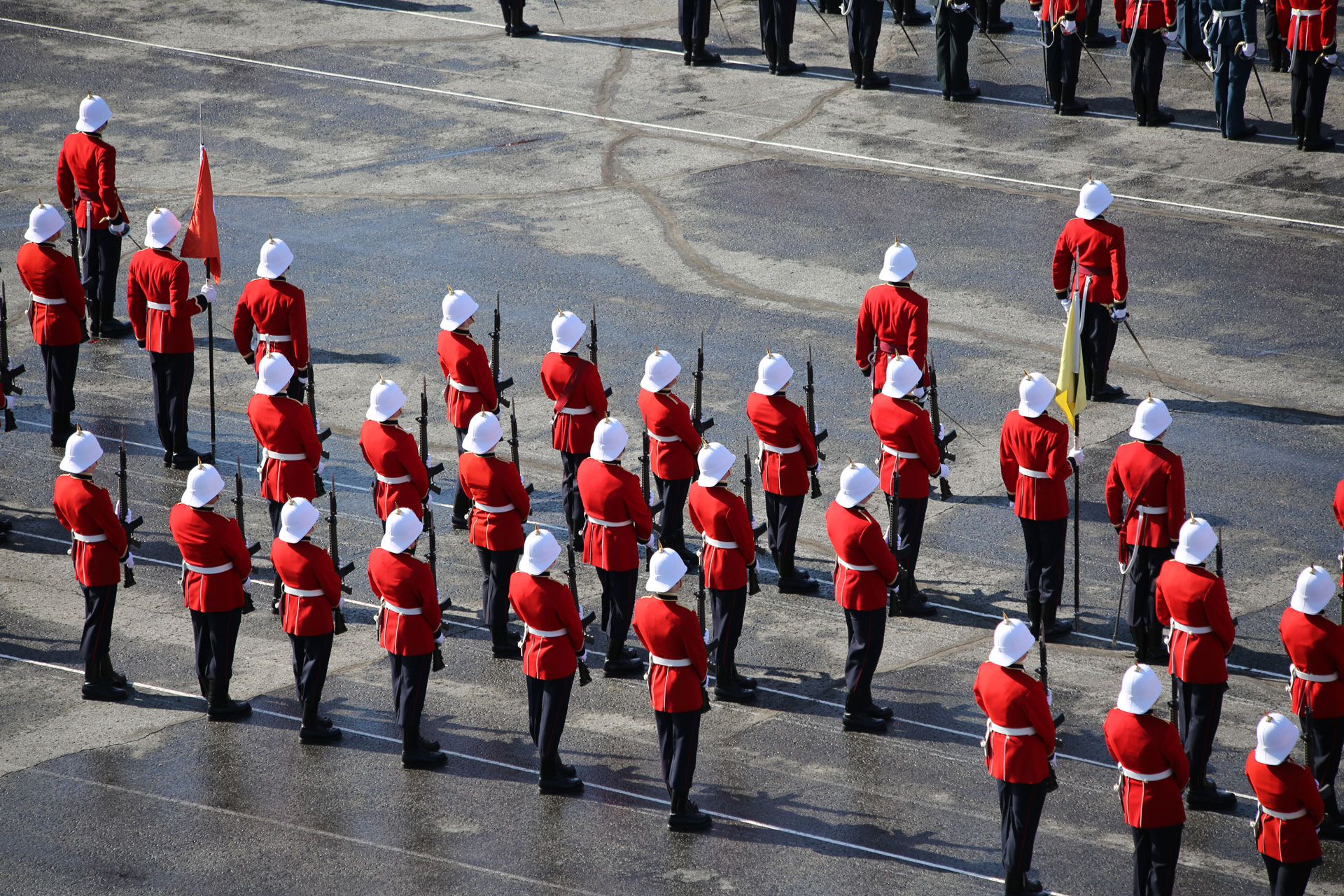 This article was researched by

E3161 Victoria Edwards

. The source was last updated in 2006 which was prior to the reopening of RMCSJ . Consequently, the article refers to policy at RMC in Kingston. As far as we know most of the points mentioned are still valid today at both colleges.
Question: How are the Entrance criteria for men and women to Military Academies? Can Candidates be married, have children, or be pregnant?
CANADA: Officer-cadets attend the Canada's Royal Military College (RMC) under one of three plans: Regular Officer Training Plan (ROTP) This is the group that makes up the majority of cadets. The basic requirement is they have graduated from high school;
– Reserve Officer Training Plan (RETP) This is a much smaller group and cadets in this plan pay their way through college and commit to serving in the Primary reserves after graduate
-University training Plan for Non-Commissioned Members (UTPNCM). Members of this group were non-commissioned members who applied to become officers.
2. Married cadets are not precluded from attending RMC. However, all cadets are required to live on- campus during Recruit camp (approximately six weeks, ends first weekend in October). After that, married cadets may request to move off-campus and living on the economy with their families. This applies equally to cadets who are married or who are living in a pre-existing common-law relationship. Cadets may also get married while at RMC at which point can also move off-campus. Cadets who enter into a common-law relationship while at RMC may apply to move off campus following the end of first year
3. The following is an extract from the Cadet Instructions Manual (CADWINS).
– LIVING OUT POLICY. A cadet who is married or who already has common law status may be authorized by his or her Division Commander to live out. Cadets living out have the option of ceasing payment of rations, and if so, may purchase meal tickets for the mess on a meal-by-meal basis. Payment of quarters will be ceased, as a room will not be provided at RMC/CMR. Access will be given to a locker at no cost. Cadets authorized to live out are still responsible for completing all assigned duties IAW the daily schedule and are not precluded from holding bar appointments.
* Cadets seeking to establish common law status may be authorized by his or her Division Commander to rent civilian accommodations. These cadets have the option of ceasing payment of rations, and if so, may purchase meal tickets for the mess on a meal-by-meal basis. As these cadets are not considered to be "living out" they will be required to maintain and pay for quarters at RMC/CMR. Cadets authorized to rent civilian accommodations are still responsible for completing all assigned duties IAW the daily schedule. They are also subject to CADWINS with regard to the number of After Duty Passes (ADP) they are entitled to take per month. Cadets wishing to rent civilian accommodations in an attempt to gain common law status should contact CPSS for information on CF regulations regarding common law status. Provincial and federal regulations regarding the granting of common law status should also be consulted.
* Cadets wishing to live out or to rent civilian accommodations for the sake of living out will not be approved. If there are special circumstances concerning a request to live out/rent civilian accommodations, each case will be examined on individual basis and must be approved by the DDCdts.
In regards to pregnancy policies, there are separate policies for the three individual entry plans, however, there are few differences. These policies (CFAO 9-12, CFAO 9-13, & CFAO 9-49) can be found on the DWAN by clicking here.
5. An officer cadet who becomes pregnant may either apply for release or she may continue to serve. If a pregnant officer cadet wishes to continue to serve:
1. she shall be employed on duties commensurate with her condition when in the opinion of the Medical Officer (MO) or attending physician, she is unable to continue with other than the academic aspects of the programme;
2. she shall, notwithstanding her entitlement to maternity leave, be encouraged to continue with the academic programme until such time as the MO or attending physician certifies that she is unable to do so, at which time she shall be granted maternity leave;
3. she may, if attending RMC, request a transfer to a different academic institution. Such a transfer will be authorized only on the recommendation of the commandant and with the approval of NDHQ/DPCO, subject to acceptance of the officer cadet by the gaining academic institution; and
4. if she is unable to complete her final examinations due to maternity leave, or has ceased duty, the award of an aegrotat standing, or the granting of deferred examinations or supplementals shall be in accordance with the academic regulations of the institute that she is attending.
6. An officer cadet who has a baby and who has successfully completed her academic year may:
1. request voluntary release
2. request transfer to full-time service or be ordered to full-time service;
3. provided she wishes to do so, and with the concurrence of the MO and
4. on the recommendation of the commandant, return to commence the following academic year; or
5.subsequent to the completion of maternity leave, and on the recommendation of the commandant, she may request additional Leave Without Pay of up to one year at the end of which she must return to duty or apply for transfer to full-time service, or apply for release
7.An officer cadet who has failed an academic year where the failure is directly attributable to pregnancy or the granting of maternity leave, and who is recommended by the commandant to repeat the year, may be authorized by NDHQ to do so at public expense.
GREECE: Currently it raised an issue concerning some entrance criteria (for men and women) in the Greek Military Academies.
Candidates:
-Should not be married
-Should not have children
-Should not be pregnant
Actually these preconditions apply since the foundation of all Military Academies and seem quite logical for the army hierarchy, however, some governmental authorities through some journalists brought up these issues supporting that those restrictions are against people's democratic rights. The duration of studies is 4 years. To enter the academy there are several regulations and preconditions. Among these are those I mentioned in my previous e-mail (the candidates should not be married, have children, be pregnant or get pregnant during their studies). There are age limits as well: they are not allowed to enter the academies if they are above the age of 21. Cadets after their entrance in the academies have the obligation to be accommodated in the academy, to share their room with other cadets, to follow a very strict program etc. They are allowed to leave the academy only during weekends, national days, Christmas, Easter, and summer. They must participate in hard physical tests, military operations, etc. Under those circumstances we, who serve in the military forces, think that it would be quite difficult and unrealistic for somebody to have family, children or get pregnant during his studies in a military academy.
ITALY: In Italian Armed Forces there is no restriction on the marital status or about family condition (i.e. the presence of children).
Pregnant women may be admitted as candidates, but it is necessary that the pregnancy status ends up before the completion of the selection phase. In this latter case the candidate has the right to be screened with a "stand alone" procedure.
NORWAY: Norway will never raise this kind of criteria because of human rights and this is very disqualified for the woman in Norwegian force.
POLAND: I am writing in connection with your question regarding criteria of recruitment to the military school and academies. In Poland candidates can be married and can have children but women can not be pregnant. The justification is that they will not able to take part in a physical training and to face physical effort.
PORTUGAL: I am pleased to tell you concerning entrance criteria (for men and women) in the Portuguese Military Academies that candidates should not be married to enter in the Military Academy (Army) and in the Air Force Academy; the Naval School doesn't have this entrance criteria. However this question has never been raised.
SPAIN: In relation to the question asked by the Greek delegation concerning some entrance criteria in the Greek Military Academies, I am glad to inform you that according the Spanish regulation, to be or not to be married, to have or not to have children, to be or not to be pregnant are not criteria to take into consideration to be a candidate to the Spanish Military Academies.
UNITED KINGDOM: The UK does not stop anyone in the three categories mentioned from starting military training because we would be seen to be discriminating. Neither do we conduct compulsory pregnancy tests on arrival at training establishments.
However, we do stress to female recruits that new entry training is hard work, tiring and very physical. Therefore if someone knows that they are, or believes that they may be, pregnant, they should seriously consider whether they want to start the training regime.
Click here to be taken to the article's source.