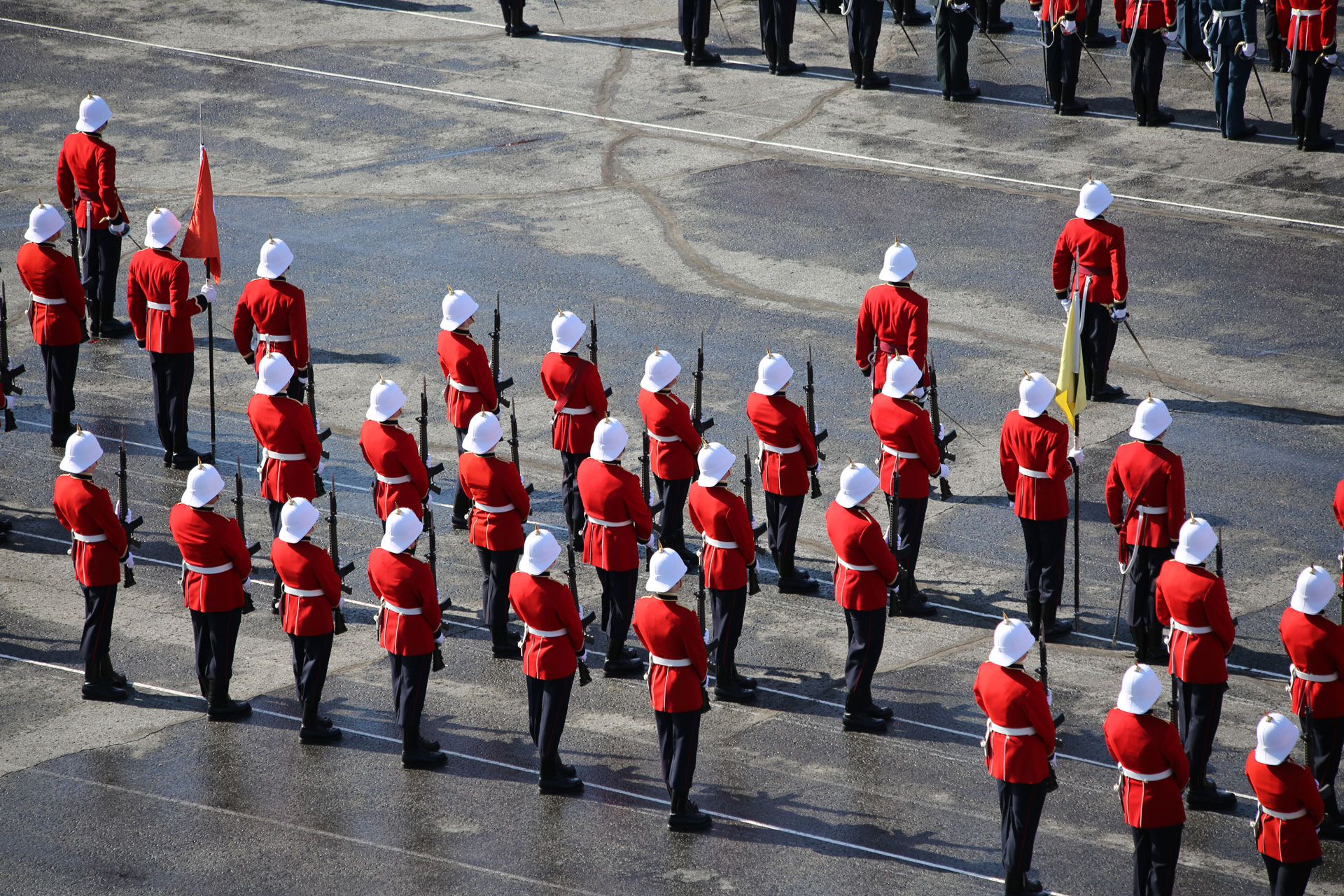 Ascending Aconcagua:
RMC Cadet Chronicles Team's Journey to the Summit
"You make us all proud and you cut an inspirational path. Congratulations on your personal victories. No doubt you have learned much "know-how" through this endeavour not the least of which is making and supporting tough decisions that are necessary but go against the personal drive for achievement. Well done!"
DCdts
The following account from 25881 OCdt Anthony Matlock, Expedition Leader, follows the upward trek and trials to the top of the Western Hemisphere over Christmas leave, with team members 25730 OCdt Oliver Smith and 25388 OCdt Joseph Afonso in the first, of what is expected to be, many new adventures.
**All images in this article can be clicked on for a full-screen version.

Sentinel of Stone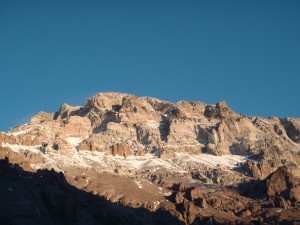 The 'Sentinel of Stone' as view from the west at Plaza de Mulas base camp.
We knew that climbing Mount Aconcagua would be hard. And we had no misconceptions about our low skill level, notwithstanding three months of rigorous rucksack marches, plus some intensive research on mountain climbing.
Still, we were determined to conquer Aconcagua – the so called 'Sentinal of Stone' in the Andes Mountain Range – which had beaten far tougher and more experienced climbers in the past.
This peak attracts hundreds of climbers every year who aim for the summit by traveling in large groups with mules and human 'porters' to share the load.  Our climb would be different. The goal: to scale our way to the summit as a small, self-sufficient team, raise the RMC flag at the top of the Western Hemisphere, and return safely home.
On Our Way
OCdt Matlock, OCdt Afonso and OCdt Smith on Day 1, en route to Confluencia camp (3400m).
With physical training complete, extra leave approved and equipment packed, an abbreviated Christmas left little time for family. The expedition team departed Canada on 25 December 2010 for South America's contribution to the world's famous 'Seven Summits': Mount Aconcagua, an intimidating piece of jagged rock and ice, towering 6962 meters high.
Entering the summer heat of Santiago de Chile and enjoying a scenic, daylong border-crossing through the Andes into Argentina was an unusual Christmas vacation. But our high spirits, aspirations and personal investments in the adventure were quickly blunted upon hearing rumours of a Canadian mountaineer's death.
Several climbers die each year on Aconcagua due to accidents on the rocky slopes, exposure to -30° C (-22º F) temperatures, or suffering from internal complications brought on by oxygen deprivation, such as High Altitude Cerebral Edema (HACE). Ascending into the thin air requires careful acclimatization by pacing yourself and climbing up and then slightly down the mountain in daily spurts. This expedition would require safety, smarts and tenacity. It was more than a vacation. It was a mission.
And our mission moved fast.  By day two into our journey we had settled into the Confluencia camp (3400m), completing the first leg of our multi-day approach to Aconcagua. We were also introduced to new routines that would continue on the mountain – including drinking Tang-juice in place of water, candy-bar lunches, altitude-hampered sleep, fading hygiene, squat-toilets and most of all, exposure to the constant cold.
On day three, we awoke to snow. Crawling out of the tent, my eyes adjusted to a nearly naked mountaineer bathing himself with handfuls of the white stuff. Our knowledgeable friend and guide, Pollo, explained the snow was unseasonable and he cancelled an acclimatization trek to spare us the misery of soaked clothes so early in the expedition. Instead, OCdt Smith, OCdt Afonso and I waged a snowball battle against a camera crew from Japan and some camp cooking staff. RMC was victorious.
The fun was temporary, however, and the next day our guide Pollo lead us on an eight-hour, 21km trek through the Horcones river valley – with a final hour over precariously steep terrain – to the base camp known as Plaza de Mulas (4350m), a lively village of hard shell tents. Arriving exhausted and experiencing the first real bout of altitude sickness, both Oliver and I succumbed to nausea.
Ups and Downs
OCdt Smith (standing) and OCdt Afonso take a rest en route to Plaza de Mulas base camp (4350m).
The next day, New Year's Eve day, was highlighted by a doctor's visit. Climbers lined up to be medically inspected and oxygen saturation in the blood is carefully measured. OCdt Smith and OCdt Afonso were given the go ahead to continue climbing. My own situation differed. With oxygen saturation level in the mid-sixties, I was only given a slight pass.  Then, upon further inspection, the doctor believed me to have a phalanx infection and fever. She gave me a packet of anti-biotics and some verbal instructions that, frankly, were lost in translation. I took a pill before each meal that day, quickly finishing the packet.  Come New Year's morning and the doctor's horror, the prescription was gone.  She had actually prescribed one pill a day for four days.
While the doctor kept me back for medical observation, the expedition had to continue.  OCdt Smith and OCdt Afonso loaded their packs and slogged through a day-long climb to Camp 1, also known as Plaza Canadá (5050m), to drop off supplies that would be needed later. Meantime, the doctor confirmed that any infection had vanished and my oxygen saturation was normal. I was on the mend, but, that evening, Oliver suffered another bout of nausea.
The next day, and still within our overall expedition itinerary, the three of us loaded our packs with supplies and committed to a grueling uphill climb to Camp 2, called "Nedo de Condores" (5560m). Halfway through this daylong trek, the weather turned ugly and a vicious storm slowed our movement forward, as if a signal from Aconcagua of difficult times ahead.
Upon reaching the camp, we were exhausted.  But this day was far from over. As part of the acclimatization process, we dropped our supplies and retraced our steps back down the mountain to the Plaza de Mulas base camp – all part of the ups and downs of a mountaineer.
Following a day of rest, our group underwent another medical check and was deemed good to go. Hoping to increase our chances to reach the summit, our guide Pollo asked if we wanted porters to share our load and ease the strenuous climb. We chose to maintain our self-sufficiency and, contrary to some tourist-style climbers, we saddled our packs with everything required – food provisions, pots & pans, tents, sleeping bags and the ice axes we would soon learn to trust with our lives.
Calm Before the Storm
OCdt Matlock fixes his boot while on route to Camp 2, Plaza Nedo de Condores (5560m).
With our bodies acclimating and the forward staging of supplies well in hand, we were optimistic of success. We left Plaza de Mulas on January 5th, 2011 with our mission much more in focus. The past months of preparations and recent days of nausea, and acclimatization were giving way.  In fact, the group trekked back to Plaza Canadá with relative ease.
We feasted on hamburger meat plus instant soup, instant eggs and instant potatoes. Light winds made learning how to defecate into small bags (a law of the land) go off without major incident.
The next morning we arose at sunrise, loaded our gear and moved out. Just like the previous day's upward hike, this climb to our next destination, Plaza Nedo de Condores (5560m), was long, but flowed smooth enough. We climbed in fifty minute intervals, followed by ten minutes of rest, for nearly six hours. Our packs on this leg of the journey averaged fifty pounds each, but thinning air and growing cold started to add a new psychological burden.
That night, Pollo shared word of a severe storm front approaching in the days ahead that may well jeopardize our bid for the summit. Following some group discussions, we elected to keep climbing.
In the morning, we dawned our packs and ascended more rockier slopes into thinner air, reaching Camp 3, also known as Plaza Colera (5970m). We dropped off our supplies at this last plateau before the summit, then returned back down to Plaza Nedo for some food and broken sleep. Our prospects for the peak were now within 48 hours.
Come morning light, came another uphill trek – but this time into extremely high winds.  Seven hours later, we arrived into Plaza Colera where we scrambled to set up tents in the deterieratoring weather. With just one day left to the top, our team was tired, dinner went largely uneaten and sleep was intermittent.
The combination of high altitude and high anticipation seemed to slow time. And judging by the wind battered tents and plunging temperature, we knew there was one shot for the top before the full force of the mountain storm arrived.
The Summit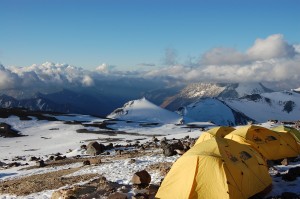 The western view from Plaza Nedo de Condores (5560m).
We woke at 0400. An early morning start is required if you hope to reach the top in sunlight and return safely to camp before sunset. In the morning darkness and bitter cold we strapped crampons onto our mountain boots, loaded our packs with Tang-juice and hot water, and took ice axes in hand.
With the RMC flag in my pack and the group starting up, we heard our guide Pollo ask, "Are you ready for the hardest day of your life?"
We climbed for hours. As the sun slowly rose, Aconcagua changed from a moonscape with dark, rocky rubble to a white Antarctic icescape. The temperature dived lower. The air grew thinner. Each breath became more difficult.
By noon we had been climbing for seven hours when we reached an important threshold known as the 'Traverse' – a thin, multi-kilometer semi-circular path that hugs the mountain's contours with rock and ice on one side and steep 3,000 meter slopes on the other, plunging all the way down to base camp. Using our ice axes as crutches for extra support, we carefully navigated along the Traverse and came upon the steepest grade yet: a final rugged climb to the top.
At this point, the winds of fortune changed and Aconcagua's full storm arrived with violent, blowing snow obscuring vision through our already-fogged goggles. The combination of the climb, bone chilling winds and high altitude was quickly zapping us of energy.
OCdt Afonso, who was falling behind, came to the attention of our guide Pollo, who feared for his health and safety. With the summit so near, but extreme cold to the point of frostbite, the mountain robbed Afonso of his chance to continue. So now, with Pollo guiding OCdt Afonso on a course back down, OCdt Smith and I continued up towards the goal.
With limited strength, a disappearing foot path and no more than five-meters of visibility, we summoned our final reserves of energy and began crawling on hands and knees up the steep rocky incline and overtop jagged barriers.
Through the blowing snow emerged the faint image of a simple cross. The summit. At  6962 metres high, we had made  it. This was the top of the Western Hemisphere. It felt exhilarating and exhausting, but not yet complete.
I retrieved the RMC flag from my pack as OCdt Smith gathered his camera. We prepared to record the moment, when another group of climbers succeeded in arriving at the summit. Seizing the opportunity, we handed the camera to another mountaineer. OCdt Smith and I raised the colours behind the summit's cross. With our feet pinning down the bottom corners of the RMC flag against the howling wind, the photo was snapped.
Mission accomplished.
OCdt Smith (left) and OCdt Matlock (right) raise the RMC flag at the summit of Mount Aconcagua (6962m).
Experts advise only a limited time at the top of Aconcagua due the extreme cold and thin air. Our pause to raise the flag and savour the moment had run out that clock and, as we turned to leave, we now faced another four or more hours of tricky descent. OCdt Smith and I set back down in the blowing snow and a blur of physical and mental fatigue.
Step by step, we carefully made our way over the rock barrier, down the steep and frozen slope, along the Traverse and eventually down to Camp Colera where we reunited with OCdt Afonso. Finally able to drop our packs and collapse into our sleeping bags, OCdt Smith and I approached our tent, only to find the door flap blown wide open and a pile of snow waiting inside. Pollo's words rang true: this was the hardest days of our lives.
Coming Home
We spent the next week descending back into the warmth of Mendoza at the base of Aconcagua, then recuperating in the beautiful surroundings of the Argentine city. Before I personally returned to RMC on 15 January 2011 to prepare for classes the following Monday, there was a brief opportunity to speak with my mother and father about the expedition.
It was hard to convey the experience in two short hours, just as it was hard to accomplish our objective in a little over two weeks. But in that moment of reflection, I produced a small Christmas gift, promised to my mother. It was a palm-sized rock from the Sentinel of Stone and the top of the Western Hemisphere. I imagined OCdt Smith and OCdt Afonso, in their own unique ways, were sharing similar family moments.
Thank You
The expedition team would like to thank everyone who morally supported us in this journey: DCdt LCol Wigg, Major Bruic, Captain Price, Bill Oliver and our parents and friends. This expedition group can confidently say the conquering of Aconcagua was the most physically and mentally challenging experience we have ever undertaken.
In the wake of this summit success, OCdt Smith and I hope to form an 'RMC Expedition Club', leveraging the many words of encouragement, appropriate private sponsorship and personal funds to embark upon new adventures. We invite discussions on this idea, particularly with officer cadets interested in journeys to the farthest reaches of the Earth and personal endurance.
– 25881 Anthony Matlock, Expedition Leader
Note from Editor:  Ex cadets and other e-Veritas readers are invited to leave a comment on this outstanding accomplishment!