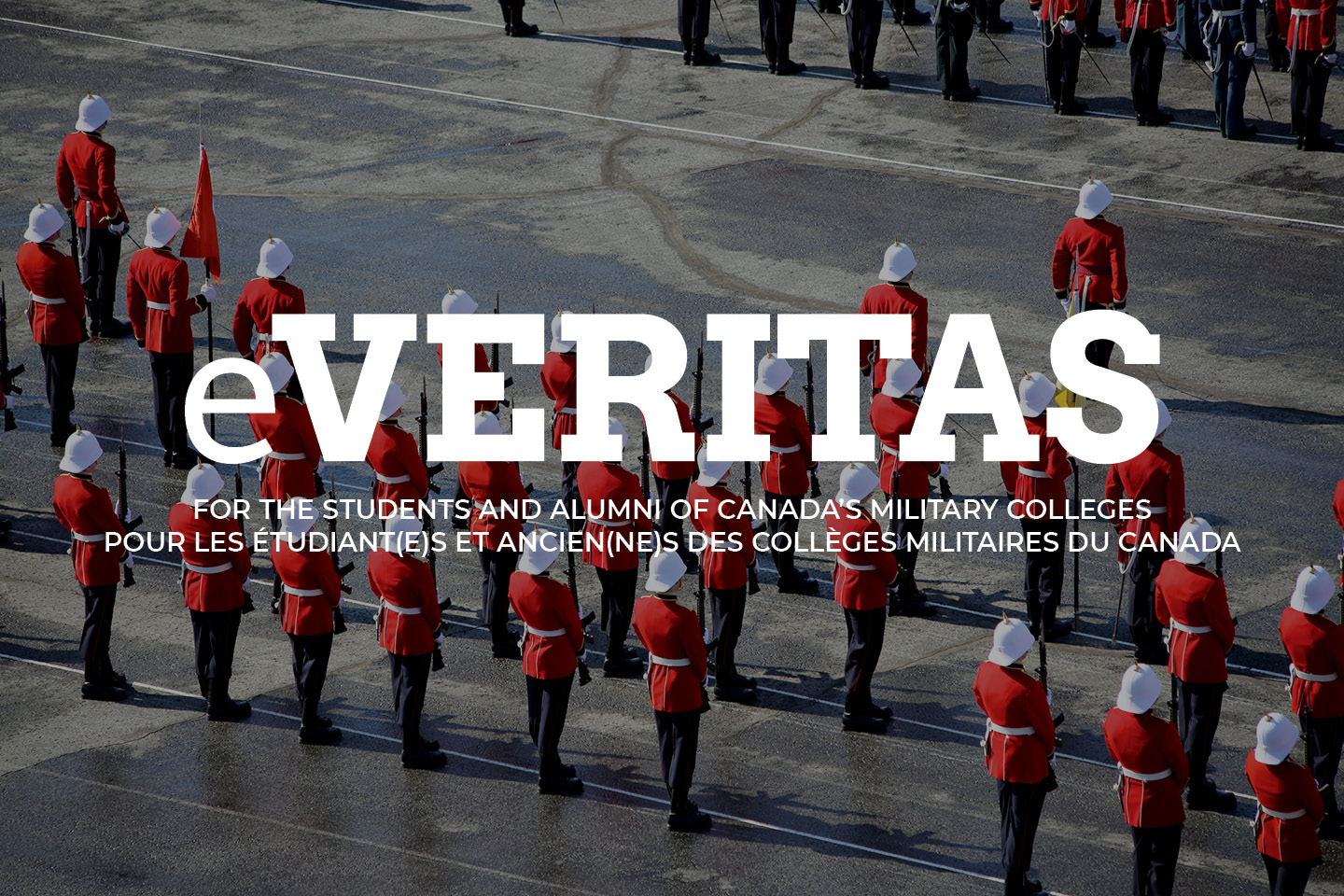 2011/12 Kilimanjaro Expedition
By 25881 OCdt (III) Anthony Matlock, Expedition Leader
This article provides a summary of the RMC Expedition Club's successful expedition to East Africa between 28 December 2011 and 14 January 2012. Additional excerpts from daily journals with greater detail, written by the ten expedition members, will be published in eVeritas over the coming months as part of a series.
Overview
Three months ago, nine members of the RMCC Expedition Club and I juggled academics, duty, and expedition planning in an effort to make the 2011/12 Kilimanjaro Expedition come to fruition.  Now, 14 January 2012, on board our return flight to Canada from Kigali, Rwanda, we can solidly say "mission success."
Reflecting on the past months, the "Kili Team" agrees that what we experienced during the planning and execution phases of the mission has been our most pivotal and memorable education among several components of our officer-training program thus far, including physical robustness, global citizenry, social justice, and conflict management, as well as the many logistical dimensions of time, resource, and human management.
While compiling a summary article on the past three-week expedition is not as daunting as summiting the panoramic heights of snow-capped Kilimanjaro, effectively communicating (concisely and poignantly) our African experiences to the chain of command, family, and friends is an objective I hold as important as the Team-bid to reach the top of Africa – particularly as our mission included educational and humanitarian components.  In this regard, the expedition also saw its ten members tour the grim alleys of Kenya's Kibera slum, honoured as special guests during a Rwandan induction ceremony for the rehabilitation of genocidaires defected from the Congo, and stand aghast in the Nyamata catacombs of the 1994 Genocide.
These experiences have been eye-opening and life-changing – cemented as the most physically intense and psychologically challenging situations many of the Team members have ever faced.  We are humbled to have been granted the means by RMC supporters to forge an expedition, challenge ourselves, and experience international opportunities.  We are also proud to have accomplished the mission as fully planned, with united team members returning safely home to share a wealth of new knowledge and deeper respect for the people of Kenya, Tanzania, and Rwanda.
The Journey
Departure Day, 28 December 2011, saw the Kili Team gather at Pearson International Airport after a week's Christmas leave with family, even though the time off was dominated by last-minute preparations.  Our pan-Canadian team of young men and women converged from Kitchener-Waterloo (myself), Calgary (OCdt Eric Robb), Vancouver (NCdt Brittany Brown), Gatineau (OCdt Stephanie Paquette), Quebec (OCdt Nicolas Metayer), Moncton (OCdt Emily Morgan), Ottawa (OCdt Alexander Kisielius), Markham (OCdt Christopher Lane), Kingston (OCdt Jennifer Allan), and Collingwood (OCdt Taylor Raeburn-Gibson).  With everyone accounted for and kit in hand, it finally settled in – after many months of forward planning and physical training, this mission was a green light.
Landing in Nairobi's Jomo Kenyatta airport, the sights and smells of Africa came rushing back from my earlier travel experiences:  hectic traffic, sweaty handshakes, yellowed eyes, and sights such as roadside food preparation.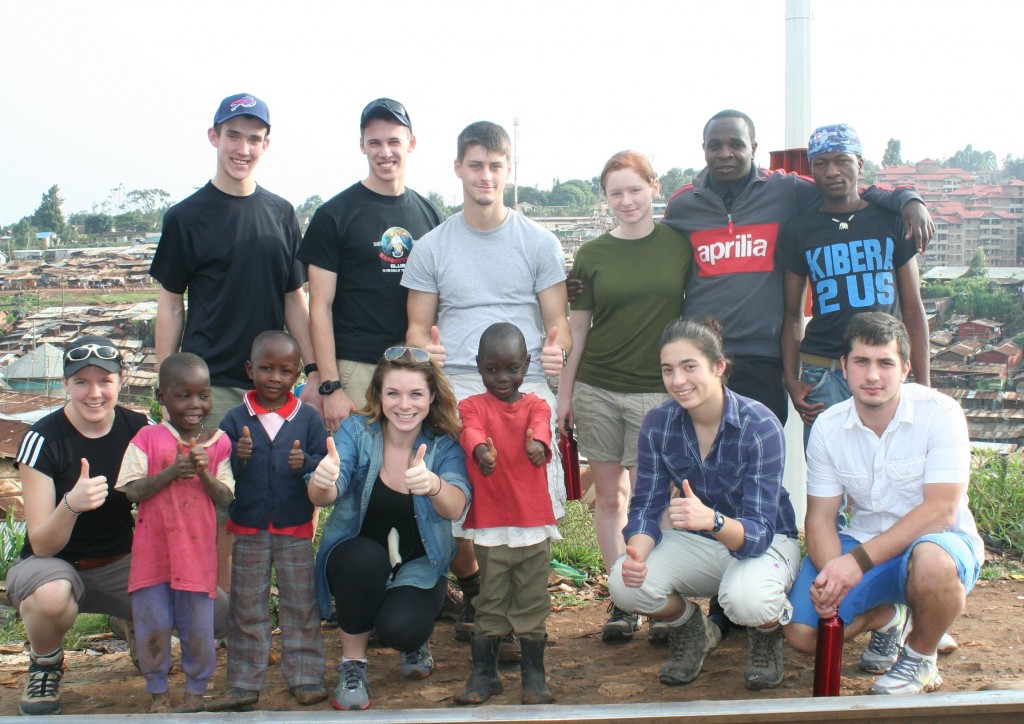 The Team's first order of business upon arriving at the Heron Hotel was linking up with Kibera Tours, a group of charismatic youth from Africa's largest slum.  Literally jumping into the fire, we arrived in the slum – with its garbage and sewage underfoot. What made this experience noteworthy for many of us was the dignified and smart manner in which we were toured.  Our day included visits to an underfunded but highly proactive female HIV education centre, a human-waste-to-methane conversion centre (the smell!), and one of our guide's humble homes.  The sights and smells still with us, the Expedition Team more fully appreciates the complex social system which make Kibera, despite its disadvantages, more or less function.
This next day was an education in Africa's wildlife, with visits to crocodile, giraffe, and elephant sanctuaries.  While this may seem typically "tourist-oriented" at first glance, these excursions offered many fascinating, lesser-known-facts about Africa's vibrant but endangered animal kingdom. That evening, Chris Matlock, an experienced al-Jazeera cameraman based in Africa, kindly hosted the team for a dinner in his home and shared his accumulated knowledge on Kilimanjaro and other travels from across Africa, some of which we would soon be experiencing.
The following day, New Year's Eve, involved a day-long bus transfer from Nairobi via Namanga to Moshi, Tanzania – the base of Mt. Kilimanjaro.  After arriving at Marangu Hotel, our mountain outfitter and lodge, the team enjoyed some last-minute New Year festivities underneath Africa's tallest peak.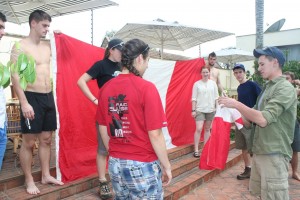 Practicing the summit photo in Nairobi!
En route to Mt. Kilimanjaro.
The following morning we met the outfitter owners, Desmond and Seamus Brice-Bennett, two interesting British brothers born in Tanzania.  Seamus arranged the introduction to our guide for the next seven days, Charles.  Charles – a big, domineering fellow – was not happy.  Our mountain climbing itinerary called for a self-sufficient assent up the hardest, less-traveled route known as "Umbwe," without human porters to share the load or prepare camps and meals.
Charles demanded five porters for the guides' own equipment and security reasons.  On Seamus' advice, we settled on three porters for the guides and shook hands. Our two groups then formally met:  the ten-member Expedition Team and Charles' crew of guides and their supporting porters.  The local crew watched our Kili Team activity with bemused expressions as we hauled our 40-kilo rucks onto a truck and transferred to the entrance of Umbwe for the climb ahead.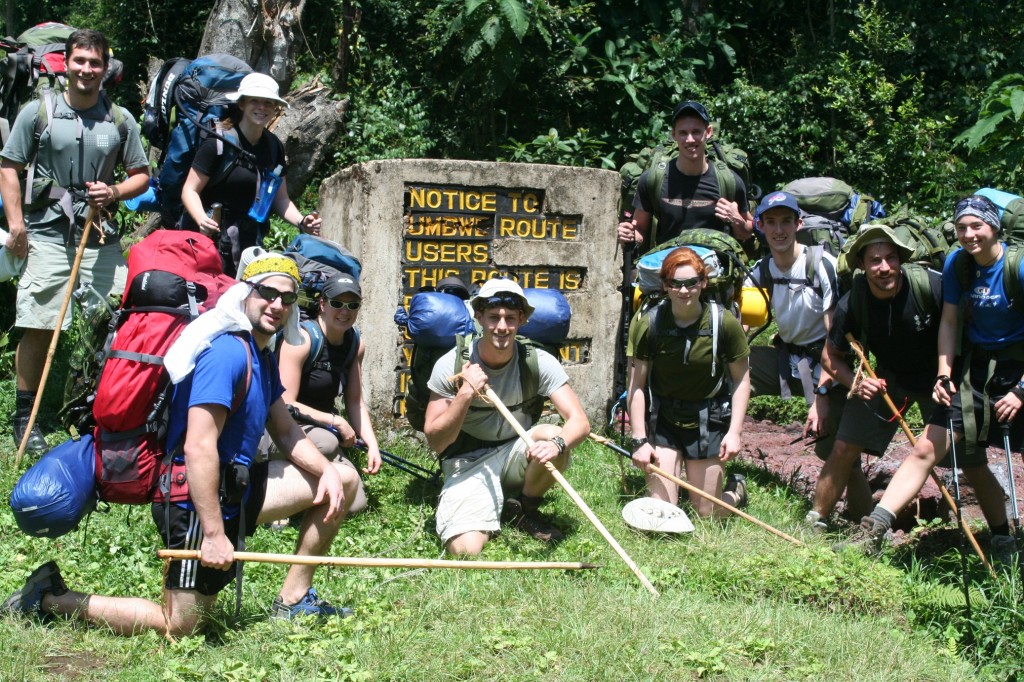 Umbwe Gate — the beginning of the climb.
Our first day of "walking" was grueling.  Modified military ruck sacks carried by four members were already causing some back pain.  Charles' time estimates on our ETA to the first rainforest camp remained at an "hour and a half" over a six-hour period as day crossed into night and the Team negotiated roots and steep steps in the pitch dark of the dense forest.
We arrived at the camp by 2200, set up tents, ate cold rations, and competed for some sleep against noisy monkeys all around us.
The next morning I met with Charles during camp tear-down. Drawing on experience from last year's expedition to the top of Aconcagua, I proposed climbing periods of thirty minutes, followed by five-minute breaks, to which he concurred.  This tactic would prove very useful later into the trek during more psychologically demanding phases of the climb.
We moved upward throughout Day Two, ascending from the Apocalypse Now styled rainforest into areas with low shrubs that provided beautiful views of Kibo and vistas with the plateaus of the mountain.  The team arrived at Baranco Camp (3972m) fully intact and used an hour to enjoy hot rations and set up camp.  While there were no monkey noises to interrupt our sleep on this evening, the altitude and prospect of health issues was on everyone's mind.
The next morning Charles pointed to "the wall," a monstrous cliff set against a rolling river valley.  High along the rock wall, we could see tiny white dots that represented 30-kilo bags of supplies being teetered on the heads of porters as they negotiated the slippery climb.  When our Team approached the wall, we became ever more aware of our self-sufficiency, as we saw some poor porters buckle under the weight of supplies on the dangerous cliff path, even as tourist-climbers passed by with little more than day bags.
After two hours of careful rucking, step-by-step, and some very slow rock climbing, we reached the top of the intimidating cliff. With OCdt Eric Robb, the Deputy Expedition Leader, playing some portable music from his ruck, morale was high and the teeth-grinding demands of the first two climbing days gave way to positive, can-do attitude.  But we didn't get ahead of ourselves.  Mountain climbing is not a sprint.  It is a team activity, and during our nightly "SITREP," I communicated our good fortune to the group, tempered with a note of caution. While none of us had experienced significant nausea or mountain-related health concerns thus far, our team would only be as strong as its member suffering the most difficulty – which at this height on a mountain, can be anyone.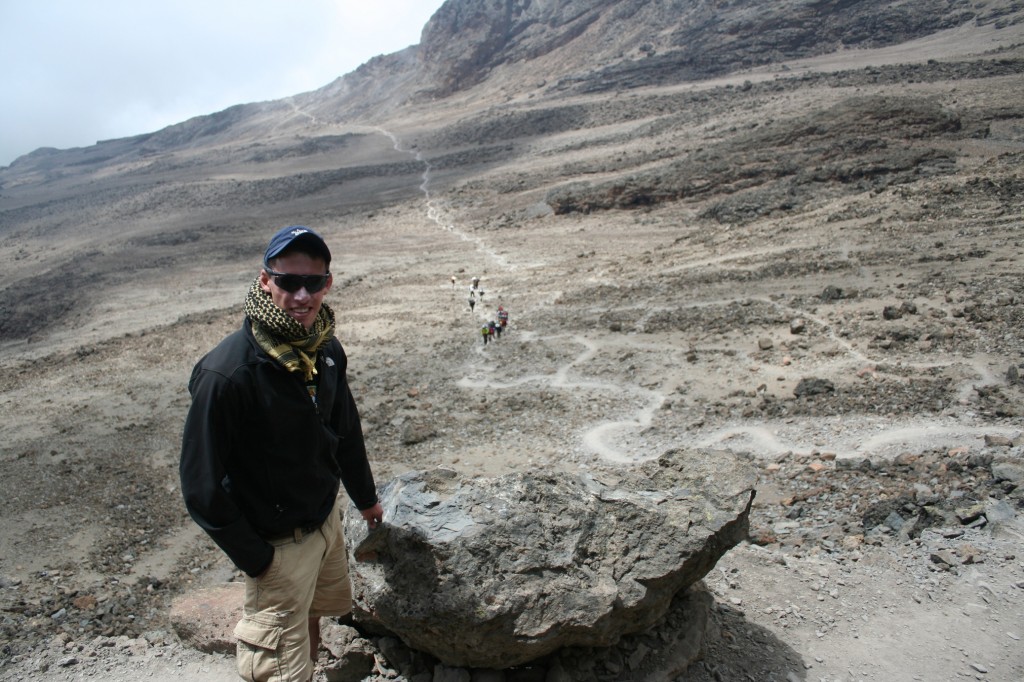 Day Four on Kilimanjaro — OCdt Matlock in foreground and Kili Team in background.
Day Four on Kilimanjaro, we awoke to an African sunrise across the arid, desert-like landscape at Karanga Camp.  The terrain at this point was void of plant-life and limited to volcanic rubble.  Nearing the 4000m mark, some members of the RMC Expedition Team began to feel the altitude – adjusting to short breaths in thinning air as we rucked through another day up the slopes.  In making efficient use of our 30-minute climbing periods followed by a short rest, we followed the "Pole Pole" (Swahili for "slowly") advice until successfully reaching Barafu Camp (4633m), the last stop before the summit.
At this point in time, now the end of Day Four on Kilimanjaro, we had climbed the Umbwe route faster than anyone expected.  Our seven-day itinerary called for the summit on Day Six, but after meeting with the team and collaborating with Charles, we decided to go for the top the very next day.  Doing so would also provide extra time on the mountain to reach the summit if problems occurred.
The Summit
Kibo must be ascended at night for a number of reasons:  the length of summit day necessitates an early start, the frozen scree around the peak melts at daybreak, and the sunrise at the summit is a sight not to be missed.  As such, the Team would only get four hours sleep before setting off into the night.  But the sleep did not come easy given the altitude, stench of latrines, and noise of the wind battered tents.
At 2300, the Expedition Group awoke, stomached chocolate and granola, and loaded special day bags with water.  My pack carried a satellite phone and the same RMCC flag that was raised one year ago atop South America's highest peak, Mt. Aconcagua.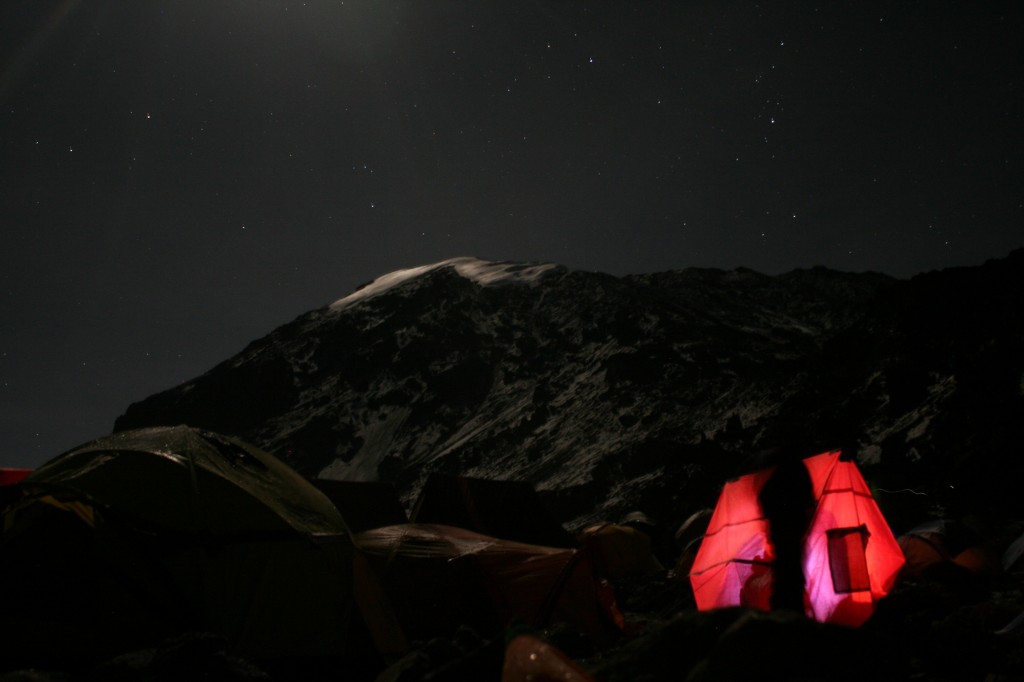 Kibo as seen from Barafu Camp.
The final push to the summit of Aconcagua took place on an icescape-like slope and in a snowstorm.  By contrast, the steep zig-zag slopes of Kilimanjaro began snowless and, in the dark with just some moonlight to illuminate clues of rocky outcrops, the upward trek is dim and murky.  The hour-by-hour, step-by-step climb along frozen camel backs seems endless in the dark, compounded by the monotonous  crunch of scree underfoot and a growing sense of exhaustion.  After four days of hard rucking and rations, no Team member was immune to the fatigue.  And in this darkness, after multiple hours of climbing in the cold, many were no doubt working through the hardest psychological and physical test they had ever faced.
What I recall most are the headlamps that some people wore.  While some tourist-oriented climbers we would pass had proclivity for reducing the team's night-vision with blinding white lights, the overall effect of the many headlamps going up Kibo was beautiful – a thin string of shimmering lights carving its way into the dark.  And looking further up, the specks of light along higher ridgelines seemed to meld into the night sky.  How many of these distant, twinkling points of light were stars, or people?  It was hard to tell.  But while this was becoming a dreamlike space to think about, I reminded myself about our earthbound mission – and the need to reach a location known as Stella Point, along the edge of Kilimajaro's volcanic crater, part way to the summit.
Sunrise meant progress.  By 0600, the horizon split open, with intense orange light above the horizon and the ground beneath regaining colour.  Looking over our shoulders, morning light was breathing a new day across vast tracks of Tanzanian bush and up along Kilimanjaro's sister peak, Mt. Meru.  Vistas such as this are a reward for climbers, and highly motivated the Team after hard slogging through the night.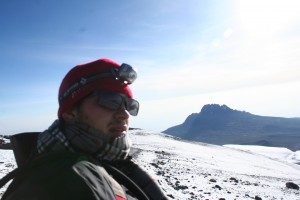 Finally arrived at Stella Point!
In arriving at Stella Point, you see the mountain's retreating snowline above and a vast crater below.  The crater was much bigger than we expected, and lined with glaciers the size of skyscrapers.  After taking in the view, the Team set off once more into thinner air along a snowy stretch for a two hour march.  During this time, the Team was treated by friendly congratulations from an ex-RMC cadet returning down from Uhuru Peak (5885m).  RMC alumni really are everywhere!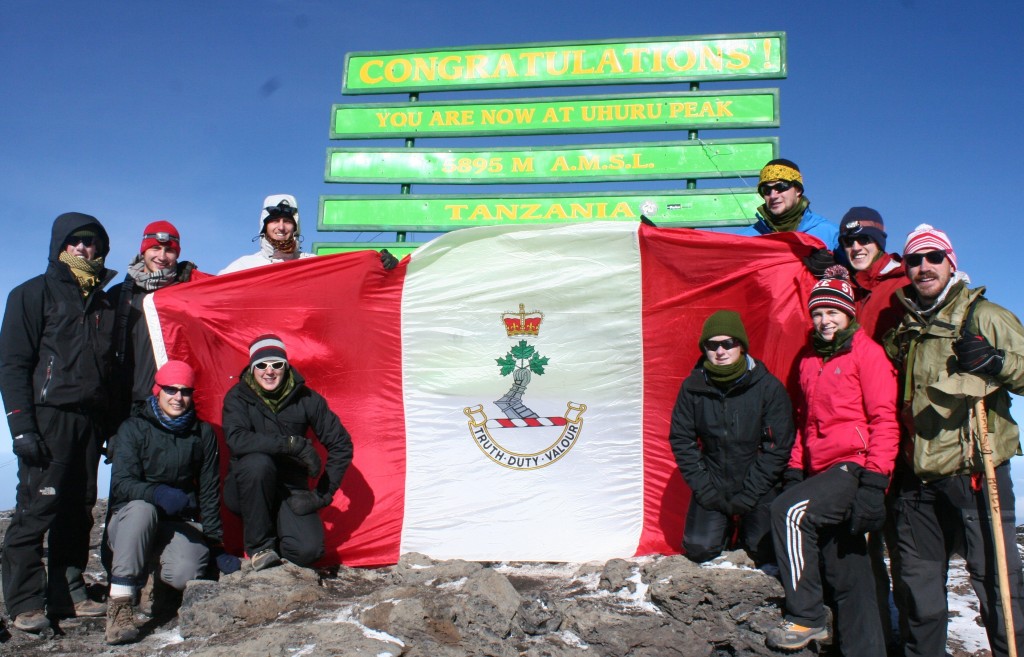 As we made our way upward, Team members spotted a green-tinted sign in the distance.  This was the top of Kilimanjaro, and during our final approach the mission success washed over us.  Upon arrival and with a strong sense of accomplishment, we raised the RMCC flag and took a variety of photographs – including some pictures with the Commander-in-Chief's crest and the Expedition Club's logo.  Immediately following photos, Team members placed short calls to families by satellite phone – waking sleeping parents at home across Canada, with good news and triumph from the top of Africa.
Coming Down      
If going up was hard, going down was physically abusive.  But the Team negotiated the slippery scree and hidden rocks in a rapid descent, returning to Barafu Camp by noon.  We pondered the success so far, having made the summit a full day ahead of schedule despite heavy loads.  And at this point, another potential feat presented itself.  In going over the next day's itinerary with Charles, it became evident that with some extra effort, we could climb down to the base of Kilimanjaro and exit the national park by the day's end.  This would allow us to maximize our time in Tanzania and recover sooner from the altitude.
Within an hour, and riding a second wave of energy, we packed up camp and began the careful move downwards through the fog of the volcanic desert-like area and into the thick rainforest.  As night arrived, our Team's advance party was successful in securing last-minute transport to Marangu Hotel.  On the bumpy ride through the Tanzanian bush, we breathed easily.
Over the past five days, we had climbed Kilimanjaro via the hardest route in the absolute shortest time possible with an average of 40 kilos each.  We had also summited and returned to base in the same day.
The next morning at Marangu, Charles said that in his 15 years of guiding experience, he had never seen this type of expedition before.  Seamus spoke to our self-sufficiency and fitness.  Perhaps the most rewarding compliment is the way some guides looked at us much differently than they had on Day One.  We were no longer the "Crazy Canucks," but capable climbers.
The Team spent the next two days recovering, gaining lost weight, cleaning kit, and going on a safari.  On Sunday, 08 January 2012, we said goodbye to Kili and Tanzania and boarded a flight from Arusha, Tanzania to Kigali, Rwanda.
Phase Two
A key pillar of this expedition's mission was its charitable mandate to establish the $20,000 "Summit Scholarship" for Canadian university studies by a former child soldier, in partnership with Child Soldiers Initiative founded by LGen (Ret'd) Romeo Dallaire.  Rwanda and its connection to LGen Dallaire and the ongoing conflict in the Congo were an integral educational backdrop for the next component of the expedition.
Landing in the modern and safe capital, Kigali, the Team expected the next week to be a mix of touring and fact-finding.  Instead, what we experienced was an immersive, first-hand education in the genocide, Rwanda's government, and the conflict in the Congo.  We thank Eric Kabera, a prominent Rwandan film maker and entrepreneur with whom we were able to coordinate by way of my uncle, for these extraordinary lessons.
Eric, well-known for his ground-breaking films on the 1994 genocide, represents the dynamism of African business leaders:  he maintains a film institute for talented African youth, a studio, film festival, and even a hotel.  Over the next week, Eric was incredibly hospitable and enhanced our planned itinerary with several surprises.
On Monday morning, we began our Rwandan-week at the Kigali Genocide Memorial.  While trying to fully understand the historical reasons for the scale of the atrocity, Eric arranged an impromptu afternoon meeting with his friend, a Rwandan Major who specializes in history.
Soft-spoken, the Major captivated the group for over an hour, outlining the causes of the genocide and the role of the UN, France, the Rwandan government, and now-President Paul Kagame's RPF movement during the 100 days of the atrocity.  He also elaborated on the ongoing conflict in the Congo, where genocidaires, reinforced by child soldiers, continue to fight.  He also went into detail on Rwanda's rehabilitation and reintegration program for combatants.  The conversation led to a good discussion about Rwanda's ambitious goals for a knowledge-based economy, notwithstanding a troubling history, the present global financial situation, and future challenges.
The Team, amazed by the major's many insights, wanted to learn more and accompanied Eric to the Lake Kivu town of Gisenyi, on the border of the Congo, on a pre-production visit for his next film about the genocide.  During this trip, members of the Team ventured to Volcanoes National Park and trekked down a bamboo cliff face to experience a family of mountain gorillas who, unfortunately, face extinction due to poaching.
As part of this side-trip into the hilly Rwandan countryside, Eric arranged a brief visit with the deputy director of a rehabilitation centre for combatants who defected under the threat of death from rebel groups in the Congo.  The deputy explained the reintegration system:  the combatants (some of them former genocidaires) are put through a re-education process dealing with subjects ranging from ethics to financial planning.  Then they are reunited with the communities from which they fled in 1994 and are even given money to support their return to normalcy.  Child soldiers born in the Congo are sent to a special centre for a longer-term rehabilitation process which, eventually, sees them reunited with Rwandan relatives.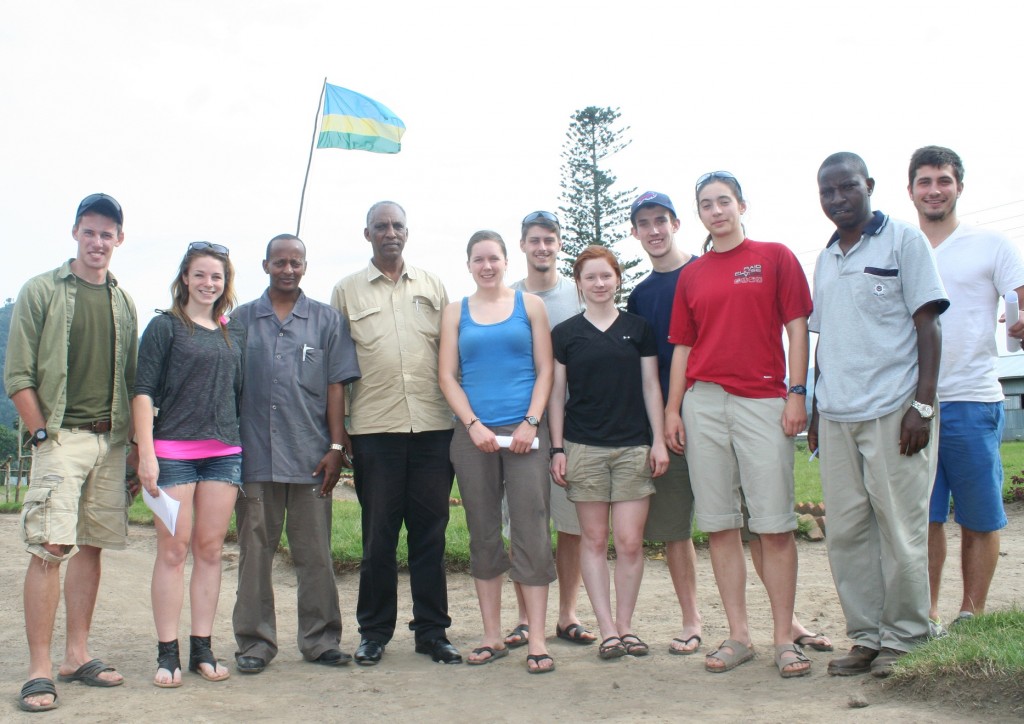 Rwandan rehabilitation centre: (third and fourth from left) Eric Kabera and the Director; (second from right) the Deputy.
On our way out of the rehabilitation compound, the deputy walked us past a makeshift meeting hall of former combatants who had recently arrived from the Congo and were being inducted that day into the rehabilitation program.  The Director, upon finishing an address, suddenly gestured us inside, where we were given plastic chairs on a small stage and found ourselves facing over two hundred former combatants.  We were hit by the intense smell of sweat and noise of banging feet and clapping, as several former combatants performed a traditional dance.
Amidst the heat, the director introduced Eric in Kinyarwanda.  Eric stood up and transitioned between the local tongue and French, explaining himself.  He then introduced our Team and suddenly asked me to give an impromptu speech.  I rose and spoke for three minutes about the purpose of the RMC Expedition Club and how, in addition to adventure, we seek first-hand knowledge and wished to learn more about Rwanda and the rehabilitation process.  Eric translated my words into Kinyarwanda.  Over the next hour, several former combatants shared their personal stories of hardship and horror.
Exiting the hot hall during another booming dance, the Team was moved but glowing:  we agreed that this had been among the most unique experiences we had ever had.  What an honour to hear those stories from youthful, former combatants and a privilege to gain a glimpse into what these people lived through.
Over the remainder of the week, we visited Kigali markets and challenged a local soccer team to a close match during a typical African thunderstorm (5 to 3 for Rwanda, but I would like to see those kids in skates playing hockey someday!).
By our final day in Rwanda, 14 January 2012, the team was thoroughly energized.  With so much new information and experience gained in such a short time, we would be sad to leave Africa.  But with emails piling up in our technology-driven inboxes and regular duties waiting at RMC, it was nearly time to come home.
Our final visit before departing involved the Ntarama and Nyamata genocide memorials:  the most humbling experiences of our enlightening journey.  The two locations are churches in the Rwandan countryside, positioned in a concentration area of ethnic Tutsis during the 1994 genocide.  Victims had sought sanctuary on their holy grounds, only to find violence and death, as genocidaires turned the sites into mass graves.
Words cannot describe the horror that exists within the walls of Ntarama and Nyamata.  There are numerous torture weapons and shelves with human remains.  Walls are stained by blood.  Some of the stories shared by our tour guide, a survivor himself, are too graphic to repeat here in eVeritas.
Each member of the Expedition Team was moved by these sites.  Personally, I will never forget the stench of piles upon piles of rotting clothing taken from victims and left hanging from the walls and lined along the pews.  Nor will any of us forget the catacomb in behind Nyamata church, where a single flashlight in the dark illuminates thousands of skulls and bones.
Unlike anything else to date in our officer-training education, these experiences drove home the importance of the Canadian Forces and our mandates to not only manage violence when called upon to do so, but to understand the complexities of the world and be able to communicate effectively on however we may engage.  With terrible lessons learned in our past, ignorance moving forward should never be an excuse for failure.
Coming Home
That evening we parted ways with our friends and said goodbye to Africa; however, I suspect at some point that many of us will return.
The expedition tested us to the extremes of RMC's pillars: physically enduring the altitude of Kilimanjaro, haggling in French in bustling Kigali markets, gathering first-hand historical and political research, organizing pre-deployment logistics, and executing upon plans in a safe manner. More than this, however, the expedition provided a lesson in humanity. Despite the poverty and the horror suffered in areas we visited, Africa's culture is amazingly vibrant. The people from Kibera to Kigali are genuinely happy and optimistic about the future.
In Canada we live privileged lives. At RMC we have the fortune of higher education and promising careers. But this opportunity, especially for us Officer Cadets, must come at a price. Our leadership will one day form the edge of the bayonet potentially driven into complex conflicts. We must do everything we can to be prepared. We must not be wasteful and we must never take our extraordinary experiences for granted. Having the opportunity to stand atop Mt. Kilimanjaro and stand aghast in the catacomb of a genocide rams home our tremendous fortune and our inherent duty to humanity.
To the ends of the Earth.
Truth Duty Valour.
The 2011/12 Kilimanjaro Expedition Group extends our sincere thanks to Commandant BGen Eric Tremblay for believing in our mission, as well as Ms. Christine Powers and Capt Anthony Robb for their strategic support. We will pass along thanks in future articles to the many people who supported us during this journey.