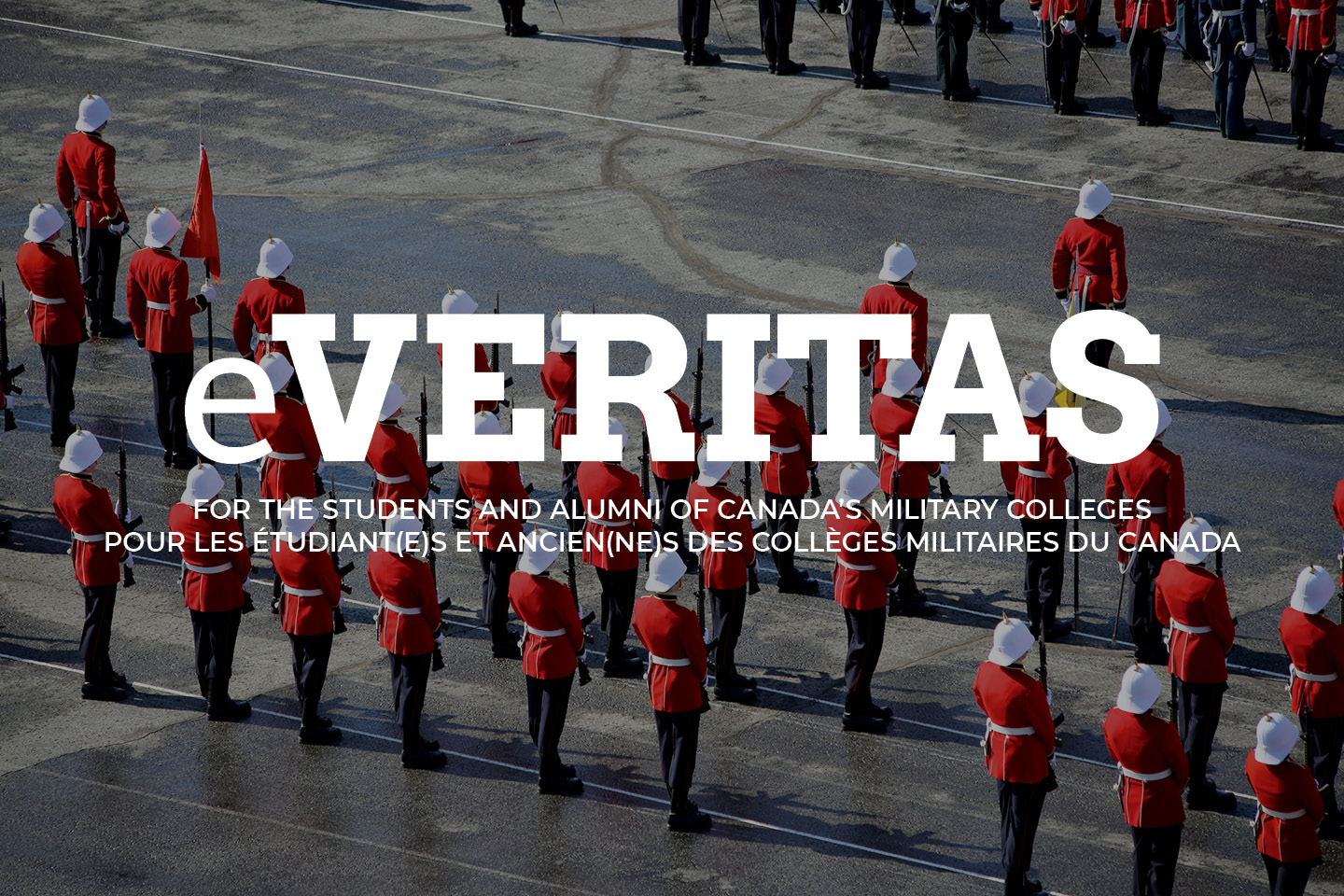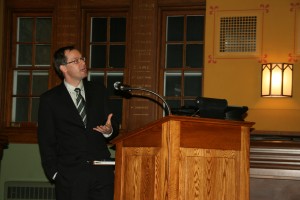 Dr. Huw Osborne and "The Republic of Holborn"
Article and photos by: 25366 OCdt (IV) Mike Shewfelt
On Wednesday, January 11, 2012, Dr. Huw Osborne, of RMC's English Department, gave the Class of 1965 Teaching Excellence Award Public Lecture. In front of a packed Currie Hall, Dr. Osborne spoke on the topic of "The Republic of Holborn: Charles Lahr's Progressive Bookshop and Literary Culture."
The lecture is sponsored by the RMC Club / Foundation.
In a style typical of his English classes, Dr. Osborne was laid back and engaging, and he kept the audience laughing and focused as he discussed Charles Lahr's Progressive Bookshop in particular and the role of independent booksellers in general. Of the independent booksellers, Osborne said, "these bookshops can be excessive, impractical, and distinctive in ways that few other commercial spaces can." He also argued that "Lahr offered a space in which the inevitable commodification of literature could be, if only for a time, acknowledge and refashioned."
While Dr. Osborne acknowledged the modern loss of such booksellers in the face of online retailers and large box stores, he concluded that this growing commodification of literature was perhaps refashioning literature rather than destroying it. As was evident by the both the number and the quality of the questions put to Dr. Osborne following his presentation, his conclusions were well received by those present, students and faculty members alike.
(L-R) 1) Dr. Joel Sokolsky, Principal of RMC, provides background and the outstanding contributions from the Class of 1965;
2) Keith Ambachtsheer, member of the Class of 1965 explains the history behind the Teaching Excellence Award – see footnote at the end of the article – Class of 1965 Giving Story;
3) Dr. Steve Lukits, Head of RMC's English Department, gives the audience a classy introduction which included a quote from William Wordsworth.
"What we have loved
Others will love
And we will teach them how."
4) Dr. Osborne kicks off his lecture.
(L-R) 1) The professor and his class;
2) OCdt Xu puts a "devil's advocate" question to Dr. Osborne – which he handles with ease & class
3) Dr. Osborne, fields questions from the audience;
4) Jim Carrthurs member of the Class of 1965 posing his question.
(L-R) 1) Dr. Osborne receives the cash prize that accompanies the Teaching Excellence Award from Bill Leach a member of the Class of 1965;
2) Mike Braham Class of 1965 member presents Dr. Osborne with a memento framed poster;
3) Major. Kristen Topping, Chair of the 2012 Teaching Excellence Award Committee sharing a light moment with Nikolas Gardnerr – the first Class of 1965, Professor in Leadership;
4) Members of the audience mingled at the reception following the lecture – forefront (L-R) Dr. Dr. Lawrence McDonough, Dean of Arts chatting with Andrew Nellestyn; Mike Houghton likely lobbying Jim Carruthers, over the future of Pill Boxes!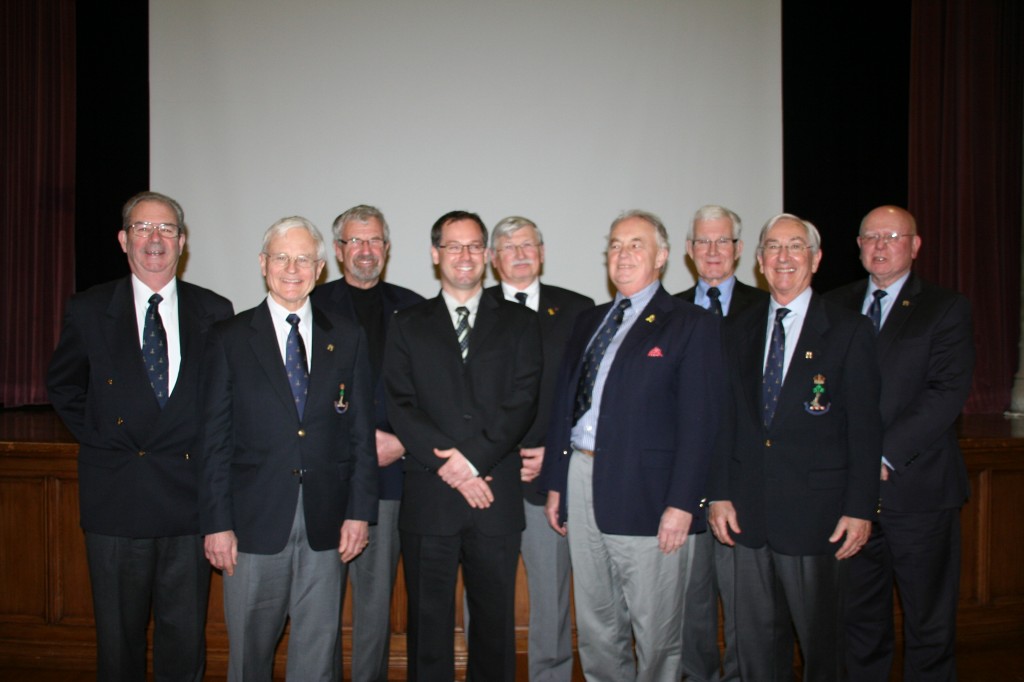 Eight representatives from the Class of 1965 were in attendance for the XXI (unconfirmed) Class of 1965 Teaching Excellence Award Public Lecture with this years winner Dr. Huw Osborne, of RMC's English Department.  A number of them traveled from as far as Ottawa and Toronto to attend the lecture and meet up with each other. Left to right: 6475 Mike Houghton, 6588 Steve Arnold, 6560 Andy Nellestyn, Dr. Osborne, 6454 Bill Leach, 6339 Phil Bury, 6364 Mike Braham, 6584 Keith Ambachtsheer, 6604 Jim Carruthers. (Interesting to note: Of the eight – four entered the CMC system atCMR, three at Roads, and one at RMC).

All About Giving Back
By: WJO
The Class of 1965 has a long history of "giving back" to the college. Back in the late 1980s, a year or two before their 25th in 1990 some members of the Class met up to work on a plan. What should they give as a class gift?
The result of this informal class meeting: three of them were charged with coming a with the plan – Tom Barton,  Steve Arnold and Keith Ambachtsheer …. so predictably and certainly not a surprise to the remainder of their  classmates, something very significant for the academic pillar was the recommendation from this trio of life-long high achievers.
They suggested a CLASS OF 65 TEACHING EXCELLENCE AWARD based on submissions by the Cadet body; there would be a robust selection process; the selection committee would include a Class of 65 member.
The winner would be given a cheque for $5,000.00 at the conclusion of the Class of 1965 Teaching Excellence Award Public Lecture
It has been awarded every year since 1991. This special fund, which is administered by the RMC Club / Foundation had been endowed at $100K by 2000, which will ensure its survival for years and years to come.
Not satisfied with this enormous and generous gift many of the class put their collective heads together again in 2000. They approached Dr John Cowan, who by that time had been the RMC principal for one year. He was asked, "What did the college need?"
Dr Cowan had already matched the Class of 1965 with a $100K donation to the Foundation for a RESEARCH EXCELLENCE AWARD. The winner also is given a $5,000.00 following his / her public lecture.
From all reports from those in the know, the answer from the principal came quickly.
"How about a NAMED PROFESSORSHIP?"  This type of academic chair would add prestige to the college and it would allow the principal to go out and recruit rising academic stars.
When everything was said and done, it was determined that an endowment of a minimum of $500,000.00 would be required. Without a blink the class told the principal: "OK…let's touch base in 5 years."
Sure enough after the wheels had been in motion for a few years it was determined that the focus would be on LEADERSHIP STUDIES.
Keith Ambachtsheer made the announcement was at the 2010 Legacy Dinner – DR NIKOLAS GARDNER was chosen as the first-ever CLASS OF 65, PROFESSOR IN LEADERSHIP
One shouldn't be too surprised if this Class doesn't do something BIG again prior to 2015.
Worth mentioning: In addition to these two class "pay-back" examples there have been other significant individual gifts over the years by Jim Caruthers and John Bart both from the class of 65 to support scholarship and leadership initiatives at the College.
More photos from the evening:
  x