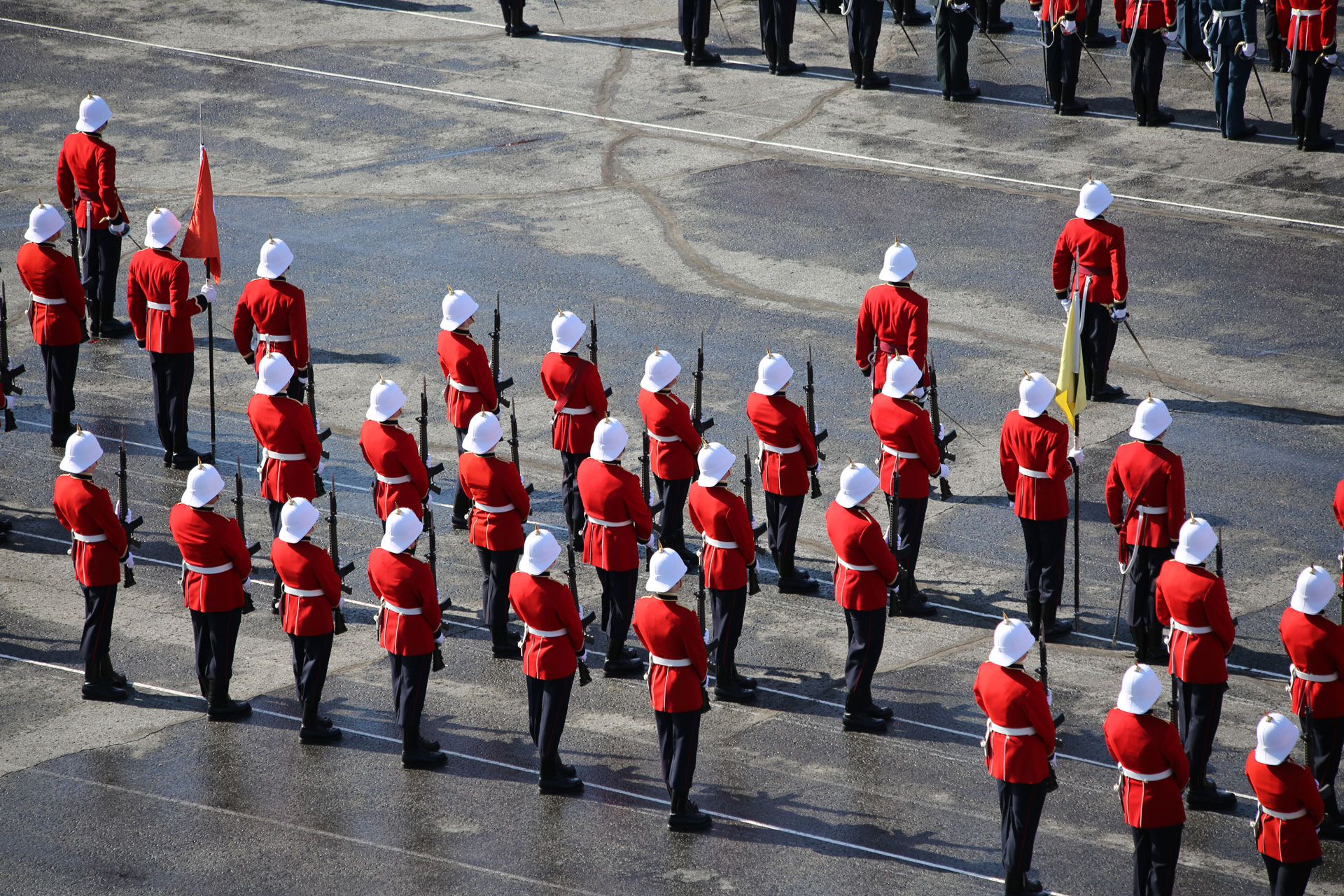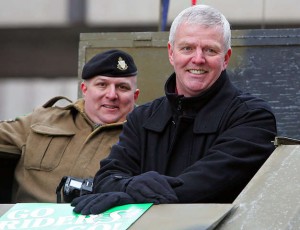 GREY CUP PARADE & MUCH MORE
A group of Royal Military College officer cadets and staff traveled to Calgary last week.
They visited schools, attended a Guidance Counselor Luncheon, and were guests at the RMC Foundation Leadership Dinner on Friday night.
Even a heavy snowfall during the late afternoon and evening on Friday  couldn't put a damper on the Dinner or the Grey cup parade on Saturday.
Hundreds of football fanatics pulled on their winter jackets and headed downtown for the family friendly event. RMCs Pipes & Drums were a big hit and widely applauded as they made their way through the parade route.
Five members of  the college Flag Party were front and center at the opening festivities of the Grey Cup; many of you may have seen them on T.V. during the pre-game national anthem ceremony.
The game itself was a good one and by now everyone is aware that the Alouettes battled back for a 28 / 27 win and are the winners of the 97th Grey Cup Game.
Commodore William Truelove (Commandant) assisted by WO Daniel Smith (Band Master) led the 28 cadets during a hectic four day schedule.
They were: 24833 Murray McTavish; 24814 Sebastien Royal; 25767 Cassandra Lee Harpe; 24963 Jamie Hill; 25294 Sean Catterall; 24598 Caitlin Jennifer Clapp; 24921 Marc Adam Harris Jacquard; 24790 Marjorie Gaulin-Riffou; 25787 Michael Tholl; 24518 Paul Mayne; 24844 Martin Christopher Cote; 24766 Gabor Somogyari; 24634 Dorian Klepach; 24577 Jeremy Arsenault; 25403 Jared Gordon; 24705 Brandon Wesley Frizzell; 24822 Seungjae Yoon; 24405 Gabriel Beauchamp; 24702 Kaitlin Anne Baskerville; 25002 Sarah Dawn Beare; 25288 Katie Maegan Bruce; 25120 Laurel Burchell; 24996 Zachary Albers; 24481 Kyle Harbottle; 24633 Catherine Keyser; 24947 Rachael Elizabeth J. Thompson; 24852 Samantha Elizabeth Wall; and 24863 OCdt Josee Belcourt.

The cadets visited a total of seven different high schools. The first stop was St. Francis shortly after arrival on Wednesday night. The six others were on Thursday and Friday: Juno Beach Academy; Central Memorial; James Fowler; Bow Valley; Cochrane; and Western Canadian.
Friday at noon there was a Guidance Counselor Luncheon which involved 27 Schools and 50 Counselors / Principals. The RMC Presentation was led by Commandant, Commodore Truelove who was assisted by OCdt Kyle Harbottle.
The main event happened Friday evening with the Leadership Dinner. The centre piece for the evening was the presentation of the 2009 Birchall Award to General (ret'd) Rick Hillier former CDS.
Other notables at the Dinner included: General Walt Natynzcyk; Calgary Mayor, Dave Bronconnier; Mrs. Kathleen Birchall; Honourable Norman L. Kwong; Senator Pamela Wallin; HCol Joyce Fairburn; General Mike Jorgensen; Commodore William S. Truelove; Capt (N) Bill Wilson; Mgen (Retd) Tim Grant; HCol Stan Milner; and Mgen (Retd) Cam Ross.
Bob Booth introduced the Birchall Award and the presentation to General Hillier was made by Chris Theal.
From all reports the three and half hour Leadership Dinner was a smashing success! Entertainment came mainly from RMC Pipe, Drums & Dancers, Drum Line & Dancers who carried out a 20 minute flawless performance to an appreciating audience.
Here is what 24633 Catherine Keyser had to say and her impression:
"The evening was a fabulous success. Hundreds of individuals showed up to congratulate General (Ret'd) Rick Hillier on his life's achievements. Every attendee seemed extremely lively; perhaps the thrill of the Grey Cup in the air, or the reunion of many old friends. Even Mrs. Kathleen Birchall seemed to have lost a few years when she bounded up the stairs to the stage and presented Mr. Hillier with the prestigious leadership award in honour of her late husband, Air Commodore Leonard J. Birchall.
There was a wide representation of individuals at the dinner, all of who welcomed the opportunity to support the Military Families Fund, which was established by the former Chief of the Defense Staff. We were afraid that a large amount of invitees would not have been able to arrive at the dinner, as the unpredictably bizarre Calgary weather fired up in the afternoon, causing the city's roads to become skating rinks. Nevertheless, the crowd was a plenty, and ex-cadets and family members of soldiers all gathered around one-another, exchanging both heart-felt and humorous stories while the dinner was delayed to accommodate for those stuck in traffic.

I was extremely honoured to have the opportunity to be in the presence of General Natynczyk, and the Lieutenant Governor General, the Honorable Norman Kwong for the duration of the meal, and a few other worthy Calgarians noted for their donations for the cause. When I approached Mr. Kwong and inquired about his stint in 1948 when he rode a horse into the lobby at the Royal York hotel in Toronto after his team, the Calgary Stampeders won the Grey Cup title, he nodded his head and replied with a laugh. It seems RMC cadets aren't the only ones with a zest for 'skylarks'!
A great thanks needs to be given to the main organizers of the event, as this event was one that will not be forgotten. Mr. Cameron Diggon worked endlessly for months to make sure everything ran smoothly, and despite the horrible weather, he accomplished just that. Glen MacDonald from the RMC side must also be thanked as he made sure that all cadets were in fact able to come and expose our pipes and drums, and our highland dancers for the evening."
To pull off something of the magnitude of this visit involves the efforts of a "ton" of people not just two. The OPIs from the Calgary end included: Luke Schauerte; Cameron Diggon; Scott Treadwell; and Chris Theal. At the time of this writing, we did not have the full list of "key" people on the organization committee. We're sure there are many who worked from behind the scenes.
We would be remiss, if we did not include a the billets: 6102 Lloyd Northcott; 10653 Carmen Bradley; 9398 Gary Moore; 3389 Colin Campbell; 10970 Karmin McKay; 5948 Ken Sivertsen; Ava Anfort; Sue Anderson; Mr & Mrs Gordon; Dave & Margo Frizzell; Valerie & Curtis Bunz; Heather & Charlie Moffat; Mr & Mrs Harbottle; and Jane & Eric Keyser.
Monday is an "off day" but the cadets were scheduled to depart Calgary about 6:15 PM local for the long trek back to Kingston.
Just in time to get ready for exams!