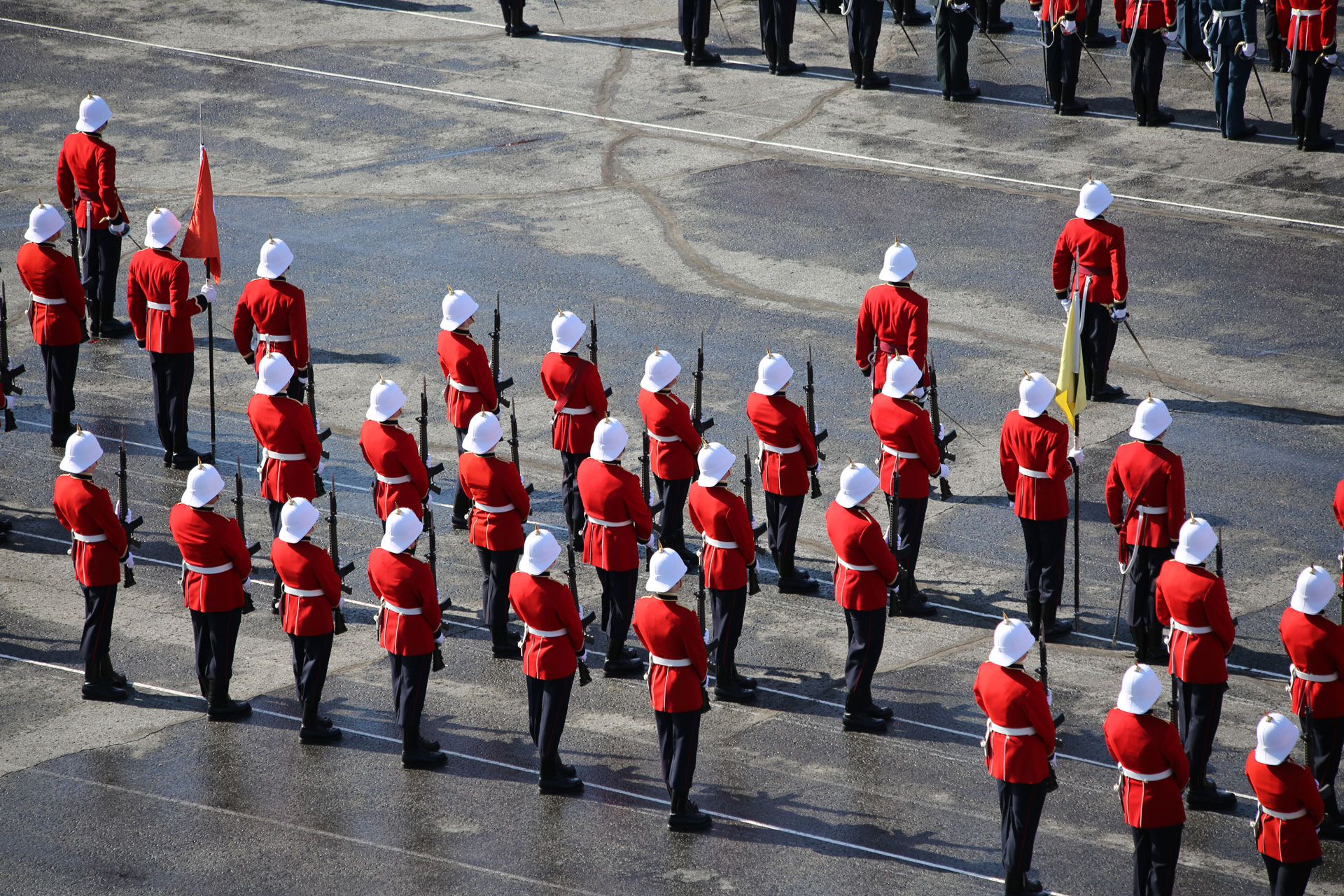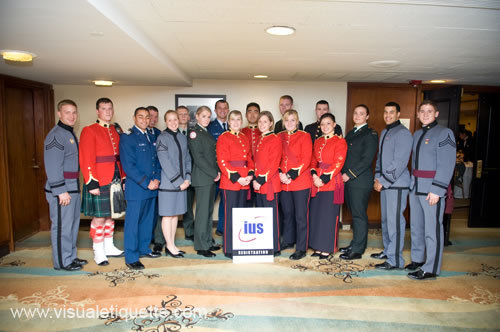 By: 24742 Matthew Hou
RMC's trip to the Windy City for the 49th session of the Inter University Seminar on Armed Forces and Society was perhaps one of the most important academic milestones in fourth year. Founded by Morris Janowitz in 1950, the aim of the IUS has been to provide soldier-scholar-diplomats with a forum for the discussion of advanced contemporary research in security topics.
Naval Cadet Babcock 24501, Officer Cadets Drogosiewicz M0979, Flieler 24510, Hincke 24624, Hou 24742, Guertin 24823 and Rooker 24715 served as volunteers, and had a chance to mix with some of the most accomplished international minds in sociology, psychology, political science and economics. Panel discussions that included contributions from RMC Professors Hill, Last and Schwartz-Morgan demonstrated the value of an interdisciplinary approach for dealing with complex security issues. Political science cadets Hincke 24624 and Hou 24742 presented personal research conducted at RMC as part of the cadet research panels, speaking on "Terrorist Groups and Weapons of Mass Destruction" and "Canada's Interests in NATO: Beyond 2009" respectively.
When not immersed in scholarly discussions at the panels cadets participated in a cultural exchange, exploring Chicago with USAFA cadets. Once again, RMC cadets recognized the differences and similarities between the military academies. RMC cadets were invited by the IUS event organizer to a private organizers' reception. Several of the multinational invitees, including Lt Col Benjamin Paganelli congratulated faculty sponsor Major Myslicki on the cadets' exemplary socialization skills; a compliment to RMC's focus on developing polished gentlemen and ladies who are equally comfortable interacting with superiors and peers.
Cadet attendance at such a formative event was made possible only through support from both IUS Canada and USA; particular and sincere thanks to Dr Alan Okros at CFC for his dedication to ensuring cadet participation at these events.
Après 12 heures de route à travers la province de l'Ontario ainsi que deux états américains, les élèves officiers du Collège Militaire Royal du Canada ont atteint leur destination de Chicago pour la 49e conférence interuniversitaire sur les Forces armées et sociétés (IUS). Faisant parmi des événements les plus mémorables de la quatrième année, cette conférence a été fondée par Morris Janowitz en 1950 et a comme but de permettre aux érudits – diplomates – soldats de prendre part dans des séries de discussions concernant les recherches contemporaines sur les sujets de la sécurité, des opérations militaires ainsi que les dynamiques de groupe.
Aspirant de marine Babcock 24501 et les élèves officiers Drogosiewicz M0970, Flieler 24510, Hincke 24624, Hou 24742, Guertin 24823 et Rooker 24715 ont pu interagir avec plusieurs des savants internationaux des domaines de la psychologie, sociologie, sciences politique et économique. Les sessions de discussions, incluant la contribution de professeurs du CMRC Hill, Last et Schwartz-Morgan, ont démontré l'importance de l'approche interdisciplinaire d'analyser les problématiques complexes de sécurité. Les élèves officiers étudiant en science politique, Hincke 24624 et Hou 24742, ont présenté leur recherche personnelle dans le cadre de leurs cours académiques lors d'une tribune d'élèves officiers. Leurs présentations avaient pour titre : « Terrorist Groups and Weapons of Mass Destruction » et « Canada's Intrests in NATO: Beyond 2009 », respectivement.
Lorsque les élèves officiers n'étaient pas captivés par les tribunes, ils ont eu la chance de visiter la ville de Chicago avec les élèves officiers de l'Académie Militaire USAFA. Vers la fin de leur séjour, les élèves officiers ont été invités à la réception privée de l'organisatrice de la conférence IUS. Ayant la chance de rencontrer plusieurs invités multinationaux, incluant le LCol Benjamin Pagnelli, les élèves officiers ont reçu plusieurs compliments de la part des invités sur leurs capacités d'interagir avec leurs supérieurs et confrères.
La présence des élèves officiers lors d'un événement formatif a été possible grâce à la collaboration de IUS Canada et É.-U. Un remerciement particulier doit être fait au Dr. Alan Okros à CFC pour son dévouement à la participation des élèves officiers lors de ces événements.
______________________________________________________
Vimy Award Gala Dinner
By: 24466 Brian Norwick
RMC was present for a very special evening in Ottawa on the 20th of November 2009. A contingent of 35 cadets, including the Top 4 and all of the Cadet Squadron leaders were invited to take part in the 2009 Vimy Award gala dinner. This award, which recognizes annually only a single recipient, is given by the Conference of Defence Associates Institute (CDA) to a Canadian who has made a significant and outstanding contribution to the defence and security of our nation and preservation of our democratic values. This year the award was given to Warrant Officer William Kenneth MacDonald.
Present at the event was the Chief Justice of Canada Right Honourable Beverley McClachlin, Chief of the Defence Staff General Walt Natynczyk, President of the CDA Dr. John Scott Cowan, and Canadian Forces Chief Warrant Officer Greg Lacroix who all gave memorable speeches. As well, the room was full of DND Defence contractors and other significant civilian companies. All together, this presented an opportunity for RMC cadets to socialize, network and learn from a variety of sources, including many ex-Cadets.
Events like this showcase what can be achieved when one continuously strives for excellence, but more importantly what can be achieved with teamwork, trust, and loyal dedication to service before self. The RMC cadets would like to thank those who sponsored us to such an important dinner.
______________________________________________________
RMC cadet part of youth group at Commonwealth summit