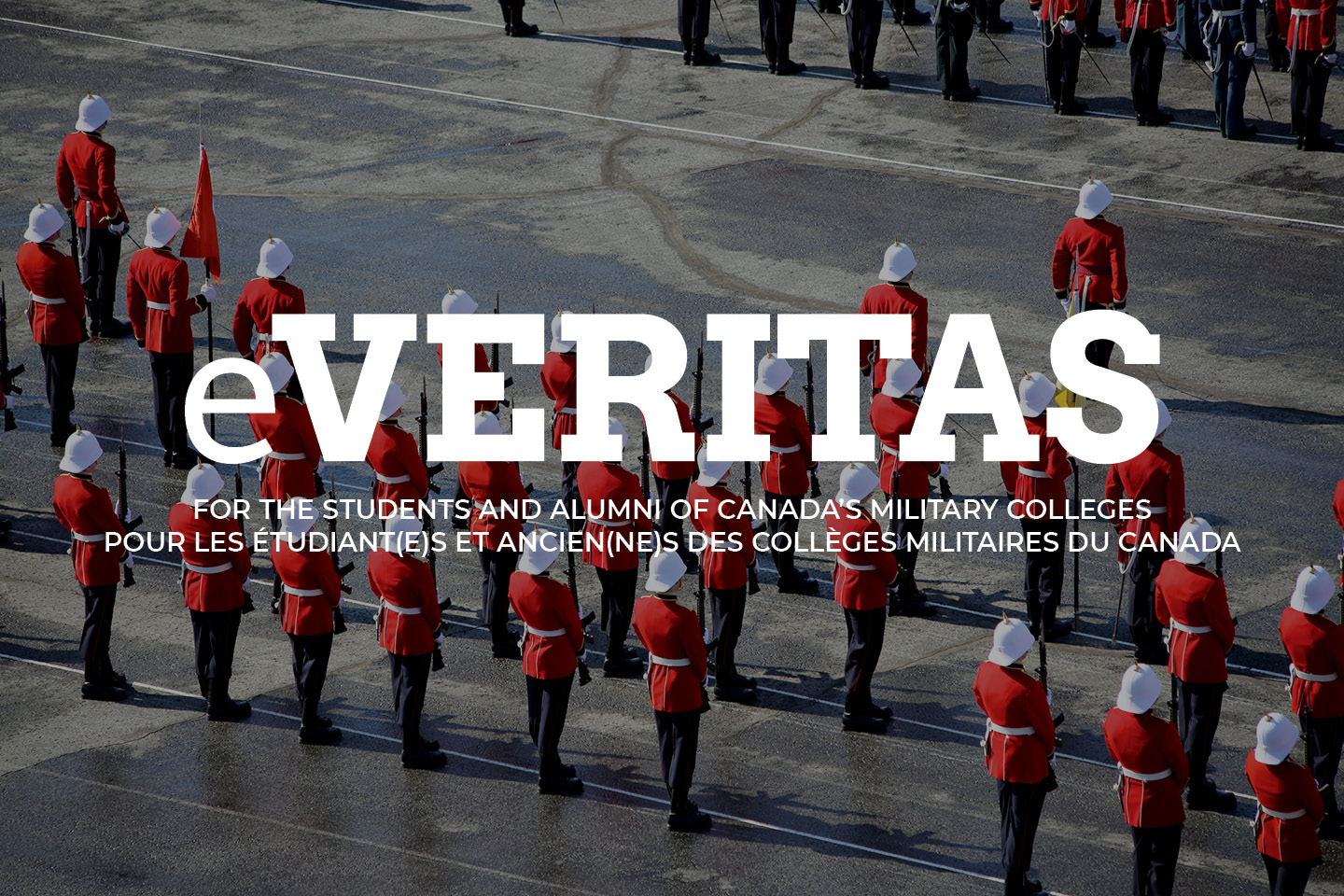 Correction from last week. When we launched e-Veritas, there was unanimous internal agreement that we would adhere to the highest standards of fairness and accuracy. From time to time we have fallen short.
Last week we published a five year out of date article on 9413 Major-General (ret'd) Cameron Ross (RRMC RMC '73). We regret any embarrassment the article may have caused him.
For the record here is an up-to-date article.
9413 Major-General (ret'd) Cameron Ross (RRMC RMC '73) is the Senior Military Advisor for EnCana Corporation. He is also the President of HCR Security International Ltd. which provides security advice to governments and the private sector. Since 2004, he has led strategic security reviews of nine Caribbean countries with a focus on law enforcement, counter-terrorism, and defence. He was formerly the President, Emergo Security Ltd. and Vice President for International Relations for Emergo Canada Ltd. of the Emergo Group of Companies.
MGen Ross retired in 2003 from active military service, having spent most of his 35-year military career in command and operational appointments. From 1998 to 2000, he lived in Damascus, Syria
where he was the senior United Nations official in Syria in the rank of Assistant Secretary General and as the Force Commander of the United Nations Disengagement Observer Force (UNDOF) on the Golan Heights between Syria and Israel. Prior to that, as a Brigadier-General in Halifax, Nova Scotia from 1997 to 1998, he was the Commander of Land Forces Atlantic Area and from 1996 to 1997, he was the Commander of the Combat Training Centre at Gagetown, New Brunswick. As a Colonel, he was the Garrison Commander of Canadian Forces Base Edmonton from 1995 to 1996. Between 1989 and 1991, he was the Commanding Officer of his armoured regiment, Lord Strathcona's Horse (Royal Canadians) www.strathconas.ca.
MGen Ross has served overseas repeatedly. He was the armoured Troop Leader attached to the Canadian Airborne Regiment during the 1974 war in Cyprus (UNFICYP), and Battle Captain in reconnaissance and tank squadrons with the Royal Canadian Dragoons on NATO duty in Lahr, West Germany from 1978 to 1981. In addition to his UN time in the Middle East, in 1992 he spent almost a year in Angola, Africa as a UN Military Observer (UNAVEM) and then as the mission Chief of Staff and acting Chief Military Observer during the period when the country reverted to civil war. In April 1993, he was seconded to UN Headquarters in New York and subsequently returned to Africa to provide peacekeeping advice.
He has held staff appointments at Brigade, Army, and national joint staff levels. He was the Director of Operations (J3 Ops) for the Canadian Forces at National Defence Headquarters from mid-1993 to 1995. His last military appointment was Director General International Security Policy in National Defence HQ in Ottawa. Responsible for managing Canada's international security relations, he was also the Senior Canadian Military Advisor to the Canada-United States Permanent Joint Board on Defence (PJBD) from 2000 to 2003 developing post 9-11 security strategies for the two countries.
MGen Ross was born in Ottawa on 8 February 1949. He is the son of a Dieppe and Normandy veteran, Major-General Norman Ross of the Queen's Own Cameron Highlanders of Canada, the regiment from whom he got his name (fortunately, his father was not from the Argyll and Sutherland Highlanders!). Starting his military career at Royal Roads Military College in Victoria, he graduated with a Bachelor of Arts in Political Science from the Royal Military College in Kingston, Ontario in 1973. He was awarded the Chief of Defence Staff Commendation for actions in Cyprus in 1974. In 2000, he was the recipient of the Knight's Cross of the Polish Order of Merit. In 2002, the Governor General of Canada promoted him to the rank of Commander within the Order of Military Merit. He is Vice President (West) of the National Security Group, a Fellow of the Canadian Defence and Foreign Affairs Institute, a Director of the Canadian Battlefields Foundation, and a Director of the Calgary Military Museum Society. MGen Ross and his wife Patti live in Calgary and have two sons, Angus and Hamish.
___________________________________________________________
Swim, bike, run. Repeat.
Triathlons are all the rage, but they require training, sweat, and discipline
More
___________________________________________________________
"After three years in the Great White North 14090 Kev Tyler will be departing JTFN and Yellowknife for a year in Kandahar as the Plans Officer for the Police Operational Liaison and Mentoring Team (J5 POMLT). JoAnne will be staying in Yellowknife for the year. Kevin will share a room in KAF with the another Kev from the Class of 83, the other Canadian on the CSTC-A staff, 13846 LCol Kevin Bryski."
___________________________________________________________
14443 Kathryn Moore (nee Haunts) (RMC '84) has been appointed Registrar of Algonquin College, in Ottawa, effective 2 September 2008. She entered RMC with the first 32 lady cadets in 1980. She was a four bar cadet on graduation and married 14600 Ken Moore (RRMC RMC '84).
___________________________________________________________
Korean War veterans deserve recognition for their sacrifices
___________________________________________________________
Canadian Forces personnel more highly educated: The education level among Canadian Forces members is on the rise, according to a recent Statistics Canada report. Between 1988 and 2002, post-secondary graduation among personnel grew 48%. In 2002, over half of personnel ages 25 and older had a post-secondary degree or diploma, compared to 19% of regular force members in 1988. Despite the increase, Canadian Forces personnel hold fewer degrees and diplomas than civilians; however, that's not the case for reserves members, whose high rates of PSE completion reflect on-campus recruitment. Statistics Canada
___________________________________________________________

The CDA is pleased to announce the release of its latest commentary, "The Canada First Defence Strategy of 2008 and the 20 Year Defence Budget," by Colonel (ret'd) 5192 Brian MacDonald (RMC '61), the CDA's Senior Defence Analyst.