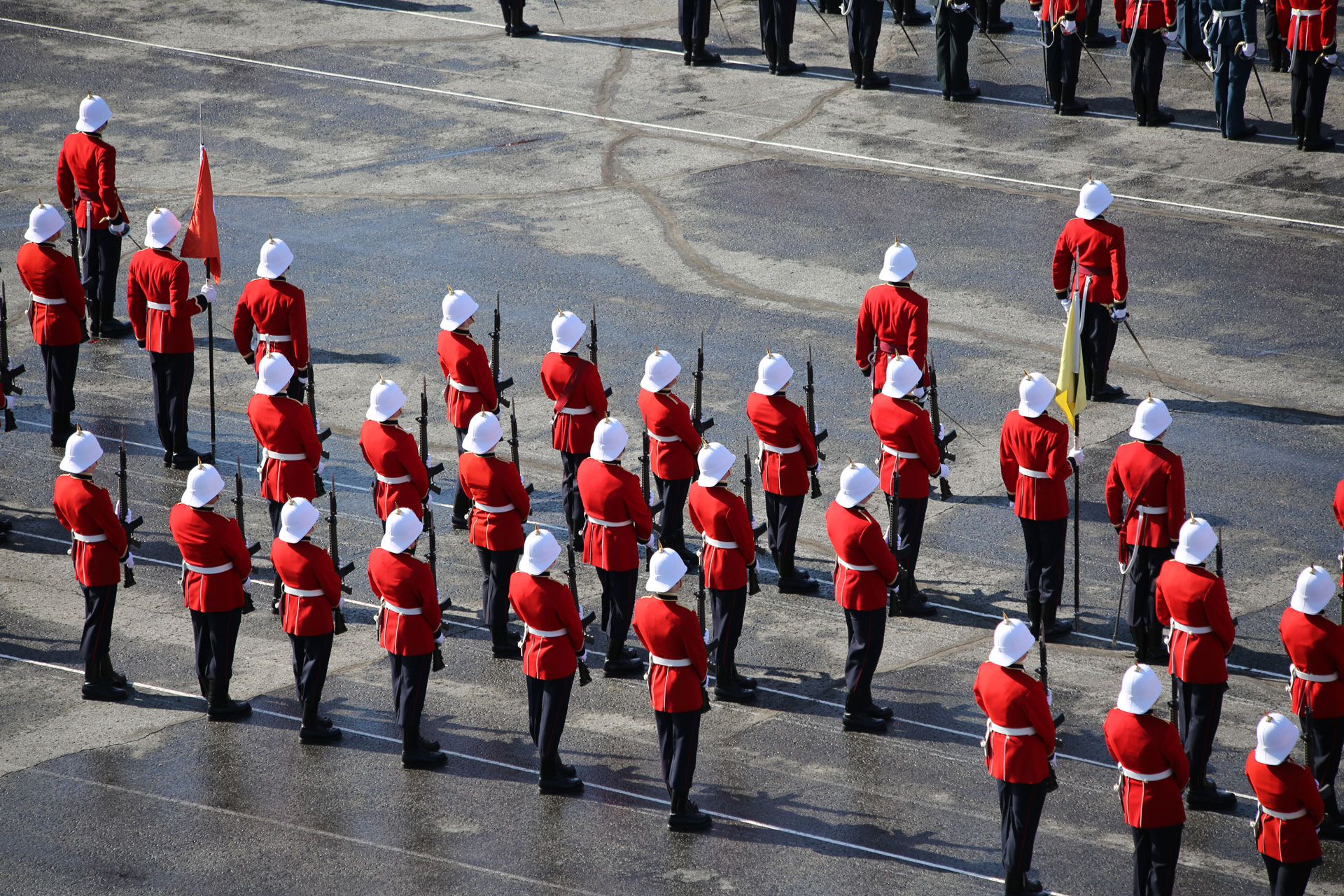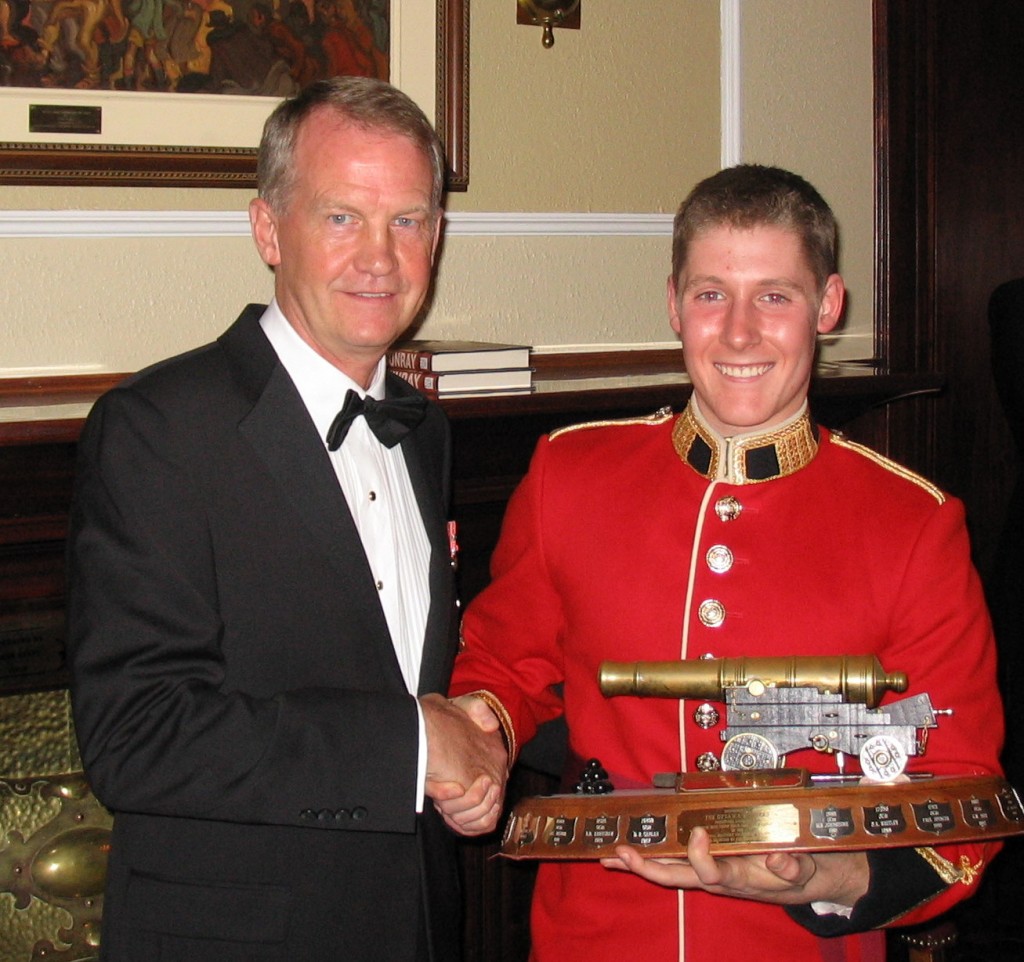 Caption: OCdt 24862 B.W. (Brendan) Alexander receiving the Turner Trophy for Top Artillery Cadet in the Third Year from Mr Dan Ross the current Assistant Deputy Minister (Materiel) Department of National Defence and former Gunner.
Gunners had their sights on two cadets
7682 LCol (Retired) Hugh Mundell (RMC 1968) contacted us in his capacity as President of the Ottawa Gunners Association. "Our mission in brief is "to contribute to the well being of its members by acting as a focal point for Gunner activities in the National Capital Region".
Hugh also added. "Each year in October we hold a Mixed Dining in for our membership to which we invite a special guest. Each year we also recognize the top two artillery RMC cadets on the completion of their third year. The top Cadet is presented the Turner Trophy named after 2816 BGen (Retired) William W. Turner (RMC 1940) who had a record of distinguished service in the Royal Regiment of Canadian Artillery and was also the Commandant at RMC from 1973 to 1977."
He concluded his note to us. "The top cadet and second top cadet are also presented with an appropriate book as keepsakes. The book selected this year and donated by the Ottawa Gunners was 'SUNRAY – The Death and Life of Nicola Goddard' We felt this new book was quite appropriate given that Nicola was both a graduate of RMC and a Gunner Officer. This year the fourth year cadets who received the awards for their all round performance in third year were: Top Cadet – OCdt 24862 B.W. (Brendan) Alexander and Second Top Cadet – OCdt 24766 G.A. (Gabor) Somogyvari "
Photo left: OCdt 24862 B.W. (Brendan) Alexander receiving the book "Sunray" from LGen (Retired) Mike Jeffery a former CLS and Gunner. In the background is Colonel (Retired) Tim Sparling who is an Ex Cadet and former Gunner.
Photo right: OCdt 24766 G.A. (Gabor) Somogyvari receiving the book "Sunray" from BGen (Retired) 11958 Jim Selbie who is himself an Ex Cadet (RRMC RMC 1978)and former Gunner.
__________________________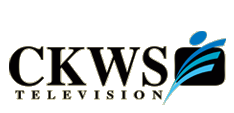 MILITARY HEALTH: Thousands of veterans suffer from the psychological effects of serving in the Military.
New challenges
They range from post-traumatic stress disorder and its effects on the soldier and his or her family; long-range effects from things such as exposure to chemicals or depleted uranium; to the toll training and basic soldiering takes, from blown-out knees and backs to loss of hearing, what one researcher dryly termed "collateral damage" and which is an unavoidable cost of training soldiers.
Embracing change
When Capt. Nichola Goddard was killed by a rocket-propelled grenade in Afghanistan in 2006, battlefield medical care couldn't save her due to her massive injuries and blood loss.
But within minutes of the attack, the fallen soldier was saving future lives.
Goddard, a forward observation officer who graduated from Royal Military College, was standing in the turret of her LAV when the rockets hit and a huge piece of shrapnel sliced through her neck.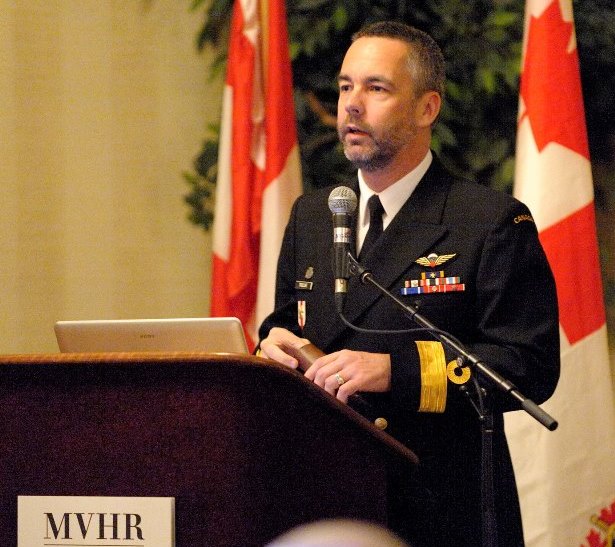 Caption: Commodore Bill Truelove, Commandant of RMC, speaks during the Military and Veteran Health Research Forum
MVHR Forum deemed a success
Article & photos by: Lieutenant Cynthia Kent – Royal Military College of Canada – Public Affairs Officer
The Military and Veteran Health Research forum held November 16-17 and hosted by the Royal Military College of Canada and Queen's University has been deemed a success.
More than 250 researchers, academics, advocates, government representatives and members of the Canadian Forces gathered at the Four Points Sheraton in Kingston during the forum. It brought together leading health researchers from across the country to present their findings and discuss key issues surrounding health care for veterans, military personnel and their families.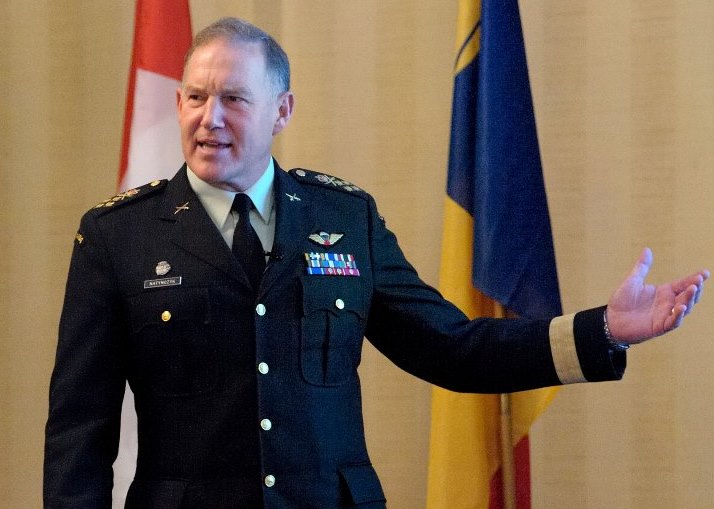 Caption: GeneralWalt Natynczyk, Chief of the Defence Staff, gave the keynote address Tuesday night (November 16).
"The Canadian Forces care about the health of its members, veterans, and their families, and we applaud the creation of the Canadian Military and Veteran Health Research Forum," said General Natynczyk. "We want to thank the Forum's hosts, participants and partners for their important work. It will complement our related research programs already in place and will help expand our collective knowledge of the unique health needs of the Canadian Forces family."
"The tempo and intensity of the mission in Afghanistan has re-emphasized the operational and clinical importance of continuous military health research," said Commodore Hans Jung, Surgeon General for the Canadian Forces. "The Military and Veteran Health Research Forum provides the Canadian Forces with a tremendous opportunity to promote the advancement of both military and veteran health research through collaboration and partnerships with civilian health research professionals. We welcome and look forward to the outcomes of these new partnerships."
**For the DND news release, please see: http://news.gc.ca/web/article-eng.do?m=/index&nid=574579
Ed note: Many thanks to Dr. B.J. Fugere for his tremendous efforts in coordinating this event for RMC. The conference was well attended by representatives from Universities and organizations from across Canada. On Tues evening, the conference heard a powerful presentation from the CDS. Well done to Dr. Fugere and his team for all the great work!
__________________________