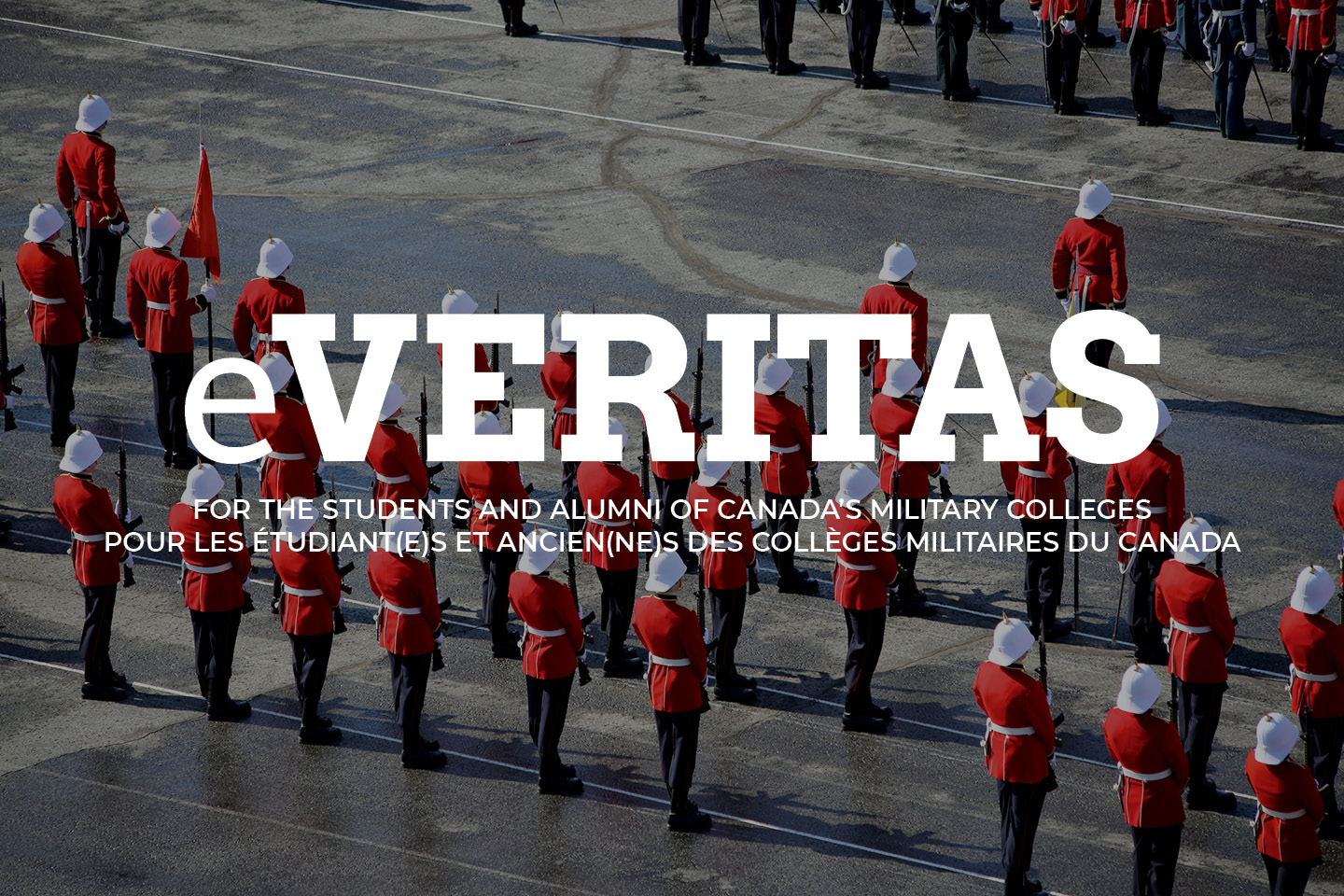 3 Ex-Cadets on Executive Team at Discovery Air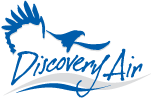 Discovery Air provides safe and reliable aviation and logistics services in challenging environments. They operate over 160 aircraft with their 850 team members, delivering airborne training to the Canadian military; air ambulance services; airborne fire services; helicopter operations; fixed-wing air charter services; expediting and logistics support; and a range of maintenance, repair, overhaul, modification, engineering and certification services. (http://www.discoveryair.com/)
17428 Paul Bouchard, Class of '90, is currently President, Discovery Air Defence Services. He is a former CF-18 Pilot and graduate of the the prestigious CF-18 Fighter Weapons Instructor Course, Canada's "Top Gun" School. He previously served as President of Discovery Air Innovations.
17398 Didier Toussaint, Class of '90, serves as the Group President, Government Services. He is also a former CF–18 Pilot, and was awarded the prestigious "Top Gun" award for his best overall performance on his CF-18 Fighter Weapons Instructor Course. He is also the founder of Top Aces, which provides tactical aviation training to the Canadian Armed Forces.
14741 Jean Genest, Class of '85, is the President of Discovery Air Technical Services. He is a former Chairman of the Flight Test Section of the Canadian Aeronautics and Space Institute, and he previous served as Top Aces' Vice President of Engineering and Maintenance.
_______________________________________
We are always on the lookout for ex-Cadets to add to our Class Notes section. If you are or if you know of an Ex Cadet with something interesting going on, or you just want to put yourself out there for old friends to find, we want to hear from you! Whether it's career related news or something more related to personal/family life, we would like to know what's going on with you and give you a chance to reconnect with former classmates.
Just send a short write up, and, if you want, a recent JPEG appropriate photo,to: everitas.classnotes@gmail.com.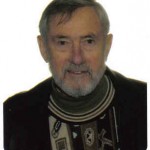 4151 Allan Tattersall, Class of '58, retired from NDHQ on 3Feb.1989 where he was serving as DGMEO and CME Branch Advisor. He and Dianne returned to their house in Kingston to begin restoring the house and gardens from the ravages of six family tenants who rented while Al & Dianne were posted away. They are still renovating! Al joined the Kingston Club of the Rideau Trail Association Inc. and became involved on the Club executive and the Board of Directors for some 22 years. He also joined and became actively engaged with other trail enthusiasts lobbying various local municipal councils and adjacent landowners in acquiring abandoned railway right of ways for recreational purposes. Consequently Kingston and area are fortunate to have an excellent trail network comprising the Rideau, Cataraqui, K&P and Waterfront Trails. Al remains active, all be it, at a reduced intensity in hiking, cross-country skiing, canoeing, fishing and hunting and maintaining the family cottage on the Pickeral River. His fondest memories are of his Nahanni River canoe trek with his son Alan to celebrate his 65th and Alan's 40th birthdays in 2000.
5457 Marc Terreau entered CMR in 1957 and left in 1959. He retired in 1995 as a Major-General and did a few years of consultation in applied ethics. Marc remains focused on his volunteer work with, over the years, the Alzheimer Society of Ottawa and Renfrew County, the Ethics Practitioners' Association of Canada, the Ottawa Division of the Corps of Commissionaires, the Aerospace Advocacy Committee of the Air Force Association of Canada, the RCAF Commander's Council, and he also served a number of years as Honorary Colonel of 429 Transport Squadron. He and Lucille have just returned from their ninth cruise and are booked for another one in 2014.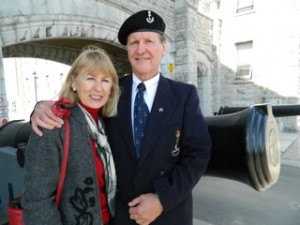 5505 Ron Murray, Class of '62, retired in 2005 after careers including military service with the RCR, teaching at Queen's University, management roles in the Ontario Public Service, and private consulting. He now devotes his writing time to an updated and re-focused version of his 1975 PhD thesis at Queen's University in the field of International Relations. The updated version combines recent neuroscience discoveries regarding the human brain and behaviour with social science and philosophy. The current book entitled "The Reality Instinct: Humanity's Evolutionary Advantage and Recurring Trap," explains how human behaviours constrained by the reality of their time and place have provided tremendous evolutionary advantages but have also proved impervious to change when destroying conditions necessary for humanity's survival. This phenomenon has led to the periodic collapse of societies and civilizations, with obvious implications for humanity's present global reality trap. The project has evolved over several years with encouragement from Ron's RMC classmate, Wilf Cude, himself an independent scholar working as writer and publisher in rural Cape Breton. In addition to writing, Ron spends wonderful times with Hélène, family and friends in Toronto and at their cottage near Bancroft, wonderful times with grandchildren, and "less-wonderful" times renovating and repairing his children's' homes.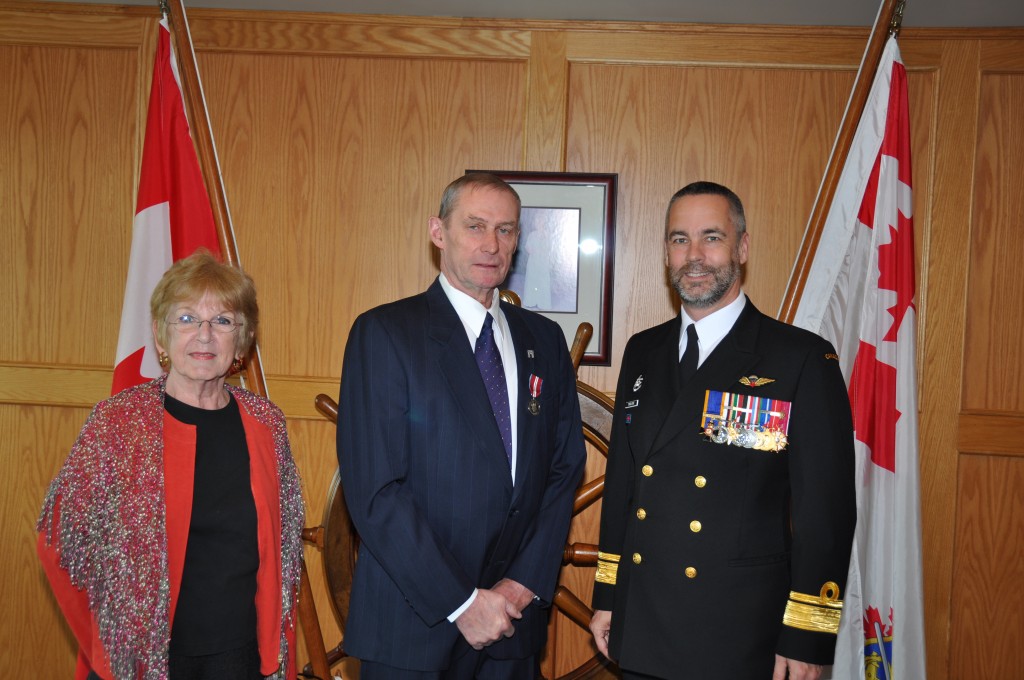 6644 Al Kennedy, Class of '65, received the Queen's Diamond Jubilee Medal earlier this year. It was presented to him by RAdm William Truelove, Commander Maritime Forces Pacific at MARPAC HQ in Esquimalt on 21 Jan 2013, and was presented for service to Canada, notably on the Boards of Directors of both the Royal Canadian Naval Benevolent Fund and the Royal Canadian Sea Cadet Educational Foundation.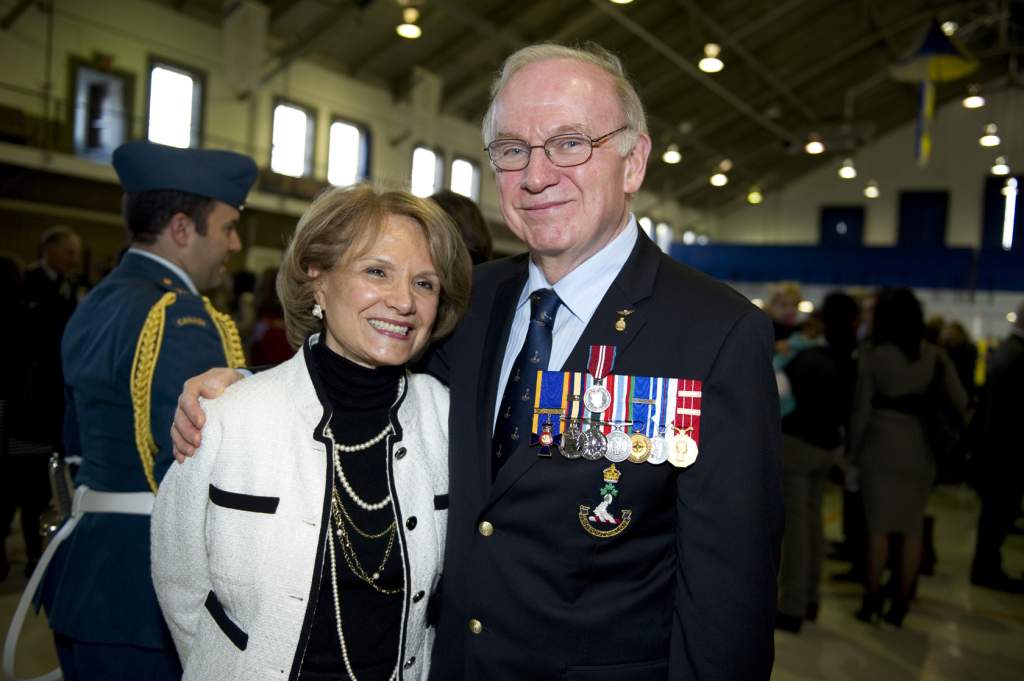 7272 Ralph Coleman, Class of '67 – After retiring in June 2011, Ralph has been enjoying the life of a gentleman of leisure. He and his wife, Sonia, live in Orleans, a suburb of Ottawa. They have two daughters and two granddaughters who also live in the National Capital Region, one daughter working at the National Research Council and the other for National Defence, as a civilian and also as a military reservist.
Because of his extensive experience in the Prime Minister's Office, the Privy Council Office and as a senior public affairs officer at NDHQ, Ralph makes occasional presentations to military public affairs officer trainees at the Defence Public Affairs Learning Centre on the topics of how Canada is governed and how communications is managed within the federal government. He and his wife, Sonia, like to travel and recently returned from a two-week Caribbean cruise. At last Fall's RMC reunion, Ralph entered the Old Brigade along with the rest of the Class of 1967 and was pleased that this major milestone was witnessed not only by his immediate family, but also his brother and sister and their spouses. Later in the Fall, Ralph received the Queen's Diamond Jubilee Medal for his contributions to Canada over 50 years of military and public service.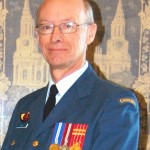 10751 Allan Lee Smith, Class of '75 – On 28 Feb 13, after over 41 years in uniform, LCol Lee Smith retired from the CF. An Aerospace Engineer, LCol Smith retired from the regular force in 2007. For the past five years, he has been working in the reserve as the Aviation Life Support Equipment Officer at 1 Canadian Air Division Headquarters in Winnipeg. Career highlights included a tour in St. Louis, Missouri in the early days of the CF-18 program and a tour at the High Commission in London as the Assistant Air Force Advisor. For now, Lee and his wife Pat will be remaining in Winnipeg while they make plans for a possible future relocation to Vancouver Island.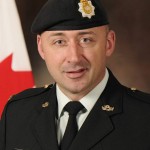 20838 Alex Ruff, Class of '97, is in the second and final year in command of the 2nd Battalion, The Royal Canadian Regiment (2 RCR) at CFB Gagetown; a definite career highlight! This past November, he along with approximately 400 soldiers of the Battalion returned from an eight month deployment on Op ATTENTION Roto 1 based in Kabul, Afghanistan. He will have the honour and privilege of handing over command of 2 RCR to fellow '97 grad, 20875 LCol Russ Washburn on 13 June 2013. On the personal side, LCol Ruff married his beautiful wife, Erica, just prior to deploying to Afghanistan last February; they celebrated their honeymoon in Mongolia/China last June and then Belize this past January. As well, they were fortunate to have over 30 RMC grads (majority from 1997 but in attendance were 5786 Col (retd) Joe Aitchison, Class of '63 and 14378 BGen Denis Thompson, Class of '84) attend their belated wedding reception in Ottawa in January of this year. Finally, they are expecting their first child this August along with a posting back to Ottawa. Pro Patria and TDV!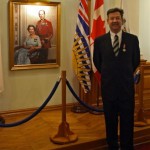 M0811 Ken Duff, Class of '01, was recently awarded the Queen's Diamond Jubilee Medal by BC Premier Christy Clark in recognition of his service to British Columbia and Canada. He was among 75 British Columbia residents who received the Medal at the ceremony. He received it for a "mixed bag" of service, but for the purposes of the award was identified under the "Canadian Forces" category since his most noteworthy service was either in or out of uniform but for the expressed benefit of the CF.